These Alabama Pulled Pork Sandwiches with White Barbecue Sauce are one of my favorite recipes to make for Super Bowl Sunday!
This pork is so delicious that you would think it roasts all day long. This is a great, quick-and-easy pulled pork recipe. The biscuits are delicious too, and the sauce is such a big hit!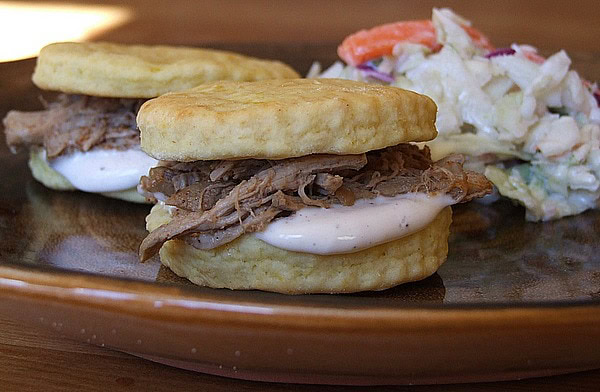 Alabama Pulled Pork Sandwiches with White Barbecue Sauce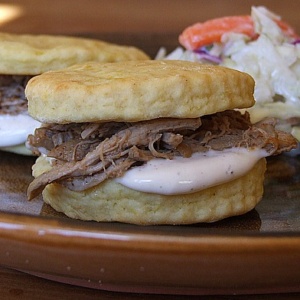 Yield:
12 servings (Serv. Size: 2 biscuits, 1/4 cup pork, 2 1/2 t. sauce)
Prep Time: 30 minutes
Cook Time: 1 hour and 15 minutes
Ingredients:
SAUCE:
1/2 cup light mayonnaise
2 tablespoons white vinegar
1 teaspoon coarsely ground fresh pepper
1 teaspoon fresh lemon juice
dash of salt
PORK:
1 1/4 pounds pork tenderloin, trimmed
1/2 cup apple cider vinegar
1/4 cup water
3 tablespoons brown sugar
2 teaspoons kosher salt
3/4 teaspoon freshly ground black pepper
1/2 teaspoon ground red pepper
1/2 teaspoon chili powder
1/4 teaspoon garlic powder
BISCUITS:
2 cups all-purpose flour
2 1/2 teaspoons baking powder
1 teaspoon salt
1 cup mashed cooked sweet potato (about 3/4 pound)
2 tablespoons brown sugar
3 tablespoons butter, melted
2/3 cup fat-free milk
Directions:
Prepare sauce: Combine sauce ingredients in a small bowl. Cover and chill.
Prepare pork: Cut pork in half lengthwise; cut crosswise into 2 1/2-inch chunks. Combine apple cider vinegar and remaining pork ingredients in a medium saucepan; bring to a boil. Add pork to pan. Cover, reduce heat, and simmer 1 hour or until tender. Remove pork from cooking liquid; shred with 2 forks. Place pork in a serving dish; pour cooking liquid over pork.
Prepare biscuits: Preheat oven to 425°F. Whisk together flour, baking powder, and salt in a large bowl. Combine potato, sugar, butter and milk; stir well. Pour over dry ingredients; stir until a soft dough forms (dough will feel sticky). Turn dough out onto a floured surface; knead lightly 5 to 6 times. Roll dough into a 10-inch circle; cut 24 biscuits with a floured 2-inch biscuit cutter. You'll need to cut and then re-roll scraps and cut again. Place biscuits on a baking sheet coated with cooking spray. Bake for 12 minutes or until lightly browned. Remove biscuits from pan; cool on a wire rack.
To assemble sandwiches, place pork and a dollop of the white barbecue sauce in between two biscuits.
Nutrition:
Nutritional Information per serving (Serving size:

2 biscuits, 1/4 cup pork, 2 1/2 teaspoons sauce)

Calories:

235, 

Fat:

7.5g, 

Saturated Fat:

2.75g, 

Sugar:

8g, 

Fiber:

1.5g, 

Protein:

13g, 

Cholesterol:

42mg, 

Carbohydratesg:

29g

Weight Watchers POINTS per serving:  Freestyle SmartPoints: 7, Points Plus Program: 6, Old Points Program: 5.5
Here are a few more pulled pork sandwiches you might enjoy: