I have another fabulous new recipe to share with you today… Pulled Pork Lettuce Wraps.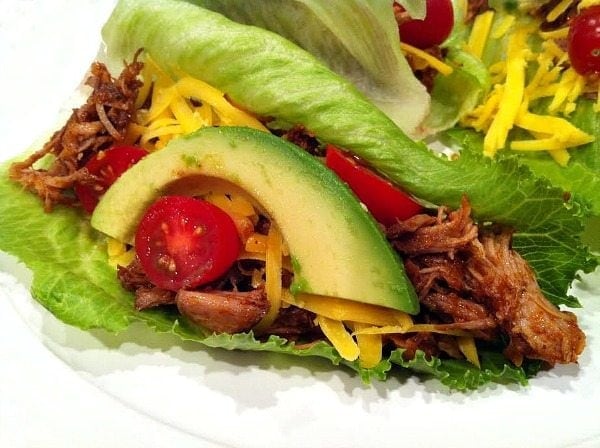 This creation was inspired by using up leftovers of a fabulous pulled pork recipe that I'm sharing with you today. In fact, today is all about celebrating how to utilize leftovers- specifically for today the pulled pork, but I'll tell you about some other ideas too. My friend Nick Evans from the fabulous blog- Macheesmo– wrote a book called, "Love Your Leftovers." It's a book that is perfect for large families or busy families or people who just like to plan out their dinners ahead of time.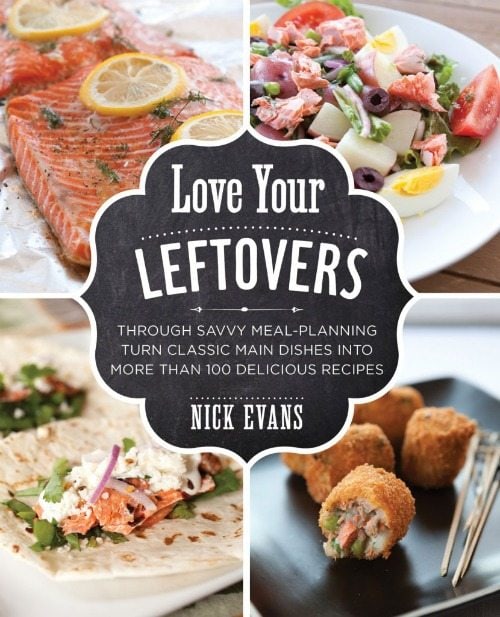 His book is based on the idea of creating one foundation dish (like pulled pork or salmon or black beans or roast chicken). Once you have that dish made, Nick shows you how to repurpose the leftovers with 8 to 10 creative recipes. He shares tips about meal planning, as well as an index for 30-minute meals. It's a smart way of cooking as it saves money and time.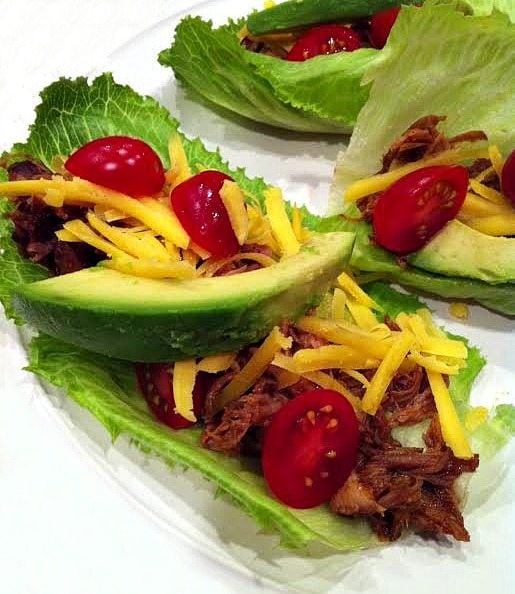 I chose Nick's awesome Slow Cooker Pork recipe from the book (shared below), and we decided to make these Pulled Pork Lettuce Wraps with it (though some of my family opted to pile it onto buns instead). The recipe for pulled pork makes a lot (that's the idea!), so here are the recipes in the book that are shared for leftover ideas with the pulled pork: Carnitas Tacos, Pulled Pork BBQ Pizza, Banh Mi, Pork Polenta Pie, Pulled Pork Mac n Cheese El Cubano Sandwich, and Snap Pea and Pork Stir Fry. Honey Bourbon BBQ Sauce and Sriracha Slaw recipes are also shared (since those are good accompaniments to the pork). Pretty cool, huh?
We loved the pulled pork- it came out perfecto. And it was delicious served as a lettuce wrap or on a bun. Check out the book- Love Your Leftovers– I am really impressed with it, and it makes the headache of preparing dinner a whole lot easier!
Pulled Pork Lettuce Wraps
This recipe makes a LOT of shredded pork as this is a recipe meant to use the leftovers from the pork. If you'd like to make a smaller recipe, use a 4-pound cut of pork and halve all of the other ingredients. OR, use the rest of the pork for other recipes (it freezes well too).
Recipe Details
Servings:
10
to 12 cups shredded pork
Ingredients
SLOW COOKER PORK BUTT
8

pound

pork butt

(aka shoulder)

1

large

onion,

grated

One

12 ounce

beer

(lager works great)

½

cup

brown sugar

One

6 ounce can

tomato paste

¼

cup

soy sauce

1

stick

cinnamon

2

tablespoons

paprika

1

tablespoon

chili powder

1

tablespoon

kosher salt

1

tablespoon

black pepper
FOR THE WRAPS
lettuce leaves

(iceberg or butter lettuce works well)

cheese, tomato, avocado, sour cream- as desired!
Instructions
Cut the pork butt into four or five large pieces so it fits in your slow cooker. Cut off any large pieces of fat from it. You don't need that much fat since the pork is cooking in liquid.

Mix together all of the other ingredients in the slow cooker so they are well combined. Add pork pieces to the liquid, cover and cook on low for 8 to 10 hours.

Remove the pork pieces and let them cool for a few minutes. Pour liquid into a bowl.

Shred pork pieces using two forks. Try to remove any huge pieces of fat from the pork. The pork should shred very easily. Return shredded pork to the dry slow cooker.

Pour the cooking liquid back into the slow cooker in 1 cup increments until the pork is moist, but not soupy at all. 2 to 3 cups of liquid should be just about right.

Keep the pulled pork warm while serving. Serve on lettuce wraps (or buns) with desired toppings.
Notes
Store leftovers in the fridge for up to one week, or freeze leftovers in an airtight, freezer-safe container for up to a few months.
If you are preparing this meal gluten-free, be sure to use varieties of beer, tomato paste and soy sauce that are known to be gluten-free.