Here's a dinner recipe that even the picky eaters might like:  Curry Pork Lettuce Wraps with Bacon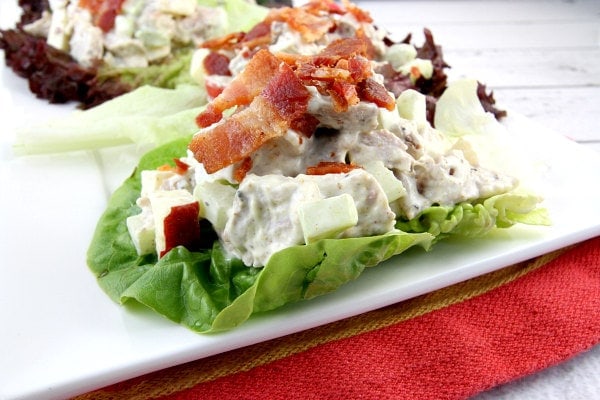 I whipped this up for dinner last week, and as I was making it… my son was over my shoulder saying, "No celery!  Don't put curry in it!  It's going to be icky!"  I told him to relax… that I knew what I was doing… and that he'd soon be begging me to have more than one.  A lot of kids are wary of things with flavor (like curry) or texture (celery), and I just hope most parents out there are at least trying to give their kids a variety of foods to try so they can develop a healthy and varied palate.  Food is awesome, so it's a shame when people don't want to try new things!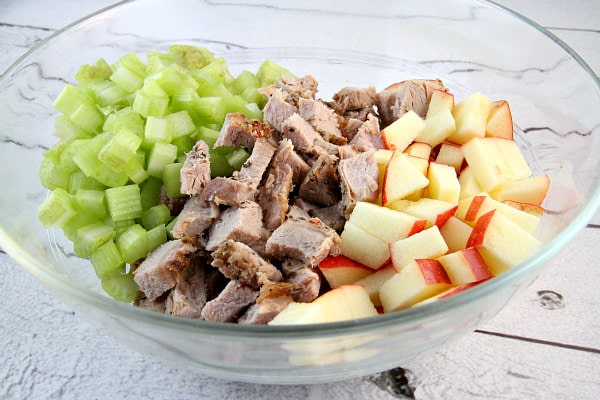 This recipe calls for an already marinated Smithfield Peppercorn and Garlic Pork Tenderloin.  Just bake it according to the directions on the package, slice it, let it cool and chop it up.  You've had chicken salad, right?  Same concept here, but using seasoned pork instead of chicken + celery and apple.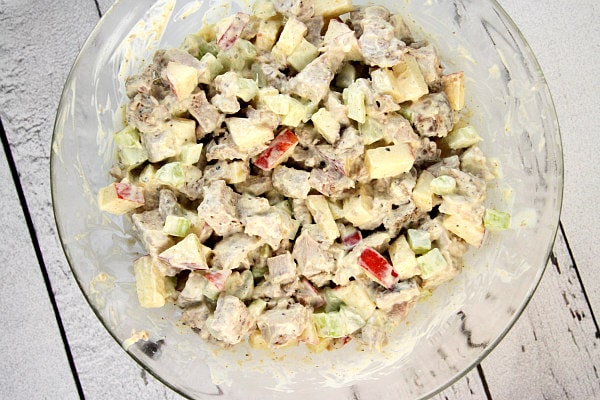 Those three ingredients are mixed with a simple mayo/curry powder/lemon juice/salt/pepper mixture.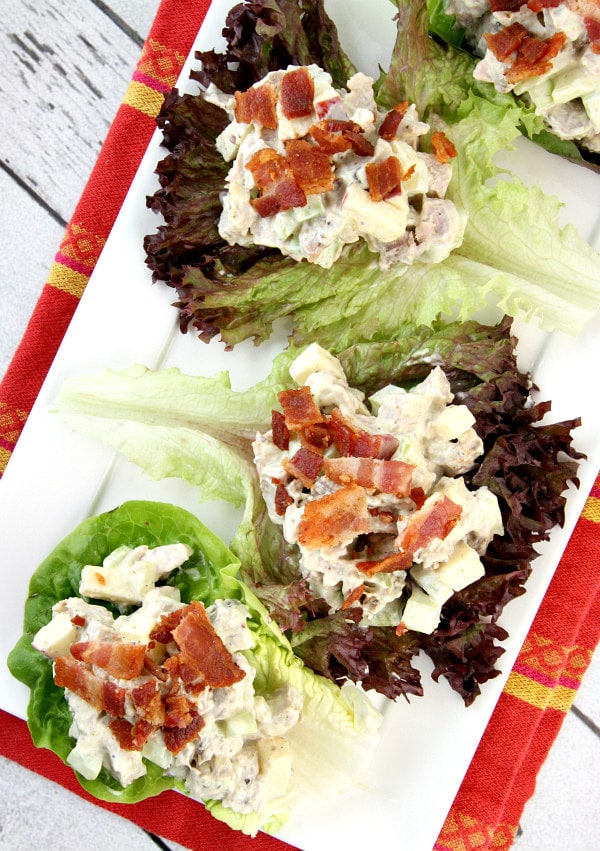 Then the curry pork salad is spooned into lettuce leaves… and topped with crisp Smithfield bacon, of course!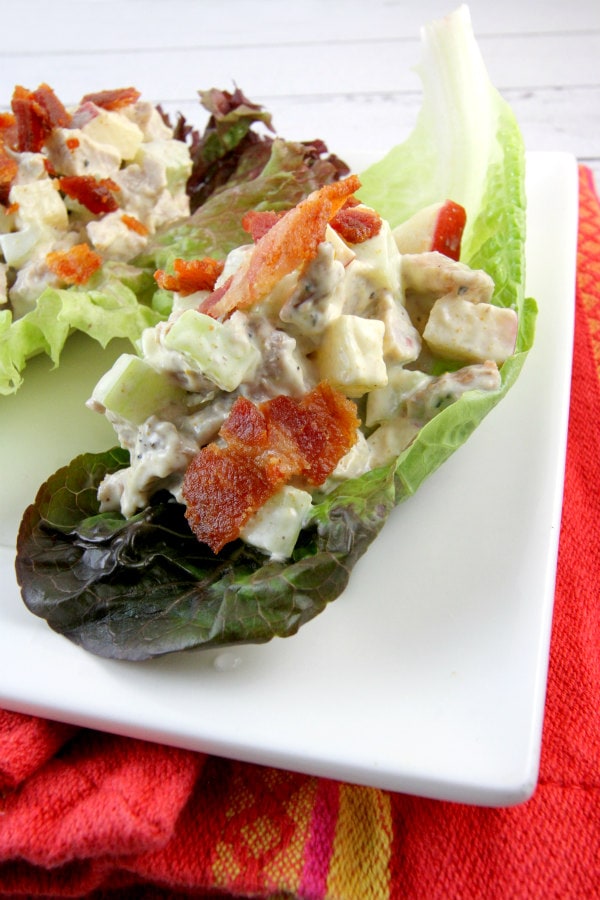 Back to the kiddo (who is 14, by the way)… he was a little leery of tasting these, but he spotted the bacon on top and decided it would be okay to give it a try.  And guess what?  He LOVED them.  He ate two and asked for a third.  Picky kid approved!
I must say, this was the most delicious recipe I made last week.  I loved it in the lettuce wraps, but it would also be good tucked into a croissant or something similar.  And with some beautiful, crunchy autumn apples… it makes for a delicious seasonal dinner.
Curry Pork Lettuce Wraps with Bacon
Yield:
About 10 lettuce wraps
Prep Time: 30 minutes
Cook Time: 40 minutes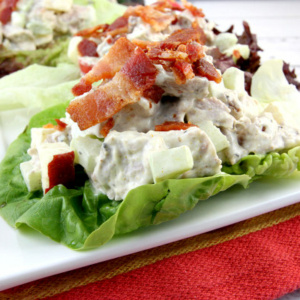 Ingredients:

One Smithfield Peppercorn and Garlic Pork Tenderloin
6 slices Smithfield Hometown Original Bacon
3/4 cup finely chopped celery
3/4 cup chopped red apple
1/2 cup mayonnaise
1 teaspoon freshly squeezed lemon juice
1/2 teaspoon curry powder
salt and pepper, to taste
lettuce leaves (red or green leaf work well)

Instructions:

 Bake the tenderloin according to package instructions.  Slice into 1/2-inch slices and let cool.  Chop into small pieces.
Cook bacon until crisp; then chop.
Place the cooled, chopped pork in a medium bowl with the celery and apple.
In a separate medium bowl, whisk together the mayonnaise, lemon, curry and salt.  Add the chopped pork/apple/celery and mix to combine.
Lay out the lettuce leaves on a platter.  Spoon the pork mixture into the lettuce leaves and sprinkle with bacon.
SOURCE:  RecipeGirl.com
Here are a few more lettuce wrap recipes you might enjoy:
Disclosure:  This post has been written in partnership with Smithfield to share their line of marinated pork.  This is a product that I know and use in my kitchen.  All opinions shared are my own.