Crispy on the outside, tender and juicy inside, Chicken Fried Steak with Country Gravy is a dinner the whole family will love. It's simple to make and it's ready in less than 30 minutes from start to finish.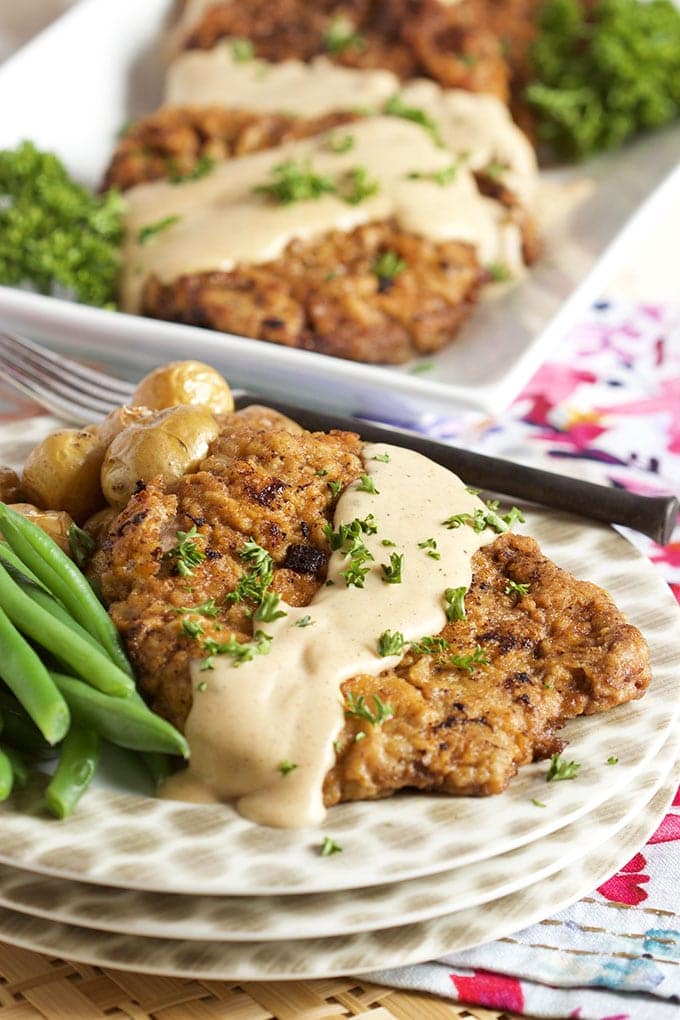 I'm a lover of southern food- so much so that I sometimes wonder if I were actually raised there and somehow transplanted to the north without any recollection of living elsewhere.
Except for my love of southern comfort foods, Spanish moss and sweet tea.
If given the opportunity to pick just one food to eat for the rest of my life…it would be a toss up between crispy fried chicken or Chicken Fried Steak with Country Gravy. It truly is my absolute favorite thing to eat on the planet.
And Chicken Fried Steak with Country Gravy couldn't be simpler to make. It all starts with a cube steak which is, essentially, a beef round steak that's been tenderized into oblivion then dredged in a seasoned flour mixture, egg and then back into the flour before being lightly fried to a crispy golden brown.
Why is it called Chicken Fried Steak if there is no chicken in the recipe?
I know it's confusing! This recipe doesn't contain any chicken, but it's is so-named because the cooking method is similar to that of pan-fried chicken breast cutlets.
It's actually quite genius if you ask me, and whoever created this beautiful thing decided that you MUST make a creamy pan gravy from the drippings to drape lovingly over your crispy fried goodness. How dreamy does that sound?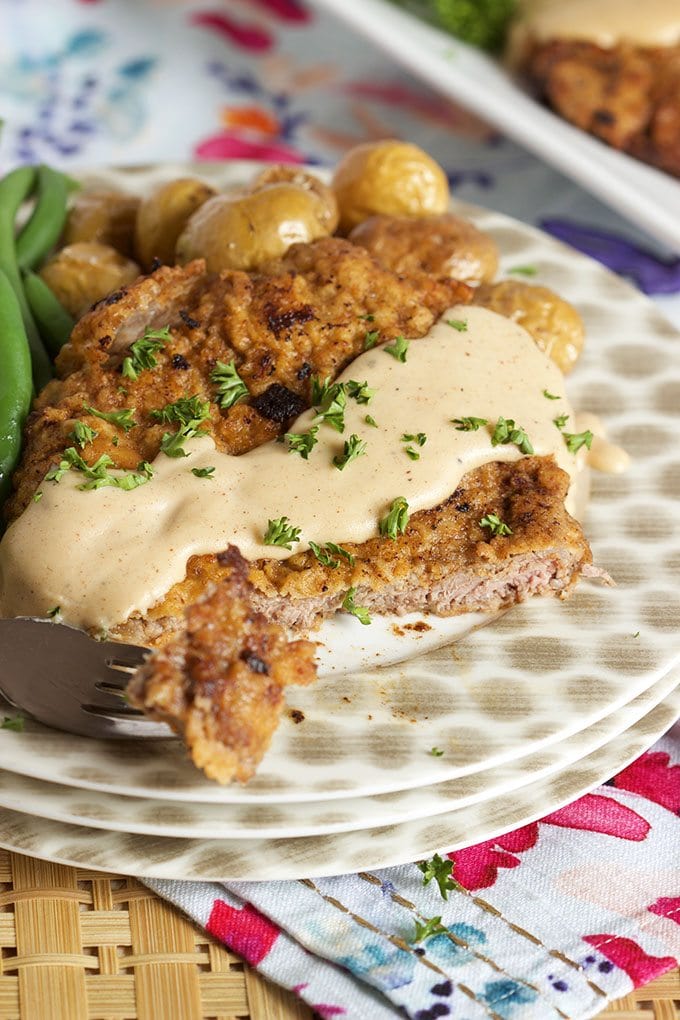 Do you know what's even better? This easy to make Chicken Fried Steak with Country Gravy is ready in less than 30 minutes. That's right….30 minutes!
Because the steaks are thin, they cook quickly and evenly. They're perfect for busy weeknights and always a huge hit with my family.
Where can I find cube steak to make Chicken Fried Steak?
You should be able to find cube steak in your regular market. It's not your usually "throw on the grill" kind of steak. Ask your butcher to assist you if you are unable to find it.
To me, it looks a little bit like ground beef. It's steak that has been pounded with a tenderizer until it creates little dimples all over the steak. This helps greatly with tenderizing the meat and making it easy to cook as it will all be an even thickness.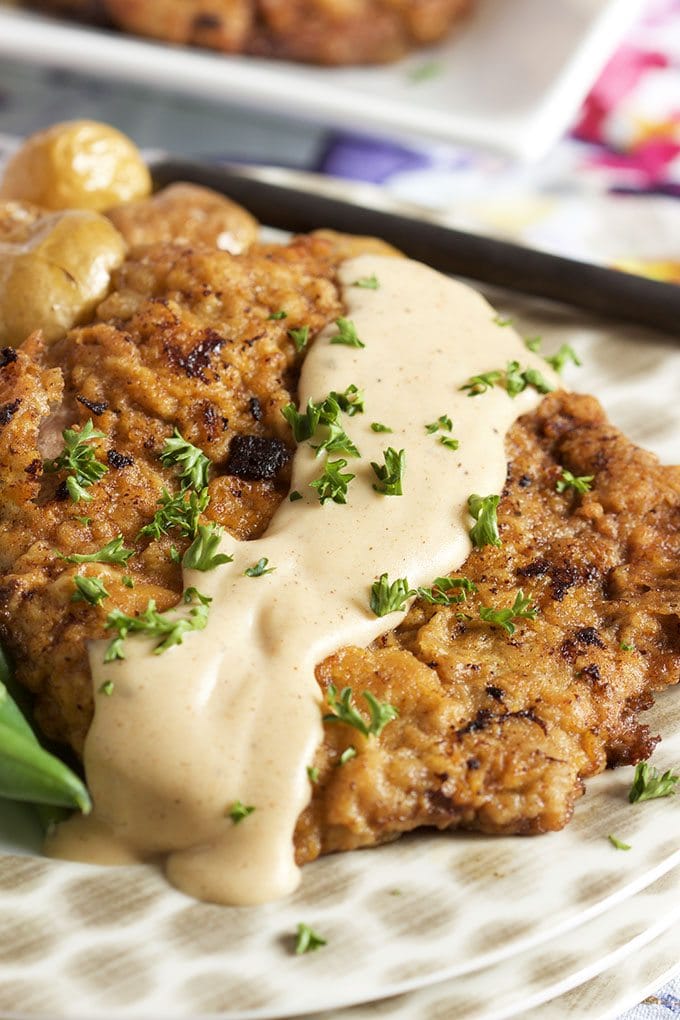 And you know what the best thing is? This recipe is totally family friendly. In fact, your family will love you to pieces if you serve this for dinner, and they'll be begging you to make it again. I view it as the perfect Sunday night dinner.
We may not be from the south but I certainly try to channel my inner southern belle when I'm in the kitchen. And this recipe is simply fabulous.
Chicken Fried Steak with Country Gravy is a comfort food, treat-yourself kind of meal for sure. But it's totally worth the extra 1/2 hour on the treadmill, and everyone you serve this to will be so happy and content with your dinner choice.
So many people have enjoyed this recipe. I love to read through the comments to see what people who have made the recipe are saying. A lot of people say that Chicken Fried Steak is much better than fried chicken. And I have quite a few people asking if they can try this recipe with actual chicken in place of cube steak. I haven't tried it that way, but let us know in the comments if you do!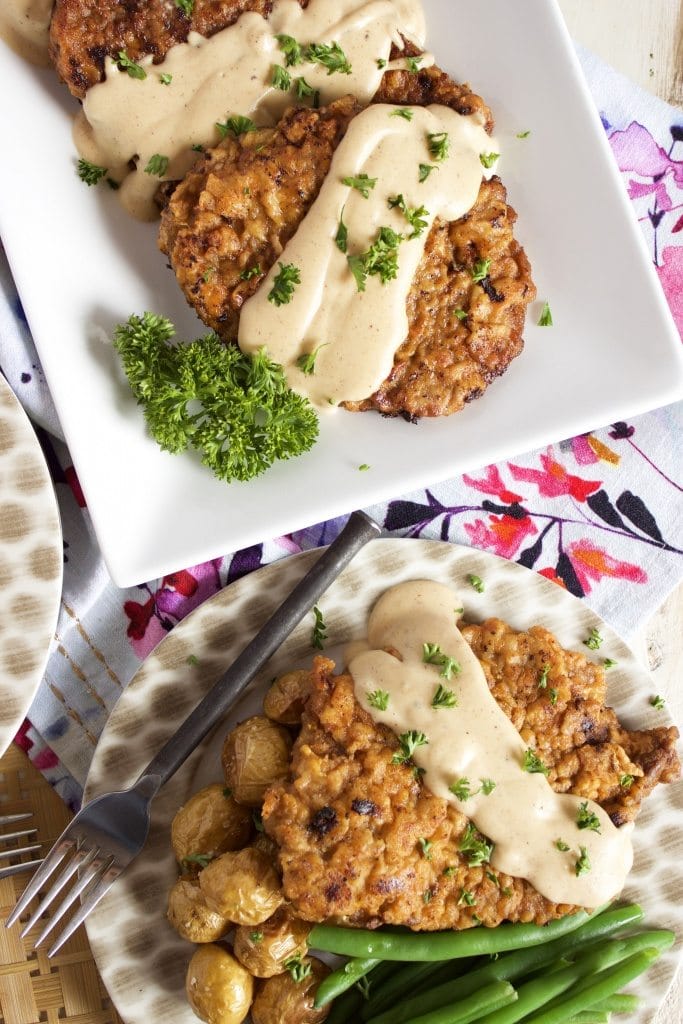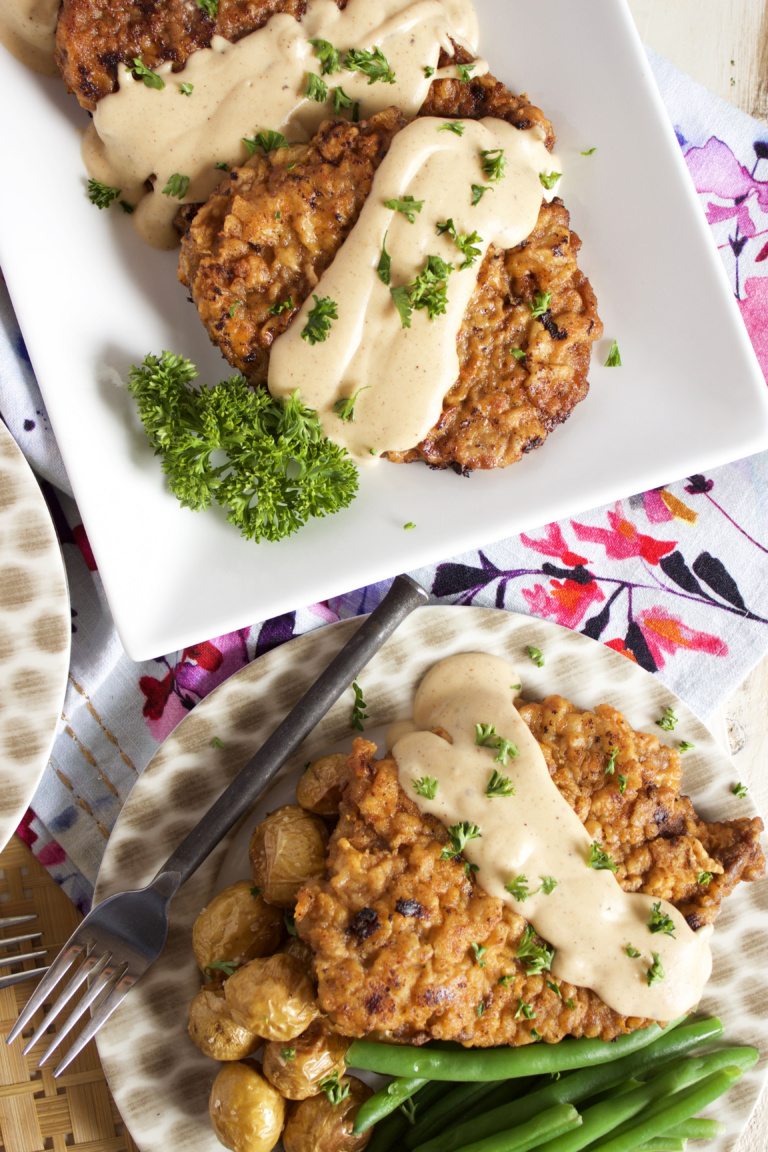 For me, I truly enjoy the crispy coating on the steak, and the white country gravy really puts it over the top. I don't make this often but when I do… my family is so very excited. It's the perfect Sunday night dinner.
Chicken fried steak with Country Gravy is comfort food to the max. And it's a classic that thousands of RecipeGirl readers really seem to be enjoying!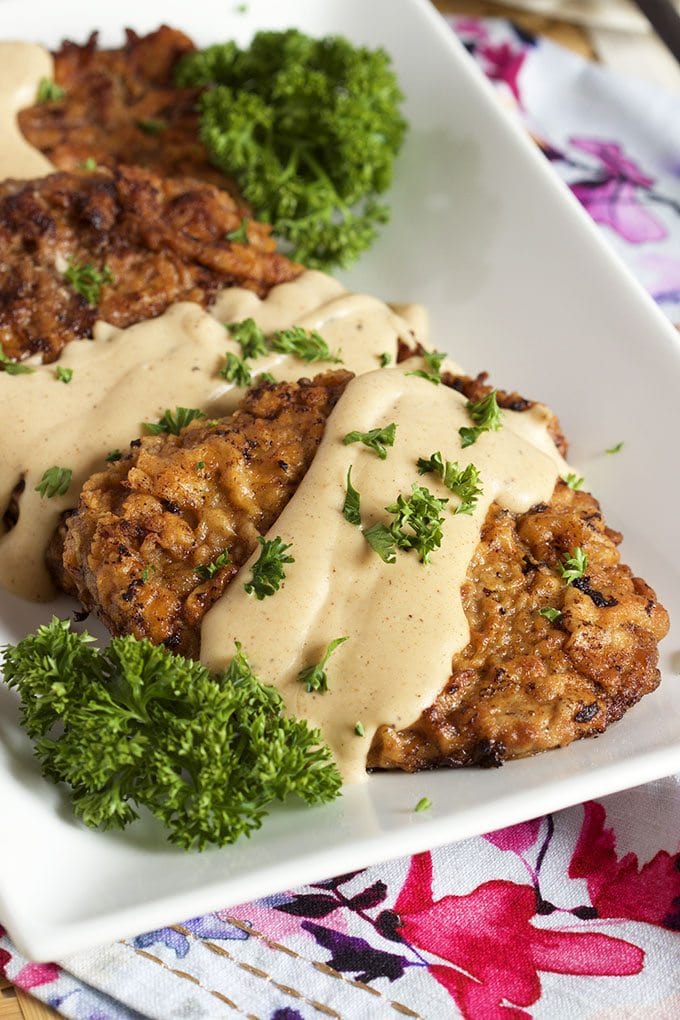 If you enjoy this recipe, I have recommendations for a few more Southern favorites too. Cheesy Shrimp and Grits is one that a whole lot of people have been enjoying. My first time having shrimp and grits was in Savannah, Georgia, and this recipe rivals that experience for sure!
Truly Crispy Oven Fried Chicken, Caramel Cake, Southern Savory Corn Pudding and Southern Pimento Cheese are four more favorites the the Southern cooking category.
Chicken Fried Steak with Country Gravy
The best, classic southern comfort food!
Recipe Details
Ingredients
STEAKS:
2

tablespoons

olive oil

1

tablespoon

butter

1

cup

all purpose flour

1

teaspoon

onion powder

1/2

teaspoon

smoked paprika

1/2

teaspoon

cayenne pepper

kosher salt and freshly ground black pepper

1

large

egg

1/4

cup

water

2

pounds

cube steak
COUNTRY GRAVY:
3

tablespoons

butter

4

tablespoons

all purpose flour

1½

cups

low sodium chicken or beef broth

1

cup

milk

salt and pepper, to taste
Instructions
PREPARE THE STEAKS:
Heat olive oil and butter in a large non-stick skillet over medium heat until ripples begin to form.

While the oil heats, whisk 1 cup flour, onion powder, paprika, cayenne, salt and pepper together in a medium bowl. Set aside.

In a separate bowl, whisk together the egg and water.

Season the steaks with salt and pepper. Dredge one steak in the flour mixture, then the egg and then back in the flour mixture to coat.

Add the steak to the skillet. Repeat with the remaining steaks adding more oil as needed. Work in batches if necessary as to not overcrowd the pan. (Overcrowding will cause the steaks to steam and the coating will not get crisp.) Cook the steaks for 3 to 4 minutes or until crisp and golden brown. Flip the steaks and continue cooking for an additional 4 minutes until golden. Transfer the steaks to a platter or baking sheet and cover with foil to keep warm.
PREPARE THE GRAVY:
Add butter to the skillet and sprinkle with flour. Whisk together in the pan and cook until golden. Slowly whisk in the chicken stock and continue cooking until thickened. Stir in the milk until smooth and beginning to thicken. Season with salt and pepper to taste.

Serve the steaks immediately with the gravy.
Nutrition
Serving:
1
serving
,
Calories:
792
kcal
,
Carbohydrates:
34
g
,
Protein:
56
g
,
Fat:
46
g
,
Saturated Fat:
19
g
,
Cholesterol:
244
mg
,
Sodium:
310
mg
,
Potassium:
969
mg
,
Fiber:
1
g
,
Sugar:
3
g
,
Vitamin A:
705
IU
,
Calcium:
141
mg
,
Iron:
6
mg