Chicken Fried Steak with Country Gravy
Crispy on the outside, tender and juicy inside….Chicken Fried Steak with Country Gravy is a dinner the whole family will love. Simple to make and ready in less than 30 minutes from start to finish.
I'm a lover of southern food….so much that I sometimes wonder if I were actually raised there and somehow transplanted to the north without any recollection of living elsewhere.
Except for my love of southern comfort foods, Spanish moss and sweet tea.
If given the opportunity to pick just one food to eat for the rest of my life…it would be a toss up between crispy fried chicken or Chicken Fried Steak with Country Gravy.  It truly is my absolute favorite thing to eat on the planet.
And Chicken Fried Steak with Country Gravy couldn't be simpler to make. It all starts with a cube steak which is, essentially, a round steak that's been tenderized into oblivion then dredged in a seasoned flour mixture, egg and then back into the flour before being lightly fried to a crispy golden brown.
It's actually quite genius if you ask me, and whoever created this beautiful thing decided that you MUST make a creamy pan gravy from the drippings to drape lovingly over your crispy fried goodness.  How dreamy does that sound?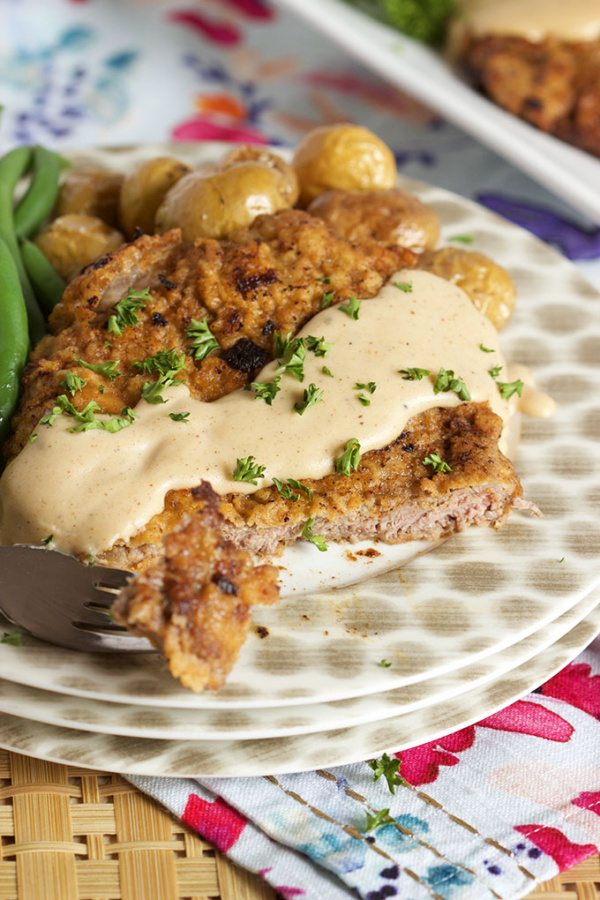 Do you know what's even better? This easy to make Chicken Fried Steak with Country Gravy is ready in less than 30 minutes. That's right….30 minutes!
Because the steaks are thin, they cook quickly and evenly. They're perfect for busy weeknights and always a huge hit with my family.
We may not be from the south but I certainly try to channel my inner southern belle when I'm in the kitchen. And this recipe is simply fabulous. The best comfort food there is.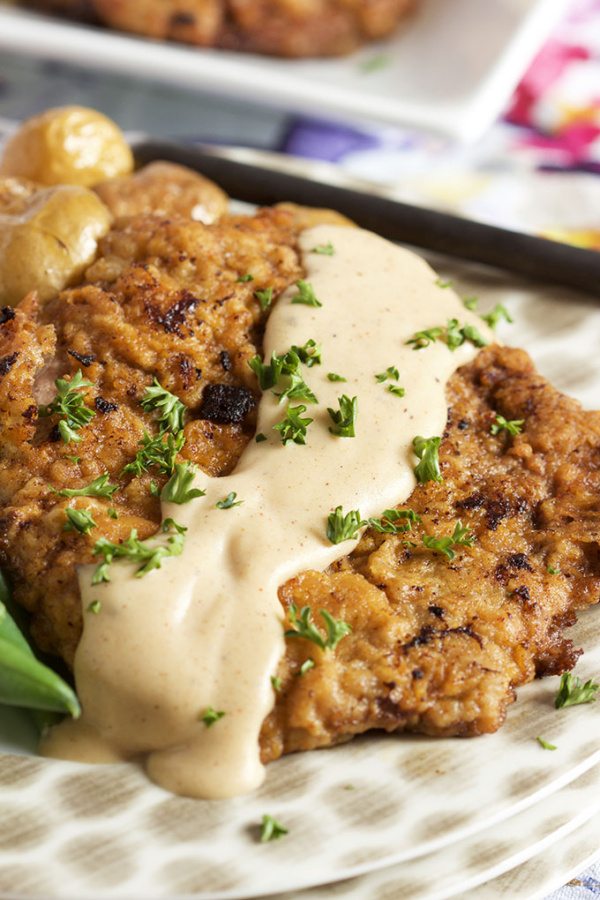 And you know what the best thing is?  This recipe is totally family friendly.  In fact, your family will love you to pieces if you serve this for dinner, and they'll be begging you to make it again.  I view it as the perfect Sunday night dinner.
Chicken fried steak is comfort food to the max.  And it's a classic that RecipeGirl readers really seem to be enjoying!
Yield: 4 servings
Prep Time: 25 minutes
Cook Time: 15 minutes
Chicken Fried Steak with Country Gravy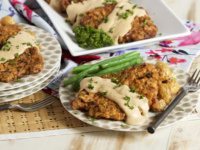 Ingredients:
3 tablespoons olive oil, divided
4 tablespoons (1/2 stick) butter, divided
1 cup + 4 tablespoons all-purpose flour, divided
1 teaspoon onion powder
1/2 teaspoon smoked paprika
1/2 teaspoon cayenne pepper
kosher salt and ground black pepper
1 large egg
1/4 cup water
4 cube steaks (or round steaks pounded thin with a meat tenderizer)
1 1/2 cups low sodium chicken or beef broth
1 cup milk
Directions:
Heat 2 tablespoons olive oil and 1 tablespoon butter in a large non-stick skillet over medium heat until ripples begin to form.
While the oil heats, whisk 1 cup flour, onion powder, paprika, cayenne, salt and pepper together in a medium bowl. Set aside.
In a separate bowl, whisk together the egg and water.
Season the steaks with salt and pepper. Dredge one steak in the flour mixture, then the egg and then back in the flour mixture to coat.
Add the steak to the skillet.
Repeat with the remaining steaks adding more oil as needed. Work in batches if necessary as to not overcrowd the pan. (Overcrowding will cause the steaks to steam and the coating will not get crisp.)
Cook the steaks for 3 to 4 minutes or until crisp and golden brown. Flip the steaks and continue cooking for an additional 4 minutes until golden.
Transfer the steaks to a platter or baking sheet and cover with foil to keep warm.
Add the remaining butter to the skillet and sprinkle with the remaining flour. Whisk together in the pan and cook until golden.
Slowly whisk in the chicken stock and continue cooking until thickened.
Stir in the milk until smooth and beginning to thicken. Season with salt and pepper to taste.
Serve the steaks immediately with the gravy.
SOURCE: RecipeGirl.com
Here are a few more Southern favorites you may enjoy:
Comments