Refrigerator Dill Pickles are a quick and easy pickle recipe that does not require any traditional canning methods.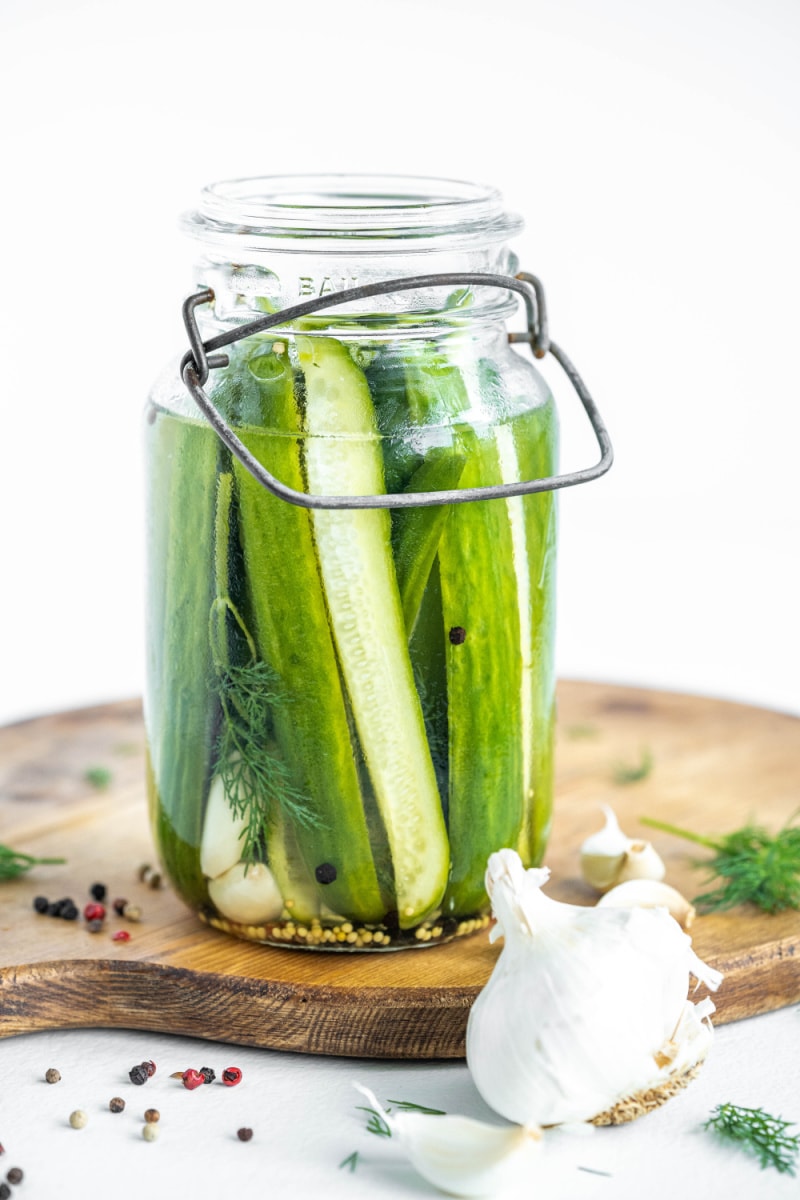 Just like my Bread and Butter Pickles, this is a refrigerator pickle recipe. This means that when you assemble these pickles in the jar, they will need just 24 hours in the refrigerator to turn into pickles. And then you will keep them in the refrigerator, and take one out whenever you'd like to munch on a pickle. Add them to your menu for a burger or hot dog cookout! Scroll to the end of this post to print out the easy recipe for refrigerator dill pickles.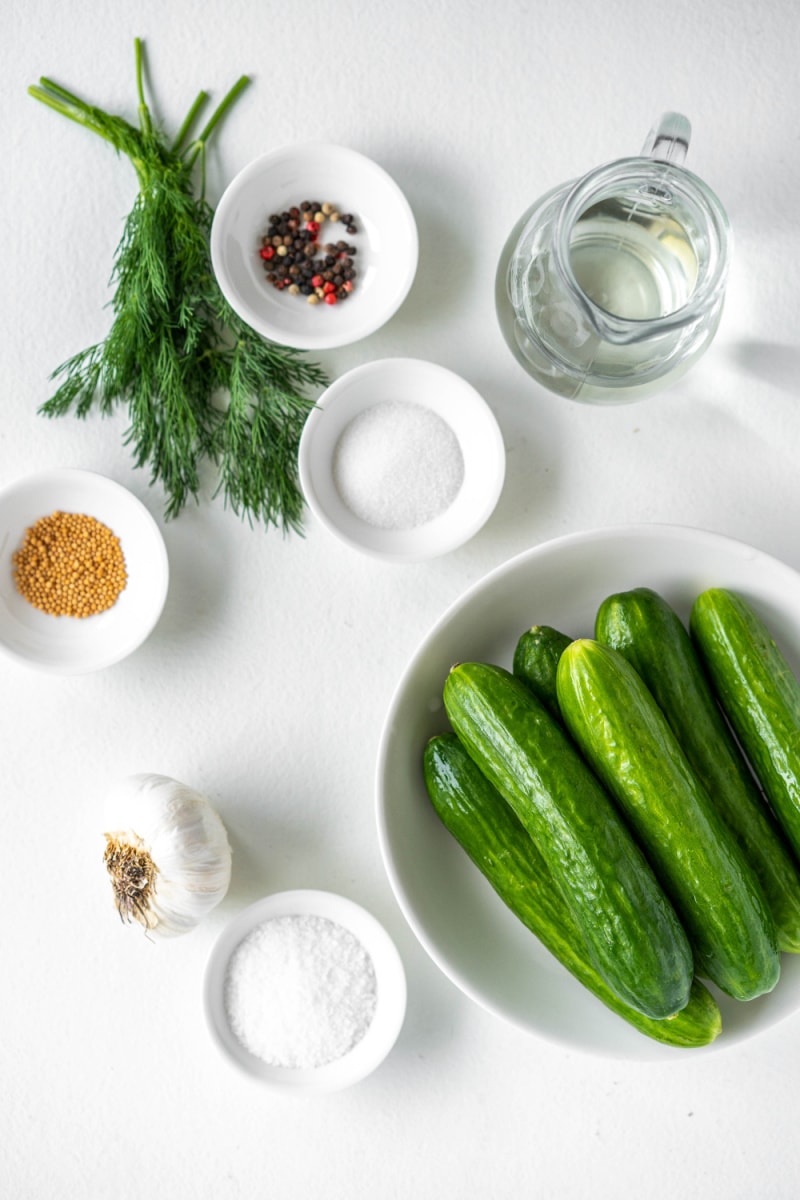 Ingredients needed:
boiling water
kosher salt
white sugar
distilled white vinegar
whole peppercorns
yellow mustard seeds
garlic cloves
fresh dill
cucumbers
cold, filtered water
What kind of cucumbers do you use to make pickles?
There are a few options for which variety of cucumbers to use when making refrigerator dill pickles. You can use baby seedless cucumbers (what you see in the photos). You can also use Kirby or Persian cucumbers. Cut them lengthwise into spears. Alternately, if you are using a larger-variety cucumber, you could also cut them crosswise into coins.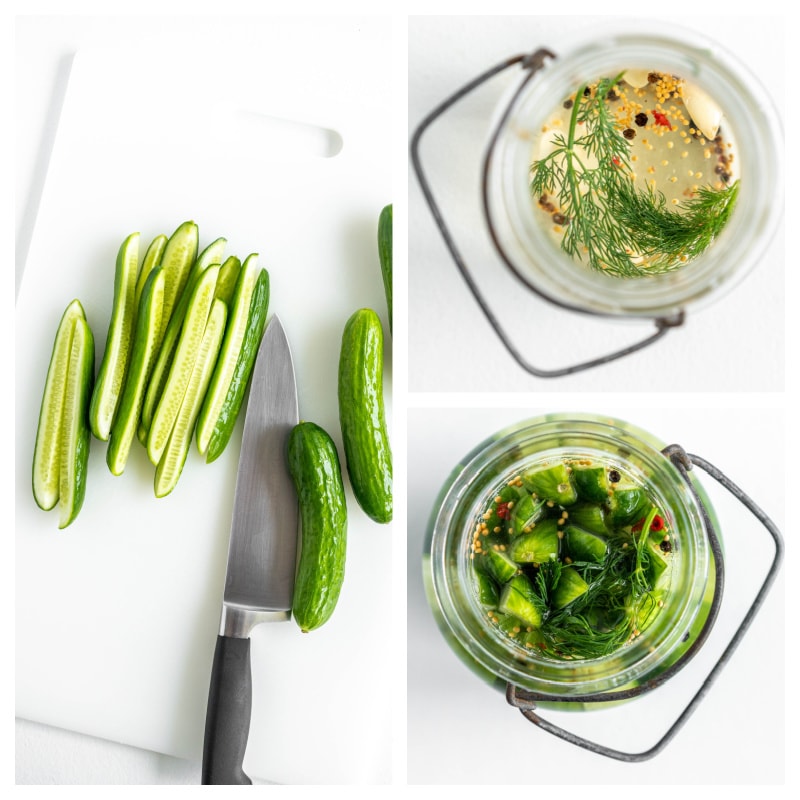 How to make Refrigerated Dill Pickles:
The first step is mixing the pickling liquid. Combine boiling water, kosher salt and sugar. Whisk that together until the salt and sugar dissolve. Let that mixture cool, and then stir in vinegar, mustard seeds and peppercorns. Pour this mixture into a quart-sized jar, and then add in garlic cloves and fresh dill. Place all of the cucumber spears into the jar. It will be a tight fit, but that's okay. Squish in as many as you can.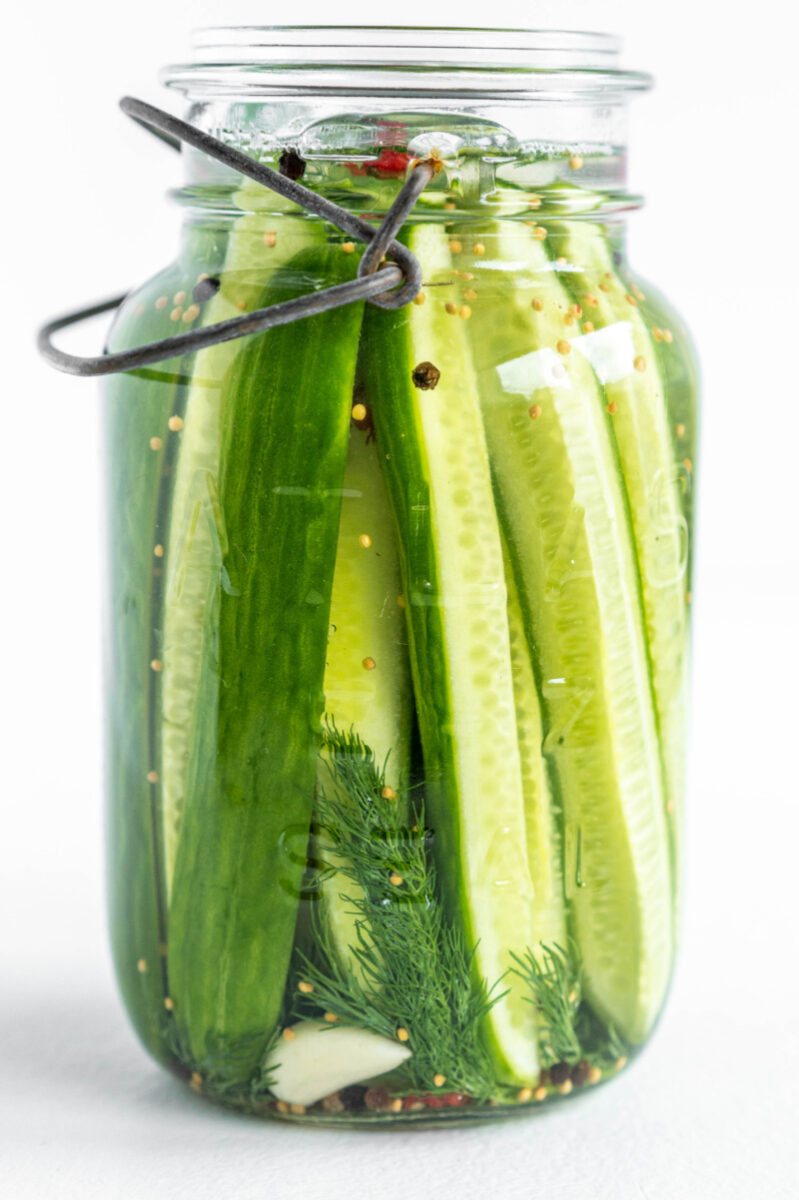 Add cold, filtered water to the jar so that the cucumbers are completely submerged in liquid.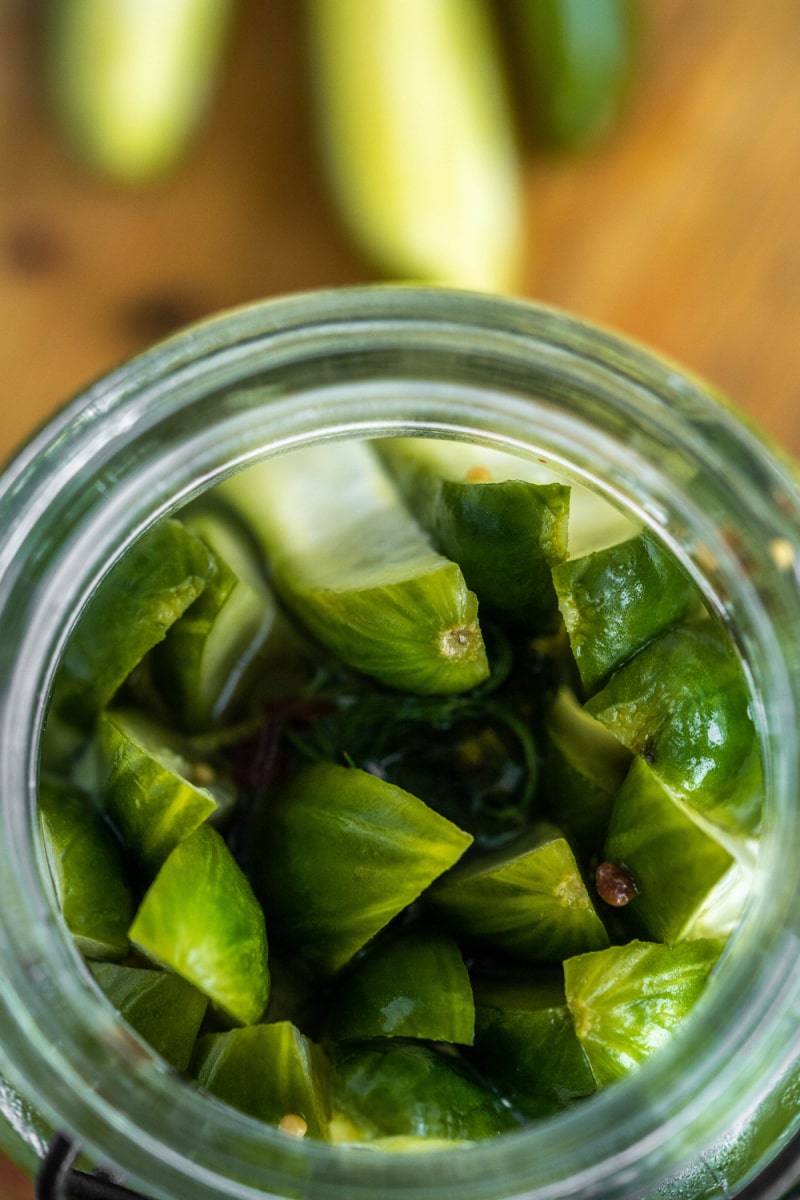 Cover the jar, refrigerate for at least 24 hours and let them do their thing. The cucumbers need at least 24 hours in the pickling liquid to start turning into pickles.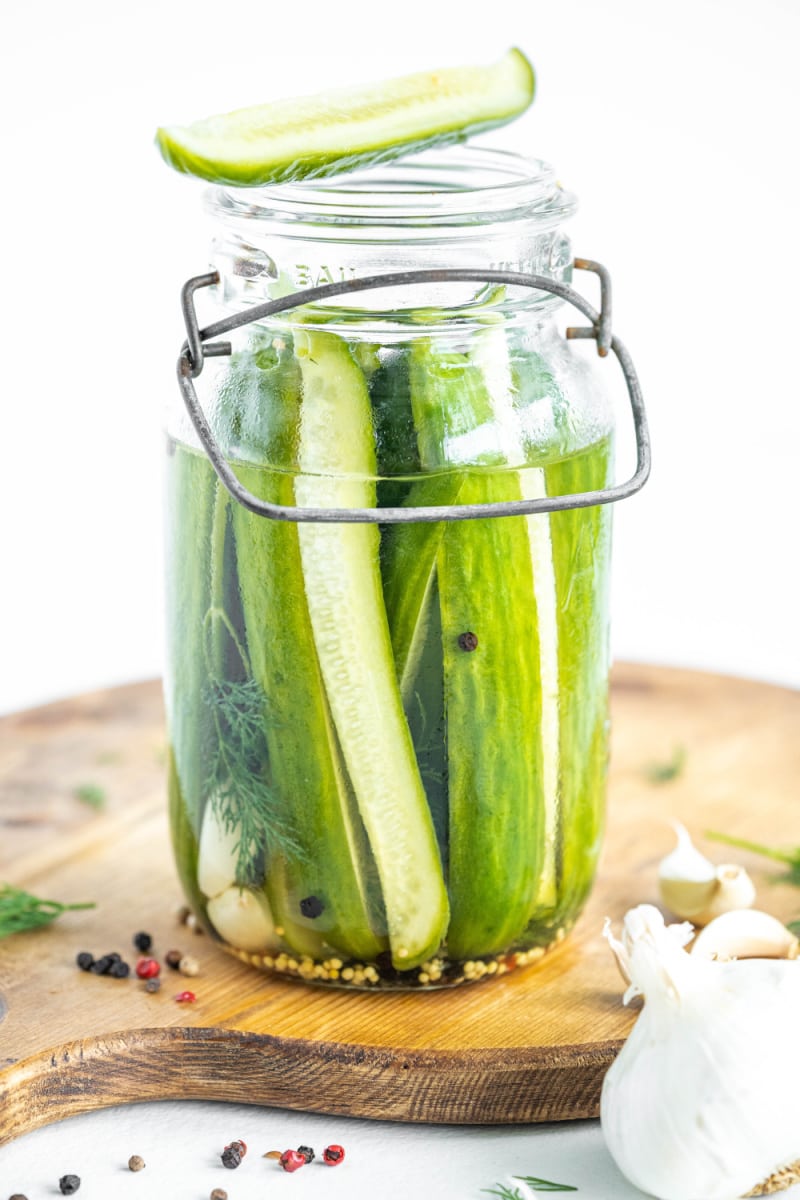 After 24 hours of pickling, take the refrigerator dill pickles out of the jar to enjoy them, as you'd like. They will last 4 to 6 weeks in the refrigerator. As time progresses, they may begin to lose their crunch a little bit at a time.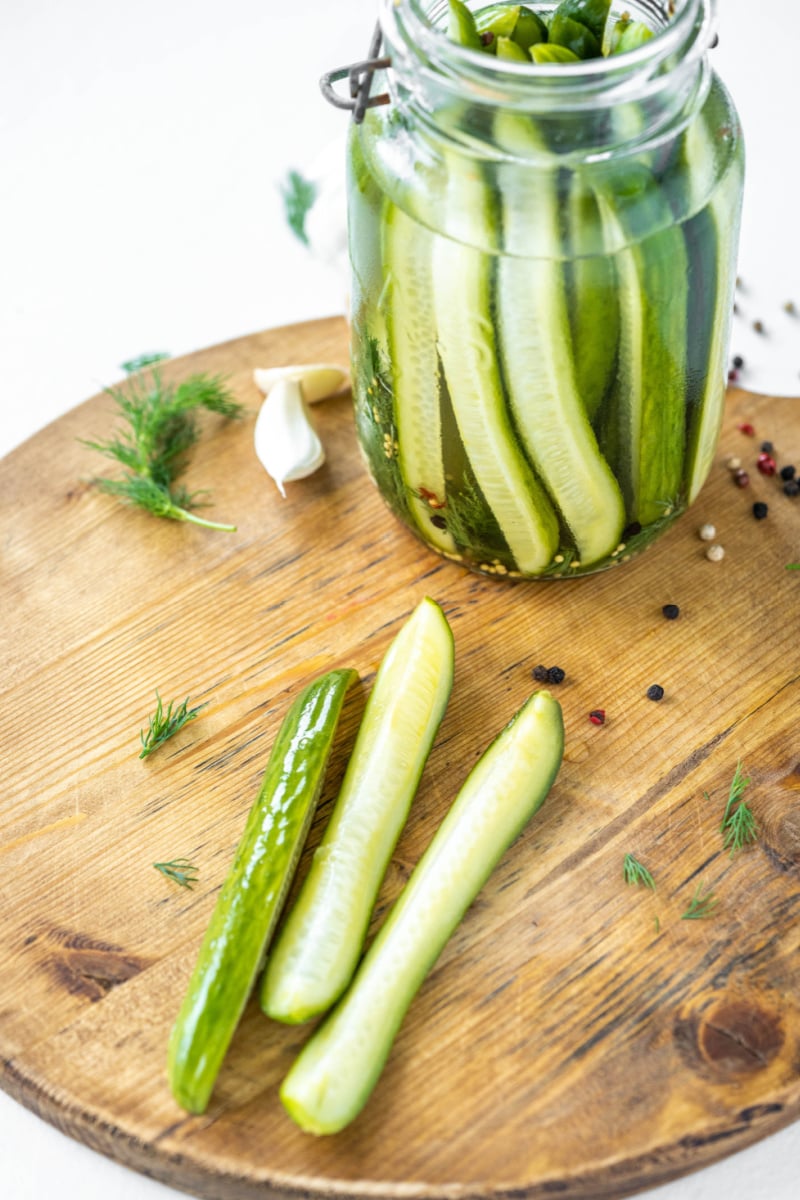 As indicated, these are refrigerator dill pickles. So they are not meant for traditional canning. This is not a large batch recipe. It makes about 24 pickles, so keeping them in the refrigerator is just right. Eat a pickle or two per day (or even every other day), and your pickles will be fresh and crunchy and gone in no time. Enjoy!
Refrigerator Dill Pickles
A super easy pickle recipe that requires zero canning skills!
Recipe Details
Ingredients
½

cup

boiling water

1

tablespoon

coarse kosher salt

½

tablespoon

granulated white sugar

⅔

cup

distilled white vinegar

½

teaspoon

yellow mustard seeds

½

teaspoon

whole peppercorns

(black or multi-color)

6

medium

garlic cloves,

peeled

6

sprigs

fresh dill

1

pound

baby seedless cucumbers,

rinsed and each cut into 4 spears

cold, filtered water
Instructions
In a glass bowl, whisk together the boiling water, salt, and sugar until dissolved. Cool to room temperature. Stir in the vinegar, peppercorns, and mustard seeds.

Pour the vinegar mixture into a quart-sized jar. Add the garlic and dill.

Add the cucumber spears. It will be a tight fit, but just about all of them should fit.

Add enough cold filtered water so that the cucumbers are completely submerged in liquid.

Cover the jar and refrigerate 24 hours before serving.
Notes
Instead of distilled white vinegar, you can use apple cider vinegar or another vinegar with 5% acidity.

The cucumbers I use are called "baby seedless cucumbers." They're about 5-inches long. You can also use Kirby or Persian cucumbers.

These pickles will last about 4 to 6 weeks in the fridge, but they lose their crispness as time goes on.
Nutrition
Serving:
1
pickle
,
Calories:
7
kcal
,
Carbohydrates:
1
g
,
Protein:
1
g
,
Fat:
1
g
,
Saturated Fat:
1
g
,
Polyunsaturated Fat:
1
g
,
Monounsaturated Fat:
1
g
,
Sodium:
291
mg
,
Potassium:
32
mg
,
Fiber:
1
g
,
Sugar:
1
g
,
Vitamin A:
24
IU
,
Vitamin C:
1
mg
,
Calcium:
5
mg
,
Iron:
1
mg