This is truly a wonderful, no-canning skills needed recipe for Bread and Butter Pickles.
Watch the video showing you how to make these Bread and Butter Pickles, then scroll to the bottom of this post so you can print out the recipe and make them at home.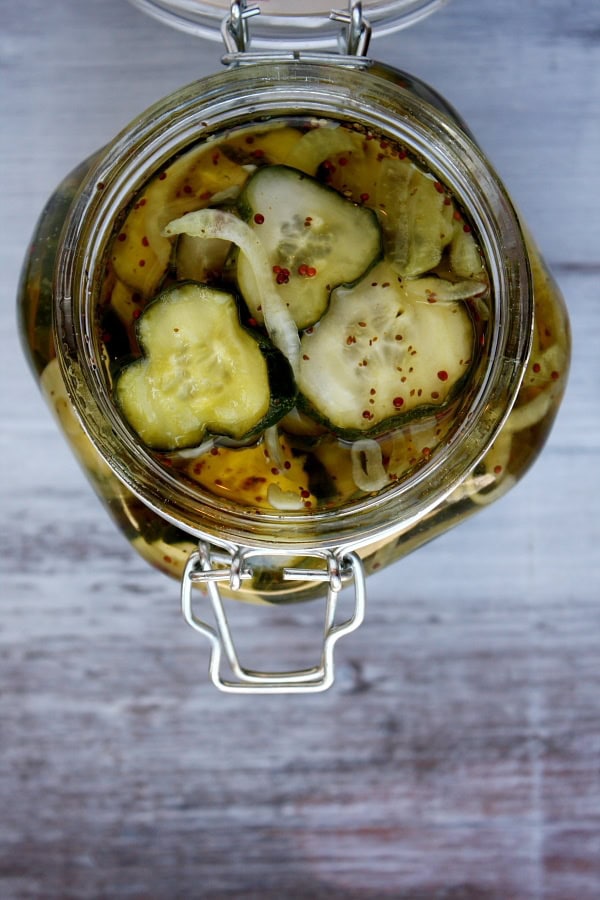 This Bread and Butter Pickles recipe is one that I love with all of my heart.
When I was little (old enough to stay by myself), I'd sometimes hang out at my Dad's house in the summers while he he went off to work. Lunchtime would roll around and I'd open his refrigerator to see what sorts of things a Dad keeps in there. Sweet pickles and American cheese were always to be found. Yes, I like all varieties of pickles, and (gasp!) I like American cheese too. I discovered the joy of eating them together.
But before I gross you out too much, I must share with you my first experience with pickling: Bread and Butter Pickles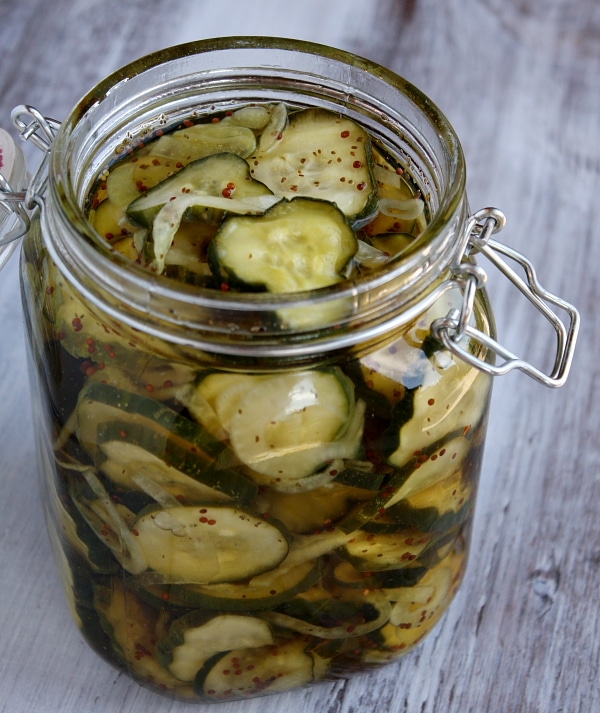 Although sweet pickles are my favorite, bread and butter pickles run a close second. Their sweet and tangy crunch are pretty irresistible.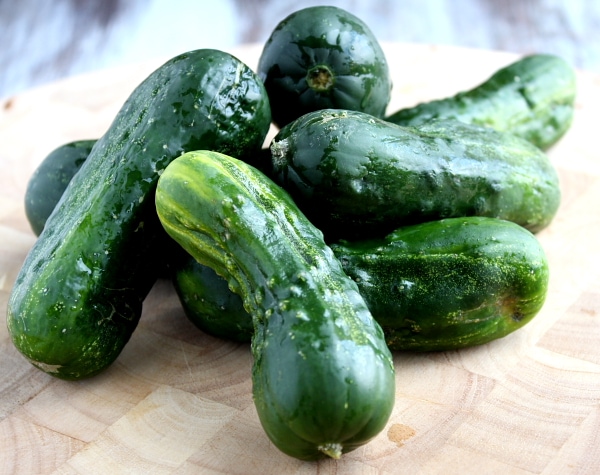 How to Make Bread and Butter Pickles:
Start with buying some pickling cucumbers. They're smaller than a salad cucumber. Your market should carry them, and in the summer months you'll find them at farmer's markets too.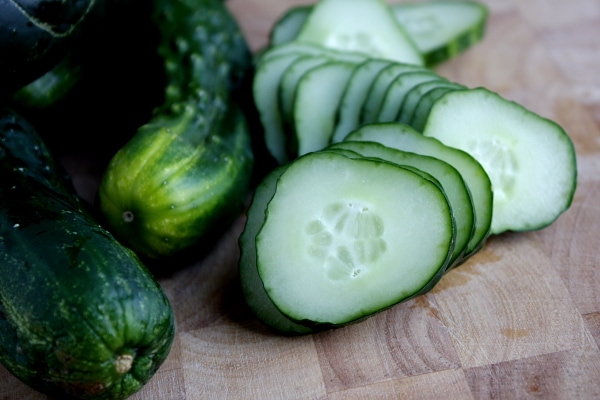 Slice them up. Good, thick slices that will still allow the pickle to yield a crunch when you bite into it.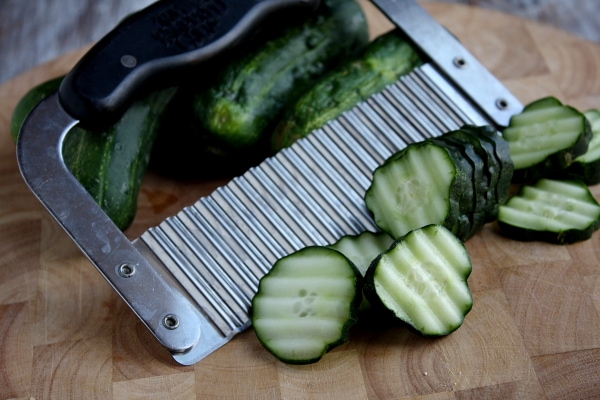 If you have one of these fancy doo-dads, you can make fancy pickles with ridges.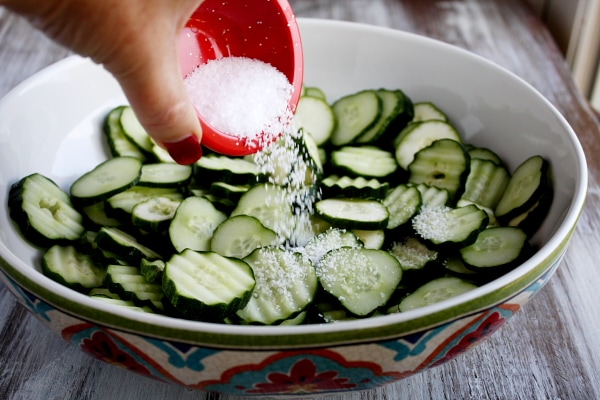 The pickles get a good dose of Kosher salt, then they can sit in the fridge for an hour. Then those pickles get rinsed off in the sink. Just rinse all of that salt off really well so that salty flavor won't follow the pickles into the pickling liquid.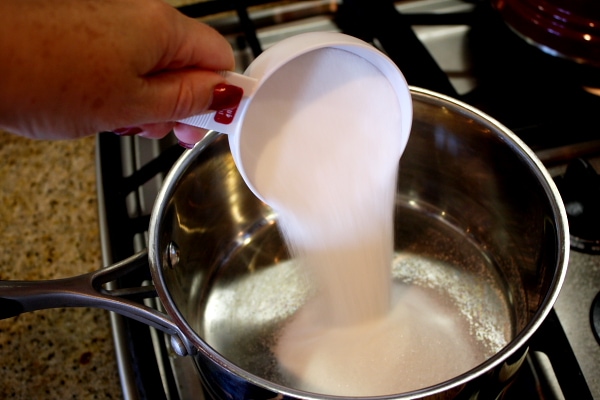 Make the pickling liquid. Combine the sugar…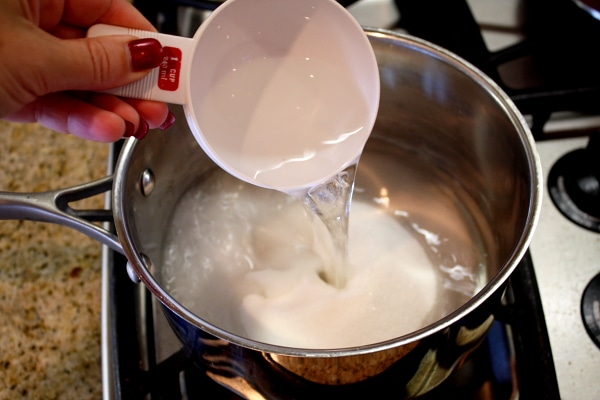 …with white vinegar,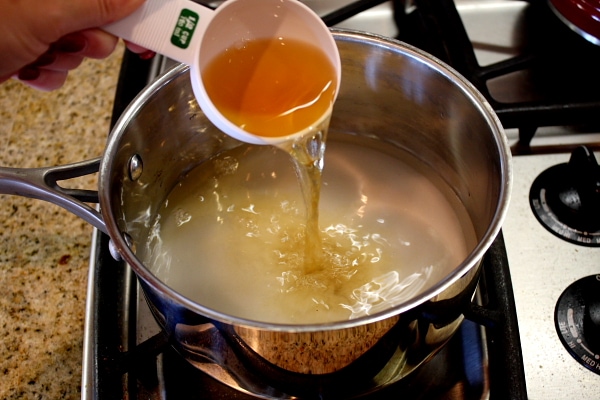 cider vinegar,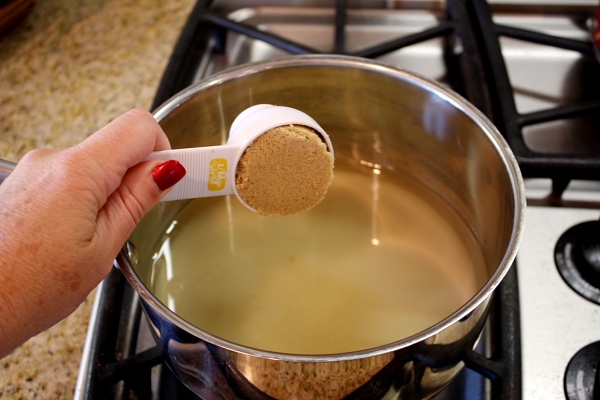 brown sugar,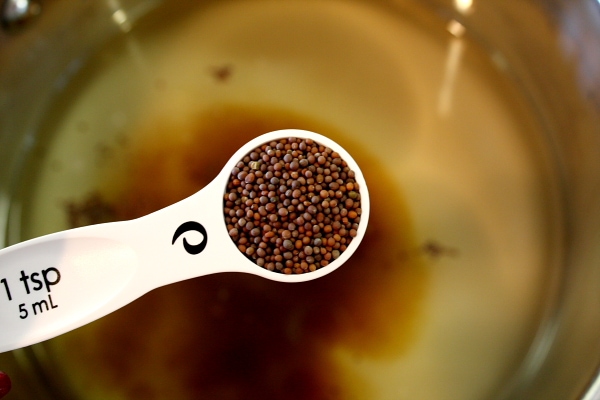 mustard seeds,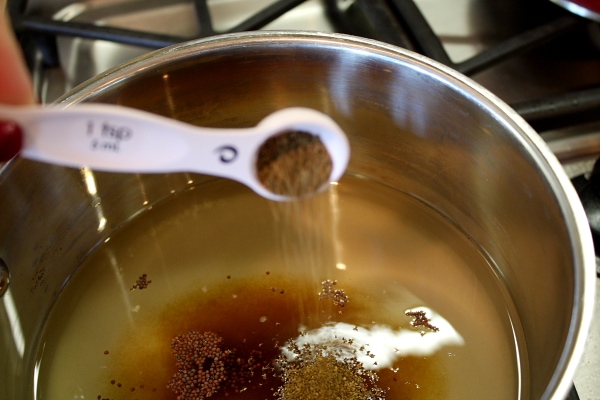 celery seeds,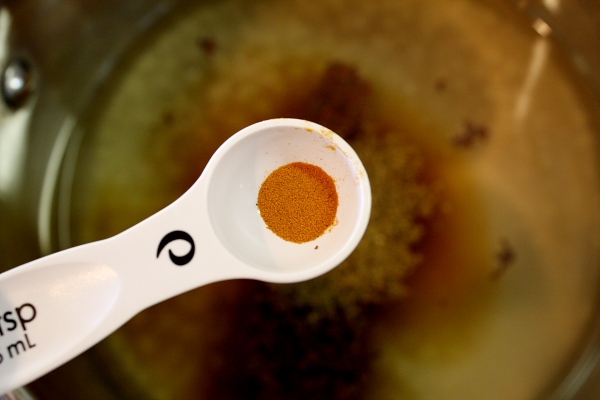 and turmeric. Bring that all to a boil.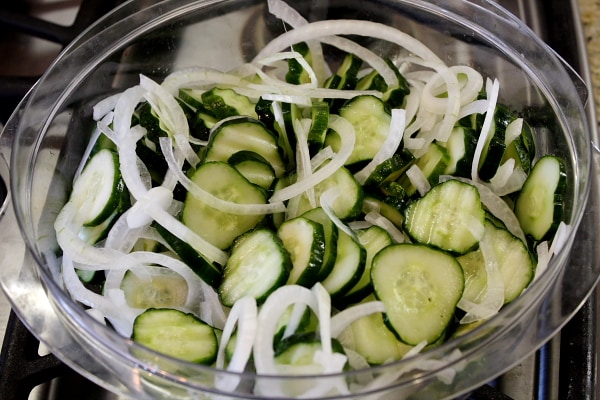 Meanwhile, add some sliced sweet onion to your sliced cucumbers.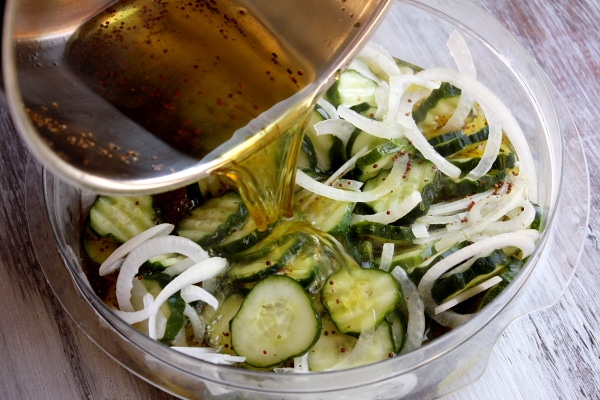 Pour the hot pickling liquid over the cucumbers and onion.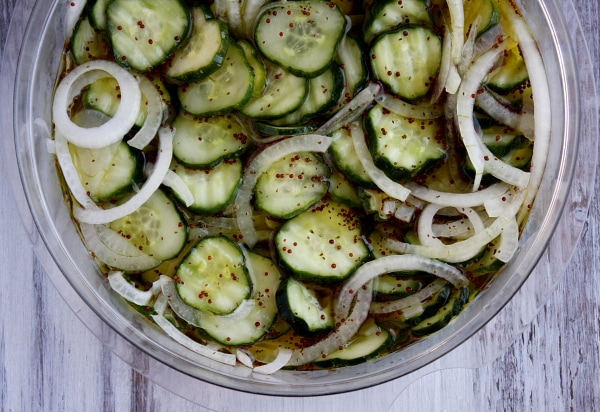 Let it sit there at room temperature for an hour or so.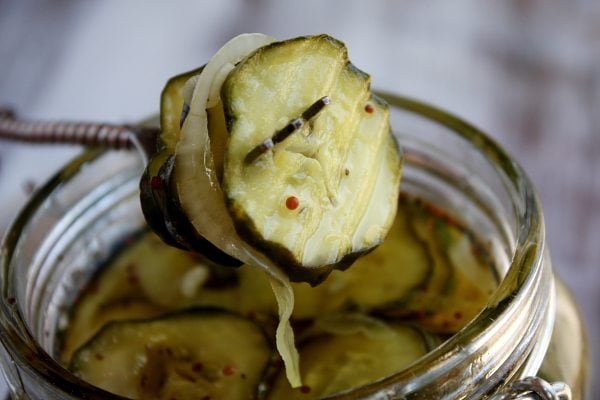 Move those cucumbers and onions to the cutest jar you have, and refrigerate them for 24 hours. This is when the magic process of pickling is going to happen.
If you're impatient like me, you won't wait 24 hours. I tried my Bread and Butter Pickles after just a few hours and they tasted perfectly pickled to me. So sweet and crunchy and incredibly tangy.
If you're a pickle fan (and you should be), you probably will enjoy these. They are so simple to make, and how cool would it be to be able to share homemade Bread and Butter Pickles at a summer barbecue?! And I promise that you don't have to eat them with American cheese (but you're tempted to try it now, aren't you?)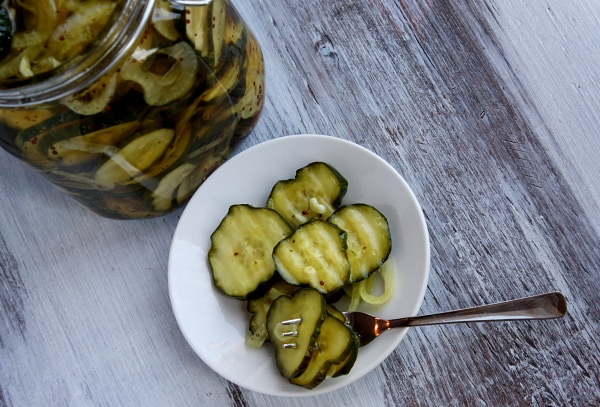 If you are looking for more recipes using cucumbers, you might also enjoy my Tomato, Cucumber and Basil Salad or this Cucumber- Gin Fizz Cocktail. Cucumber Sorbet, Cucumber Salad, and Cucumber Tea Sandwiches are also great recipes starring cucumbers!
Bread and Butter Pickles
These pickles are so simple to make. Be careful... you'll want to eat the whole jar!
Recipe Details
Servings:
16
servings (¼ cup per serving)
Ingredients
5½

cups (1½ pounds)

thinly sliced pickling cucumbers

1½

tablespoons

Kosher salt

1

cup

thinly sliced sweet onion

1

cup

granulated white sugar

1

cup

white vinegar

½

cup

apple cider vinegar

¼

cup

packed light brown sugar

1½

teaspoons

mustard seeds

½

teaspoon

celery seeds

⅛

teaspoon

ground turmeric
Instructions
Combine the cucumbers and salt in a large, shallow bowl; cover and chill 1½ hours. Move the cucumbers into a colander and rinse thoroughly under cold water. Drain well, and return the cucumbers to bowl. Add the onion to the bowl.

Combine the sugar and the remaining ingredients in a medium saucepan; bring to a simmer over medium heat, stirring until sugar dissolves. Pour the hot vinegar mixture over the cucumber mixture; let stand at room temperature 1 hour. Cover and refrigerate 24 hours. Store in an airtight container in refrigerator up to 2 weeks.
Notes
Don't cut the cucumbers too terribly thin. You want them to have a little bit of crunch to them!
You may find that your cucumbers are already ready to sample within just a few hours of marinating in the pickling liquid (rather than waiting an entire 24 hours!)
Nutrition
Serving:
1
serving (1/4 cup)
,
Calories:
76
kcal
,
Carbohydrates:
17
g
,
Sodium:
657
mg
,
Potassium:
84
mg
,
Sugar:
16
g
,
Vitamin A:
35
IU
,
Vitamin C:
2
mg
,
Calcium:
14
mg
,
Iron:
0.2
mg