Someone once said that if you're eating a selection of foods that span the color of the rainbow, then you're probably eating healthy.  That person was wickedly wise.  I'm a salad freak, and I like to make my salads as colorful as possible with added tomatoes, avocado, red kidney beans, garbanzo beans, berries, feta cheese, cucumber, bell peppers… you name it, and I'll put it in my salad.  I also happen to love my vegetables.  There's rarely a vegetable I won't try, and I enthusiastically enjoy most everything.  Pickled vegetables are terrific too, my favorite being Bread and Butter Pickles and Green Beans.  Today I've Pickled Cauliflower with an added bonus of red bell peppers and carrots.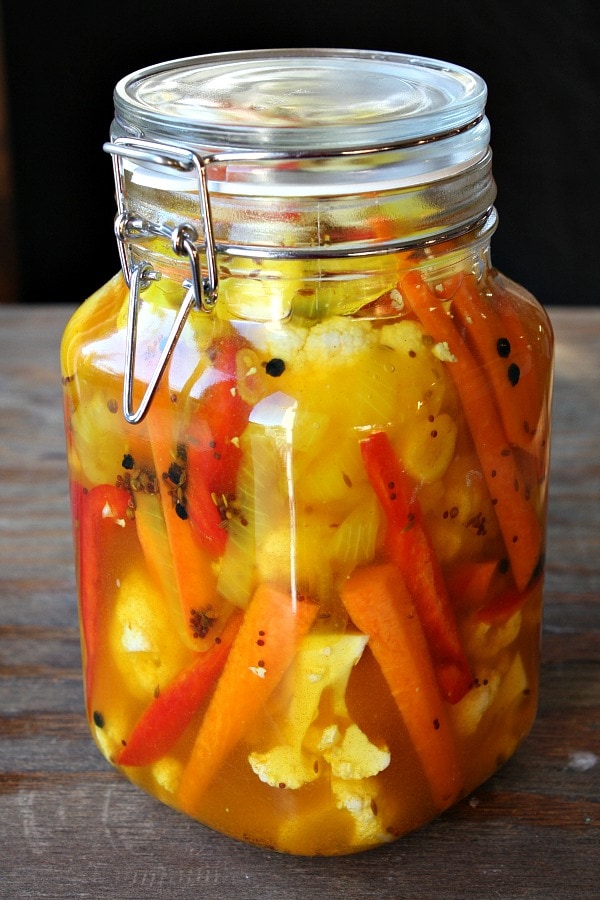 Besides the fact that it's way colorful and pretty, this stuff also makes a terrific low-cal snack or Happy Hour treat (especially for those of us who like to indulge in things like  Cookie Dough Cupcakes and Candied Bacon).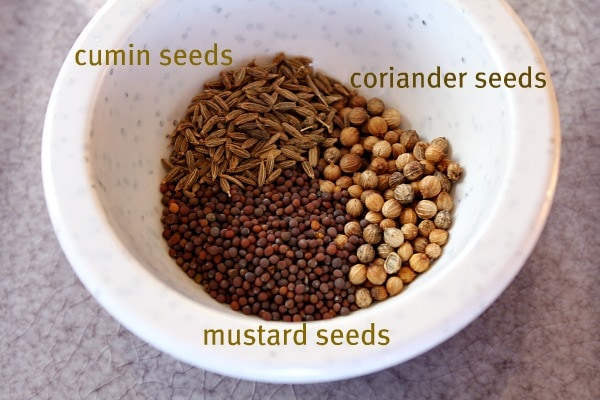 The recipe comes from the folks at Fine Cooking magazine.  It's not your typical pickle recipe.  This one involves some funky but wonderful spices like cumin, coriander and mustard seeds.  Their flavors come alive when they are toasted briefly in a heated saucepan.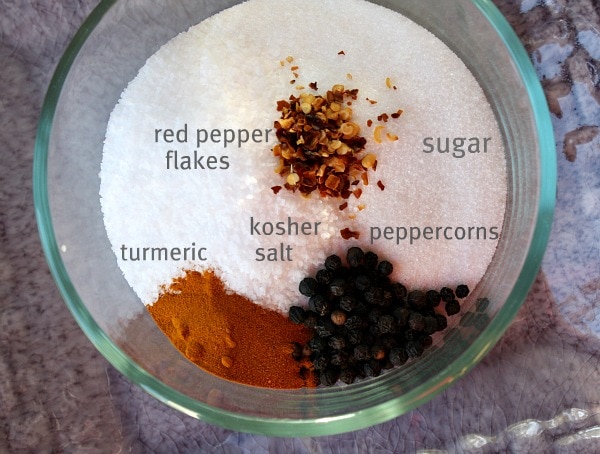 Here are some more goodies that get added to the brine, along with garlic, ginger, onion and cider vinegar.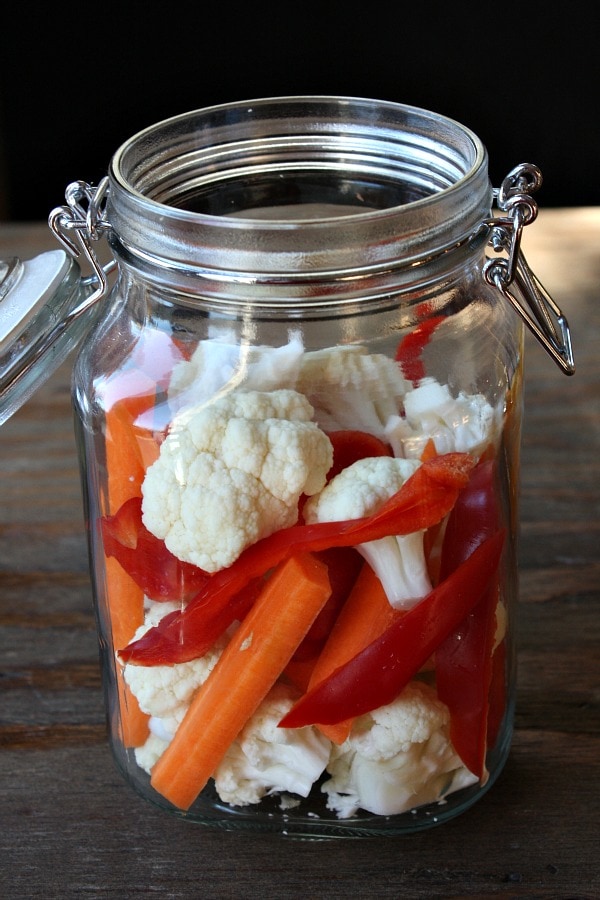 Your veggies are stuffed into a jar (or a big glass bowl).  I suppose you could always just pickle cauliflower… or only carrots… but they're so pretty to mix them all together.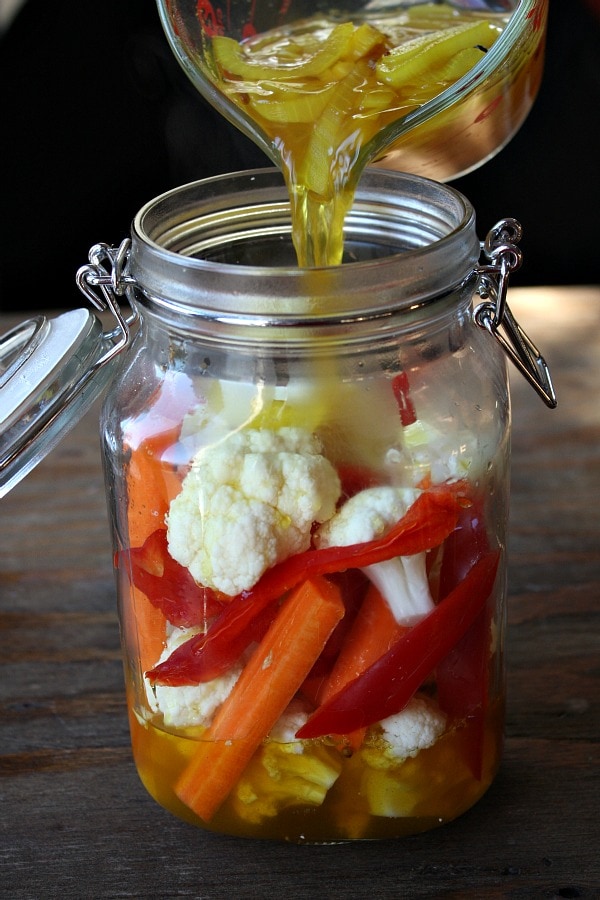 The hot, hot brine is poured over the top.  Let those veggies soak in the brine until it is totally cooled off.  Then close the lid and refrigerate it.  The veggies get to chill out and pickle themselves for two days before they're ready for tasting.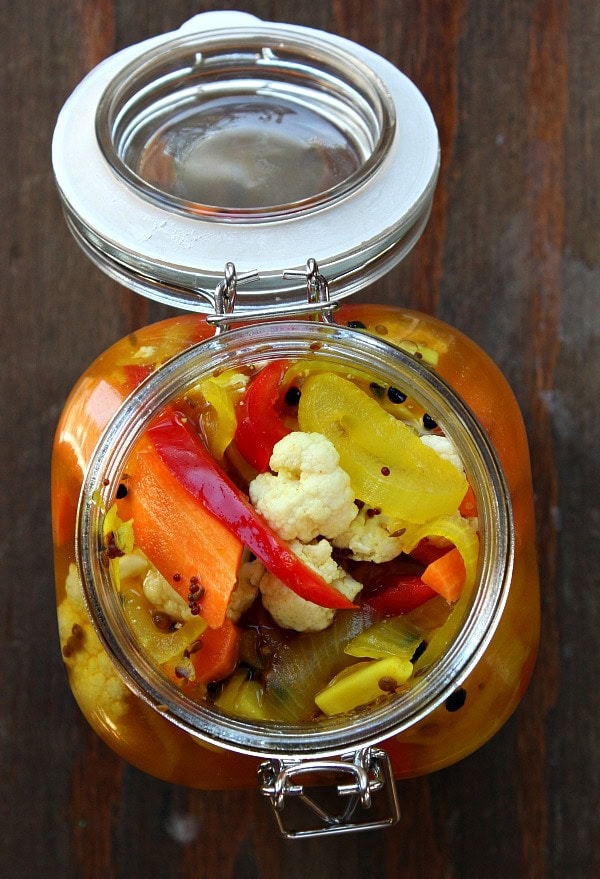 And then… they are pickled!  These babies will be delicious to munch on for two weeks in your refrigerator.  If you're interested in "canning" them for a longer shelf life, see the original recipe on the Fine Cooking website for instructions on how to do so.  I'm pretty sure you won't need them to last longer than two weeks though.  They're delicious and crispy, and they have that wonderful pickled flavor along with the interesting array of added spices.
Watch the video showing you how to make this recipe, then print out the recipe and make it at home!
Pickled Cauliflower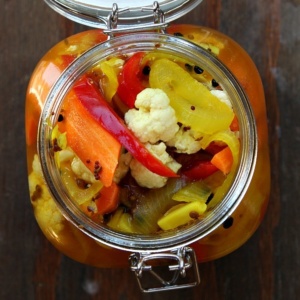 Yield:
About 5 cups pickled vegetables
Prep Time:20 minutes + marinating and cooling time
Cook Time:7 minutes
Ingredients:
1 teaspoon coriander seeds
1 teaspoon mustard seeds
1/2 teaspoon cumin seeds
2 cups cider vinegar
5 medium garlic cloves, peeled and lightly smashed
Three 1/4-inch thick slices peeled fresh ginger
One half small yellow sweet onion, peeled and thinly sliced
1/2 cup granulated white sugar
2 tablespoons Kosher salt
1 teaspoon black peppercorns
1/2 teaspoon ground turmeric
1/4 teaspoon red pepper flakes
One small head cauliflower, cut into 1 1/2 to 2-inch florets
4 medium carrots, peeled and sliced into lengthwise 4-inch pieces
1 small red bell pepper, cored & seeded & cut into strips
Directions:
Add the coriander, mustard and cumin seeds to a medium saucepan. Toast the seeds over medium heat, swirling the pan around until the seeds are fragrant and slightly browned, about 2 minutes. Add the vinegar, garlic, ginger, onion, sugar, salt, peppercorns, turmeric, red pepper flakes and 1 cup water to the toasted spices. Bring to a boil.
Pack the cauliflower, carrots and bell pepper in a 2-quart jar or bowl. Pour the hot liquid over the vegetables. Let cool to room temperature, and then cover and refrigerate for at least 2 days before tasting. The veggies will keep for up to two weeks in the refrigerator.
Tips:
If you'd prefer to can these veggies, please see the original recipe on the Fine Cooking site for instructions.
Nutrition:
Nutritional Information per serving: (Serving size:

4 ounces)

Calories

50, 

Fat

0g, 

Saturated Fat

0g, 

Protein

2g, 

Carbohydrates

12g, 

Sodium

220mg