These Chocolate Pistachio Cut Outs cookies are gorgeous on a cookie platter! They look great with any cookie cutters that are symmetrical- Hearts and Christmas trees are the best. You can also use white chocolate to dip.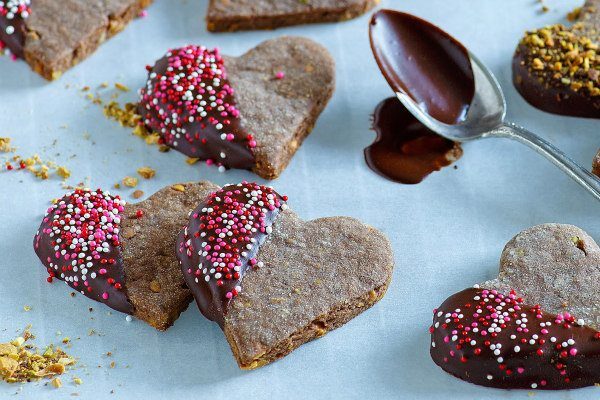 These are such a cute cookie for gifting or celebrating.  The cookies are a chocolate shortbread type of cookie, and they look so pretty dunked halfway in chocolate.  Sprinkles are cute in place of the nuts, if desired.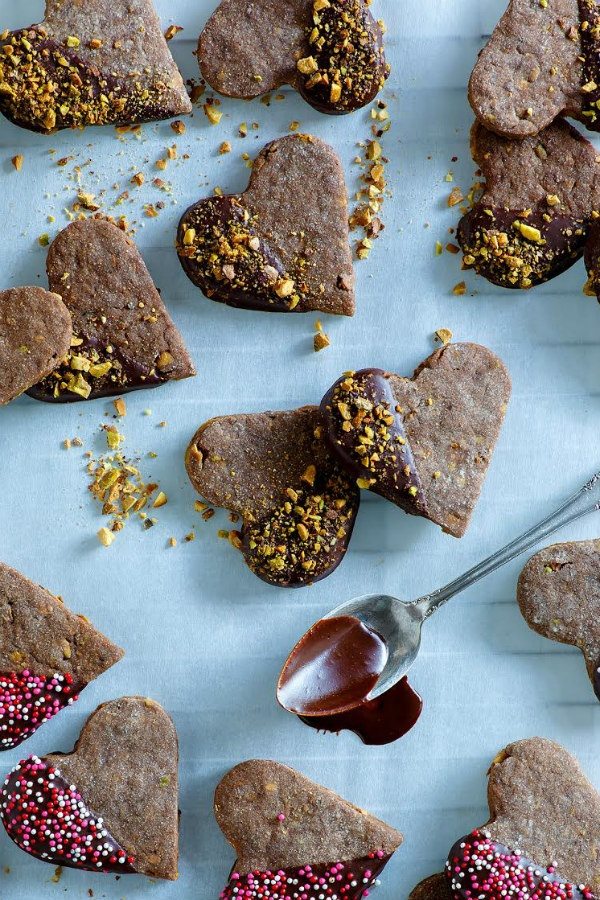 Chocolate Pistachio Cut Outs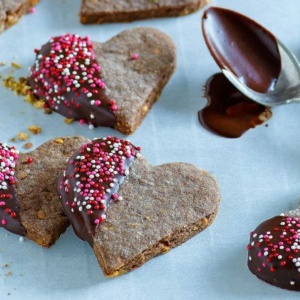 Yield:
4 dozen cookies
Prep Time:40 minutes + chill time
Cook Time:15 minutes
Ingredients:
1 cup (2 sticks) salted butter
2/3 cup packed brown sugar
1 teaspoon vanilla extract
1 large egg, beaten
2 1/4 cups all-purpose flour
1/4 cup unsweetened cocoa powder
3/4 cup finely chopped pistachios
3/4 cup chopped semi-sweet chocolate (or chips)
1 tablespoon shortening
1/4 cup very finely chopped pistachios
Directions:
Combine the butter and sugar in a saucepan; heat and stir until butter is melted and mixture is smooth. Remove the pan from heat and stir in the vanilla- cool for 15 minutes. Whisk in the egg, flour and cocoa, then the 3/4 cup of pistachios. Cover and chill for 30 minutes, or until easy to handle.
Preheat the oven to 350 degrees F. On a floured surface, roll the dough to 1/4-inch thickness; cut into 2-inch hearts, trees or any other symmetrical shape. Bake on an ungreased cookie sheet until firm- about 9 minutes. Cool.
Melt the chocolate and shortening in a small pan (or Pyrex container in microwave) and stir until smooth. Dip half of each heart in mixture. Edge with ground pistachios. Place the dipped cookies on waxed paper until the chocolate sets completely. Store in a covered container with sheets of waxed paper dividing layers (they also freeze well).
Tips:
When melting chocolate and shortening in microwave, cook for 30 seconds... take out and stir... cook a little more... stir... until nice and smooth for dipping.
Try dipping in sprinkles or other goodies too!
SOURCE: RecipeGirl.com