I've been making this easy recipe for Holly Cookies for many years!  Everyone loves them.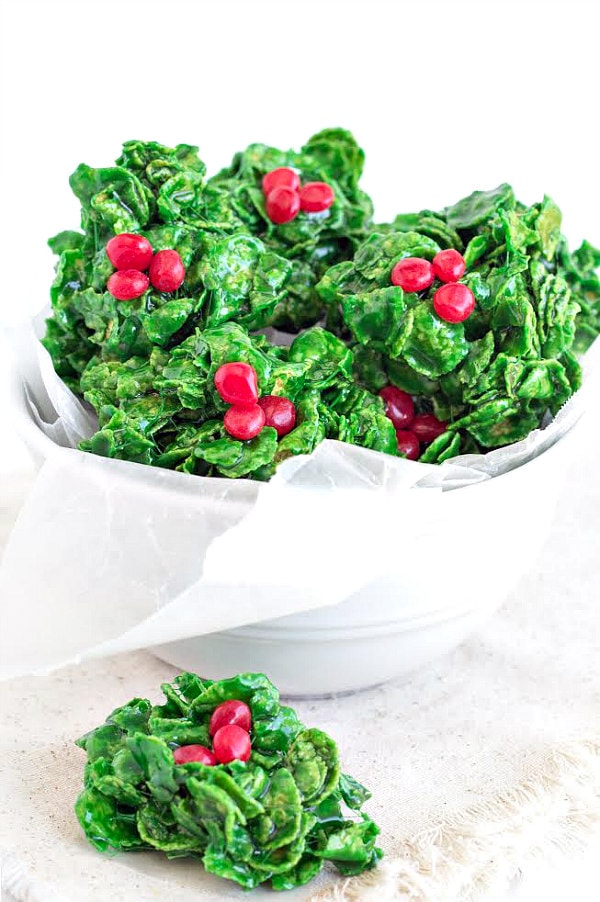 Yield: 2 dozen
Prep Time: 25 minutes
Cook Time: 10 minutes
Holly Cookies
The kids love these cute little holly cookies- anything gooey and green! Their flavor is reminiscent of rice krispie treats.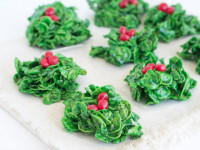 Ingredients:
1/2 cup (1 stick) butter
30 large marshmallows
1/2 teaspoon vanilla extract
1 1/2 teaspoons green food coloring
3 1/2 cups corn flakes
red cinnamon candies
Directions:
In a large pot, melt the butter and marshmallows over medium heat, stirring constantly. Add the vanilla and food coloring. Stir in the corn flakes. Grease a spoon and drop spoonfuls of the mixture onto a greased cookie sheet, or vegetable oil sprayed wax paper. Place 3 red cinnamon candies on each bunch of "holly," pressing slightly so they stick.
Let sit until they have cooled and set.
SOURCE: RecipeGirl.com
14 Responses to "Holly Cookies"
Leave a Comment