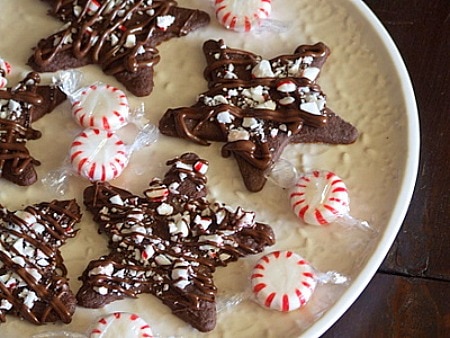 Chocolate- Peppermint Stars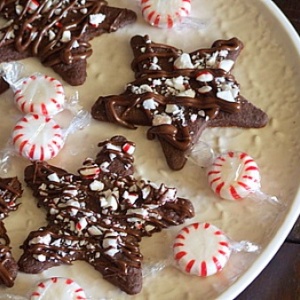 These festive cookies look great on a holiday platter...
Yield:
32 cookies
Prep Time:30 min + chilling time
Cook Time:25 min
Ingredients:
COOKIES:
1 1/4 cups all-purpose flour
1/2 cup unsweetened cocoa powder
1/2 teaspoon salt
1 cup (2 sticks) unsalted butter, at room temperature
1 cup powdered sugar
1 teaspoon vanilla extract
TOPPING:
6 ounces bittersweet or semi-sweet chocolate, finely chopped
1/2 cup crushed red and white peppermint candies
Directions:
1. Sift flour, cocoa, and salt into medium bowl. Beat butter and sugar in large bowl until smooth. Beat in vanilla. Add dry ingredients; beat until dough holds together. Divide dough in half. Shape each piece into a disk. Wrap in plastic; chill until firm enough to roll, at least 45 minutes and up to 1 day.
2. Set rack in center of oven and preheat to 300°F. Line 2 rimmed baking sheets with parchment paper. Roll out 1 dough disk on floured surface to 1/4-inch thickness. Using 3-inch star-shaped cutter, cut out cookies. Transfer to sheets, spacing 1-inch apart. Gather scraps into ball. Wrap; chill until firm, about 30 minutes.
3. Bake cookies, 1 sheet at a time, until tops feel firm to touch, about 25 minutes. Cool on sheets 10 minutes. Transfer to racks and cool completely. Repeat rolling, cutting, and baking until all dough is used.
4. Stir chocolate in small metal bowl set over saucepan of barely simmering water until smooth. Using small spoon, drizzle chocolate over cookies in zigzag lines. Sprinkle with crushed candies. Drizzle remaining chocolate over. Let stand until chocolate is set, at least 1 hour.
Tips:
*The cookies can be prepared ahead. Store in airtight container at room temperature up to 3 days or freeze up to 2 weeks. Frost when ready to serve. Frosted cookies can be made 3 days ahead. Store cookies between sheets of waxed paper in airtight container at room temperature.
Source: RecipeGirl.com (via Bon Appetit)