This Holiday Nuggets cookie recipe has been a holiday baking favorite in the RecipeGirl family for over 40 years.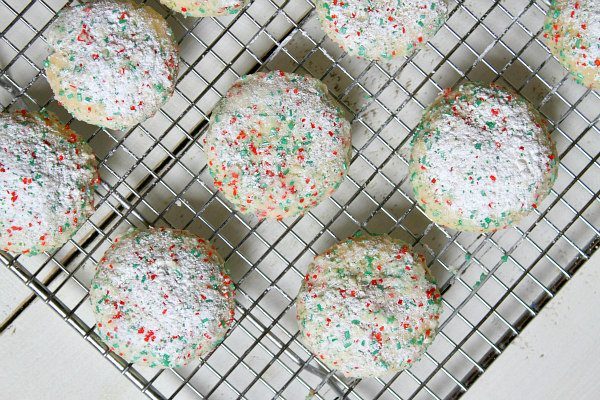 I remember growing up with these guys.  Yep, that means my Mom has been baking Holiday Nuggets for over 40 years for our family.  They're kind-of, sort-of like snowball cookies… except they're a bit flatter… still covered with powdered sugar and added-sprinkles for holiday effect.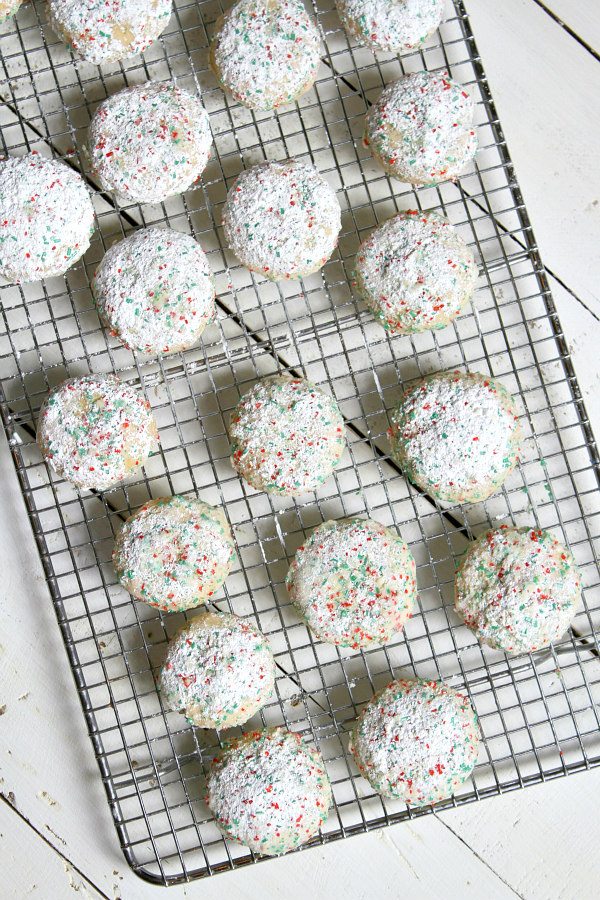 They're definitely the sort of cookie that you always want to make sure you have on your holiday cookie platters.  Everyone reaches for cookies covered in powdered sugar, and sprinkles are (of course) pretty much irresistible.
Lightly sweetened and flaky with chunks of slivered almonds, these are the kind of cookies that melt in your mouth.  The powdered sugar coating gives them an extra boost of sweetness.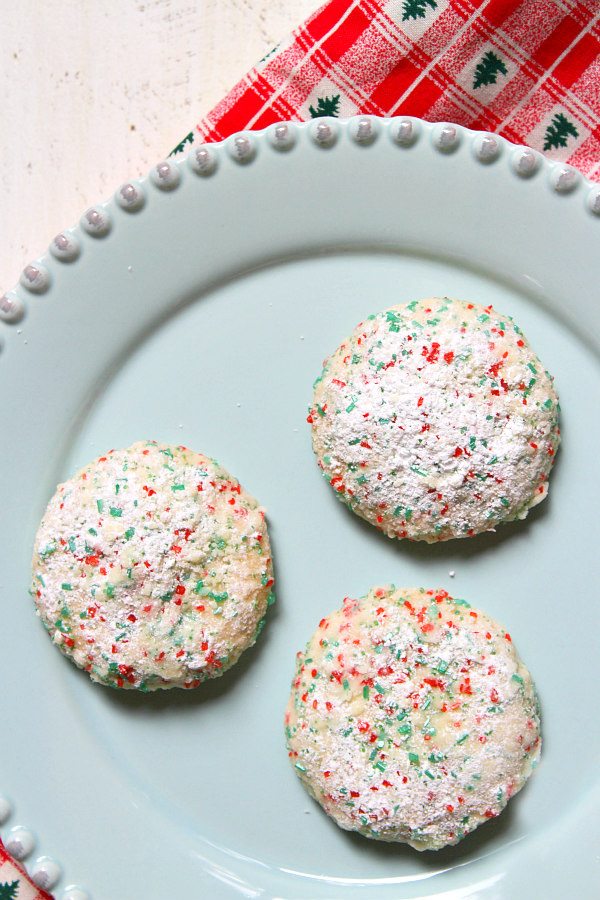 These cookies also freeze well, so you can certainly bake them now and store them in the freezer in a well-sealed container until you're ready to take them out for holiday munching.  They're safe in the freezer, right??
Add these to your holiday baking list!  The recipe makes a small amount- about 2 dozen Holiday Nuggets.  Double it if you want more!
Yield: 2 to 3 dozen cookies
Prep Time: 30 minutes
Cook Time: 20 minutes
Holiday Nuggets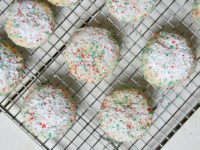 Ingredients:
2 cups all-purpose flour
1/2 teaspoon salt
3/4 cup shortening
1/4 cup (1/2 stick) butter, softened
1/2 cup powdered sugar, sifted
1 tablespoon vanilla extract
1 teaspoon almond extract
1/2 cup finely chopped slivered almonds
additional powdered sugar
red and green sprinkles, optional
Directions:
Preheat oven to 325 degrees F.
Sift the flour and salt.
In a large bowl, use an electric mixer to combine the shortening, butter and powdered sugar.
Blend in the extracts and nuts. Add the dry ingredients gradually and mix until dough is smooth.
Shape the dough into small balls, using 1 tablespoon of dough for each cookie. Place on ungreased cookie sheets and flatten slightly.
Bake 20 to 25 minutes until edges are slightly golden and they are baked through.
Roll the warm cookies in powdered sugar.  Mix some sprinkles in if you want a holiday look to them.
You may need to refrigerate the dough for a little while to get it firm enough to roll into balls.
SOURCE:  RecipeGirl.com
Here are a few more holiday cookie recipes you might enjoy:
Comments