Easy, moist, chocolaty Peppermint Texas Sheet Cake smothered in peppermint infused chocolate frosting is the perfect, easy holiday dessert for you neighbors, friends and family!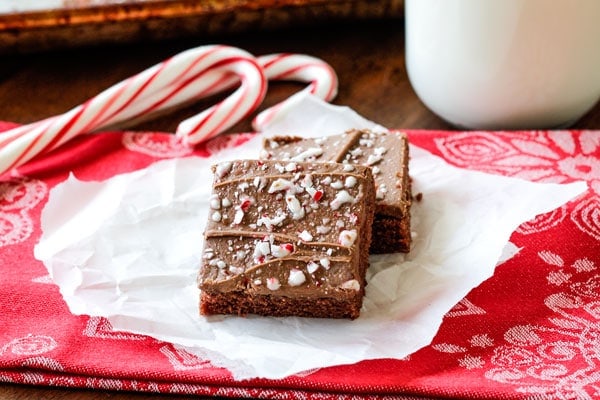 I still remember the first time I devoured Texas Sheet Cake.  It was at a friends house.  I was eight years old.  As I wise eight year old, I thought I had experienced most delicious desserts, and then I sunk my teeth into the moist, thin chocolate cake with fudge-like frosting.  It was love at first bite.  Decades later, I still get giddy at the thought of Texas Sheet Cake.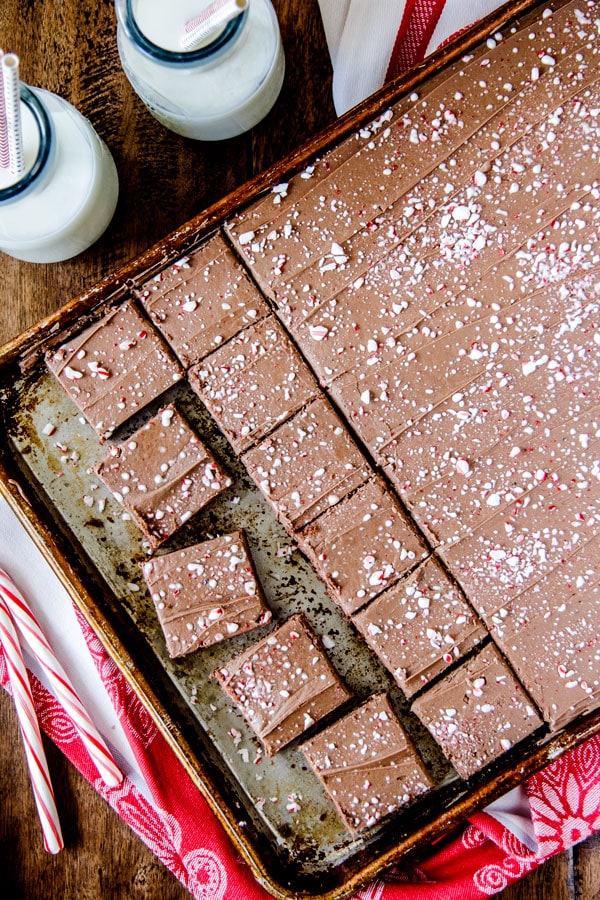 Texas Sheet cake gets its name because it is baked in a large 13 x 18 inch pan  – but not all Texas Sheet Cakes are created equal.   Out of all the Texas Sheet Cake Recipes out there, this version is my favorite because it has double the chocolate with the addition of  8 oz. of chocolate chips and 1/2 cup unsweetened cocoa powder (instead of the traditional 1/4 cup) to fulfill every chocolate lovers dream.  But it gets dreamier…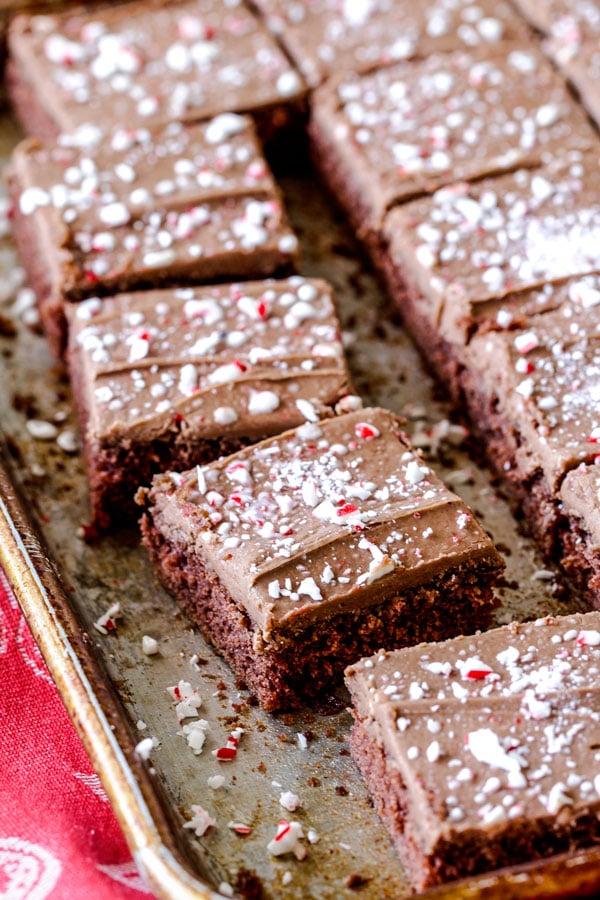 The delectable chocolate icing of cocoa powder, butter, and heavy cream is poured onto the cake as soon as the cake comes out of the oven, creating a top fudgy layer between the cake and the icing and a super moist cake.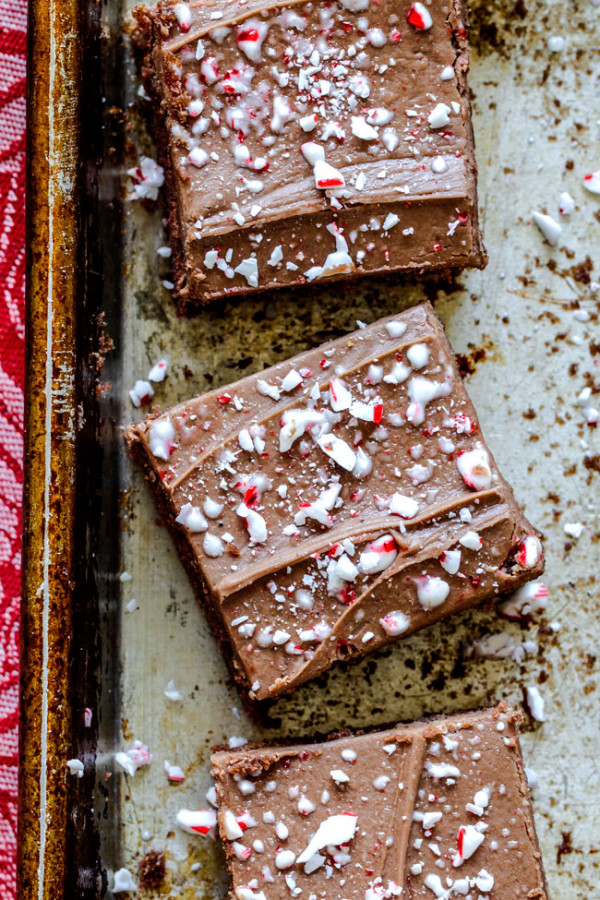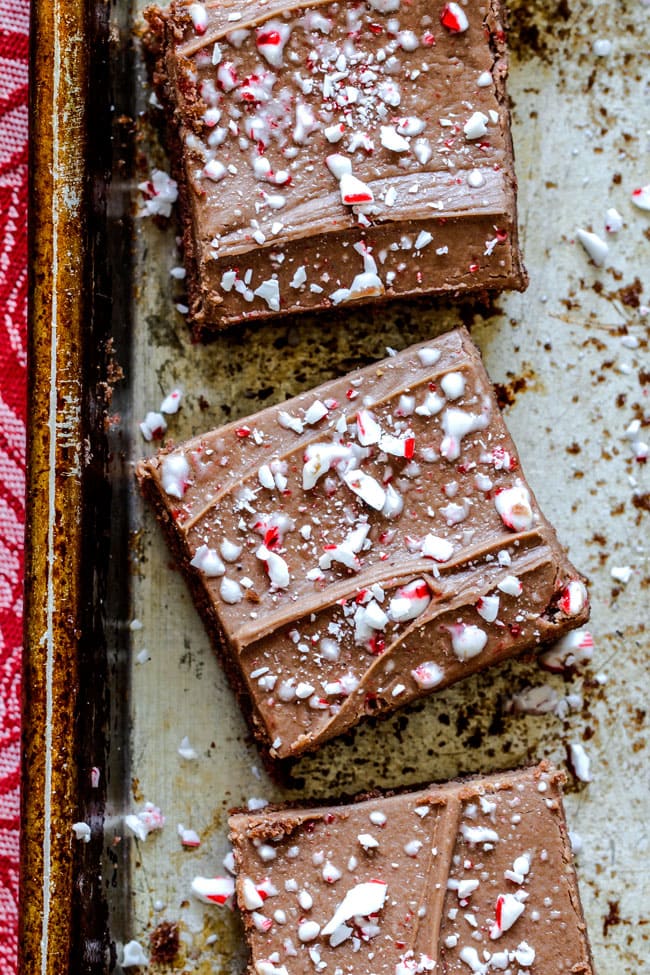 To make this Texas Sheet Cake more festive for the holidays, I infused it with peppermint extract and topped it with crushed candy canes and added a hint of peppermint to the fudgy frosting so now this chocolate lovers dream can be a holiday lovers dream come true.  Happy Holidays!
Peppermint Texas Sheet Cake
Yield:
24 to 36 squares
Prep Time: 15 minutes
Cook Time: 20 minutes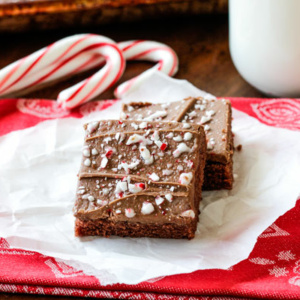 Ingredients:

Cake:

2 cups all-purpose flour
2 cups sugar
1/2 teaspoon baking soda
1/2 teaspoon salt
2 large eggs plus 2 large egg yolks
1/4 cup sour cream
2 teaspoons vanilla extract
1/2 teaspoon peppermint extract
8 ounces semisweet chocolate, chopped
4 tablespoons (1/2 stick) unsalted butter
3/4 cup vegetable or canola oil
3/4 cup water
1/2 cup Dutch-processed cocoa powder

Chocolate Icing:

1/2 cup (1 stick) unsalted butter
1/2 cup heavy cream
1/2 cup Dutch-processed cocoa powder
1 tablespoon light corn syrup
3 cups powdered sugar
1 tablespoon vanilla extract
1/2 teaspoon peppermint extract
3 candy canes, crushed

Instructions:

Cake: Preheat oven to 350 degrees F. Grease a 18 x 13 inch rimmed baking sheet or line with parchment paper.
In a large bowl, combine the flour, sugar, baking soda, and salt.  In another bowl, whisk together the eggs and yolks, sour cream, vanilla extract, and peppermint extract until smooth.
In a large saucepan over medium heat, heat the chocolate, butter, oil, water, and cocoa, stirring occasionally, until smooth, 3 to 5 minutes. Whisk the chocolate mixture into the flour mixture until incorporated.  Whisk the egg mixture into the batter until well-combined, then pour into the prepared baking pan.
Bake 18 to 20 minutes or until a toothpick inserted into the center comes out clean. Transfer the pan to wire rack.
Chocolate Icing:  About 5 minutes before the cake is done baking, heat the butter, cream, cocoa, and corn syrup in a large saucepan over medium heat, stirring occasionally, until smooth.  Pull the pan off the heat, and whisk in the powdered sugar, vanilla and peppermint extract.
Spread the warm icing evenly over the hot cake. Let the cake cool to room temperature on the wire rack (about one hour) then sprinkle with chopped candy canes.  Refrigerate until the icing is set (about 1 hour longer) before cutting into squares. The cake can be wrapped in plastic and refrigerated for up to 2 days.  Bring to room temperature before serving.

Nutrition:
The key to perfectly moist Texas sheet cake is to let the warm icing soak into the hot cake. As soon as the cake comes out of the oven, pour the warm icing over the cake and use a spatula to spread the icing to the edges of the cake. This creates the signature fudgy layer between the icing and the cake.
Here are a few more cake recipes you might enjoy: