Always a favorite:  Linzer Pinwheel Cookies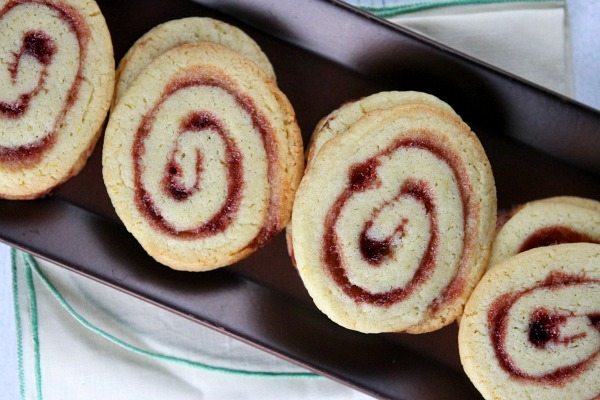 This recipe may very well be my favorite cookie recipe of the season.  The cookie part has a lovely (light) lemon flavor, and the raspberry swirl is ever-present. The cookie turns out to be a crispy sort of cookie.
The recipe is another one from the book I'm currently obsessed with:  The Ultimate Cookie Book by Better Homes and Gardens.  There are so many classic, new and all-around delicious cookie recipes in this book (more than 500!) that I can hardly stand it!  I have so many recipes bookmarked to make.  The temptation to bake is great!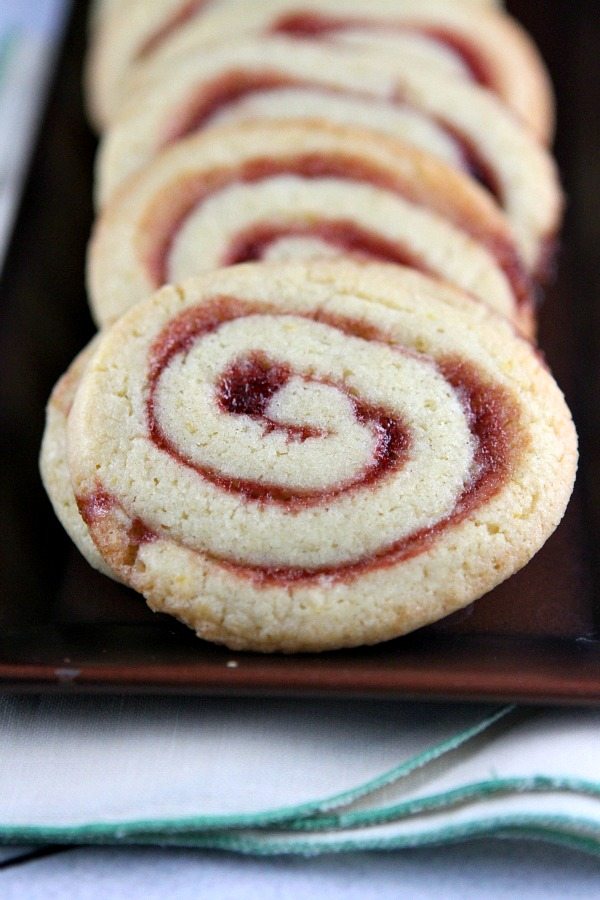 There are a few steps involved in making these, but it's well worth the time spent.  The dough needs to chill… then you roll it with the raspberry and chill some more… then cut and bake.  It's not that big of a deal, but you need to plan for it.  Since my kiddo is rather enamored with raspberries, he was just as happy with these as I was.  And I love that they're going to add a splash of color to my holiday cookie platter.  
Linzer Pinwheel Cookies
Yield:
40 to 50 cookies
Prep Time: 35 min + chill time
Cook Time: 10 min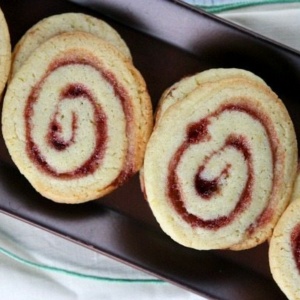 Ingredients:

1 cup butter (2 sticks), at room temperature
1 1/2 cups granulated white sugar
1/2 teaspoon baking powder
1/2 teaspoon salt
2 large eggs
1 teaspoon finely grated lemon zest
3 1/4 cups Gold Medal® All-Purpose Flour
2/3 cup seedless raspberry jam

Instructions:

1. In a large mixing bowl, use an electric mixer to cream the butter for about 30 seconds. Mix in the sugar, baking powder and salt. Beat in the eggs and lemon zest. Beat in the flour until incorporated. Divide the dough in half. Wrap each half in plastic wrap and chill for about 1 hour (or until the dough is easy to handle).

2. Roll half the dough at a time between sheets of waxed paper into a 10-inch square. Remove the top sheet of waxed paper. Spread the dough with jam to within 1/2-inch of the edges. Don't slop it on thick or it will be a mess when you try to roll it (it'll squish out). Give it a nice, thin layer of jam. Roll up the dough using the bottom sheet of waxed paper to help lift and guide the dough. Moisten the edges, and pinch to seal. Wrap each spiral log in waxed paper or plastic wrap. Chill for 4 to 24 hours or until dough is firm enough to slice.

3. Preheat oven to 375 degrees F. Line a large baking sheet with parchment paper. Using a sharp knife, quickly cut spiral logs into 1/4-inch slices- repositioning the logs as needed to keep them from flattening. If the logs become too soft during cutting, place them in the freezer about 10 minutes or until they firm up). Place the slices 2-inches apart on the prepared cookie sheet.

4. Bake 10 to 12 minutes or until the edges are firm and the bottoms are light brown. Cool on the baking sheet for a couple of minutes, then transfer to a rack to cool completely.

Tips:

*Store cookies at room temperature or refrigerated in an airtight container up to 2 days, or freeze up to 3 months.
Here are a few more linzer-themed cookies you might enjoy:
Hazelnut- Chocolate Linzer Cookies by Aida Mollencamp
Gingerbread Linzer Cookies by Chocolate Moosey
Blackberry Linzer Cookies by Honestly Yum
Big, Fat Linzer Cookie by Three Many Cooks
Disclosure:  There are Amazon affiliate links included in this post.