This recipe has been featured in a post on The Recipe Girl blog: Chocolate Cupcakes w/ Peppermint Icing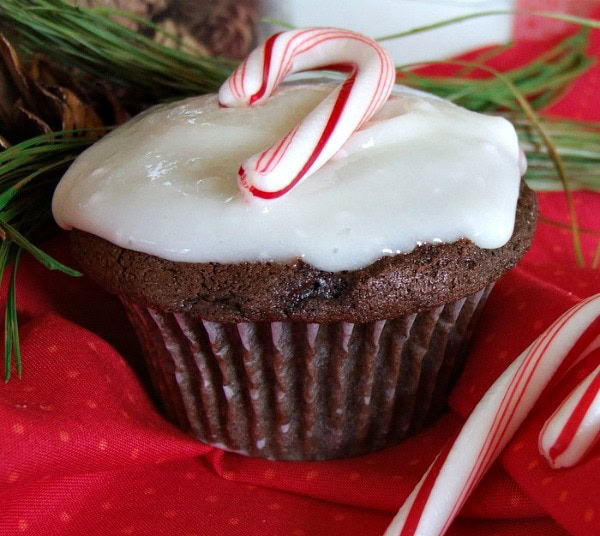 Chocolate Cupcakes w/ Peppermint Icing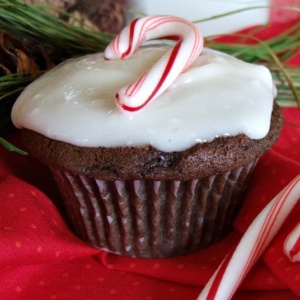 Yield:
12 cupcakes
Prep Time: 30 min
Cook Time: 12 min
Ingredients:
CUPCAKES:
1 cup packed light brown sugar
6 Tablespoons butter, at room temperature
2 large eggs
1 1/4 cups all-purpose flour (about 5 1/2-ounces)
1/2 cup unsweetened cocoa powder
1 teaspoon baking powder
1/2 teaspoon baking soda
1/2 teaspoon salt
1/2 cup low fat buttermilk
1 teaspoon vanilla extract
ICING:
2 cups powdered sugar (or more), sift after measuring to remove lumps
1/2 cup (4-ounces) tub-style light cream cheese
1/8 teaspoon peppermint extract
crushed candy canes
Directions:
1. Preheat oven to 350°F.
2. Prepare cupcakes: Place brown sugar and butter in a large bowl; beat with a mixer at medium speed for 2 minutes, or until well blended. Add eggs; beat well. In a separate bowl, whisk together flour, cocoa, baking powder, baking soda and salt. Add dry ingredients to sugar mixture alternately with buttermilk, beginning and ending with flour mixture. Stir in vanilla.
3. Spoon batter into 12 muffins cups lined with paper liners. Bake for 10 to 14 minutes or until cupcake spring back when touched lightly in the center (and inserted toothpick comes out clean). Cool in pan 10 minutes on a wire rack. If cupcake tops have flowed onto the cupcake pan, run a knife around the tops and gently twist each cupcake to loosen it from sticking to the pan. Remove from pan. Cool completely on a wire rack.
4. Prepare icing: In a medium bowl, combine powdered sugar, cream cheese and peppermint extract. Stir until smooth. If it seems too thin, add a bit more powdered sugar. Spread icing on cupcakes and sprinkle with candy cane pieces.