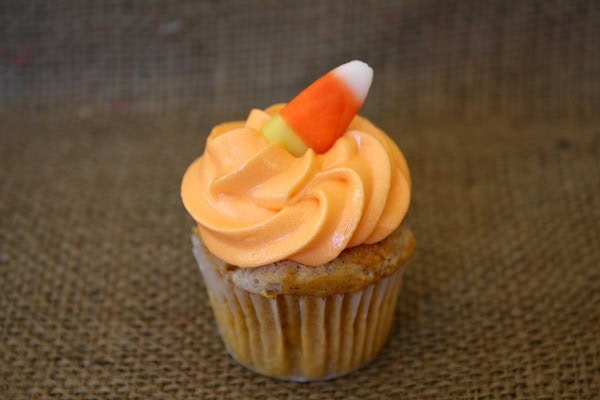 Pumpkin Cupcakes w/ Cream Cheese Frosting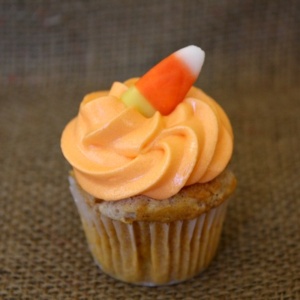 Yield:
12 regular-sized or 24 mini cupcakes
Prep Time:30 min
Cook Time:20 min
Ingredients:
CUPCAKES:
2 cups all-purpose flour
2 teaspoons baking powder
1 teaspoon ground cinnamon
1/4 teaspoon ground nutmeg
1/4 teaspoon ground ginger
1/4 teaspoon salt
1/2 cup vegetable or canola oil
1 1/4 cups granulated white sugar
2 large eggs
1 teaspoon vanilla extract
1 cup canned pure (unsweetened) pumpkin
CREAM CHEESE FROSTING:
3 cups powdered sugar (more, if you intend to pipe it on)
One 8-ounce package cream cheese, softened
4 Tablespoons salted butter, softened
1 teaspoon freshly squeezed lemon juice
yellow and red food coloring
Directions:
1. Preheat oven to 350° F. Line a 12 cup muffin pan (or a 24 cup mini muffin pan) with baking cups.
2. Prepare cupcakes: In a large mixing bowl, whisk together flour, baking powder, cinnamon, nutmeg, ginger and salt. Set aside.
3. In a separate bowl, stir oil and sugar together. Whisk in eggs, and stir in vanilla extract.
4. Pour wet ingredients over dry ingredients and stir until just combined. Stir pumpkin into the batter until it is thoroughly combined.
5. Spoon batter into lined muffin cups. Bake for 20 minutes, or until a knife inserted in the middle of a cupcake comes out clean. Less time will be needed if you are making mini-cupcakes. When cupcakes are removed from oven, let them sit for about 10 minutes, then remove them to cool completely on a wire rack.
6. Prepare the cream cheese frosting: In a medium bowl, beat together frosting ingredients (except food coloring) until smooth. Add about 12 drops of yellow food coloring and 4 drops of red food coloring and beat until the frosting turns orange. Frost cooled cupcakes.