I'm so happy to include a recipe for the most delicious cupcakes ever for anyone who might have a dairy allergy: Dairy Free Chocolate Cupcakes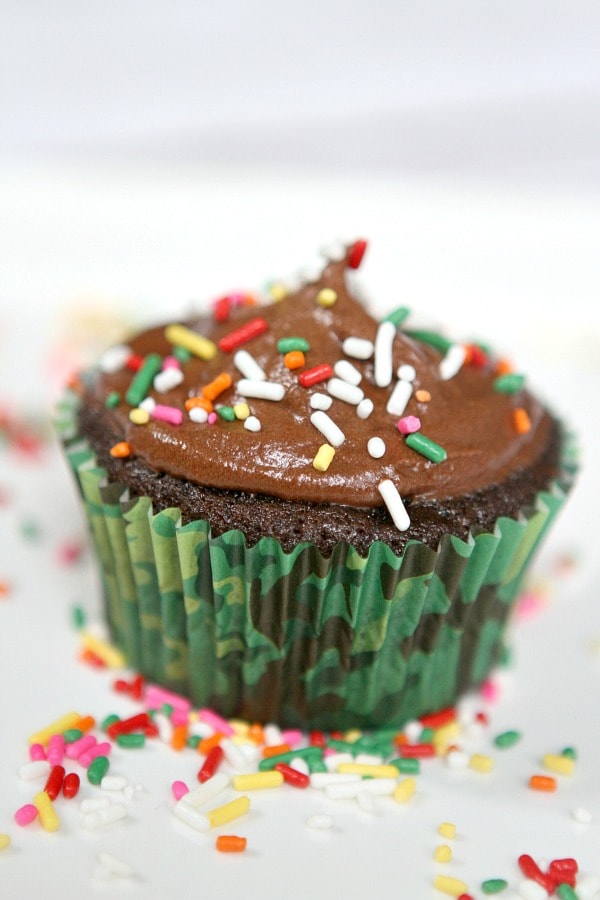 These cupcakes were for my baby boy Brooks' FOURTEENTH birthday. It's hard to believe. If you have kids of your own then you totally can relate. You blink twice… maybe three times, and they're almost ready to get their driver's license! We celebrated his birthday last weekend with some of his buddies hanging out at our house for the night. I made him a lacrosse themed birthday cake that I shared on Instagram! My kid is completely and totally absorbed in the sport of lacrosse. He loves it, and he is pretty darn good at it too!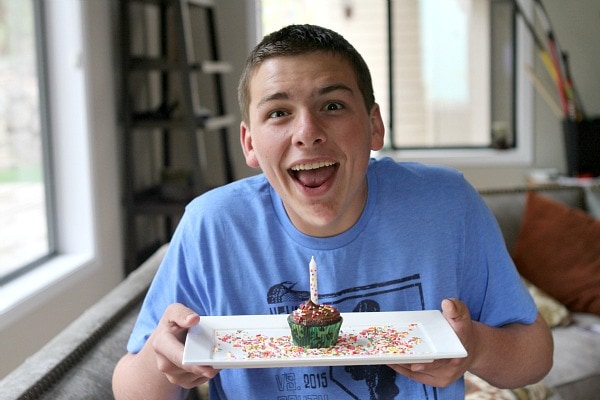 My little (6′ 2 1/2″) goofball loves his chocolate!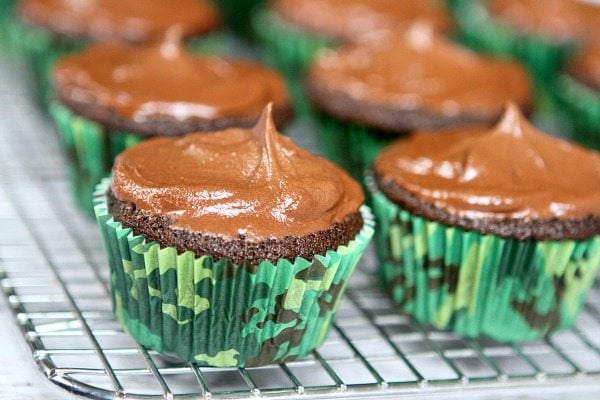 For Brooks' actual birthday, he had a long lacrosse practice to attend… so I made these cupcakes for his team. One of his good buddies on the team had a dairy allergy. We didn't want to leave him out… or for him to feel weird about not being included… so I decided to make dairy free cupcakes for the whole team. I really wanted them to taste just like regular chocolate cupcakes. I was most worried about the frosting. Since I always use butter in my frosting recipes, I wasn't quite sure how well a "non butter" frosting would work!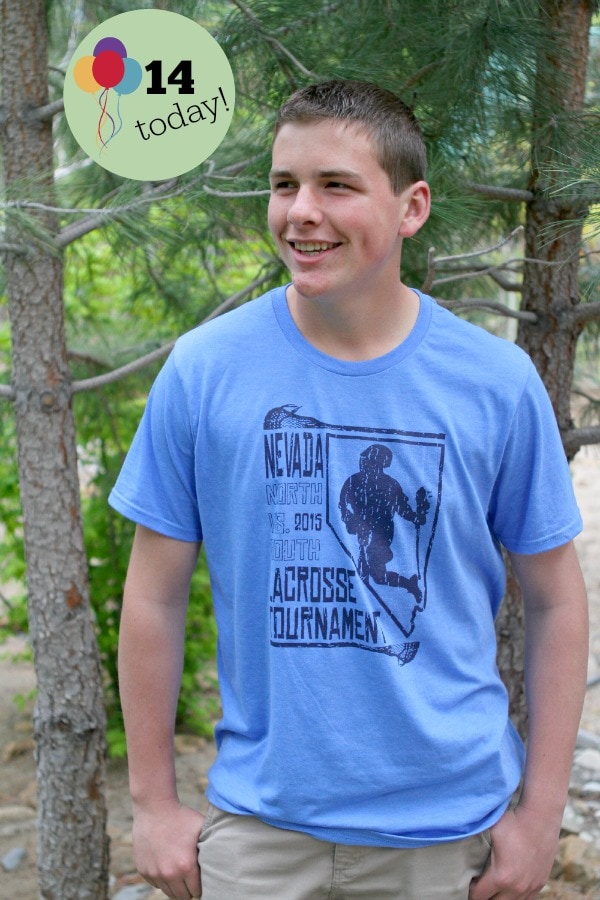 My handsome boy! College in just 4 years… yikes!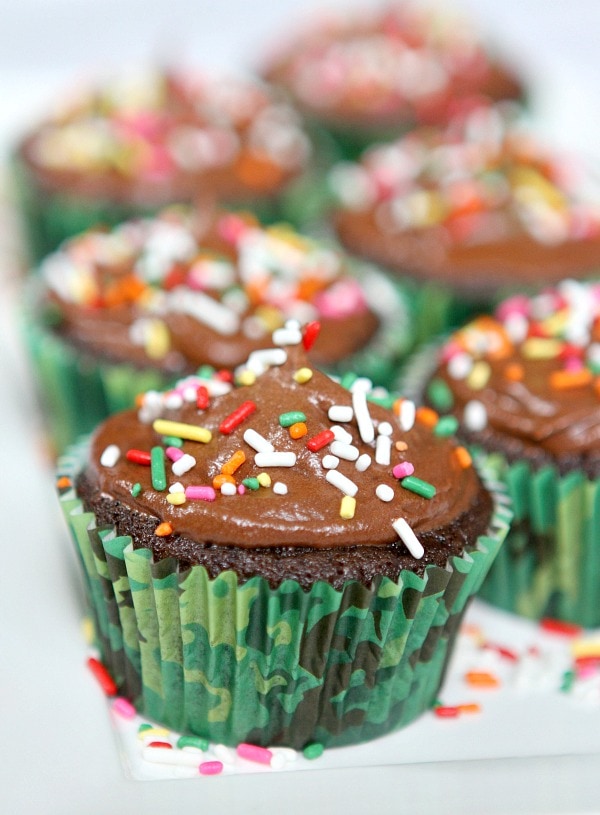 How do Dairy Free Chocolate Cupcakes taste?
I'm so excited to share with you how fabulous these cupcakes turn out. They are so good that I make them often… even when I don't need to worry about any dairy allergies. This recipe is actually egg-free too. The cakes are so chocolatey and moist, and the addition of dairy free mini chips is a fabulous idea too. That makes them extra chocolatey! (You can find a couple of brands of dairy free chips at Whole Foods and other specialty markets… sometimes regular markets have them in their gluten-free section). I use a frosting recipe from my friend Alisa's blog: Go Dairy Free. She shared her best dairy free frosting recipe with me: Amazing Mylk Chocolate Frosting. I can't even describe how good this frosting is. So creamy and delicious. No weird flavors or anything. I will make it all the time! Happy 14th Birthday to Brooks… RecipeBoy!
Here are a few more chocolate cupcake recipes you might like to try:
Dairy Free Chocolate Cupcakes
If you can't have dairy, these cupcakes are the perfect alternative!
Recipe Details
Ingredients
3

cups

all purpose flour

2

cups

granulated white sugar

1

teaspoon

salt

2

teaspoons

baking soda

1/2

cup

unsweetened cocoa powder

3/4

cup

melted and cooled coconut oil

(can sub vegetable or canola oil)

2

tablespoons

distilled white vinegar

2

teaspoons

vanilla extract

2

cups

cold water

1

cup

dairy free semisweet miniature chocolate chips

(I like the Enjoy Life brand)
Instructions
Preheat the oven to 350 degrees F. Line cupcake pans with 30 cupcake papers.

Sift the dry ingredients into a large bowl (flour, sugar, salt, baking soda and cocoa powder) and whisk to combine. Add the oil, vinegar, vanilla and water to the dry ingredients. Whisk to combine the wet and dry ingredients. Stir in the chocolate chips.

Bake for 18 minutes, or until the cupcakes are firm to the touch in the middles. Let cool completely, and frost with your favorite dairy free icing. See the tips below for my icing recommendation!
Notes
**I use this awesome dairy free frosting recipe from the blog, "Go Dairy Free": AMAZING MYLK CHOCOLATE FROSTING. My entire family honestly cannot say enough about how delicious it is. Use Earth Balance Dairy Free Margarine- and you won't miss the butter at all! I also use unsweetened vanilla almond milk in the recipe. So good!
Nutrition
Serving:
1
cupcake (no frosting)
,
Calories:
194
kcal
,
Carbohydrates:
28
g
,
Protein:
2
g
,
Fat:
9
g
,
Saturated Fat:
7
g
,
Cholesterol:
1
mg
,
Sodium:
152
mg
,
Potassium:
80
mg
,
Fiber:
1
g
,
Sugar:
16
g
,
Vitamin A:
4
IU
,
Calcium:
9
mg
,
Iron:
1
mg