This twist on the classic snowball cookie is for chocolate lovers: Chocolate Snowball Cookies

I'm currently in crazy- holiday baking mode. My first batch of cookies last weekend was a disaster. I tried to make a white chocolate- macadamia nut cookie that came out flat as a pancake and weird. Into the trash those went, along with the gazillion dollars I paid for the macadamia nuts. BUMMER. These cookies here were a different story- a great success! They're a tender, flaky butter cookie dotted with pecans (or almonds) and chocolate chips. The cookie itself is chocolatey too.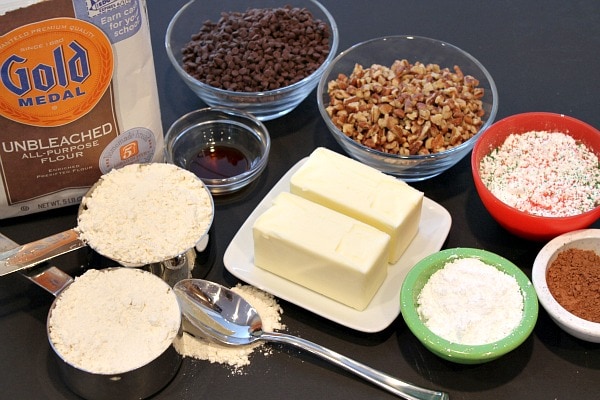 Here's everything you need to make this cookie, which isn't much- your Gold Medal Flour (my flour of choice), good butter (not store-brand), vanilla, MINI chocolate chips, pecans and cocoa powder. There's also a little bit of powdered sugar IN the cookie, and then there's the powdered sugar mixed with red/green sugar that you roll the baked cookie into.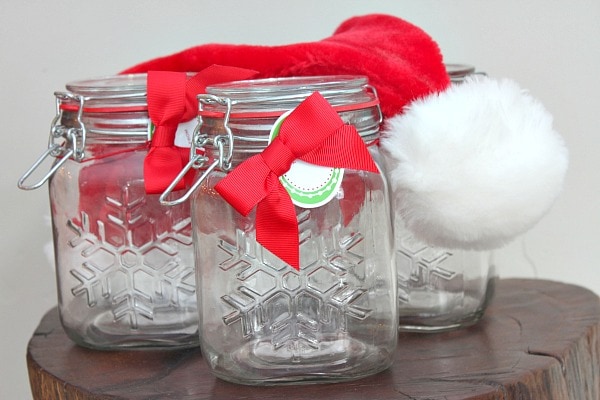 Something fun about this recipe is that it's an easy one to GIFT the ingredients to friends and family this holiday season. I picked up these cute jars at Walmart. They're 1.2-liter jars, and all of your chocolate snowball ingredients will fit perfectly inside of them.
Here's what it looks like if you layer the ingredients in the jar. The powdered sugar for rolling is placed in a plastic baggie and tucked on top before closing the lid.
Then you can include a cute little note like this with your gift. All your recipient will have to do is mix the ingredients in the jar with butter and vanilla, and then they can bake them as directed.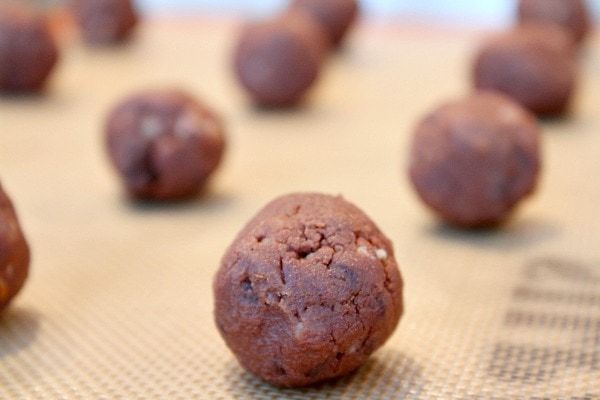 The chocolatey dough is rolled into balls and baked for a solid 20 minutes. When you take them out of the oven, you need to be patient and let them cool COMPLETELY. They are a tender, delicious cookie. Straight out of the oven, they'll want to crumble apart, so give 'em time to cool!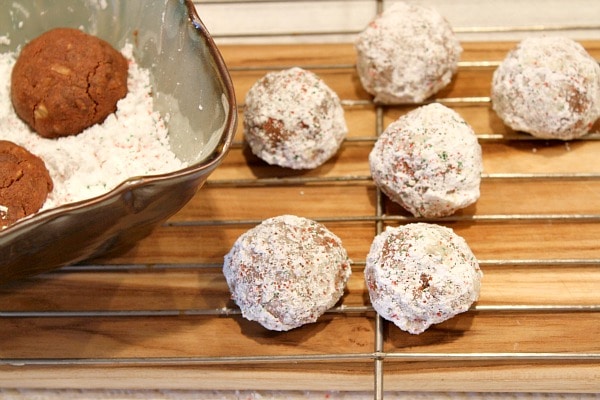 Once cool, they can be rolled in the powdered sugar mixture. That's it!
You can serve them right away, store in a covered container, or even freeze them in a covered container until you're ready to assemble cookie platters for the holidays.
And here's a little peek at what they look like inside. Happy holiday baking!
Chocolate Snowball Cookies
A delicious buttery chocolate cookie rolled in powdered sugar.
Recipe Details
Servings:
36
cookies (1 per serving)
Ingredients
1¾

cups

Gold Medal® All-Purpose Flour

¼

cup

unsweetened cocoa powder

¼

cup

powdered sugar

1

cup

miniature chocolate chips

1

cup

finely chopped pecans or almonds

1

cup (2 sticks)

salted butter,

softened

1

teaspoon

vanilla extract

½

cup

powdered sugar mixed with red/green sparkling sugar
Instructions
Preheat the oven to 325 degrees F. Line baking sheets with parchment paper or silpat mats.

In a large bowl, combine all ingredients except the final ingredient (the powdered sugar + the colored sugar). Use an electric mixer to combine until well mixed. Roll tablespoonfuls of dough into balls and place on the prepared baking sheets.

Bake cookies for 20 minutes. Remove from the oven and let cool COMPLETELY before you remove them from the baking sheets. If you don't let them cool completely, they will crumble easily. Be patient 🙂 .

Roll cooled cookies in the sparkling powdered sugar mixture. Store cookies at room temperature in a covered container for up to three days. Or store in the freezer in a covered container for up to 30 days.
Notes
It's important that you use good butter for this recipe (not generic store-bought), and it's important that the butter is softened, not melted, not kind of still hard, but SOFT. I like to put my butter in the laundry room to soften when I'm running the dryer because it gets nice and warm in there 🙂
If you would like to GIFT this cookie in a gift jar, layer all of the ingredients in the order listed (except for the butter and vanilla). Put the powdered sugar + colored sugar in a small zip or plastic baggie and place on top of the other ingredients. Seal the jar, print out the instructions and gift to a friend for the holidays!
Nutrition
Serving:
1
serving
,
Calories:
127
kcal
,
Carbohydrates:
11
g
,
Protein:
1
g
,
Fat:
9
g
,
Saturated Fat:
4
g
,
Polyunsaturated Fat:
1
g
,
Monounsaturated Fat:
3
g
,
Trans Fat:
0.2
g
,
Cholesterol:
15
mg
,
Sodium:
46
mg
,
Potassium:
30
mg
,
Fiber:
1
g
,
Sugar:
6
g
,
Vitamin A:
177
IU
,
Vitamin C:
0.1
mg
,
Calcium:
11
mg
,
Iron:
1
mg

Disclosure: This post was created in partnership with Gold Medal Flour, a product I've used and trusted in my kitchen for many years. All opinions shared are my own.