This recipe has been featured in a post on The Recipe Girl blog: My Favorite Taco Recipe- Quick and Easy. This meal is gluten-free adaptable– please see tips below the recipe.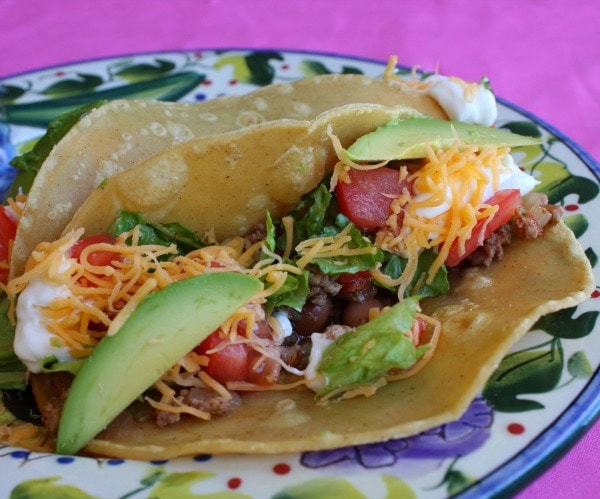 Mom's Tacos
This recipe is an adaptation of my Mom's tacos that she made back in the 70's. This was our family's favorite dinner while we were growing up.
Yield:
10 to 12 tacos
Prep Time: 20 min
Cook Time: 25 min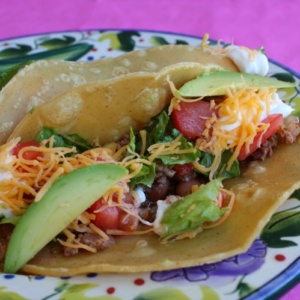 Ingredients:

1 Tablespoon olive oil
1 cup chopped sweet onion
1/2 pound ground turkey
1/2 pound ground beef
1 teaspoon chili powder
1 teaspoon cumin powder
1/2 teaspoon garlic powder
1/2 teaspoon dried oregano
1/2 teaspoon sea salt
1/4 teaspoon freshly ground black pepper
1 (15.5-ounce) can chili beans (or any beans), drained
1 (10-ounce) can Ro-Tel (tomatoes & chiles)
10 to 12 tortillas, warmed
desired taco fixings (lettuce, tomato, sour cream, avocado, cheese, etc)

Instructions:

1. Heat a large saute pan to medium-high, swirl a Tablespoon of olive oil. Saute onions and mix in ground meats. Cook until lightly browned. Tilt the pan and scoop out any accumulated fat (or take a bunch of paper towels and let them soak it up. Discard the fat.

2. Mix dry ingredients in a small bowl. Sprinkle mixed spices onto the cooked meat. Pour in chili beans and Ro-Tel. Heat for about 10 more minutes & your taco filling is ready.

3. Fill heated tortillas with taco filling and desired taco fixings.

Tips:

*For best results, use ground meat that is about 93% fat free. Any leaner & it might be too dry.
*Chili beans are nice to use because they're spiced and in a light sauce. Drain the sauce slightly, but don't rinse. You can sub kidney beans or black beans if you'd like.
*If you don't have access to Ro-Tel (found in the canned tomatoes aisle), sub canned chopped tomatoes and canned chopped chiles).
*You can use flour or corn tortillas. Heat according to package directions. Mom liked to heat the corn tortillas by frying them in a little bit of hot oil. If you're making this as a gluten free recipe, be sure to use gluten-free corn tortillas & make sure that the chili beans are GF too (or use alternative beans).