This recipe has been featured in a post on The Recipe Girl blog: Tequila-Lime Shrimp Tacos.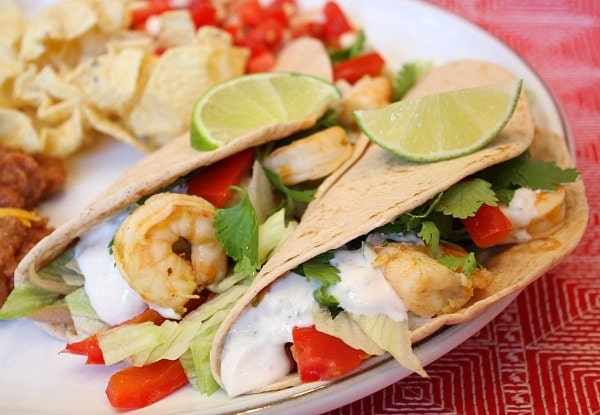 Tequila- Lime Shrimp Tacos w/ Chipotle Cream
I'm a big fan of classic fish tacos, so I decided to create a shrimp version with all of my favorite flavors... citrus, tequila, lime & chipotle.
Yield:
8 tacos
Prep Time: 45 min
Cook Time: 10 min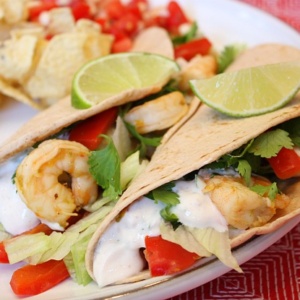 Ingredients:

1 1/2 pounds large, raw shrimp, peeled & de-veined (tails removed)

MARINADE:
juice and rind of 1 medium orange
juice and rind of 2 medium limes
1/4 cup tequila
1 Tablespoon granulated white sugar

CHIPOTLE CREAM SAUCE:
8 ounces sour cream
1 clove garlic, minced
2 Tablespoons red onion, finely chopped
1 whole chipotle chile in adobo sauce (canned), seeded and chopped
1 teaspoon adobo sauce (from the can)
1/2 teaspoon ground cumin
1/8 teaspoon salt
1 Tablespoon fresh cilantro, chopped
1 Tablespoon lime juice, freshly squeezed

ADDITIONAL INGREDIENTS:
1 Tablespoon vegetable or canola oil
1 large red bell pepper, seeded & sliced thinly
1/2 medium red onion, sliced

FOR SERVING:
8 soft-taco-sized flour tortillas, warmed
1/2 head iceberg lettuce, shredded
1/2 cup fresh cilantro, chopped
lime wedges

Instructions:

1. Marinate Shrimp:
Place all marinade ingredients in large zip bag. Add shrimp, zip closed and move bag around to coat shrimp. Place flat in refrigerator for at least 30 minutes, turning every so often to make sure marinade is reaching all shrimp.

2. Prepare Sauce:
Whisk together all sauce ingredients in a medium bowl. Cover and refrigerate until ready for use.

3. Cook the shrimp:
Heat oil in large skillet to medium-heat. Saute bell pepper and onion until slightly charred. Drain shrimp from marinade and add to pan. Stir often, and cook just until shrimp turn pink and curl up. Remove from heat.

4. Assemble tacos:
In warmed tortillas, place shrimp, peppers & onions. Add lettuce, drizzle with chipotle cream sauce, and sprinkle with cilantro. Serve with lime wedges.