Homemade Flour Tortillas are so easy to make with a tortilla press, and they are so much more delicious than eating store-bought tortillas.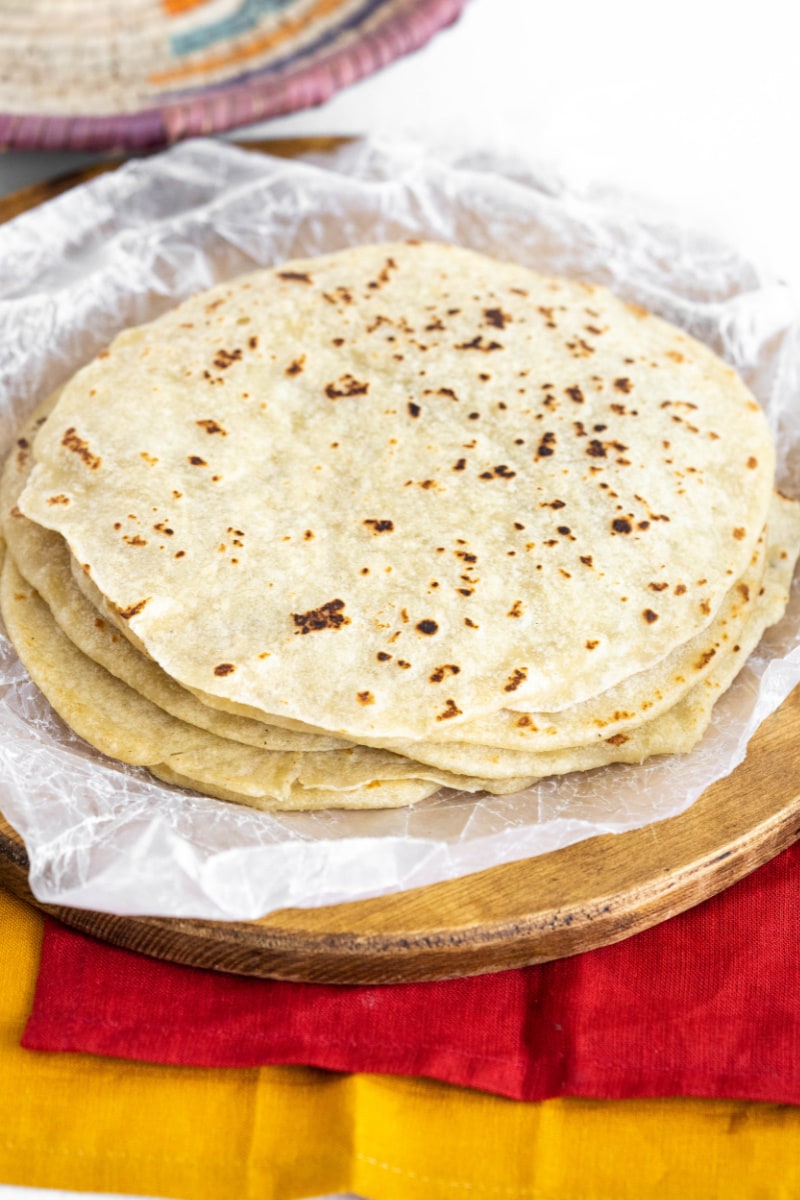 Have you ever tried homemade flour tortillas? Sometimes you have the opportunity to try them at a good Mexican restaurant where they make their own. If you have a chance, try them! They're pretty easy to make at home. All you need is a tortilla press, which is easy to order on Amazon. Once you make flour tortillas at home, you will want to make them all the time for your tacos and quesadillas. They're so good!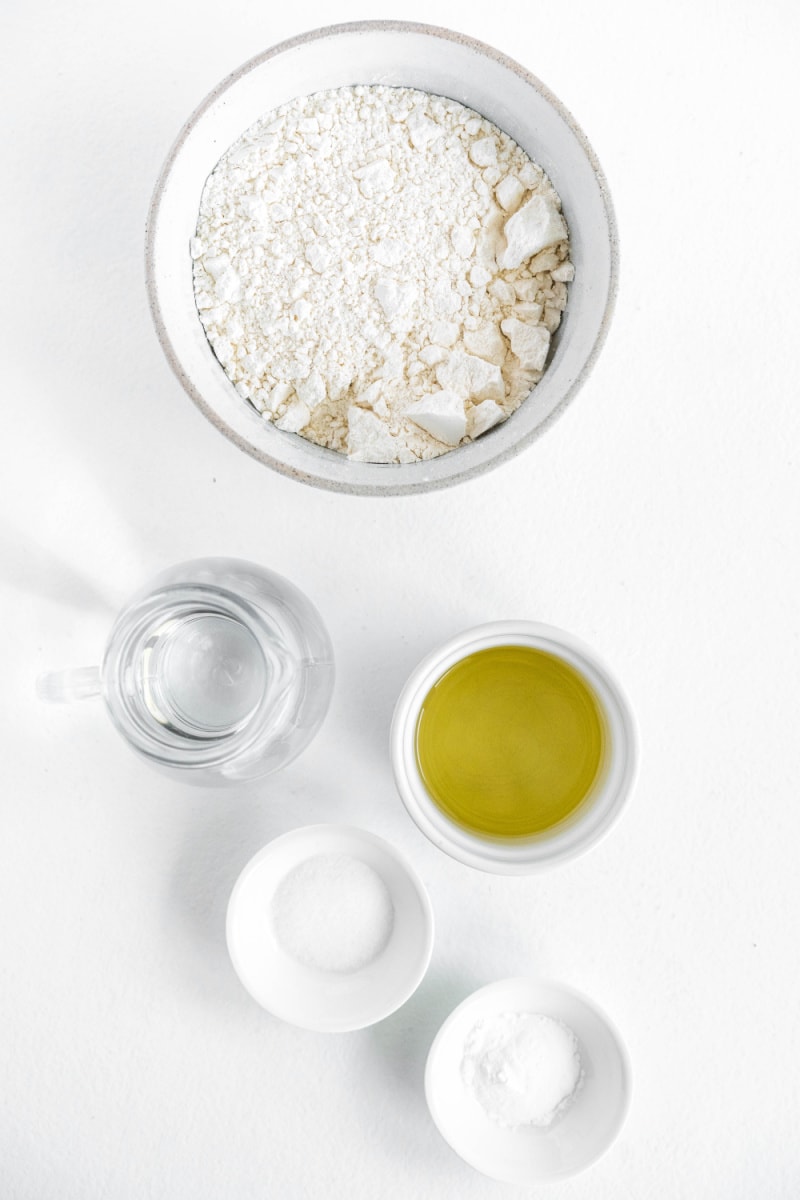 Ingredients needed for making Flour Tortillas:
all purpose flour
salt
baking powder
vegetable oil
hot water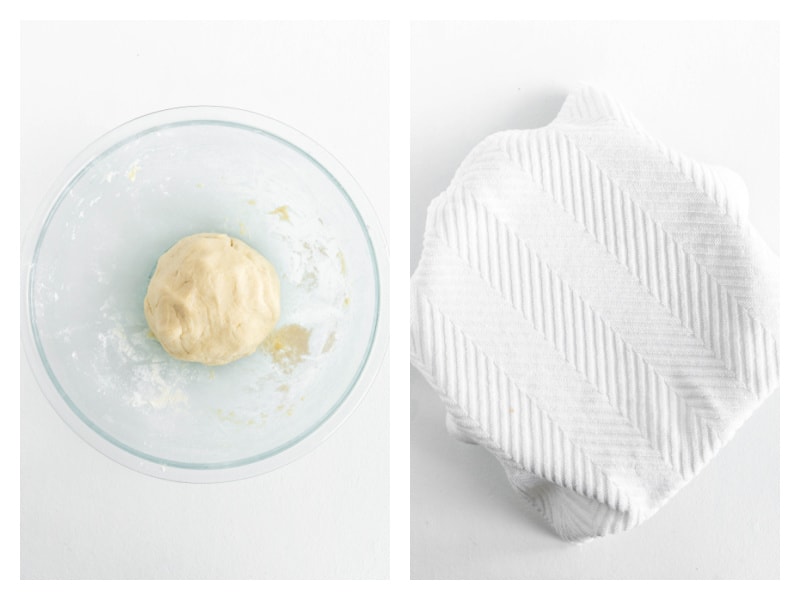 How to make Homemade Flour Tortillas:
The first step is making the dough for the flour tortillas. Whisk together flour, baking powder and salt. Stir in vegetable oil. And then stir in hot water. You want the texture of the dough to be like playdough– not too sticky and not too dry. You can add flour or water, as needed, until you reach the right texture. Then let the dough rest in the bowl with a towel covering it for about 10 minutes.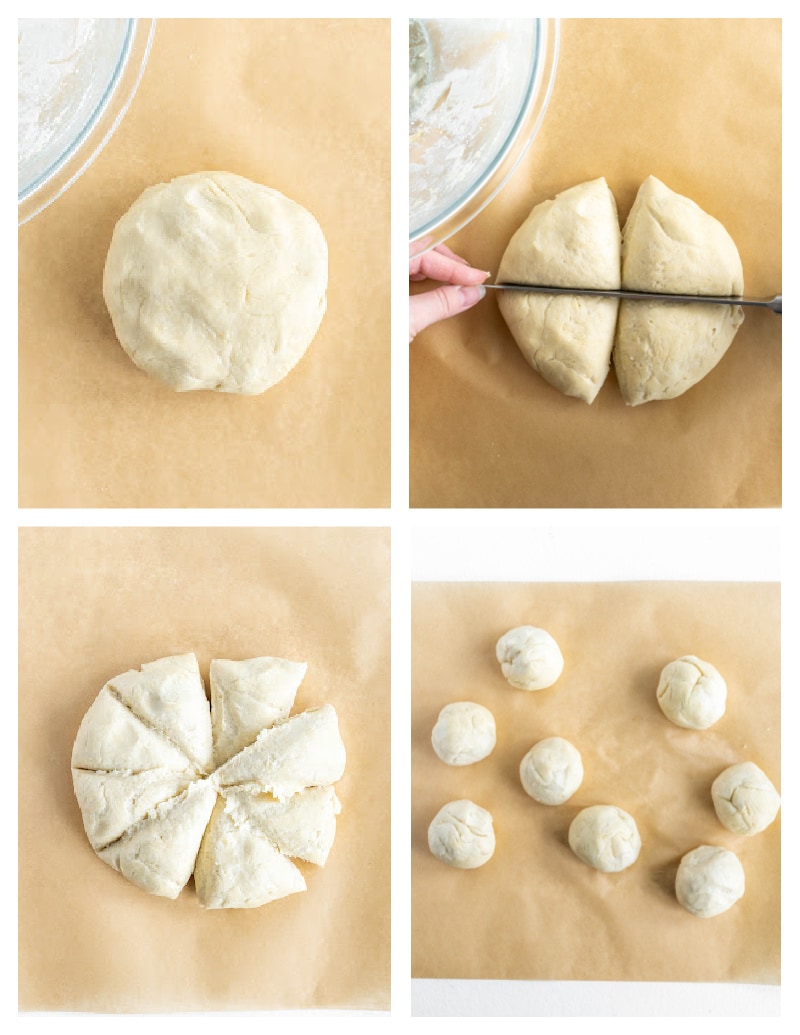 The next step is cutting the dough into 8 equal pieces and roll those into 8 balls. Keep the dough balls in the bowl with the towel over it while making the tortillas so they don't dry out.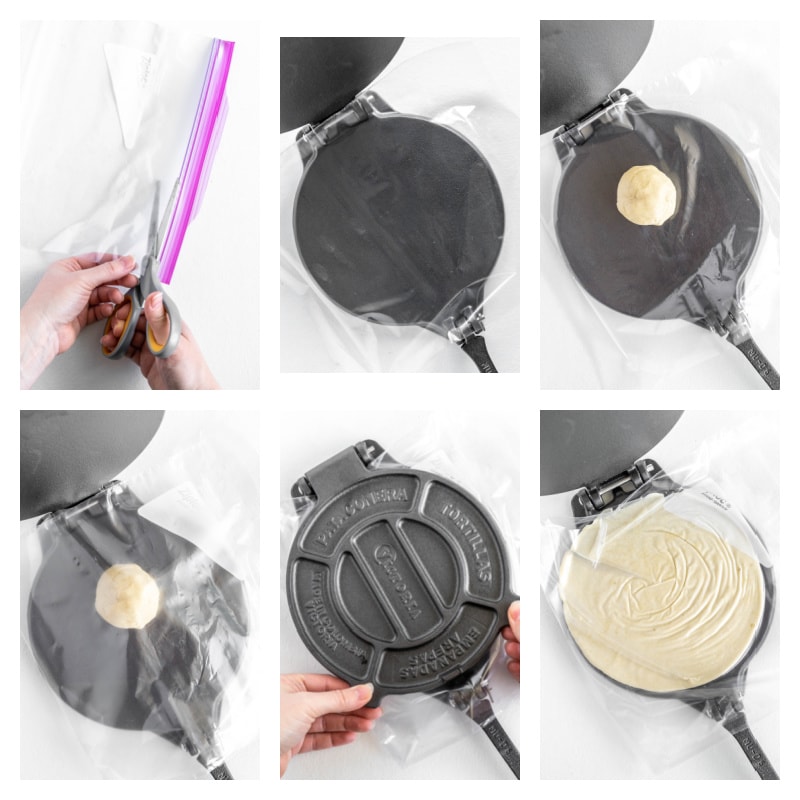 Cut open a large zip baggie and place the baggie on the press. The plastic will help keep the dough from sticking to the press and make it a lot easier to clean. Place a tortilla dough ball on the plastic wrap. Cover with another piece of the plastic bag, and close the press. Press to flatten the dough into a round tortilla shape.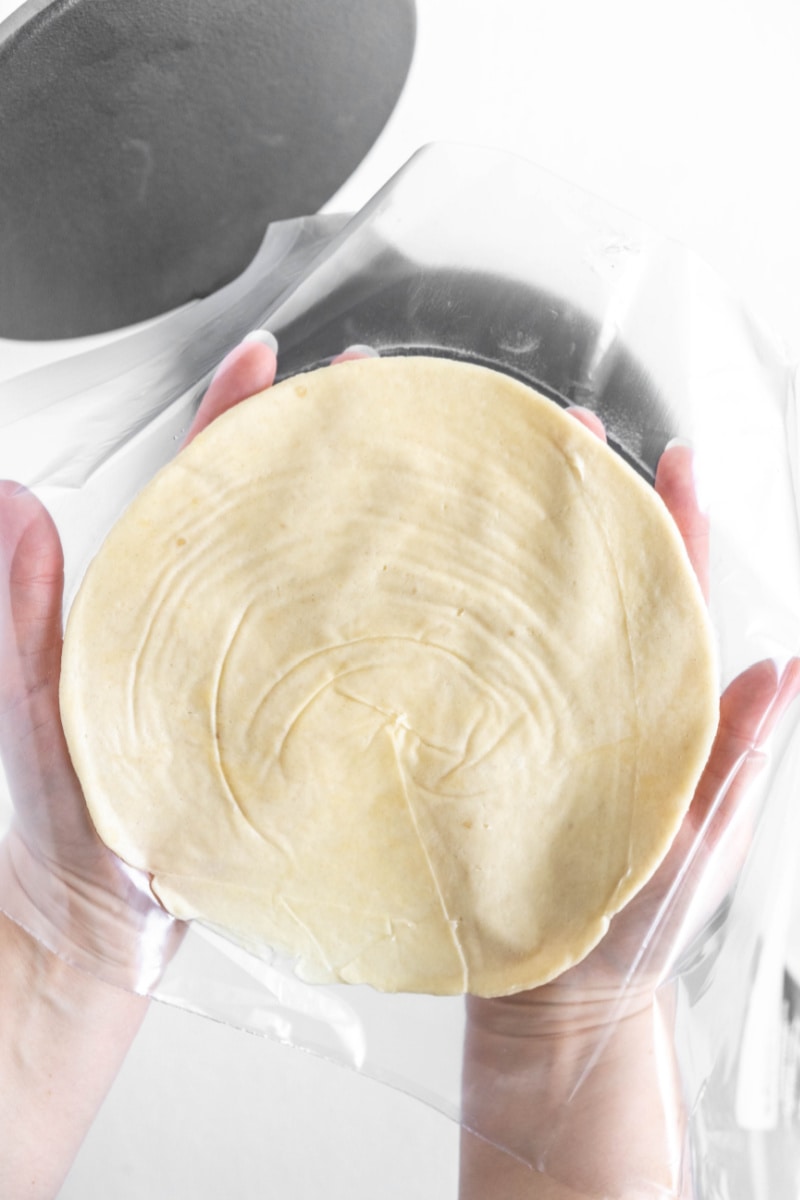 It will look something like this, and it will peel away from the plastic easily.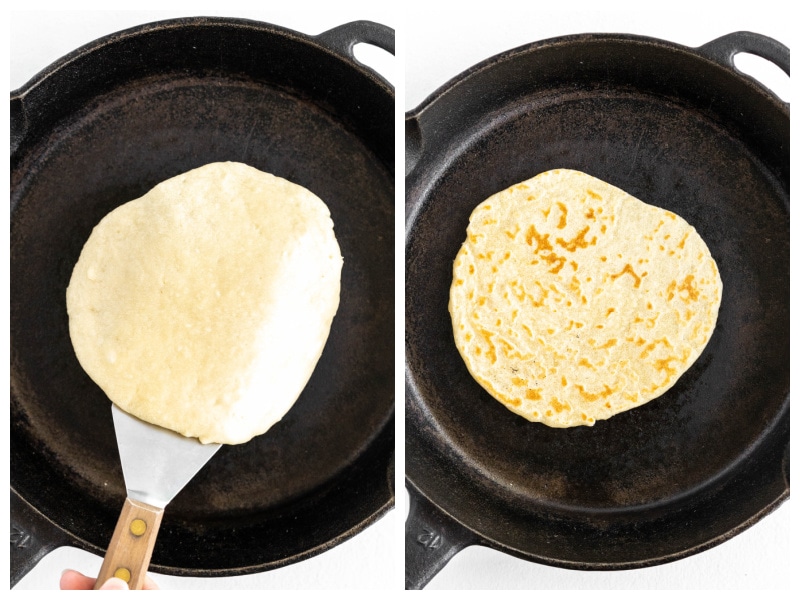 Heat the tortilla in a skillet over medium heat- 45 to 60 seconds on the first side and 15 to 30 seconds on the other side. When finished, the tortilla will no longer have a doughy texture, and there will be char marks on each side. Remove the tortillas to a tortilla warmer as you make them (or keep them wrapped in foil).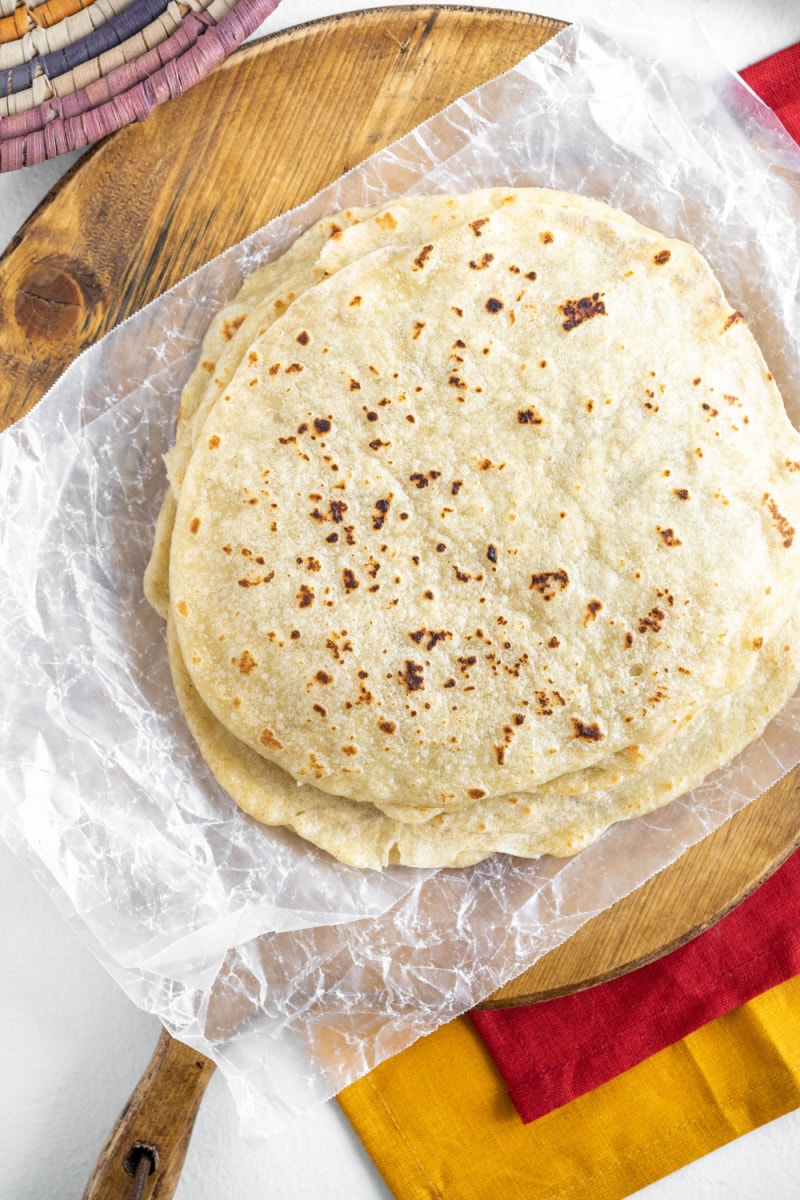 Use homemade flour tortillas for use in your favorite recipes, or spread a little butter on them and enjoy them that way!
Homemade Flour Tortillas
They're so easy to make, and they're so much better than store=bought!
Recipe Details
Servings:
8
(7 to 8-inch) tortillas
Ingredients
2

cups

all purpose flour

¾

teaspoon

salt

¾

teaspoon

baking powder

3

tablespoons

vegetable oil or light olive oil

¾

cup

hot water

(plus more, if needed)
Instructions
MAKE THE TORTILLA DOUGH:
In a large bowl, whisk together the flour, salt, and baking powder. Whisk in the oil. Add the hot water and stir with a wooden spoon until it forms a dough, adding more hot water as needed. Knead the dough for a minute or so to help it come together. It should have the consistency of soft Play-Doh; it shouldn't be too wet and stick to your hands and it shouldn't be too dry and crumbly. Add additional flour or hot water to achieve the right texture.  

Shape the dough into a large bowl and leave it in the bowl. Cover the bowl with a damp kitchen towel and let the dough rest for 10 minutes. 

Divide the dough into 8 equal pieces and roll each into a ball. Place the balls back into the bowl and cover them with a damp kitchen towel. Leave them there so they don't dry out during the pressing and cooking process. 
MAKE THE TORTILLAS:
Remove 1 dough ball and roll it out to a circle about 7 to 8 inches in diameter. You can use a tortilla press or roll it out with a rolling pin. If you use a tortilla press, make sure to line both sides with plastic wrap or parchment paper before pressing. Because zip-top plastic bags are thicker, they work very well. To use a zip-top plastic bag, cut off the zipper side, cut open the 2 remaining sides, and lay it onto the tortilla press; place a ball of dough on it, fold the plastic bag over to cover the dough ball, and press it. If you don't have a tortilla press, you can roll the dough out between plastic or parchment paper using a rolling pin.The tortillas should easily peel away from the plastic or parchment. 

Preheat a nonstick skillet over medium heat. Once hot, place a tortilla in it and cook for about 45 to 60 seconds on the first side and about 15 to 30 seconds on the second side. It's done when the dough has more of a bready than doughy look, and it has a few char marks. Adjust the heat down if the pan gets too hot. The tortillas might bubble up when cooking, which is fine; they will deflate after you remove them from the heat. Transfer the cooked tortilla to a bowl lined with a clean kitchen towel, wrapping them in the towel as you cook them. Continue this way until all the tortillas are cooked. Instead of a nonstick skillet, you can also use a cast-iron skillet to cook these; however, cook them over medium-low heat so that the pan doesn't get too hot and they burn before cooking through. They take a little longer to cook using a cast-iron skillet. 

Store the tortillas wrapped in the fridge for up to 5 days. 
Nutrition
Serving:
1
tortilla
,
Calories:
159
kcal
,
Carbohydrates:
24
g
,
Protein:
3
g
,
Fat:
6
g
,
Saturated Fat:
4
g
,
Polyunsaturated Fat:
1
g
,
Monounsaturated Fat:
1
g
,
Sodium:
219
mg
,
Potassium:
71
mg
,
Fiber:
1
g
,
Sugar:
1
g
,
Calcium:
21
mg
,
Iron:
1
mg