I'm sharing a recipe today that you should *most definitely* feed your family for breakfast sometime soon: Breakfast Quesadillas!  And I might even add that they'd make a good breakfast on a school morning too- they're pretty easy to whip up.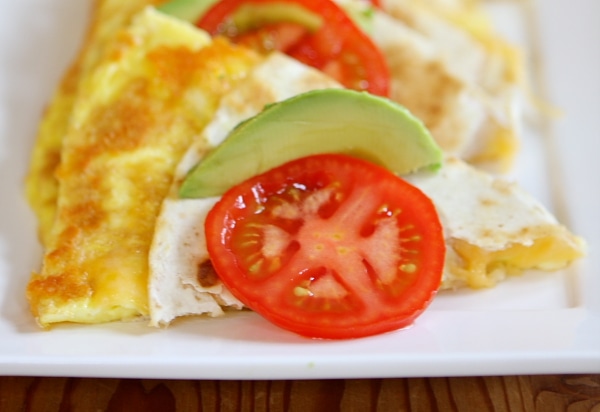 My son recently sat mesmerized watching a recipe video from one of my favorite people- Catherine McCord of Weelicious.com– and he immediately declared that we needed to make this for breakfast (we, meaning ME).  It looked so good and so easy that I was definitely on board for this idea.  Here's a little how-to on how you make this recipe: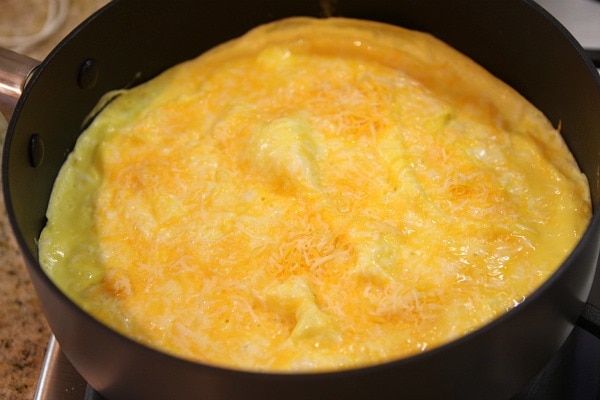 Well beaten eggs are poured into a heated and buttered skillet.  It's best if the skillet is somewhere close to the size of the tortillas that you choose to use.  After the eggs cook for a little while, add your desired shredded cheese.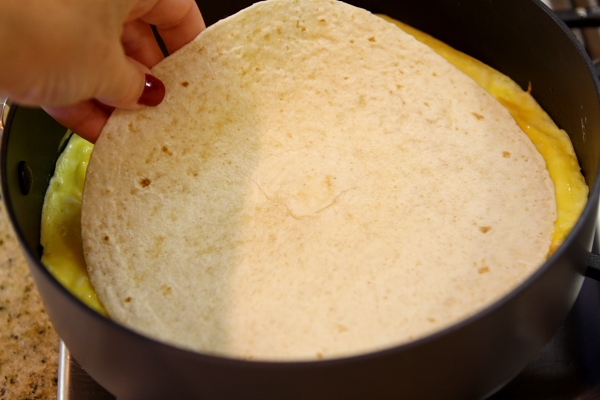 Place a flour tortilla over the cheese.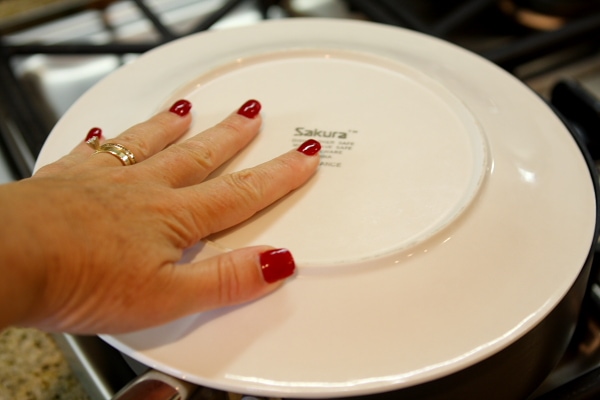 Carefully place a plate over your skillet… and flip the skillet over so that the egg and tortilla are now on your plate.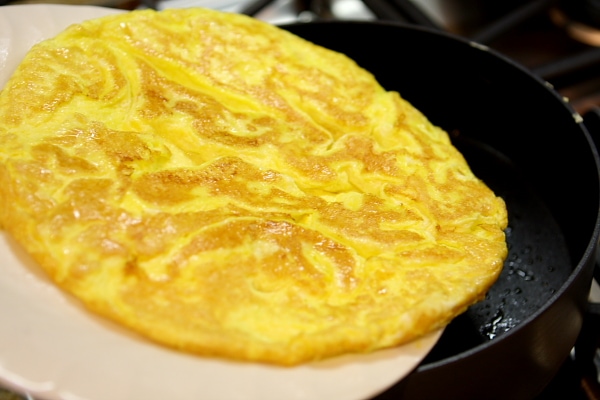 Then slide it back into the pan, tortilla-side-down.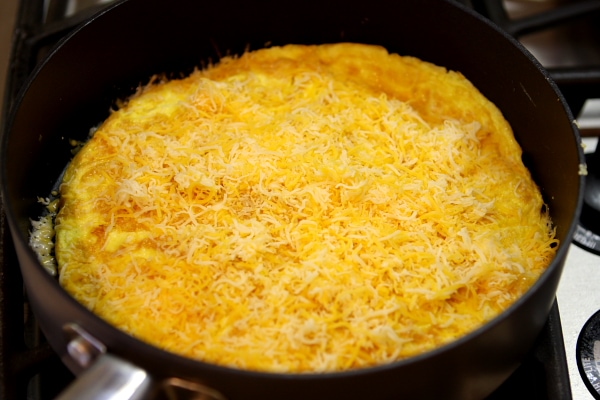 Add a bunch more cheese to this side of your egg too.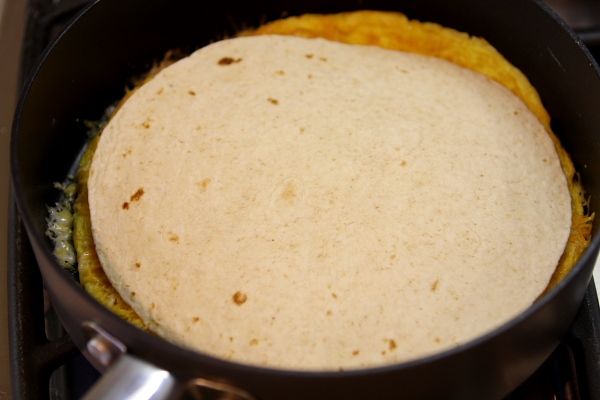 Top it with another tortilla, and then do the plate flip thing again- so that this 2nd tortilla has a chance to get cooked a bit on this side too.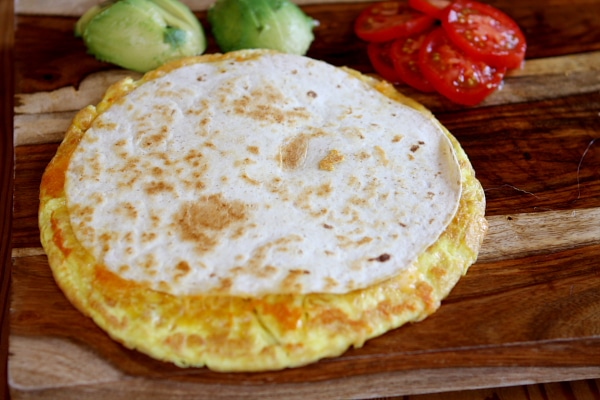 Slide it onto a cutting board.  Now, see here… my skillet was slightly larger than my tortilla size but it all worked out okay in the end.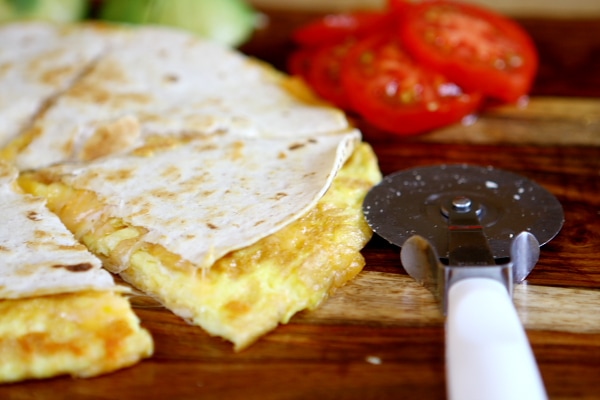 Use a pizza cutter to cut it into wedges.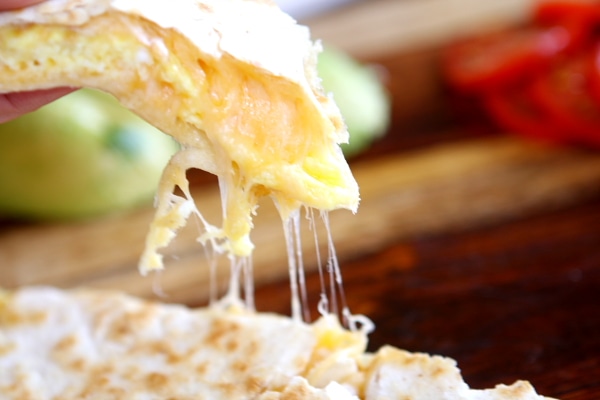 Pick it up and eat- just like pizza!  Or quesadillas!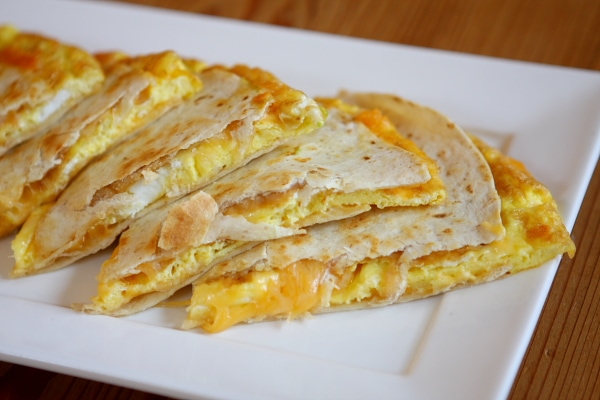 Serve it up to your family and they will love you.  And think that you're a genius for creating such a thing.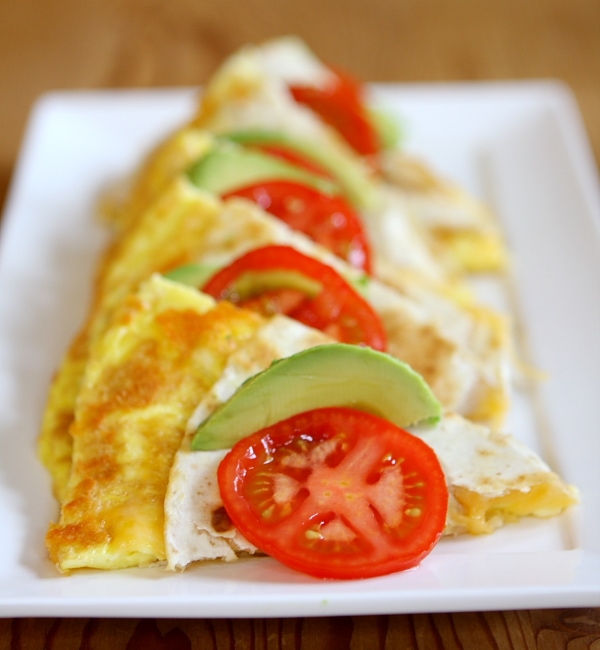 And if you're like my family, who adds avocado to just about everything, you'll add avocado and a little bit of tomato. Dare I suggest sour cream and salsa  too?
Thanks, Catherine of Weelicious for this wonderful breakfast idea!  Check out Catherine's how-to video HERE, where you can see the step-by-step process of how to make these quesadillas, and check out her site for all kinds of delicious and healthy recipe ideas that appeal to kiddos!  And she encourages you to get your kids involved in the kitchen too.  Yay!
Breakfast Quesadillas
A delicious, family-friendly breakfast!
Yield:
3 servings (2 wedges each)
Prep Time: 15 min
Cook Time: 8 min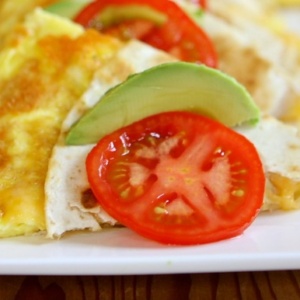 Ingredients:

1 Tablespoon butter
4 large eggs, beaten
1 cup shredded Mexican-blend cheese (or desired cheese)
2 large flour tortillas (not burrito-sized, just large)
tomato, avocado, sour cream, salsa (as desired)

Instructions:

1. Melt butter in a medium nonstick skillet (one that will fit your flour tortilla nicely- and that isn't too much larger than your tortilla), and bring it to medium heat.

2. Add egg to the heated skillet. Use a rubber spatula to loosen the sides a bit and allow raw egg to move around underneath to get cooked. Top with 1/2 cup shredded cheese. Place a flour tortilla on top. Use your rubber spatula to loosen the sides again around the edges. Then place a dinner plate on top of your skillet and carefully flip it over so that the egg/tortilla is now on the plate. Slide it back into the pan tortilla-side down and top it with remaining cheese and the 2nd tortilla. Let it sit for a minute or two, then place the plate on top of the skillet and flip it again. Slide it back into the pan, allowing the 2nd tortilla to heat up and get lightly browned.

3. Slide your breakfast quesadilla onto a cutting board and use a pizza cutter to cut it into wedges. Make the wedges as big as you'd like- 6 is suggested, but if you have little ones then you can make them smaller. Serve on their own or with tomato, avocado, sour cream, or salsa- as desired.

Tips:

*You can make these will smaller flour tortillas too- just use less egg/cheese and a smaller skillet.

Source: RecipeGirl.com (adapted from Weelicious)