Here's a delicious Greek-Style Turkey Burgers recipe- complete with hummus, lettuce and tomato stuffed into pita bread.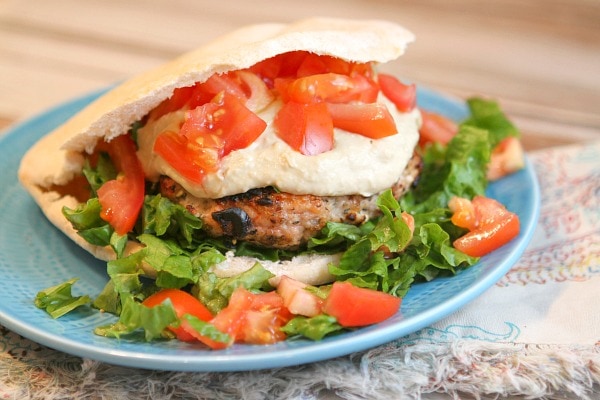 I must say… I really do love this recipe a lot.  It's a different sort of recipe than your classic burger recipe- since the burger is styled into a pita pocket with those awesome adornments shown in the photo.  And who doesn't love a jazzed-up burger, right?  I was a little worried that my very-opinionated-and-not-afraid-to-speak-up 14-year old would really dislike this dinner.  I was totally wrong.  He loved it.  He may have picked off the tomatoes and shoved them aside, but he commented that the addition of hummus was an awesome idea.  My husband loved it too.  So this recipe is 98% positively approved by the RecipeGirl family (because of that tomato thing)!  Just for the record, my husband and I loved the recipe as written- tomatoes and all!!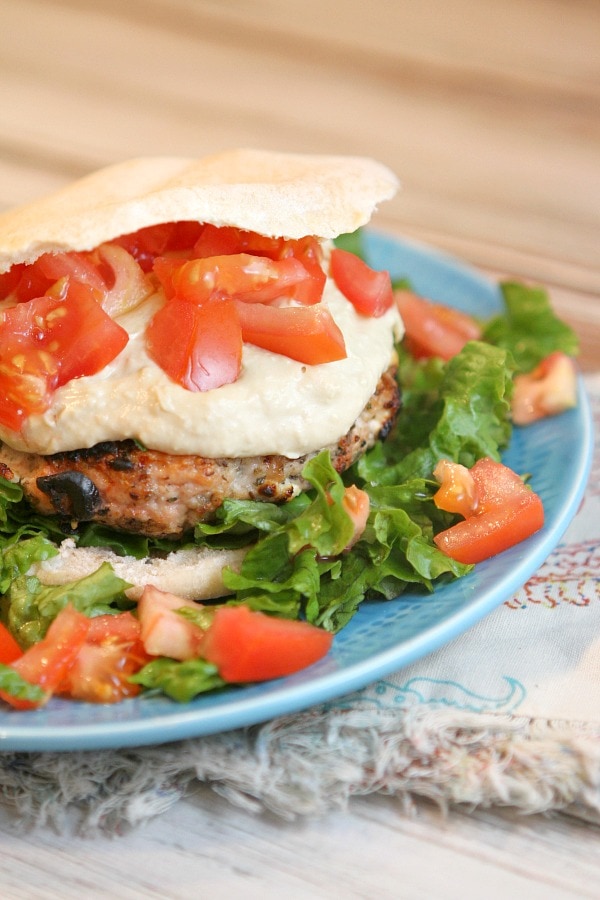 This is also a nice recipe to serve up for a barbecue- maybe as an alternative to the classic burger that you may be serving up to your picky eaters.  Your more adventurous eaters will be pleased to see something more interesting on the menu!
Greek Turkey Burgers
Yield:
4 servings
Prep Time: 10 minutes
Cook Time: 8 minutes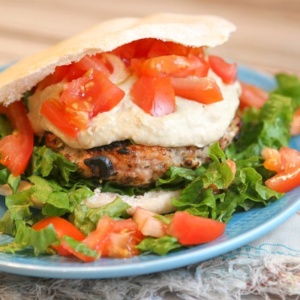 Ingredients:

1 lb. + ground turkey
1 cup crumbled feta cheese
1/2 cup chopped kalamata olives
1 teaspoon dried oregano
1 teaspoon Italian seasoning
1 teaspoon dried parsley
1 teaspoon dried basil
1 teaspoon onion powder
1/2 teaspoon garlic powder
ground black pepper to taste
buns or pita bread, for serving
chopped lettuce and tomato, for serving
hummus, for serving

Instructions:

Combine all ingredients in a large bowl. Mix together well and form into 4 patties.
Grill until desired doneness. Serve on regular hamburger buns- or on pita bread with hummus.

Tips:
*This recipe is naturally gluten-free (as long as your olives and hummus are GF), but be sure to serve it without the bun (or with a GF bun) if you need it to be totally gluten-free.
SOURCE: RecipeGirl.com
Here are a few more turkey burger recipes you might enjoy: