I was cleaning out my pantry like a madwoman recently and found some lasagna noodles- EIGHT, to be exact.  It wasn't enough to make a full-blown, proper lasagna, so I set to work thinking up something else to do with these pesky leftover noodles.  I thought maybe I could break them apart and use them as pasta pieces in soup, but since it's a few days away from summer… that wasn't the best idea.  Roll ups with a lasagna-like filling was the perfect option since it would be a good amount of food for dinner for my family of three, and there would be leftovers too:  Roasted Vegetable Lasagna Roll Ups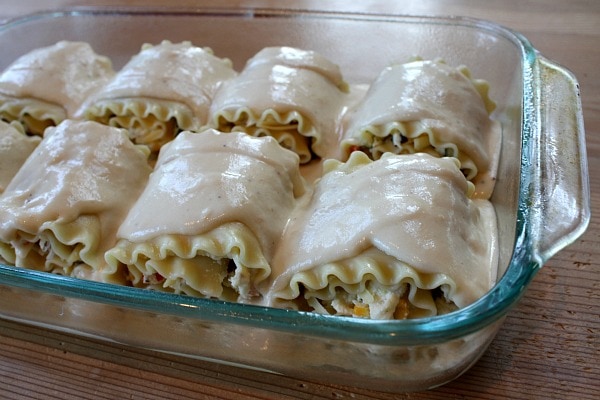 My family loves a good, creamy sauce.  This one is an easy, homemade creamy sauce.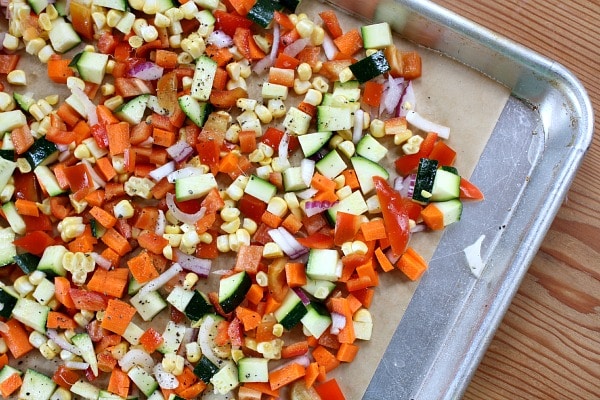 I snuck some roasted veggies into my lasagna filling because I had some random vegetables lurking in my vegetable drawer.  They're pretty easy to sneak in there since the sauce covers everything up.  The roasted lends a sweetness to the veggies, which really bumps up the flavor in the dish.  Use whatever veggies your family will eat.  In my recipe here, I used carrots, red bell peppers, red onion, zucchini and corn.  The veggies roast for about 40 minutes, so it's nice to roast them in the morning (before the day gets too warm), and then just let them cool and refrigerate them until dinnertime.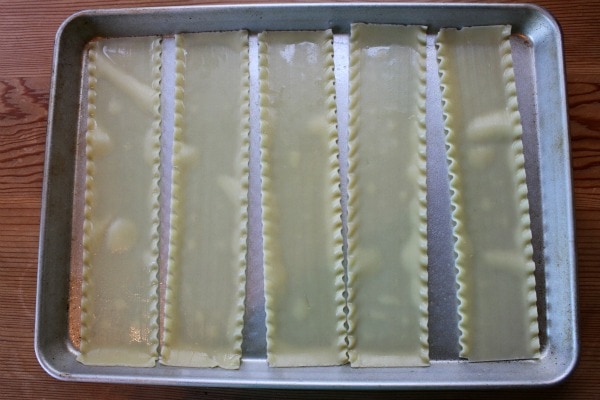 How to assemble:  Lay out your cooked noodles.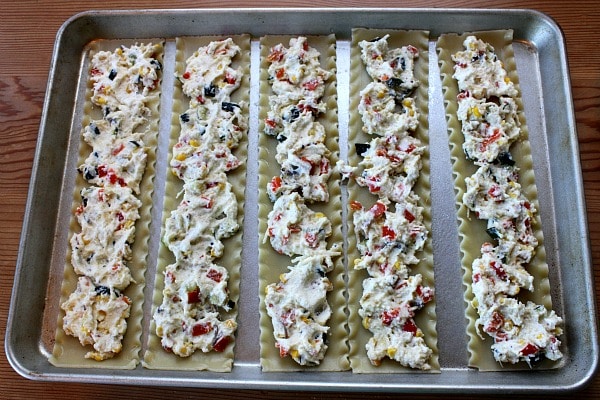 Spread the filling on top (a mix of ricotta, egg, Parmesan and the roasted veggies).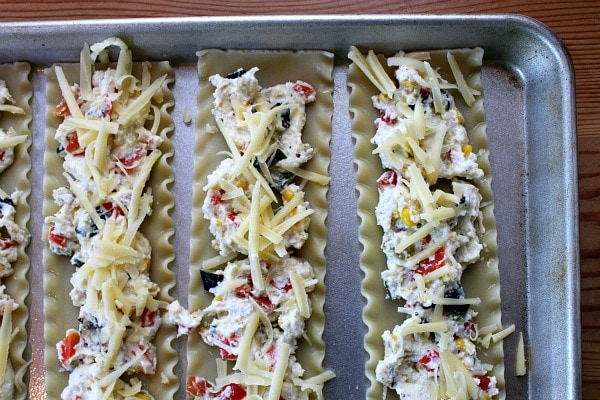 Sprinkle with cheese (I used Swiss to give it a flavor boom, but you can use whatever cheese you'd like).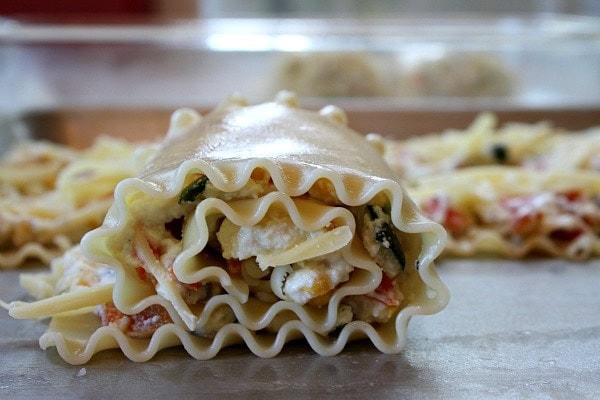 Roll 'em up!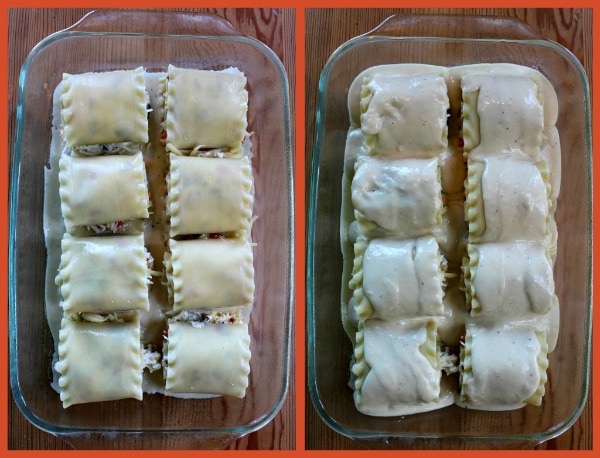 Make the sauce (a quick method of heating and whisking butter, flour, milk, salt, pepper and Parmesan).  Spread a little of the sauce into the bottom of the pan.  Place the lasagna rolls into the pan and drizzle the rest of the sauce on top.  BAKE until bubbly…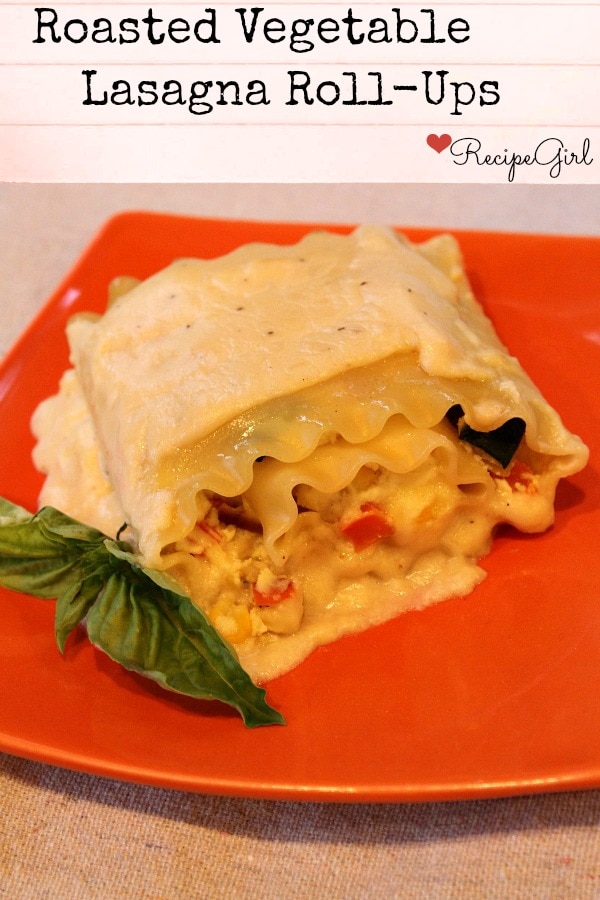 … and then you have dinner!  These lasagna roll ups are slightly sweet (from the veggies) and cheesy and creamy.  My husband and I both loved them.  My kiddo tried to poke out the veggies (just because he knew they were there).  Darn kid.
Enjoy!
Roasted Vegetable Lasagna Roll- Ups
Yield:
8 rolls
Prep Time: 40 min + chill time
Cook Time: 1 hour 30 min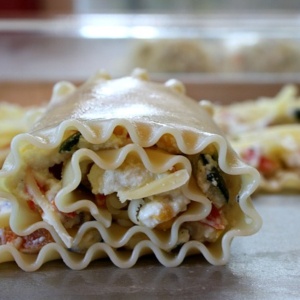 Ingredients:

ROASTED VEGGIES:
1 large carrot, peeled and diced
1 large red bell pepper, seeded (ribs removed) and diced
1 medium zucchini, diced
1 corn on the cob, kernels removed
1/2 small red onion, diced
1 tablespoon olive oil
salt and pepper

FILLING:
One 15-ounce container part skim ricotta cheese
1/3 cup grated Parmesan cheese
1 large egg
salt and pepper
1 cup shredded cheese (swiss, mozzarella or gouda)

NOODLES:
8 lasagna noodles, cooked according to package instructions (about 8 minutes)

SAUCE:
1/4 cup butter (4 tablespoons)
3 tablespoons All Purpose Gold Medal® Flour
One 12-ounce can 2% evaporated milk, warmed
1 cup nonfat milk, warmed
1 teaspoon kosher salt
1/4 teaspoon ground black pepper
2/3 cup shredded Parmesan cheese

Instructions:

1. Prepare the veggies: Preheat the oven to 400 degrees F. Line a rimmed baking sheet with parchment paper (or spray with nonstick spray). In a medium bowl, toss the vegetables with the oil. Spread on your prepared baking sheet and sprinkle with salt and pepper. Bake 20 minutes, then use a spatula to move the vegetables around a little bit. Bake for an additional 20 minutes, or until the veggies are roasted and lightly toasted on the edges. Let them cool completely. (this step can be done earlier in the day)

2. Prepare the filling: (cook the noodles while you're making your filling) In a medium bowl, combine the ricotta, Parmesan, egg and a sprinkle of salt and pepper. Add the cooled vegetables and mix together.

3: Noodles: Lay the cooked noodles onto a flat surface (it's good to lay them on some waxed paper if you have some, or spray a baking sheet lightly with nonstick spray).

4. Prepare the sauce: In a medium saucepan over medium heat, melt the butter. Whisk in the flour. Whisk in the warmed milks (I just warm a little in the microwave) gradually. Continue to cook over medium heat, whisking constantly for about 3 minutes, then mix in the salt, pepper and Parmesan. Continue to whisk until the sauce begins to thicken, then remove from heat.
*TIP: You can add a little of the "other" cheese in there, if you'd like too (I used a small sprinkle of Swiss)

5. Assemble and bake: Preheat the oven to 375 degrees F. Spray a 13x9-inch baking dish with nonstick spray. Pour sauce into the dish- just enough to cover the bottom. Spread a few tablespoons of the filling onto each lasagna noodle (as pictured). Sprinkle with shredded cheese (Swiss, mozzarella or gouda). Roll up each lasagna noodle and place, seam-side-down, into the pan. Drizzle the remaining sauce on top. Cover with foil and bake 30 minutes. Uncover and bake an additional 10 minutes.
Other Lasagna Roll Up recipes on the blogs that you might enjoy:
Healthy Beef and Spinach Lasagna Rolls by Simple Nourished Living
Chicken Pesto Lasagna Roll Ups by Real Mom Kitchen
Whole Wheat Lasagna Roll Ups by That's So Yummy
Italian Lasagna Rolls by Mel's Kitchen Cafe
Spinach Lasagna Rolls by SkinnyTaste
Gluten-Free Lasagna Roll Ups by Sugar Free Mom