Jucy Lucy Burgers are popular burgers that are a twist on the classic American cheeseburger.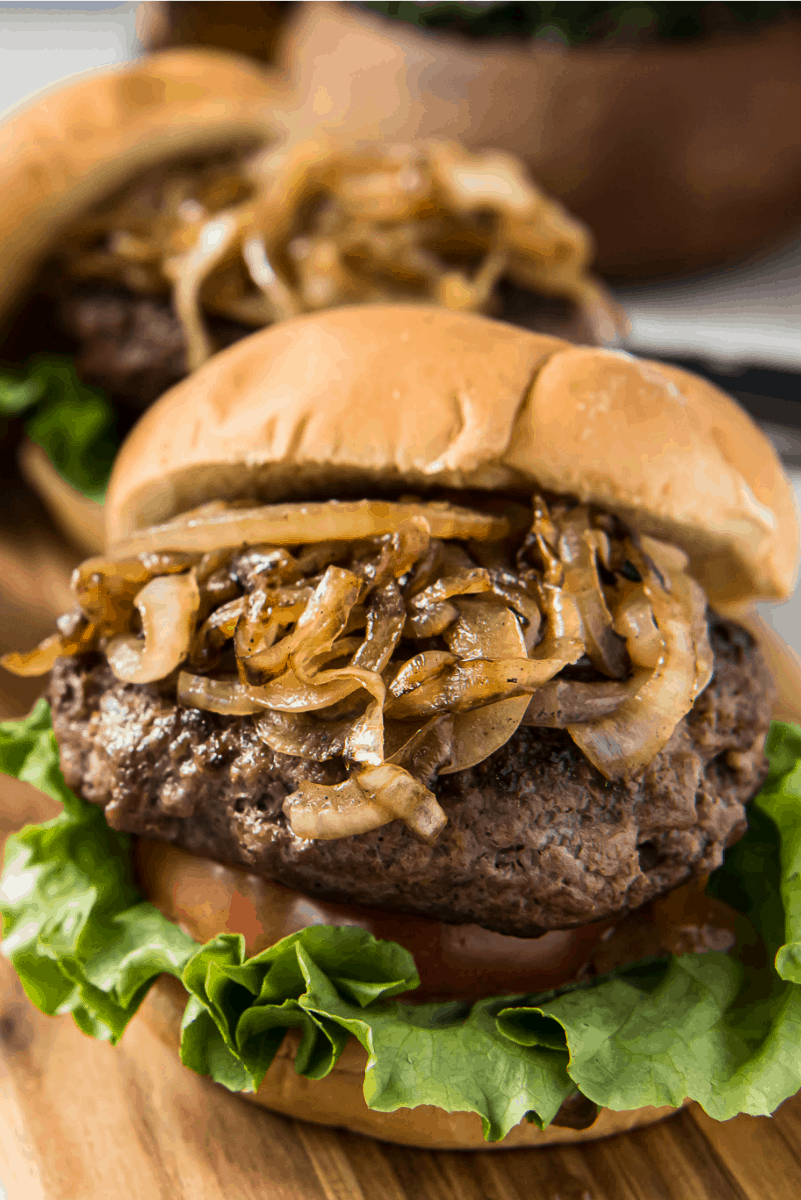 About the Jucy Lucy Burger:
Two bars in Minneapolis, Minnesota (Matt's Bar and the 5-8 Club) claim to be the originators of the Jucy Lucy. It's characterized as a burger that has the cheese cooked inside the burgers instead of on top. The cheese cooked inside the burgers results in a "juicier" burger. One story about how the burger got its name is that a customer in 1954 remarked "Oooh, that's one juicy lucy!" after biting into it.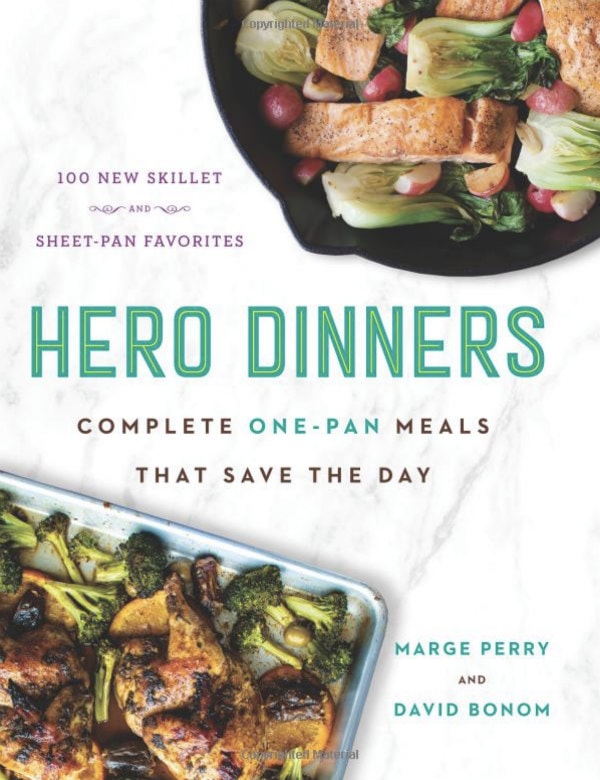 Hero Dinners:
This copycat recipe for Jucy Lucy Burgers comes from a new cookbook by Marge Perry and David Bonom: Hero Dinners- Complete One Pan Meals That Save the Day. This is a handy cookbook to have around for easy dinners- especially as all the kids are headed back to school, and this time of year starts to get so busy. It's nice to have some new ideas for dinner- all made in either a skillet on the stove or a sheet pan in the oven. Every recipe truly makes a complete meal, including protein and a vegetable or grain- and usually both.
Here are a few recipes that have caught my eye from the book– ones that I have bookmarked to make on my busy weeknights! My list here is rather short, but everything in the book seriously looks good.
Lemon Chicken with Artichokes
Dijon-Roasted Chicken and Apples
Drumsticks Osso Buco
Weeknight Herb-Roasted Turkey Breast
Classic All-American Meatloaf
Rib Eye Steaks with Thyme-Shallot Butter
Shaved Vegetable and Prosciutto Pizza
Pork Chops with Italian Salsa Verde
Apricot-Honey Spare Ribs
Sweet Chili-Glazed Salmon
Greek Shrimp with Feta
Ooey Gooey Mac and Cheese
Skillet Lasagna with Caramelized Onions and Spinach
Skillet Cinnamon Buns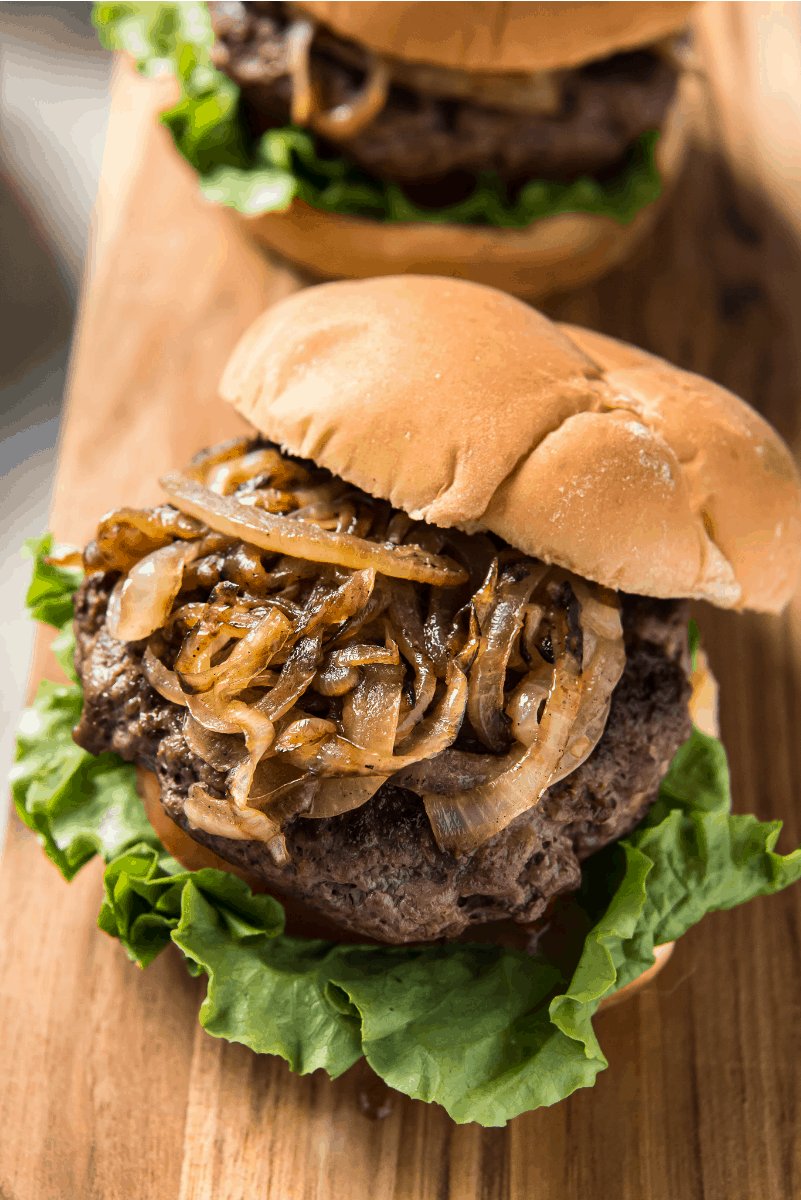 These Jucy Lucy Burgers are adorned with sauteed sweet onions, a lettuce leaf and a slice of beefsteak tomato.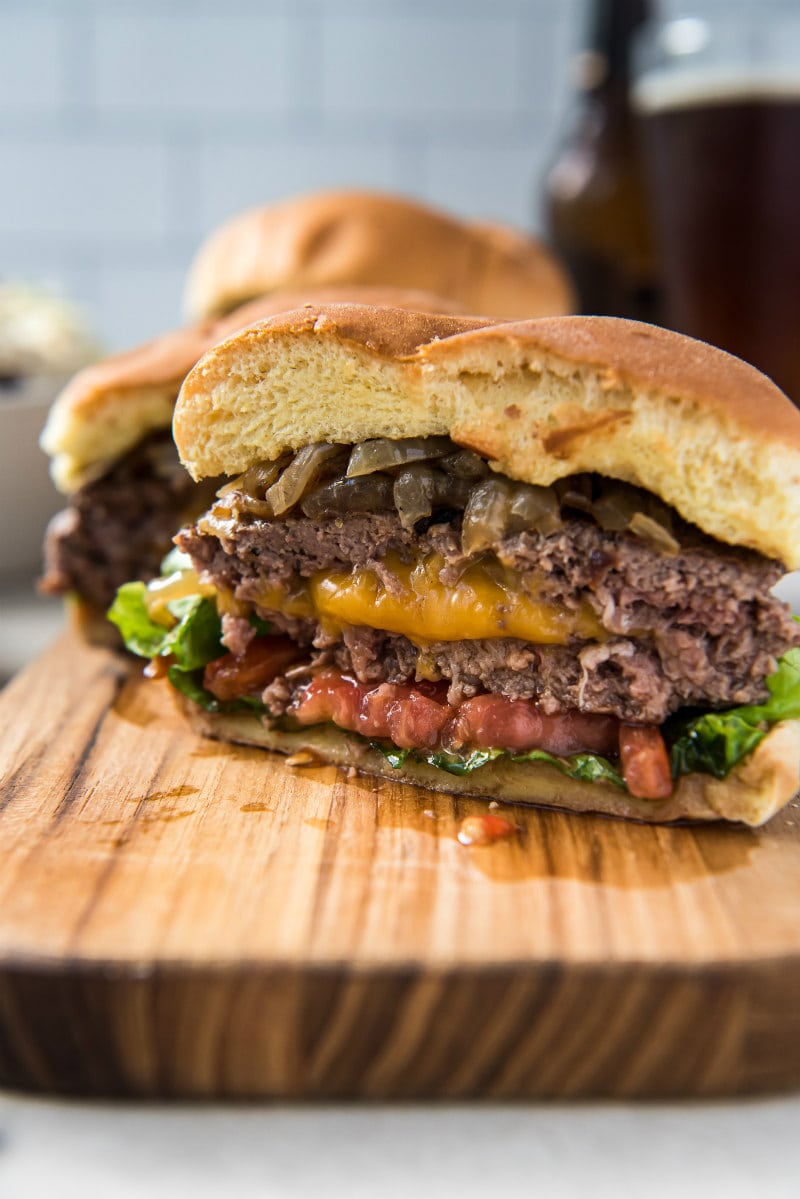 When you bite into a Jucy Lucy, you get to experience that core of cheese melted within. The cheese melts when the burger is cooking, so it helps keep the center of the burger nice and juicy! You don't really need any condiments on this burger because there are so many great flavors going on, but you can certainly add ketchup or mustard if you'd like.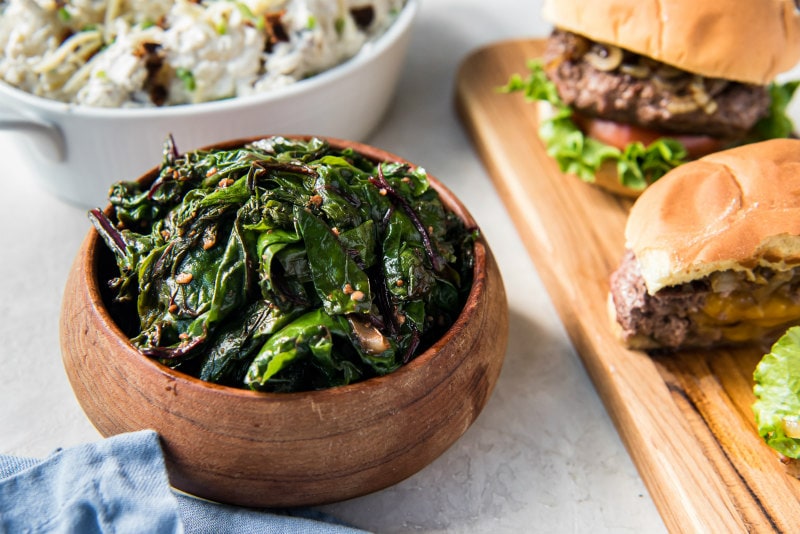 Because the cookbook is focused on sharing complete meals, the recipe in the book for Jucy Lucys includes a side dish of Garlicky Swiss Chard. It's completely optional, but I've included it on the recipe below because it's a delicious veggie to serve with these burgers!
Here are a few more burger recipes you might enjoy:
Jucy Lucy Burgers
Recipe Details
Ingredients
BURGERS:
1½

pounds

85% lean ground beef

1/2

teaspoon

salt

1/4

teaspoon

pepper

4

slices (3-ounces)

deli-style extra sharp cheddar cheese
SAUTEED ONIONS:
1

tablespoon

olive oil

1

large

sweet onion,

thinly sliced (about 2 cups)

1/4

teaspoon

salt
GARLICKY SWISS CHARD:
2

tablespoons

olive oil

3

medium

garlic cloves,

thinly sliced

1½

pounds

Swiss chard (trimmed & center rib removed),

torn into bite-sized pieces (about 12 cups)

1/4

teaspoon

salt

1/4

teaspoon

pepper
BURGER FIXINGS:
4

potato sandwich rolls

4

lettuce leaves

4

beefsteak tomato slices
Instructions
PREPARE THE BURGER PATTIES:
In a medium bowl, gently mix the beef salt and pepper. Form the mixture into 8 thin patties 3½ to 4-inches wide. Stack the cheese and cut into a total of 16 equal-size pieces. Place 4 of the patties on your work surface and top each with 4 pieces of the Cheddar, making sure you leave a border clear of cheese all the way around. Top with the remaining patties and firmly pinch the edges together to seal in the cheese.
SAUTE THE ONIONS:
In a large skillet, heat 1 tablespoon of the oil over medium-high heat. Add the onion and salt and cook, stirring occasionally, until tender and golden brown, 9 to 10 minutes. Transfer to a bowl.
COOK THE SWISS CHARD:
Reduce heat on the skillet to medium and add the oil. Stir in the garlic and cook until it just begins to brown around the edges, about 45 seconds. Add the Swiss chard, salt and pepper. Cook, tossing occasionally, until the chard is wilted and tender, 4 to 5 minutes; transfer to a bowl.
ASSEMBLE THE BURGERS:
Wipe the skillet with a paper towel to remove any moisture, return it to medium heat and add the patties. Cook, turning once, until they are browned and cooked through, 9 to 10 minutes.

Place the bottom half of each roll on a serving plate. Top each with a lettuce leaf, tomato slice, pattie, and some of the onion; close the sandwiches. Let the burgers cool for 2 to 3 minutes before serving as the cheese will be very hot.

Meanwhile, heat the skillet over medium-high heat. Return the chard to the pan and cook to heat through, about 1 minute. Serve the greens with the burgers.
Notes
If making this recipe as EGG FREE, use buns that have no egg in the ingredients. If making this recipe as GLUTEN FREE, use gluten free buns.
Nutrition
Serving:
1
serving
,
Calories:
782
kcal
,
Carbohydrates:
46
g
,
Protein:
47
g
,
Fat:
46
g
,
Saturated Fat:
16
g
,
Cholesterol:
138
mg
,
Sodium:
1513
mg
,
Potassium:
1447
mg
,
Fiber:
5
g
,
Sugar:
8
g
,
Vitamin A:
12618
IU
,
Vitamin C:
64
mg
,
Calcium:
352
mg
,
Iron:
9
mg