This recipe has been featured in a how-to post on The Recipe Girl blog: Veggie Burgers with Cilantro Mayonnaise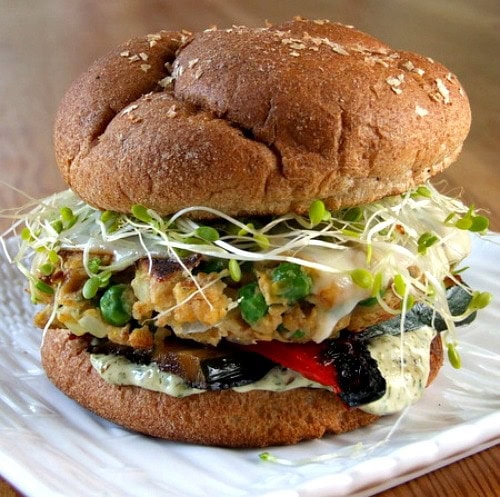 Veggie Burgers with Cilantro Mayonnaise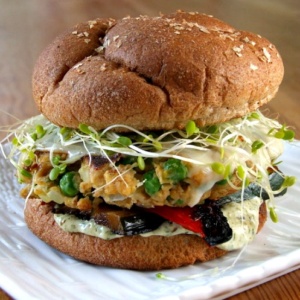 Yield:
6 servings
Prep Time:40 min
Cook Time:15 min
Ingredients:
CILANTRO MAYONNAISE:
3/4 cup reduced-fat mayonnaise
3/4 cup chopped fresh cilantro
1 teaspoon light soy sauce
1 tablespoon fresh lime juice
1 clove garlic, minced
BURGERS:
2 1/2 cups canned garbanzo beans, drained and rinsed
4 large eggs
1/2 teaspoon sea salt
1/3 cup chopped fresh cilantro
1 small onion, chopped
zest of one lemon
3/4 cup frozen peas
1 cup toasted whole-grain bread crumbs
cooking spray or olive oil
burger buns
desired toppings (sprouts, grilled vegetables, tomato, etc.)
Directions:
1. Prepare mayonnaise: Combine all mayonnaise ingredients in a blender and blend until smooth. Scrape into a bowl, cover with plastic wrap and refrigerate until ready to use.
2. Prepare burgers: In a food processor, combine garbanzo beans, eggs and salt. Puree until thick (the consistency of thick & chunky hummus is what you're looking for).
3. Scrape into a medium bowl and mix in cilantro, onion, lemon zest and peas. Add breadcrumbs and then let sit for a few minutes so the mixture has a chance to moisten the breadcrumbs. The resulting mixture should be one that is moist enough to form into patties. If it's too dry, simply add a couple of Tablespoons of water or egg, and if it's too wet just add a few more breadcrumbs.
4. Divide mixture into 6 parts and form into six burgers. You can prepare the burgers ahead of time to this point (place on a rimmed baking sheet, cover with plastic wrap & refrigerate until ready to cook).
5. Spray cooking spray (or add olive oil) in large skillet and heat to medium. Add 3 patties, cover and cook for 7 to 10 minutes or until bottoms are browned. Flip patties and cook for another 7 minutes on the other side. Top with cheese at the end of cooking, if you wish! Repeat with remaining three patties.
6. Toast buns and add favorite toppings.
Tips:
*Buy whole-grain buns for the burgers and just use a couple of them to grind in the food processor for the crumbs that you'll need. Then spread them on a rimmed baking sheet and toast in the oven until browned.