In this Mushroom Veggie Burgers recipe, the mushrooms are so meaty that they are sometimes mistaken for beef (sort of).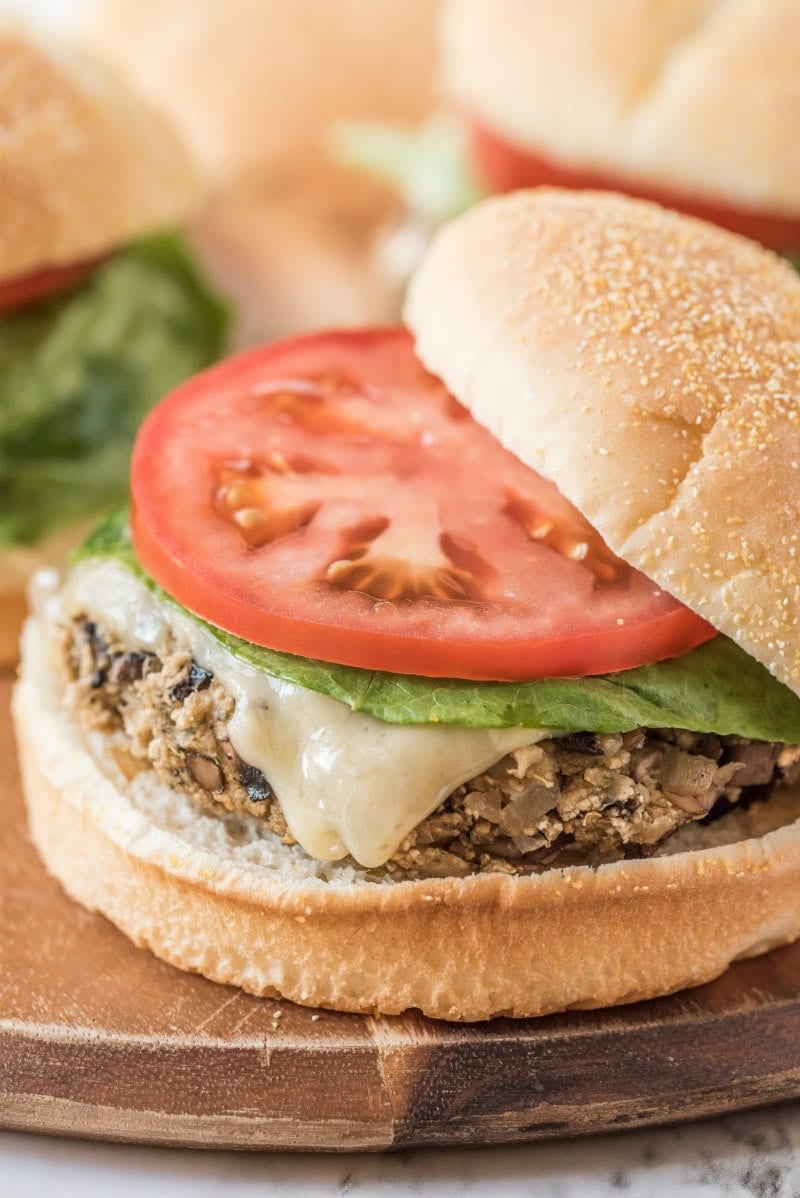 If you're looking for a regular meat kind of burger, you won't find one here. These don't taste like regular burgers, by any means. They taste as they should… like portobello mushroom burgers. If you're a lover of mushrooms, you will probably enjoy trying these Mushroom Veggie Burgers. It's definitely nice to try something different for dinner once in a while. These are a little different. I happen to love them!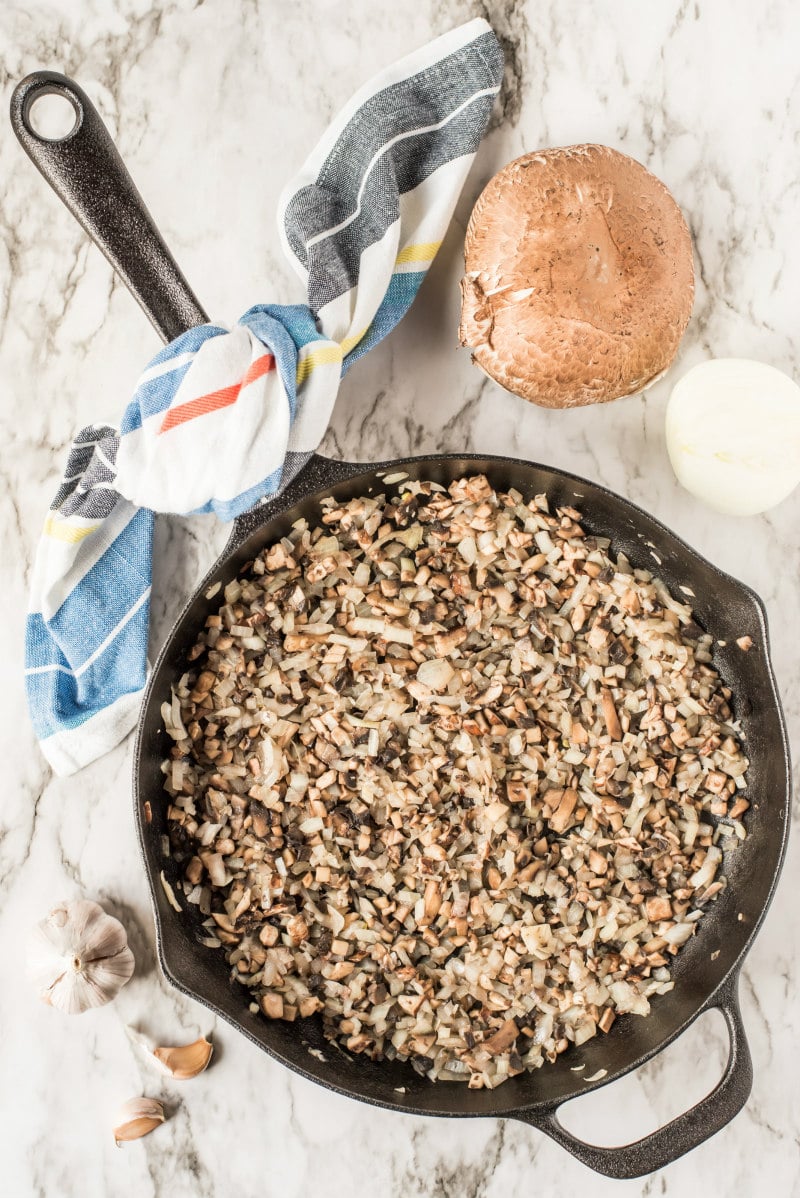 How to make Mushroom Veggie Burgers:
This is actually a very simple recipe. Finely chopped onions and garlic are sautéed together in a skillet with a little bit of olive oil. Finely chopped portobello mushrooms are added in and cooked until softened and browned.
Can you use any kind of mushroom for these burgers?
I'd stick with portobello mushrooms. The portobello mushroom is a meaty variety. It has a firm texture that will give mushroom burgers a meaty texture. Other varieties are more flimsy when cooked and might not hold together well.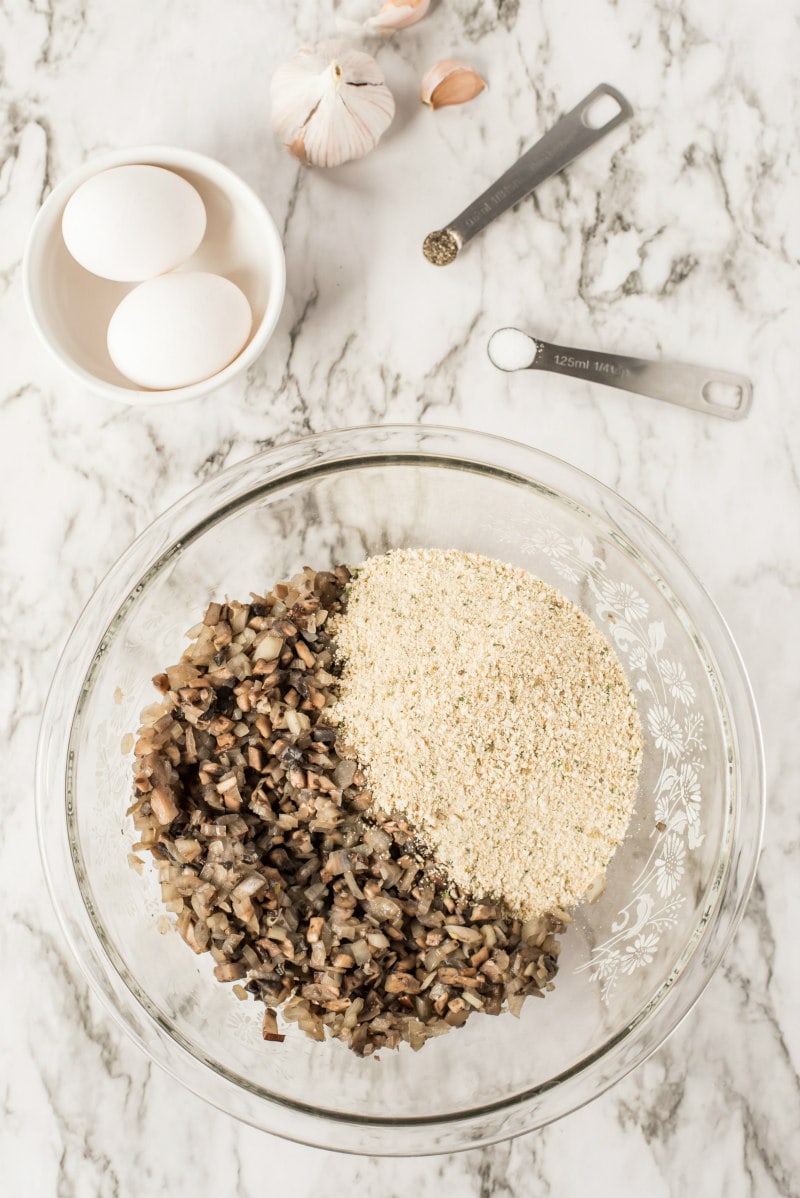 The mushroom/onion mixture is transferred to a bowl and given time to let cool. Breadcrumbs, egg whites and salt/pepper are mixed in to create the mushroom veggie burger mixture.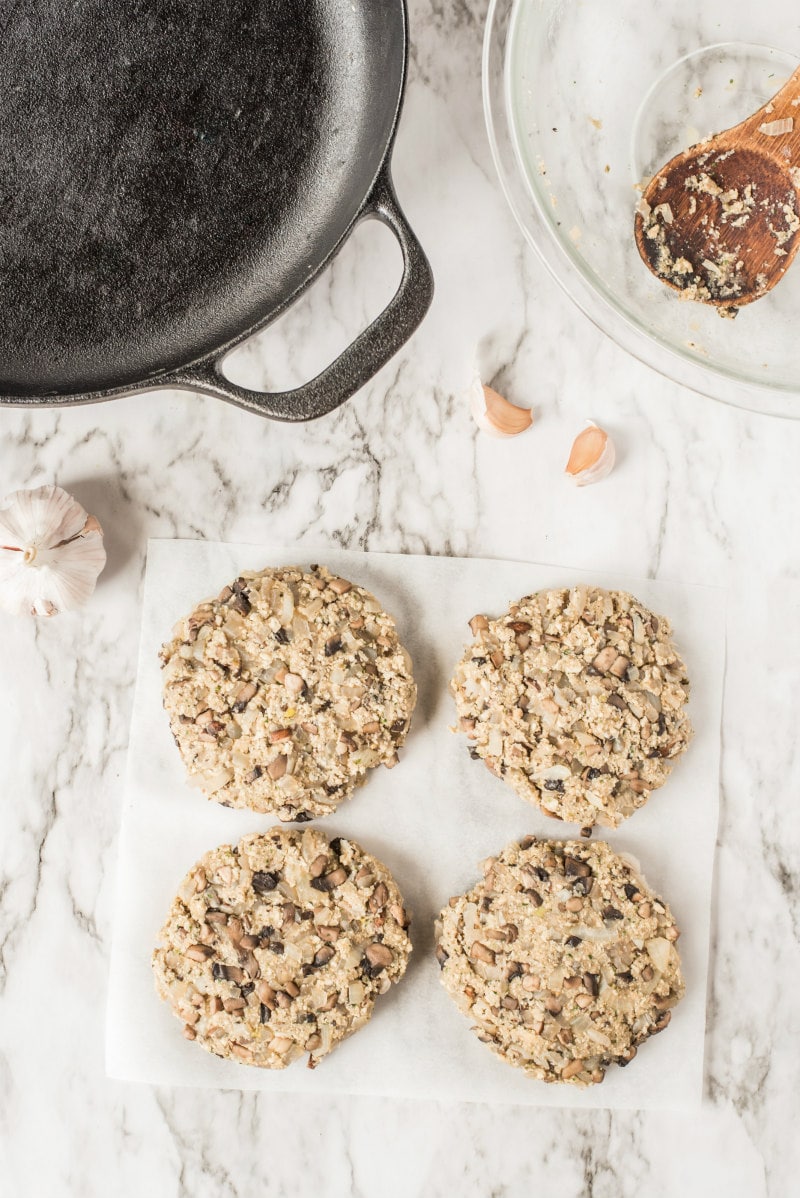 At this point, the mixture is divided up equally and formed into four burger patties.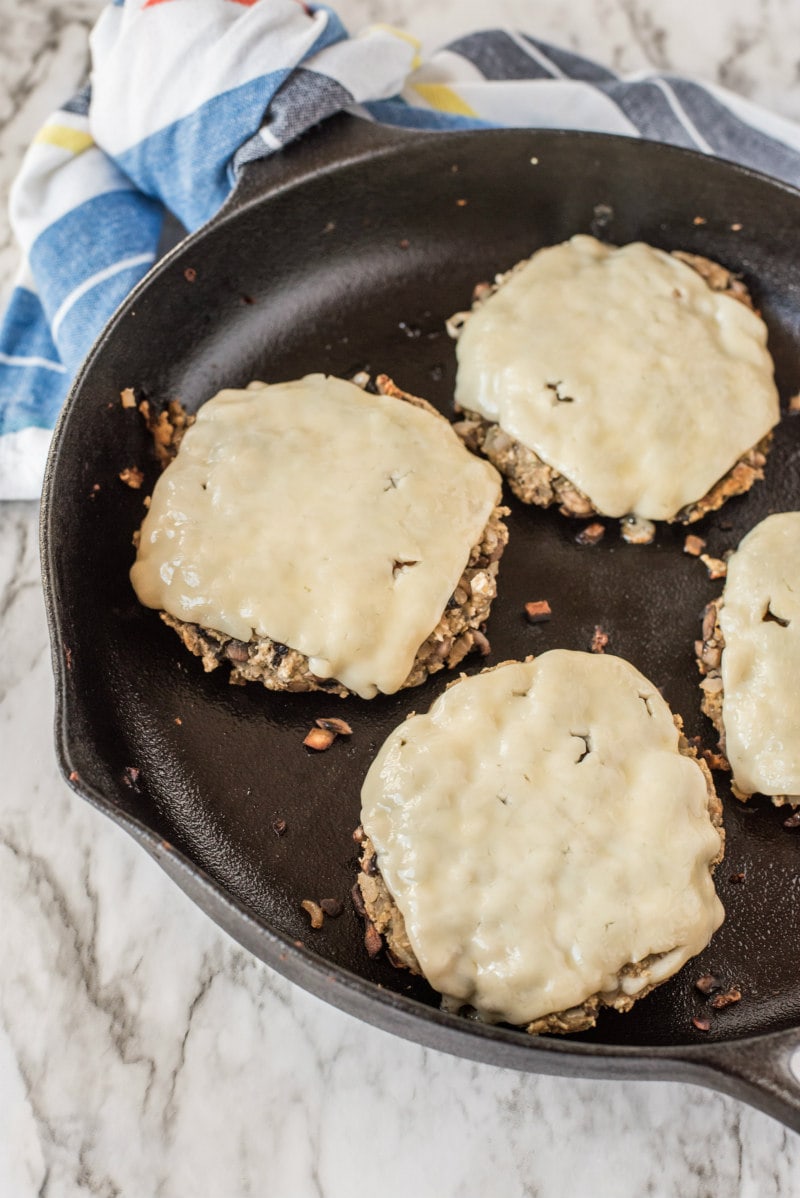 These burgers cook quickly- about 3 minutes on each side should do the trick. If you want to add cheese, go ahead and add the cheese once you flip the burgers. Gouda and Swiss have a lot of flavor and would go well with these Mushroom Veggie Burgers. You can use your favorite cheese.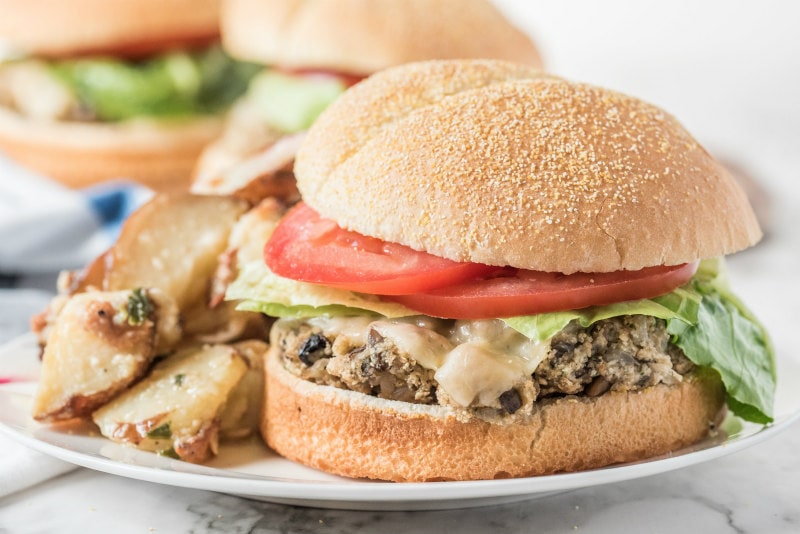 Add your desired fixings and condiments. Lettuce and tomato are the best pairing with mushrooms. As far as condiments, that's totally up to you. Spicy mayonnaise, blue cheese dressing or my best burger sauce are all delicious options.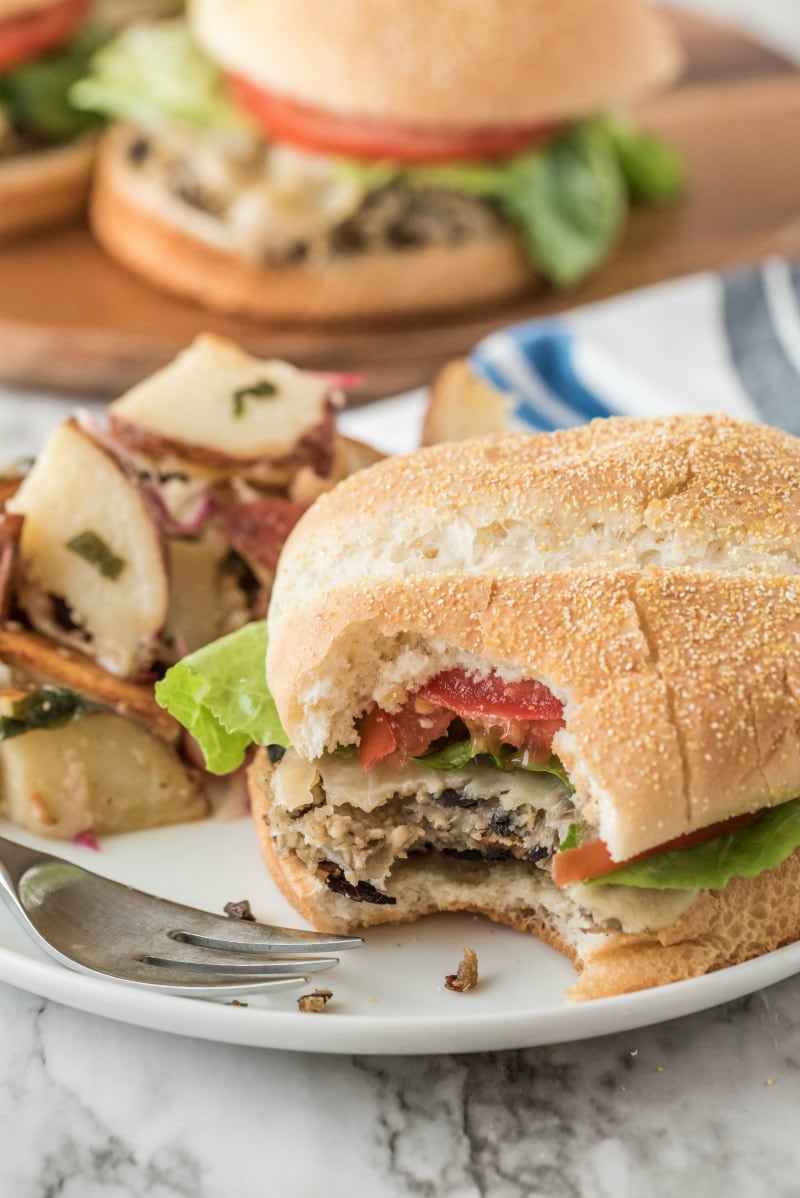 I first made these for my family many years ago when my son was only 6 years old. He was excited we were having "burgers" for dinner. I wasn't able to fool him into thinking these were beef burgers. He did note that he knew there was something different about these burgers but he ate the whole thing. I happily told the family that they were Mushroom Veggie Burgers. They were all surprised at how good they were! I hope you'll try them out on your family too. Enjoy!
Favorite Burger Recipes:
Mushroom Veggie Burgers
If you love mushrooms, these are the burgers for you!
Recipe Details
Ingredients
1

tablespoon

olive oil

1½

cups

finely chopped onion

(about 1 large)

3

small

garlic cloves,

minced

4

cups

finely chopped portobello mushrooms

(about 2 large)

¼

teaspoon

salt

⅛

teaspoon

freshly ground black pepper

1

cup

Italian breadcrumbs

2

large

egg whites

buns and condiments of your choice
Instructions
Heat the olive oil in a 12-inch nonstick skillet over moderately high heat for 1 minute. Add the chopped onion and garlic and sauté, stirring occasionally, until limp and golden- about 3 minutes.

Add the mushrooms and sauté, stirring now and then, until the mushrooms soften and brown- about 4 minutes. Transfer the mushroom mixture to a large bowl and cool for 10 minutes.

Using wooden spoon, mix salt, pepper and bread crumbs into the mushroom mixture. Add the egg whites and mix thoroughly.

Scoop up the mixture by ½-cup measure, then using hands, shape into four patties about ¾-inch-thick.

Wipe out the skillet, spray with nonstick spray, and set over moderate heat. Add the burger patties and brown about 3 minutes on each side.

Serve the mushroom burgers on buns (if desired) and add your favorite fixings and condiments.
Nutrition
Serving:
1
burger (no bun)
,
Calories:
201
kcal
,
Carbohydrates:
30
g
,
Protein:
9
g
,
Fat:
6
g
,
Saturated Fat:
1
g
,
Cholesterol:
1
mg
,
Sodium:
584
mg
,
Potassium:
506
mg
,
Fiber:
4
g
,
Sugar:
7
g
,
Vitamin A:
58
IU
,
Vitamin C:
6
mg
,
Calcium:
75
mg
,
Iron:
2
mg