Teriyaki Burgers are the perfect burgers for summer grilling.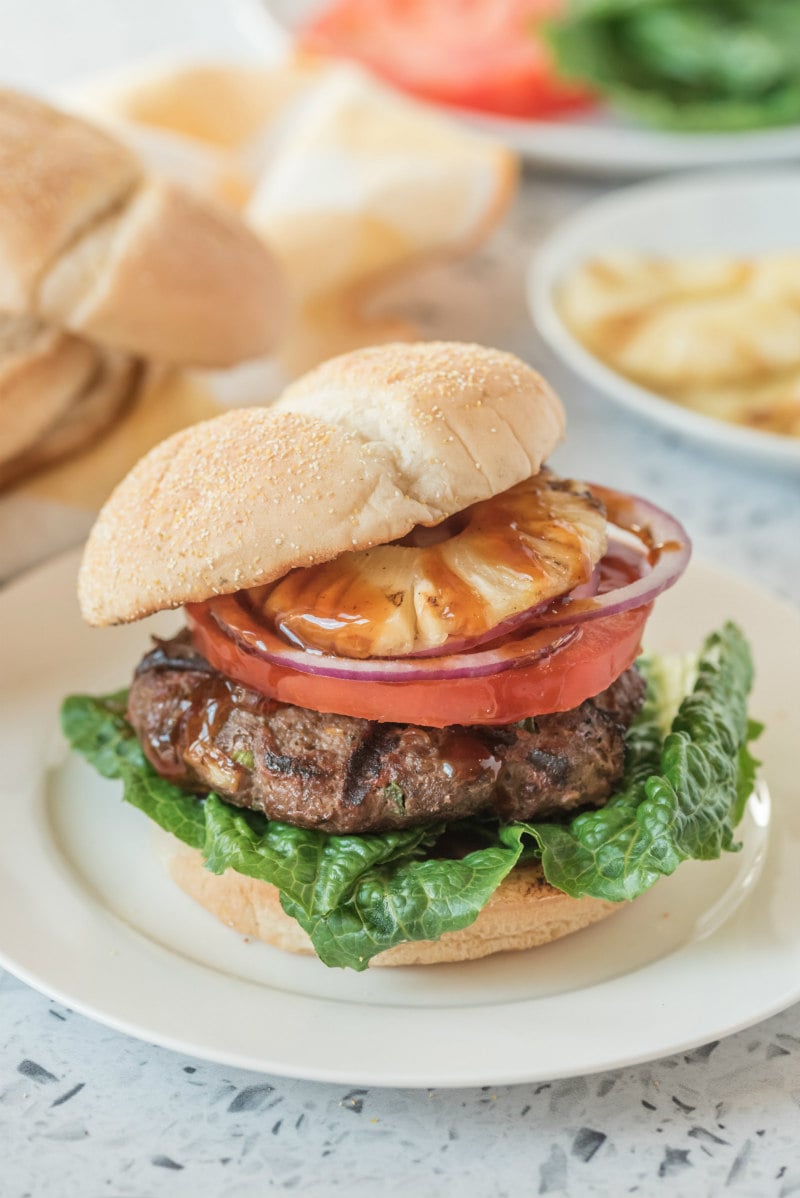 These Teriyaki Burgers are jazzed up burgers. They have a lot of flavor and they're not your run-of-the-mill frozen disc that you throw on the grill with a hunk of cheese. You have to like pineapple to enjoy this one. This is a simple burger recipe, and it turns out a tender burger with big taste.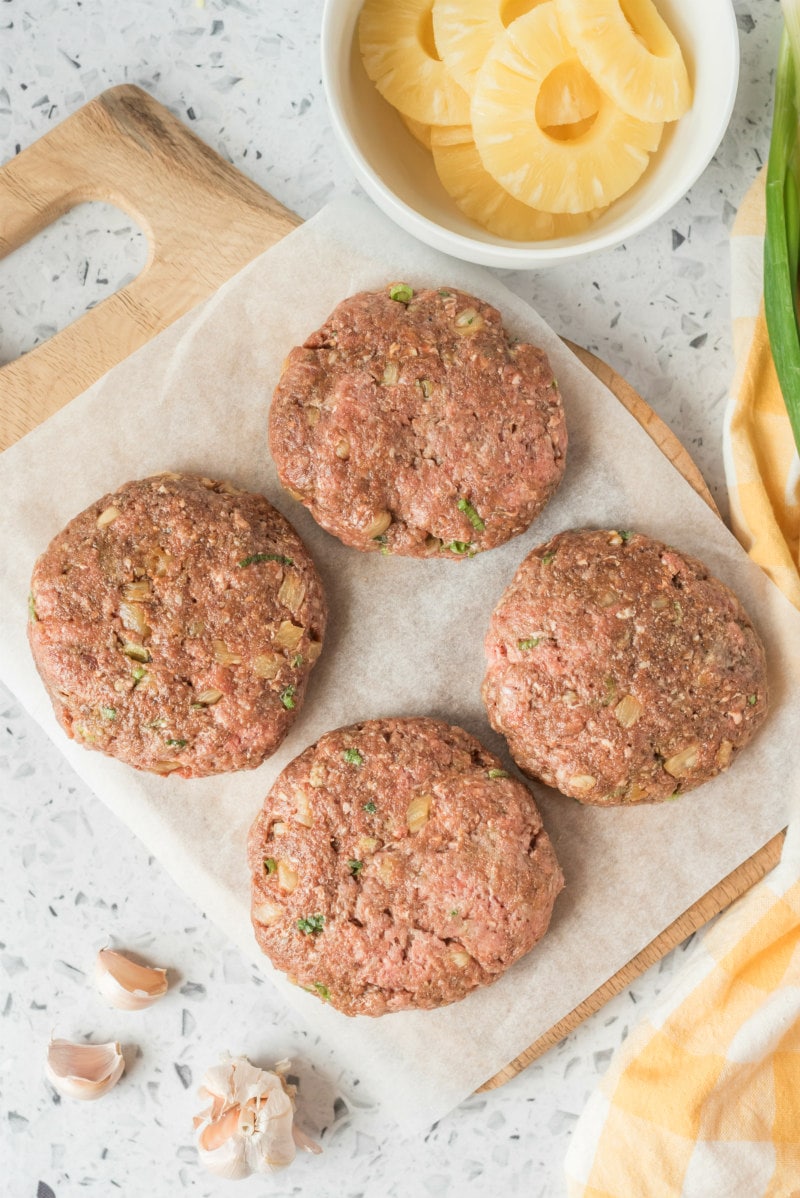 Ingredients needed for Teriyaki Burgers:
ground beef
canned pineapple
soy sauce
green onions
fresh ginger
garlic
pepper
teriyaki glaze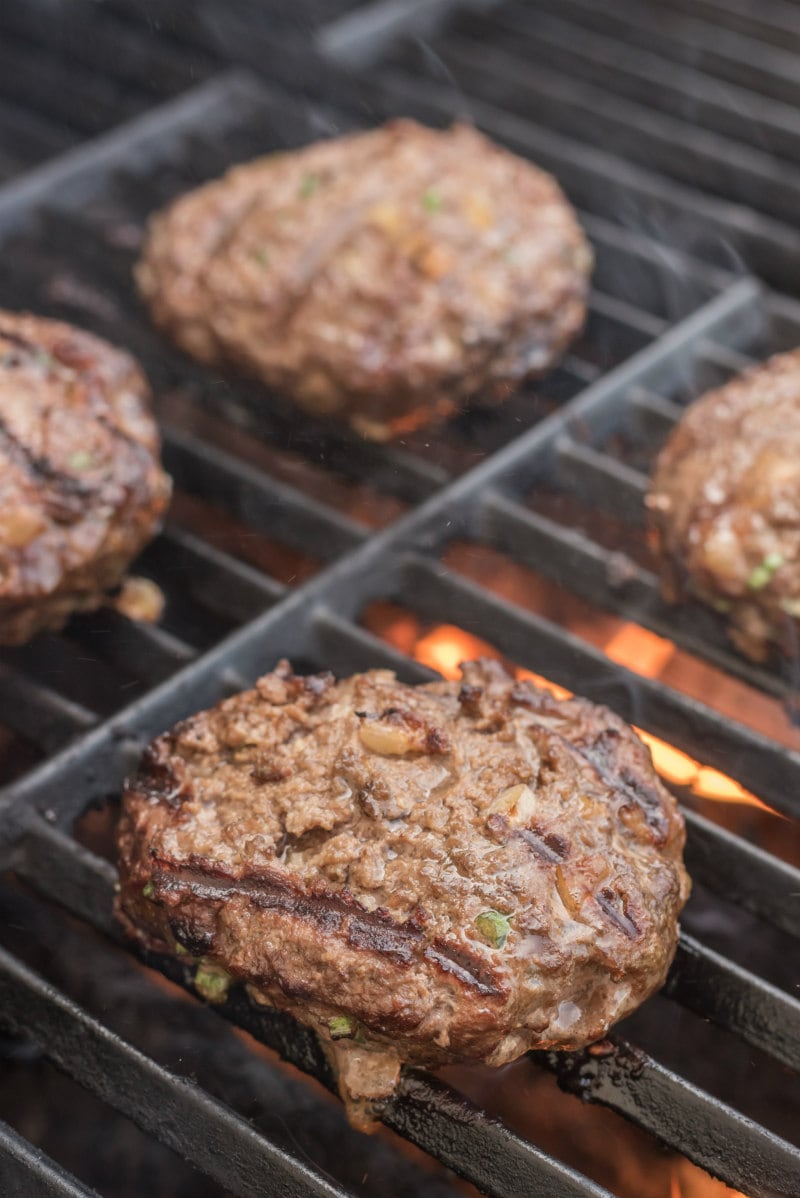 A very important tip!
Because acidic fruits like pineapple can break down meats, it's important that you assemble these teriyaki burgers and then put them on the grill. Don't put your burger patties together and let them sit in the refrigerator. They need to go on the grill right away or you will risk the beef becoming too tender and falling apart on the grill.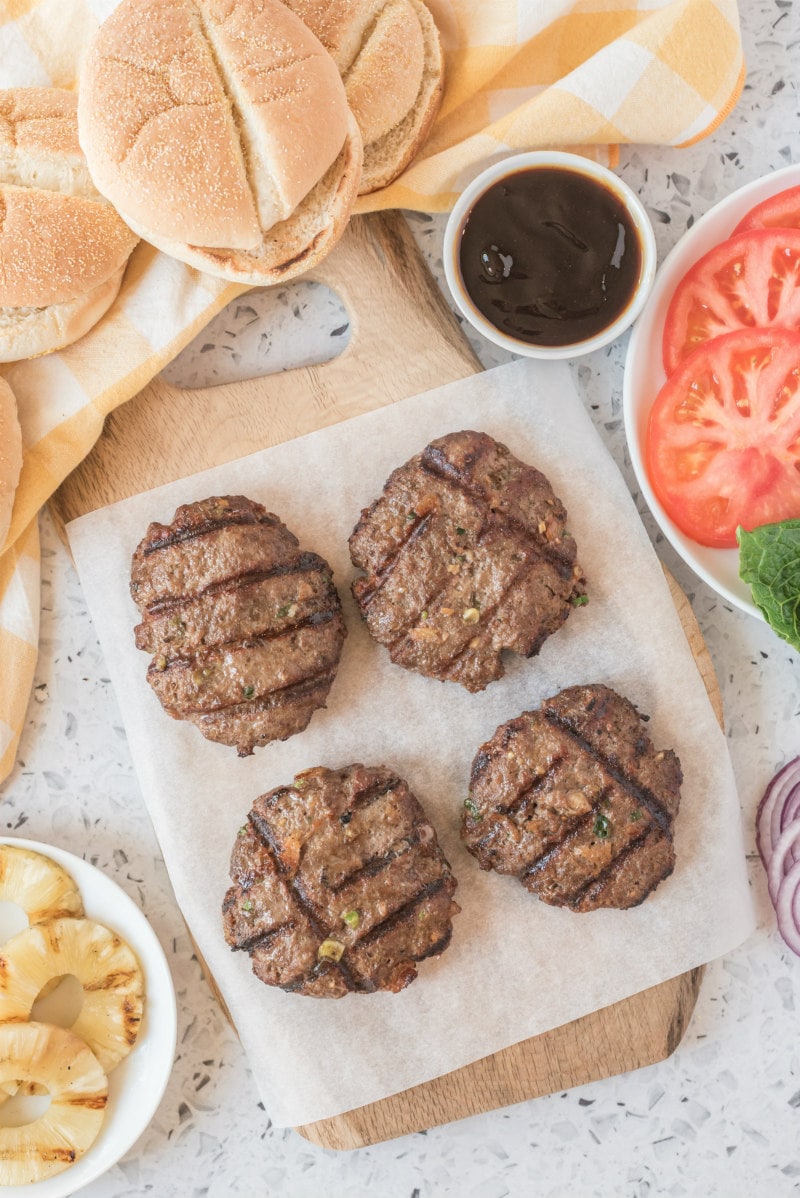 What kinds of condiments are good to serve on Teriyaki Burgers?
Since these burgers have quite a bit of flavor to them, you don't need ketchup and mustard and all of the regular burger fixings. A drizzle of teriyaki glaze and a sliced of grilled pineapple is good. I like to add lettuce, tomato and red onion. It's up to you!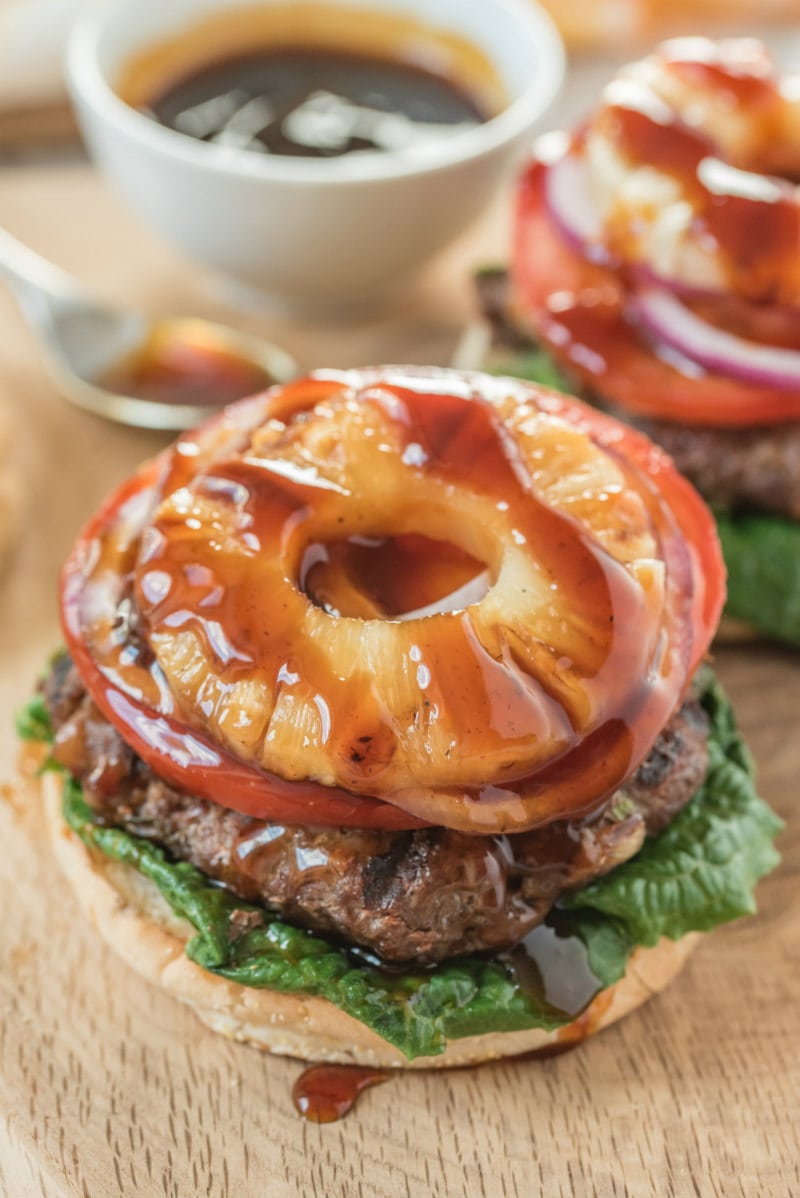 How to make homemade Teriyaki Glaze:
Combine the following ingredients in a small saucepan; stir and simmer over medium heat until the sugar is dissolved. Then stir in a mixture of 3/4 teaspoon of cornstarch combined with 1 1/2 teaspoons water; heat and stir until thickened.
1/4 cup soy sauce
2 tablespoons water
2 tablespoons white sugar
1 tablespoon sweet rice wine
2 teaspoons brown sugar
1 1/2 teaspoons honey
3/4 teaspoon minced garlic
3/4 teaspoon grated fresh ginger
1/2 teaspoon sesame oil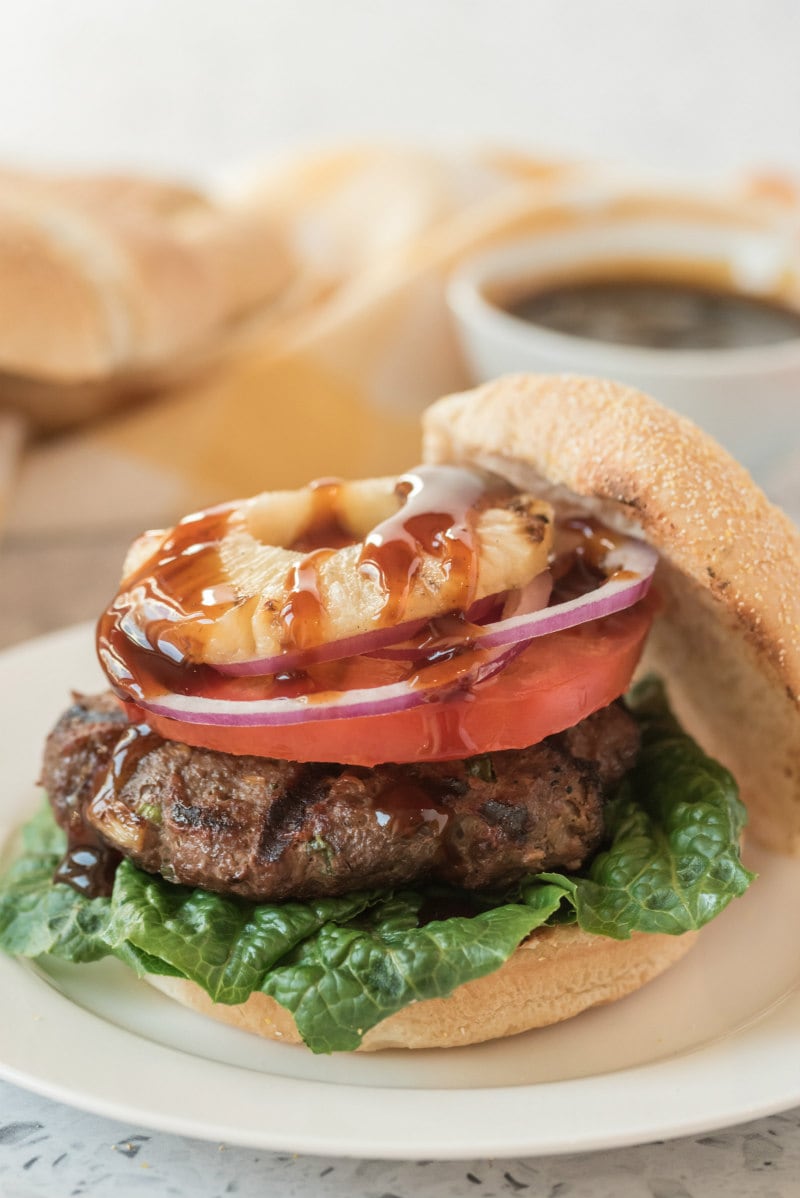 Doesn't that look like a "restaurant quality" burger? That's what my family says. It's a burger you'd be happily eating in a good burger joint- but you made it at home!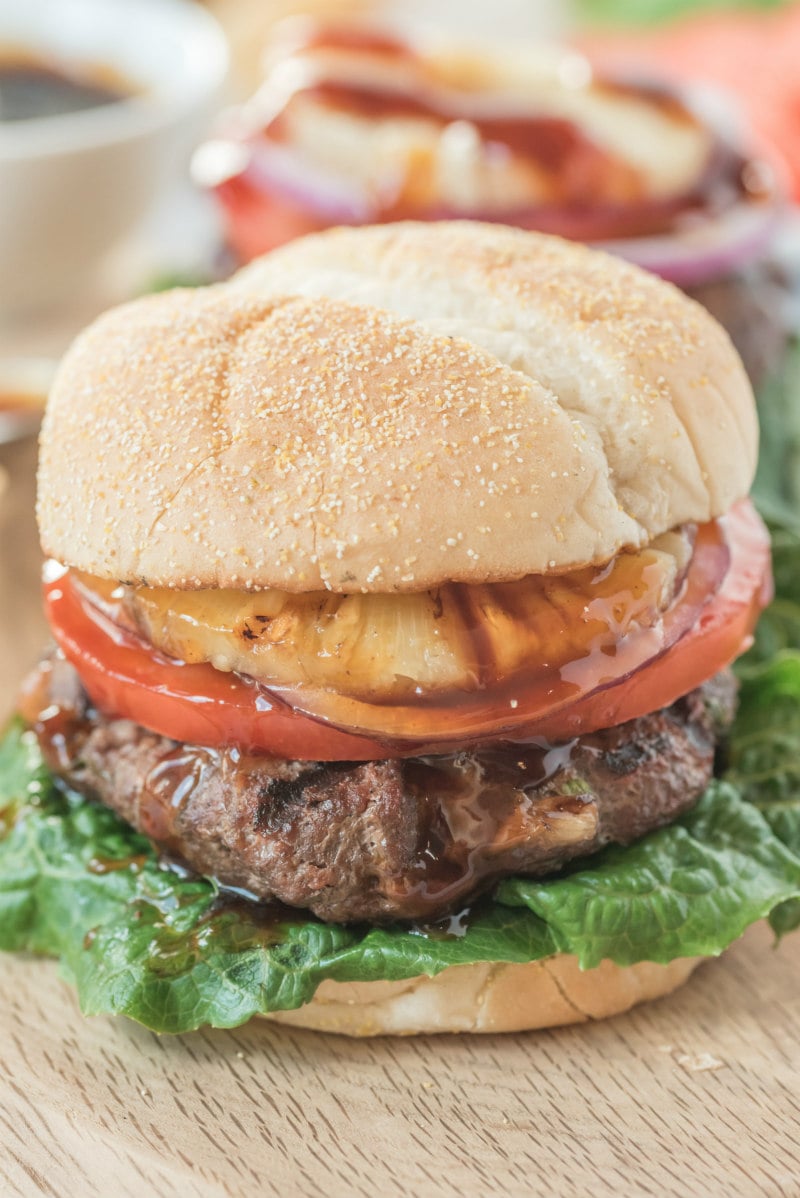 Enjoy!
Here are a few more recipes for burgers that you might like to try:
Teriyaki Burgers
An excellent grilled burger recipe with great flavor!
Recipe Details
Ingredients
1¼

pounds

85% lean ground beef

6

whole

canned pineapple slices

(or use fresh sliced pineapple), divided

¼

cup

low sodium soy sauce

¼

cup

chopped green onions

1

teaspoon

grated fresh ginger

1

medium

garlic clove,

minced

¼

teaspoon

freshly ground black pepper

4

tablespoons

prepared teriyaki glaze

4

hamburger buns

desired fixings-- tomato, onion, lettuce

(as desired)
Instructions
In a large bowl, combine the beef, 2 pineapple slices (chopped finely), soy sauce, onions, ginger, garlic and pepper. Divide the beef mixture into 4 equal portions, shaping each into a ½-inch-thick patty.

Preheat the grill. Place the burgers on the grill rack; grill 4 minutes on each side or until desired degree of doneness. Grill the remaining 4 slices of pineapple too. Serve on toasted buns with a slice of pineapple. Drizzle one tablespoon of teriyaki glaze on top of each burger. Serve with desired condiments.
Notes
*If you use fresh pineapple, make sure that you take the time to drain the pineapple very well. Fresh is much juicier than canned, and you don't want to end up with a mushy mixture for your burgers.
*Alternately, steak sauce in place of teriyaki glaze is good on these burgers.
*Be sure to grill these burgers as soon as they're shaped and ready to go-- placing them in the refrigerator and letting them sit will allow the pineapple to break down the beef and will make them mushy.
Nutrition
Serving:
1
serving
,
Calories:
496
kcal
,
Carbohydrates:
38
g
,
Protein:
33
g
,
Fat:
23
g
,
Saturated Fat:
9
g
,
Cholesterol:
96
mg
,
Sodium:
1532
mg
,
Potassium:
647
mg
,
Fiber:
2
g
,
Sugar:
16
g
,
Vitamin A:
98
IU
,
Vitamin C:
9
mg
,
Calcium:
119
mg
,
Iron:
5
mg