Grilled Chicken and Pineapple Rice Bowls with Teriyaki Glaze are a great dinner to try on the grill this summer.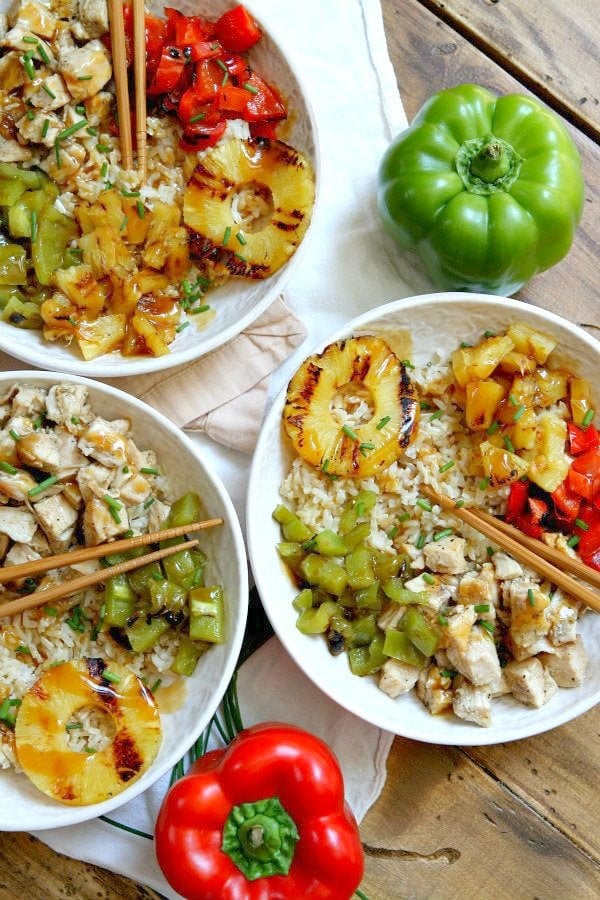 This recipe for Grilled Chicken and Pineapple Rice Bowls showcases the use of your grill, so heat up that grill and get to work! You'll be grilling chicken cutlets, bell peppers and pineapple. A very simple homemade teriyaki glaze will bring it all together with a generous helping of steamed rice.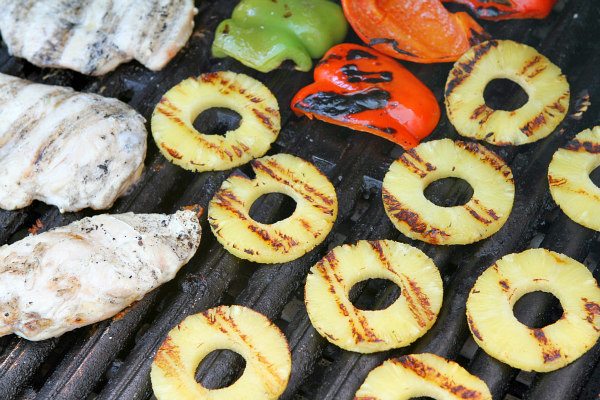 It turns out that your grill is a wonderful, big-boy gadget to have around. There is no better way to make chicken than throwing it on the grill- it tastes best that way! When you grill bell peppers, they blacken themselves here and there, and become tender and sweet.
Pineapple on the grill:
Pineapple on the grill is just about the best idea ever. When you use canned pineapple, your prep time is zero– just pop open the can to find perfectly sliced, sweet pineapple. The heat of the grill hits the sweetness of the pineapple and turns it into a caramelized piece of deliciousness. You don't even have to do anything to it… just toss the pineapple slices on the grill and let that fire do its magic. You can certainly substitute and use fresh pineapple slices in this recipe, but it's helpful to use canned since you will need some of the juice from the can to make the homemade teriyaki glaze.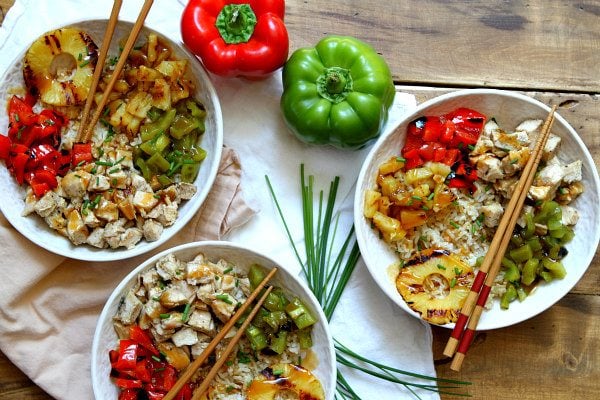 Please make the teriyaki glaze recipe that is included in the recipe below. It will take you all of 10 minutes to make, and you get to utilize all of the yummy juice in your can of pineapple in the glaze. That's a big bonus about using DOLE canned pineapple- the pineapple is swimming in plenty of 100% pineapple juice! It helps the glaze turn out to be sweet and syrupy– and it's so much better than an already prepared glaze that you'd buy at the store.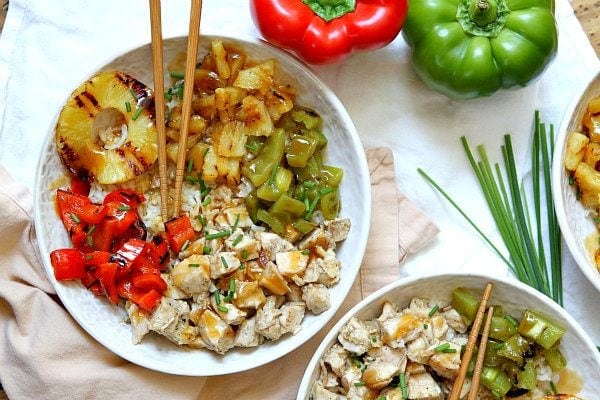 All of your grilled ingredients are chopped and added to bowls of rice. Plenty of that grilled pineapple is added in too (you'll thank me later… because the grilled pineapple adds a lovely amount of sweetness to the recipe and makes it more of a ROCKSTAR meal). The teriyaki glaze is generously drizzled on top, and these grilled chicken and pineapple rice bowls are ready to devour!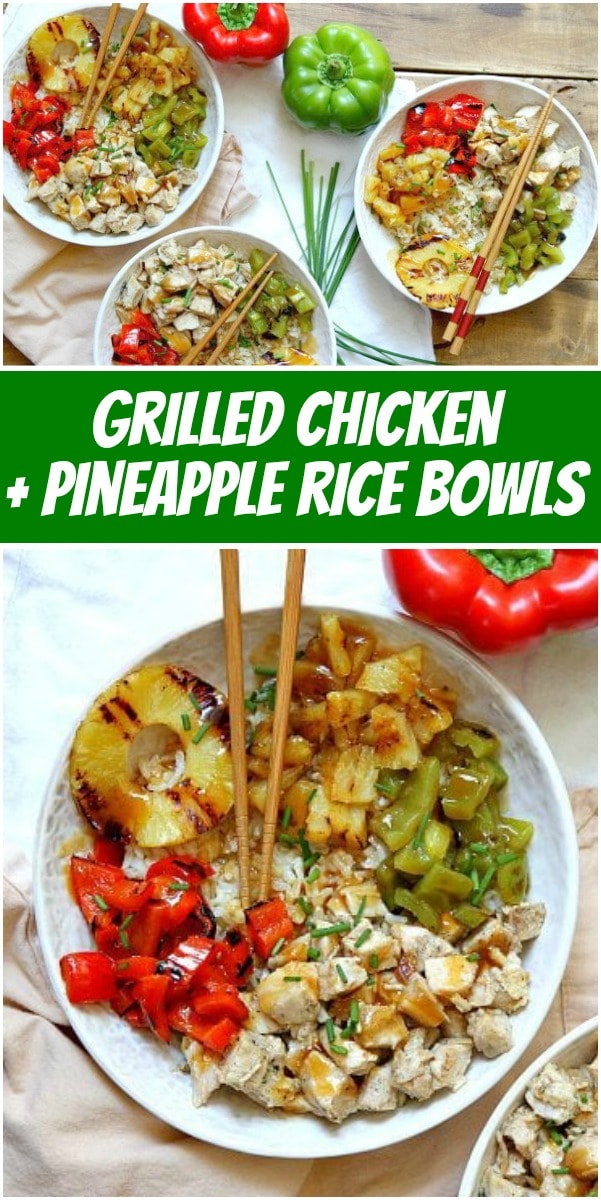 Here are a few more grilled pineapple recipes you might enjoy:
Grilled Chicken and Pineapple Rice Bowls with Teriyaki Glaze
Recipe Details
Ingredients
THE GLAZE:
1/4

cup

reduced-sodium soy sauce

1

cup

water/ pineapple juice

(reserved pineapple juice from the can + water to make one total cup)

3

tablespoons

brown sugar

1/2

teaspoon

ground ginger

1/4

teaspoon

garlic powder

2

tablespoons

cornstarch

1/4

cup

cold water
THE GRILLING:
1½

pounds

thin chicken cutlets

(lightly brushed with oil and sprinkled with salt and pepper)

One

20-ounce

can pineapple slices

(reserve the juice for the glaze above)

1

large

red bell pepper,

seeds removed and sliced into large chunks

1

large

green bell pepper,

seeds removed and sliced into large chunks
THE BOWL:
1½

cups

brown or white rice,

cooked according to package instructions

chopped chives or green onions,

for garnish
Instructions
PREPARE THE GLAZE:
In a medium saucepan, combine the soy sauce, pineapple juice + water (enough to make 1 cup), brown sugar, ginger and garlic powder. Stir and bring to a simmer. Combine the cornstarch and cold water in a separate bowl. Whisk the cornstarch mixture into the simmering soy sauce mixture. Continue to simmer and stir until thickened. Remove from heat, cover and set aside.
GRILL:
Preheat your grill to medium, and spray with grill spray. Grill chicken, pineapple slices and bell peppers until cooked through and tender with grill marks on both sides. Remove from the grill and chop.
ASSEMBLE THE BOWLS:
Divide the cooked rice between four bowls. Top each with chicken, pineapple and bell peppers. Drizzle with teriyaki glaze, and garnish with chives or green onions. Serve immediately.
Notes
*If you are serving this recipe as GLUTEN-FREE, just be sure to use a brand of soy sauce that is known to be GF.
Nutrition
Serving:
1
serving
,
Calories:
628
kcal
,
Carbohydrates:
100
g
,
Protein:
44
g
,
Fat:
5
g
,
Saturated Fat:
1
g
,
Cholesterol:
109
mg
,
Sodium:
740
mg
,
Potassium:
1122
mg
,
Fiber:
4
g
,
Sugar:
35
g
,
Vitamin A:
1557
IU
,
Vitamin C:
104
mg
,
Calcium:
72
mg
,
Iron:
2
mg