I have an "adults-only" recipe for you today… for Cinco de Mayo or any time, of course:  Strawberry Margarita Pie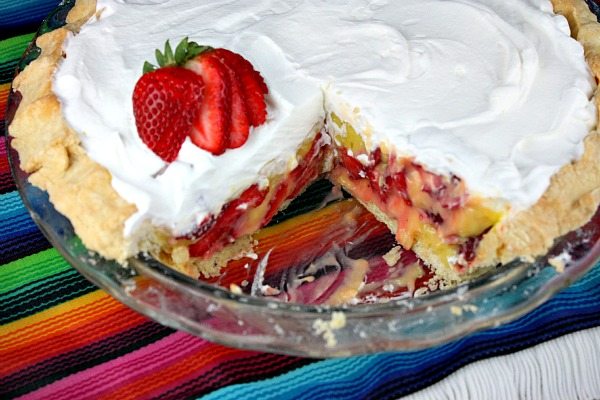 The best way to describe this pie is that it's a strawberry pie doused in tequila-lime custard.  It sits in a flaky crust, and it's covered with sweet whipped cream.  I'm thinking it would be kind of fun for Cinco de Mayo, but since some people don't pay any attention to this much-Americanized holiday… it makes a nice spring or summer dessert for an adults-only barbecue too.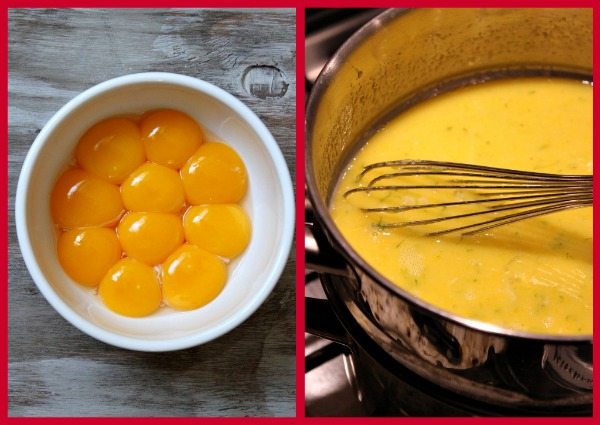 The custard begins with egg yolks.  This is going to leave you with 10 egg whites to use-up.  If you're like me, you will most definitely be able to use those up no problem.  If you don't really care much for eating egg whites for breakfast, you might consider trying to mix half whole eggs and half egg whites when you make scrambled eggs.  You most likely will not be able to tell the difference.  The egg yolks are mixed with sugar, lime juice, tequila, zest… in a double boiler- getting the mixture up to a safe temperature for eating, and turning it into a thick and delicious custard.
To assemble the pie:  fresh, beautiful strawberries are placed into a prepared crust.  I'm not super awesome at forming my crusts, as you can see, but you get the idea!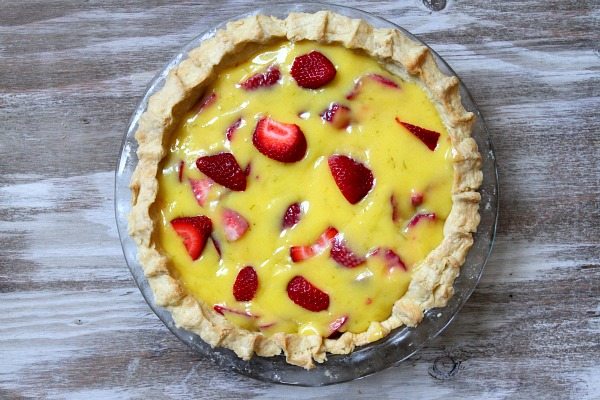 The cooled custard is poured in and around the strawberries, then you go ahead and chill that pie.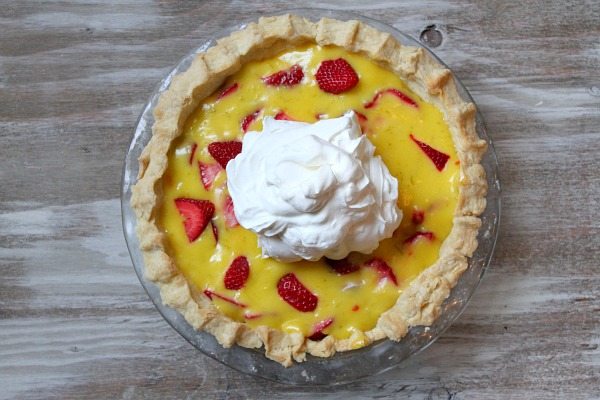 Whipped cream goes on top, of course.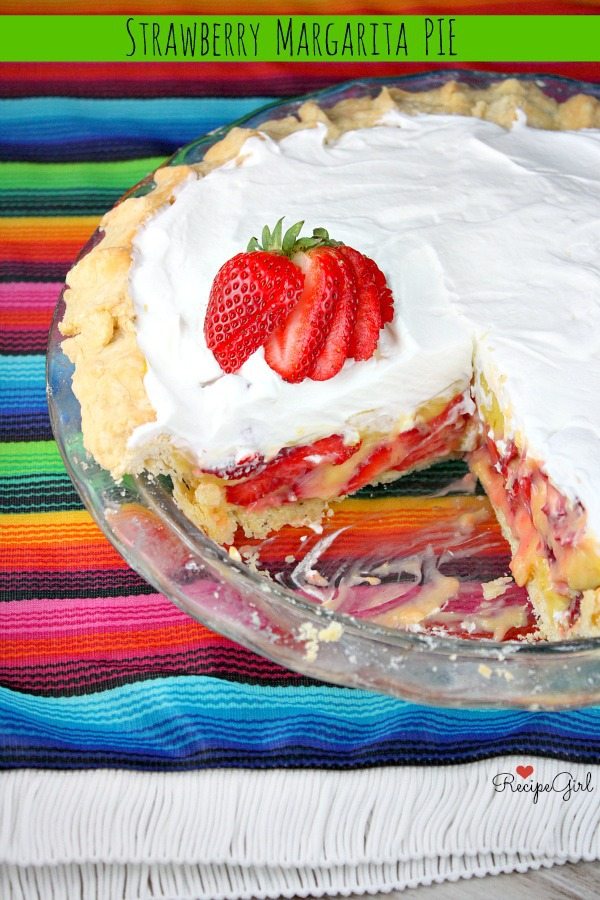 Ready to serve!  Add some additional strawberries on top for garnish, if you'd like.   If you enjoy tart-flavored desserts (and tequila) and strawberries, this is one you may wish to try.  My husband describes the flavor as a combo of tart and sweet, duking it out for first place.
Strawberry Margarita Pie
Yield:
One 9-inch pie
Prep Time: 30 min
Cook Time: 40min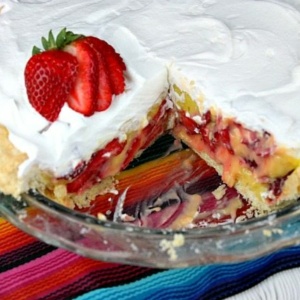 Ingredients:

CRUST:
3 cups Gold Medal® All-Purpose Flour
1 tablespoon granulated white sugar
1/4 teaspoon salt
1/2 cup cold shortening
1/2 cup cold butter, cut into pieces
1 large egg, beaten
7 to 8 tablespoons ice water
1 teaspoon vinegar

FILLING:
3 to 4 cups sliced fresh strawberries
10 large egg yolks
1 cup granulated white sugar
1/2 cup freshly squeezed lime juice
1/2 cup tequila
2 teaspoons grated lime zest
1/2 cup (1 stick) unsalted butter, cut into pieces

TOPPING:
1 cup heavy whipping cream
1 heaping tablespoon powdered sugar
additional strawberries, for garnish (optional)

Instructions:

1. Prepare the crust: In a medium bowl, whisk together the flour, sugar and salt. Cut in the shortening and butter until the mixture resembles small peas. In a separate bowl, mix egg, 7 tablespoons water and vinegar. Add to the dry ingredients and stir with a fork just until combined. Add another tablespoon of water if the mixture is still dry. Spoon out onto parchment or waxed paper and use your hands to mold together. Divide into two equal parts and shape each into a disk. Wrap with plastic wrap and refrigerate for at least 30 minutes (you can freeze the 2nd piece, if you'd like- since you'll only need one for this recipe). Preheat the oven to 350 degrees F. Roll the dough out on a lightly floured surface to 16-inch diameter round. Transfer to 9-inch diameter glass pie dish (not deep dish). Trim edges and crimp decoratively. Pierce crust all over with a fork. Bake until crust is golden- about 35 minutes. Let cool.

2. Prepare the filling: Place sliced strawberries in the cooled crust. In the top of a double boiler (see tips below if you do not have a double boiler), whisk together egg yolks, sugar, lime juice, tequila and zest. Set over simmering water and whisk constantly until the custard thickens and registers 170 degrees F. on a candy thermometer (should take 4 to 5 minutes). Be sure to continue mixing the entire time. If you leave the yolk mixture to warm by itself, it's going to want to begin turning into scrambled eggs! Remove the upper pan from the water and whisk in the butter. Cool slightly, then pour the filling on top of the strawberries. Refrigerate until the filling sets (3 hours or overnight).

3. Add the topping: Mix whipping cream and sugar with a mixer until thickened. Spread over the top of the pie. Refrigerate until ready to serve. Garnish with strawberries, if desired.

Tips:

*If you do not have a double-boiler, set a metal mixing bowl over a pot of simmering water. Mix in the mixing bowl, and it will work just the same.

Source: RecipeGirl.com (custard adapted from a 1994 Bon Appetit recipe)