Here's a great grilling option to consider for this summer's barbecues > FILET MIGNON- CAPRESE SLIDERS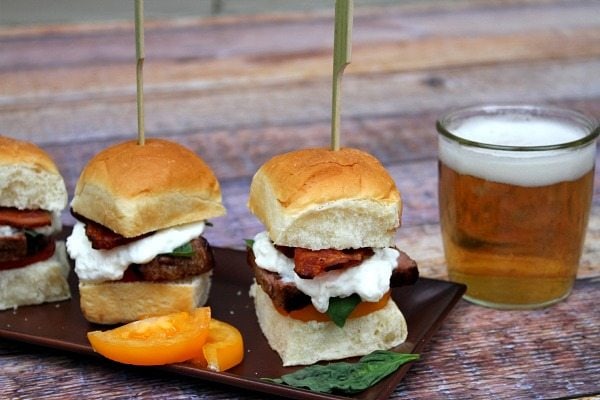 We've got one Dad in our house, and he always requests filet mignon for his special day (Father's Day).  I'll give him that as we do love it, but we hardly ever buy it.  Filet mignon is a most-awesome cut of meat- so tender and perfect and usually quite expensive- so I have a solution for how to serve filet mignon without breaking the bank.  Turn it into sliders!  You can turn just one small filet mignon steak into about six sliders.  So instead of feeding just one person, that filet mignon is going to make THREE people quite happy.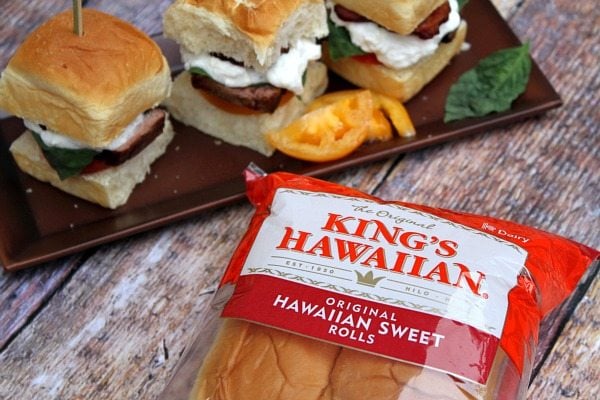 Of course, you have to pair that filet mignon with the best rolls for sliders > King's Hawaiian Original Sweet Rolls.  We are absolutely addicted to these soft, sweet rolls at our house.  My son the pre-teenager can happily down four of these in about 5 minutes, so when I buy them… I literally have to HIDE them until I'm ready to use them up for a meal!  They are great for little slider burgers too… or mini deli sandwiches… or just eating!  But they are perfect for summer BBQ's- ready to eat right out of the package.  Anyone else love these rolls as much as I do??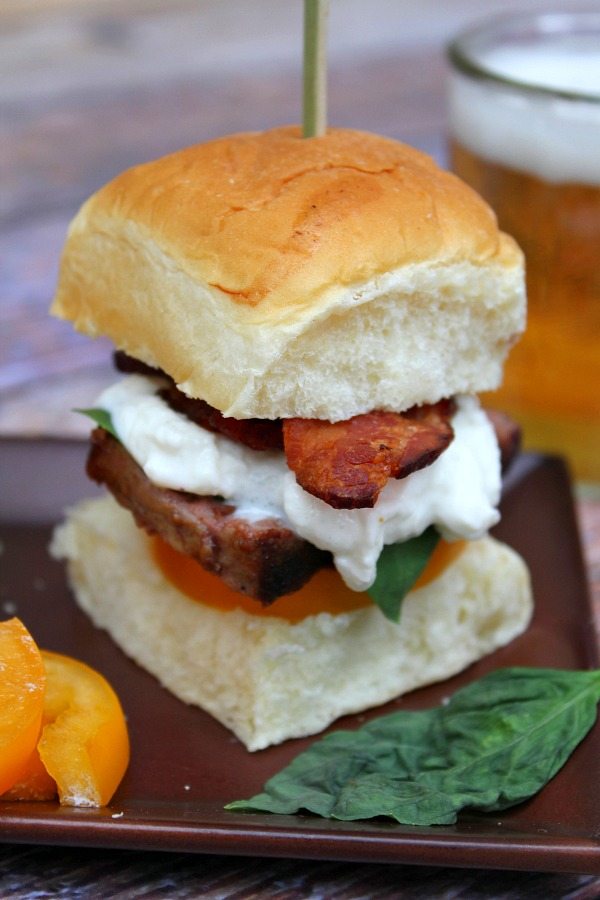 So here's what's going on with my filet mignon sliders >> I grilled the filet (just a drizzle of olive oil and a little salt and pepper), then sliced the filet into slider-sized pieces and stacked :
King's Hawaiian Roll
bacon
burrata
basil leaf
piece of filet
heirloom tomato
King's Hawaiian Roll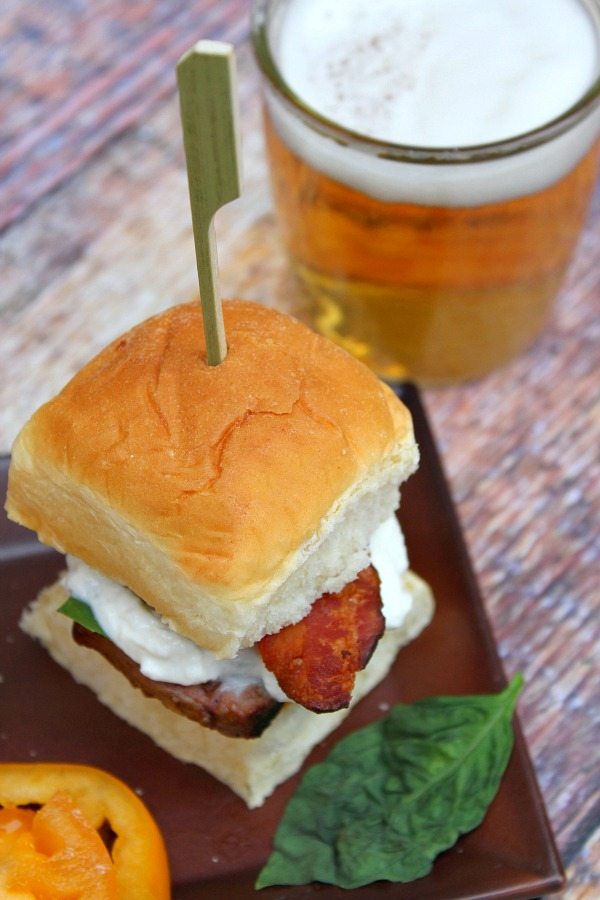 They were the absolute best sliders ever.  The filet… oh my gosh, it was super tender and easy to bite into.  The burrata acted as both cheese and sauce for the slider (no real sauce of any kind was necessary), the bacon added a wonderful crunch and flavor component to the whole thing, and the King's Hawaiian Rolls were soft and squishy and sweet and perfect.  I would think that any Dad would be super happy to be served filet mignon slider-style for Father's Day.  And these are perfect for barbecues all summer long too.
You can follow King's Hawaiian on Facebook for more delicious recipes.
Filet Mignon Caprese Sliders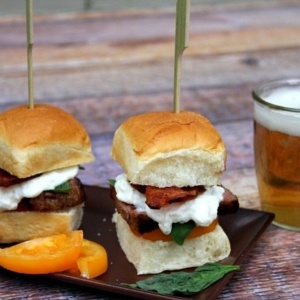 Yield:
6 to 8 sliders
Prep Time:30 min
Cook Time:10 min
Ingredients:
One filet mignon steak
6 to 8 King's Hawaiian Original Hawaiian Sweet Rolls, sliced in half
small heirloom tomatoes (or a regular small tomato), sliced
burrata cheese (or fresh mozzarella)
6 to 8 large basil leaves
3 slices bacon, cooked until crisp, and sliced in thirds
Directions:
1. Preheat your grill to medium. Drizzle your filet steak with a little olive oil, kosher salt and freshly ground pepper. Grill steak on both sides until you have reached your desired doneness. I prefer to take it off when it's just beyond medium rare (still a little pink inside). Let rest on a cutting board for a few minutes, then slice into slider-sized pieces.
2. Assemble the sliders: on the bottom half of the rolls, layer tomato > filet > basil leaf > burrata > bacon, then top with the top halves of the rolls. Secure with cocktail sticks, if desired. Serve and eat immediately.
Tips:
*Burrata cheese can be found in the gourmet cheese section of your market. It comes shaped as a "ball" floating in tub full of water (just like fresh mozzarella). It's wonderful and creamy, but you can also substitute sliced fresh mozzarella for this recipe.
Disclosure:  This post is sponsored by King's Hawaiian, a brand that we absolutely know and love in my house.  I created this recipe using their rolls- all opinions shared about this product are my own.