Here's a recipe to help you kick off summer: Grilled Pork Sliders with Greek Cole Slaw. Sliders are perfect for summer parties, and these sliders happen to have a ton of great flavor.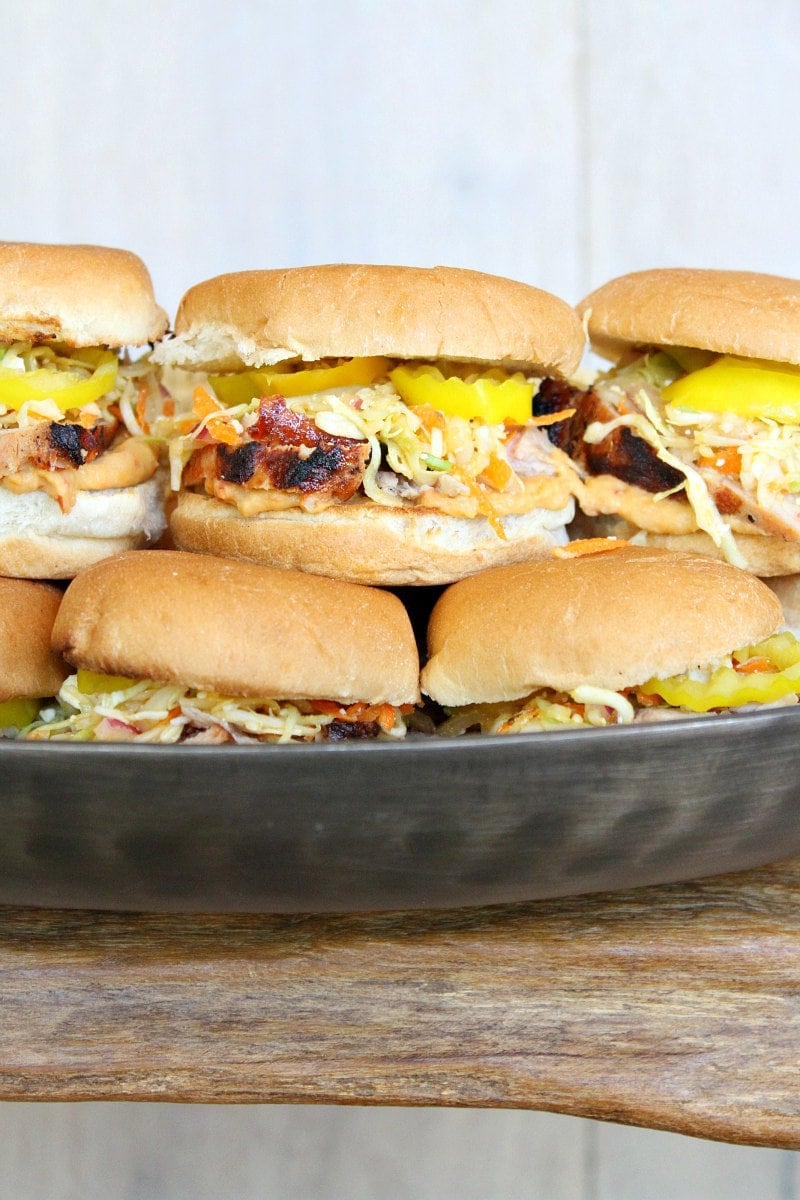 Hey, these were my first sliders of the summer grilling season! And they were a big hit too! This is another recipe I've created using Smithfield's line of already marinated pork. It's so easy to work with their products because you get to work with pork that already has a base of great flavor because it's conveniently pre-seasoned. No extra prep or time needed to marinate the pork because it's already done! You'll be able to put together these sliders in about 30 minutes.
Smithfield is currently hosting the "Get Grilling America" Sweepstakes– encouraging at-home cooks to get grilling all summer long! From now through September 4, 2019, visit www.SmithfieldGetGrilling.com to share how Smithfield Fresh Pork helps you become the hero of your grill for a chance to win $5,000.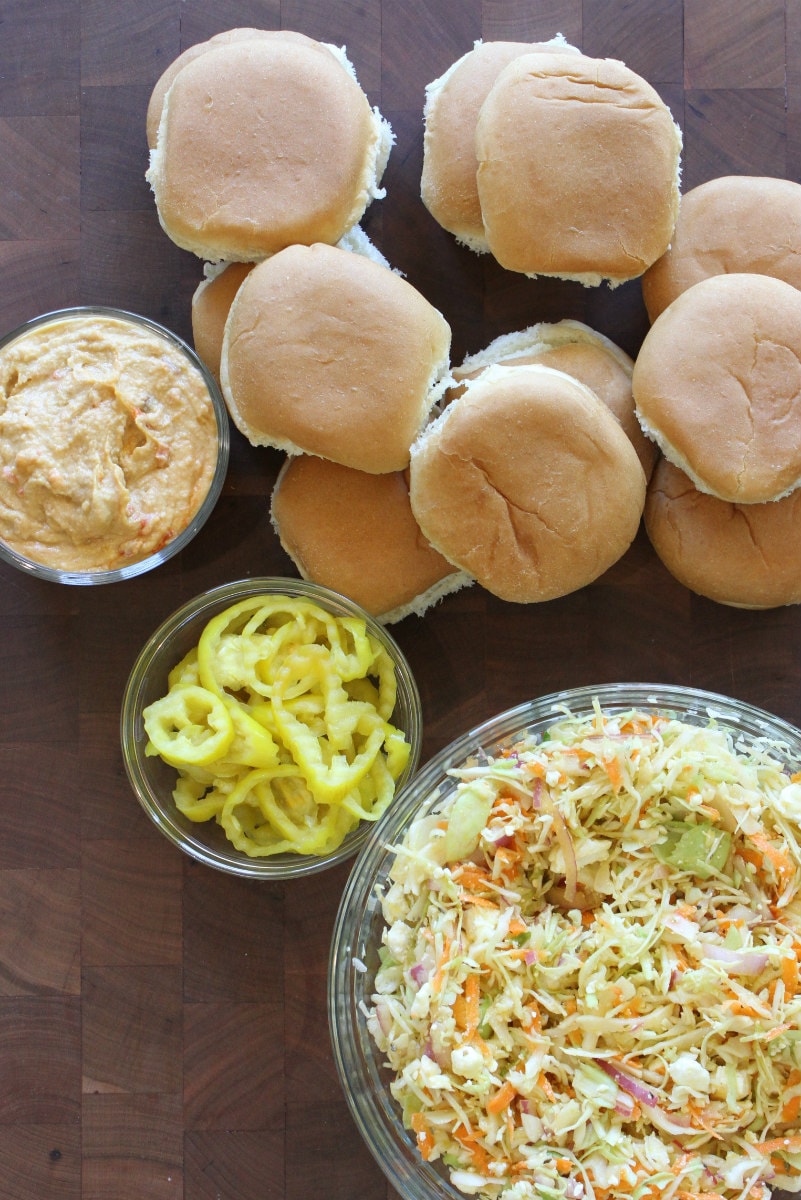 Ingredients needed for these Grilled Pork Sliders:
Greek Cole Slaw (an easy to put together recipe using cabbage, carrots, red onion and feta cheese tossed in a simple red wine vinaigrette)
slider buns
hummus
pepperoncini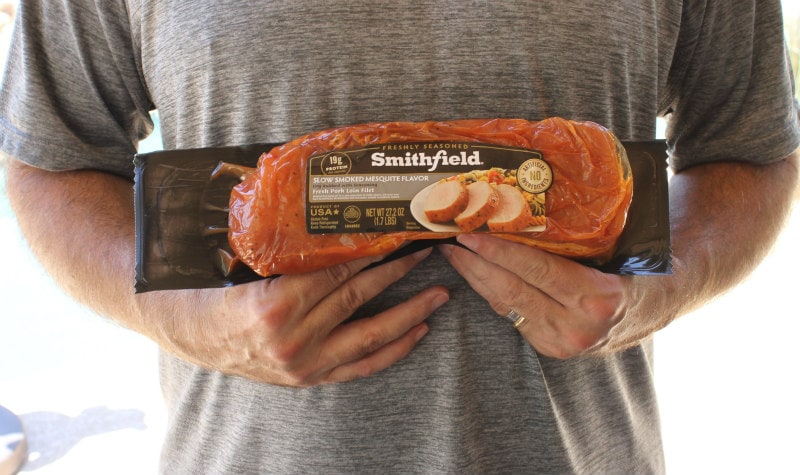 Oh, and you'll need the Smithfield marinated 100% fresh pork loin too (the most important part!) This pork loin marinade is "Slow Smoked Mesquite" (no artificial ingredients). Since summer is already in full swing in my part of the world, it made sense to throw this on the grill. Pork loins are a bit thicker than pork tenderloins, so you'll simply take a knife to butterfly the loin open so it will be cook more quickly and evenly on your grill.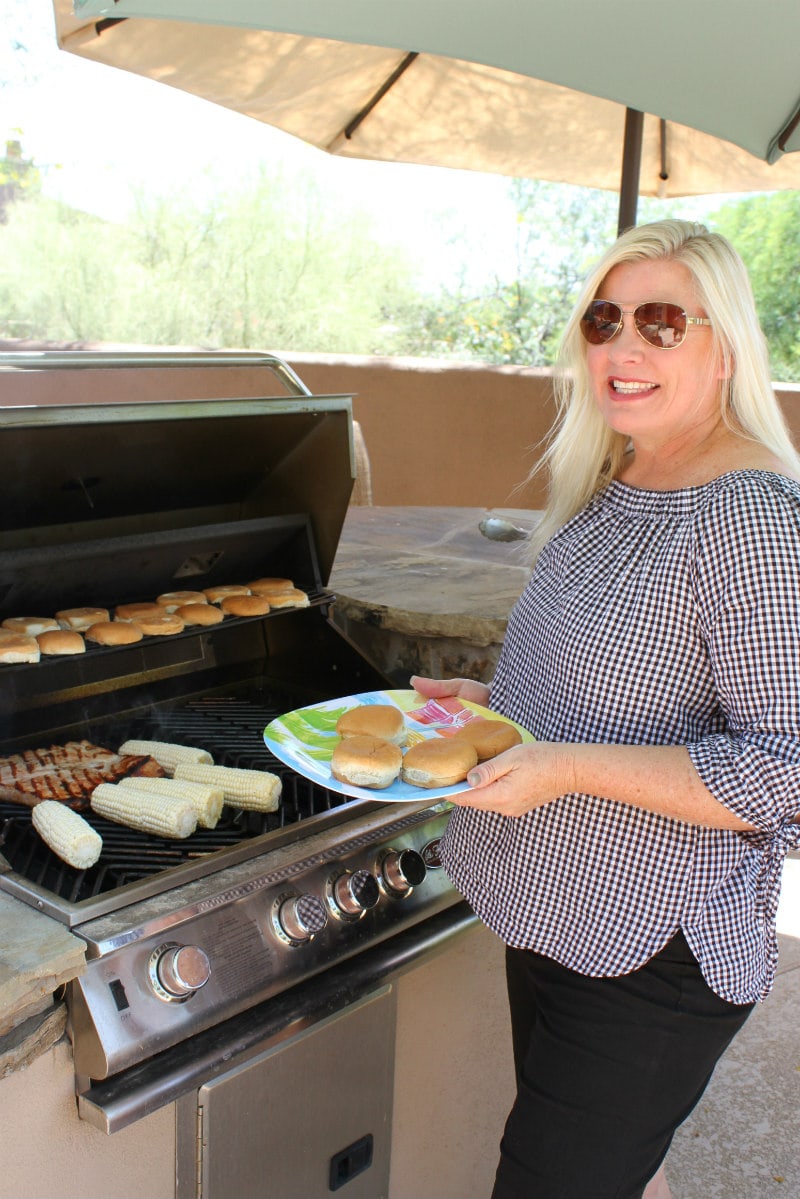 I decided to add corn to complete this meal, and I threw it on the grill with the pork loin. It should only take about 5 to 7 minutes on each side to cook through completely. Don't forget to toss the buns on the grill too so they get a little bit toasted.
Cooked on the grill the pork loin comes out nice and tender and full of flavor from the marinade. You'll slice it thinly to put on the sliders.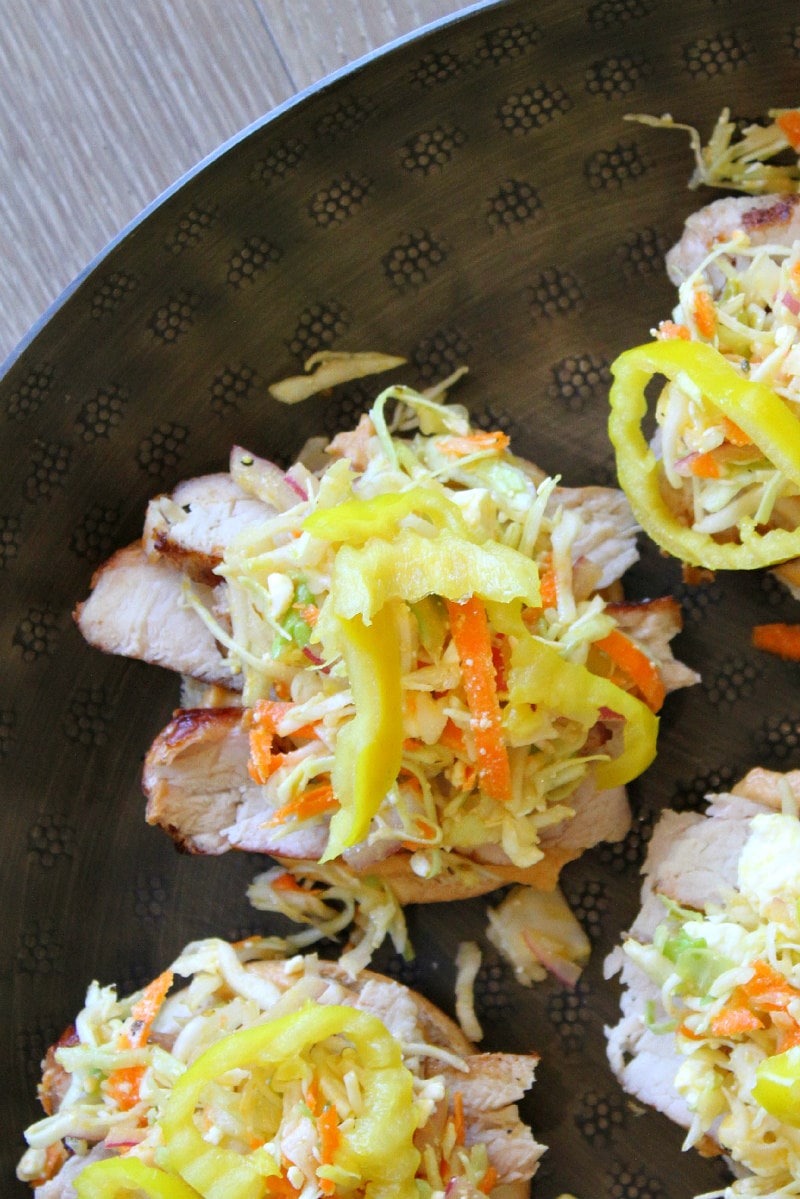 Each small slider bun is piled high with hummus, grilled pork, Greek cole slaw and pepperoncini.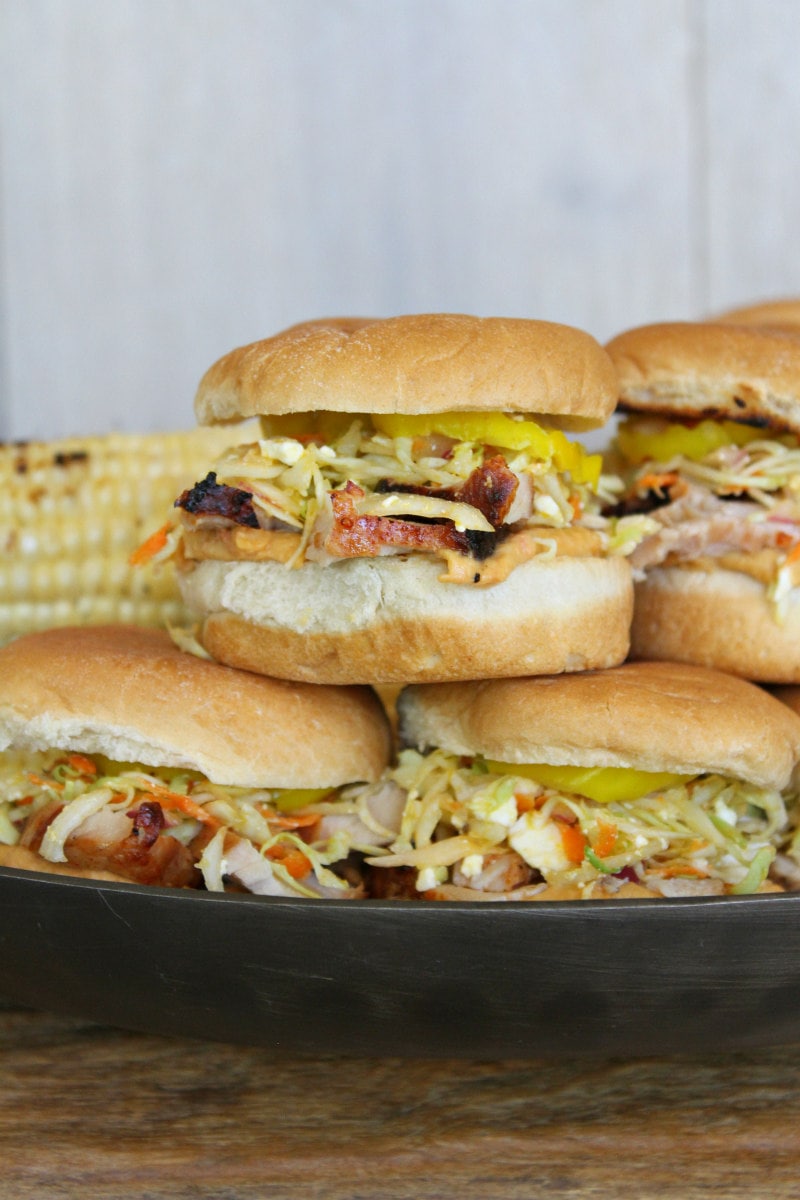 These sliders are such a simple recipe for summer entertaining. Everyone loves a good slider to eat at a party!
Smithfield marinated pork is available at select grocery stores and retailers nationwide, including ShopRite, Food Lion, Publix, Albertsons/Safeway, Save a Lot and Walmart. For more recipes, grilling tips and sweepstakes information, visit www.SmithfieldGetGrilling.com.
Here are a few more grilled pork recipes you might enjoy:
Grilled Pork Sliders with Greek Cole Slaw
These grilled pork sliders are made even more delicious with the addition of Greek cole slaw and hummus!
Recipe Details
Ingredients
GREEK COLE SLAW:
10

ounces (4 cups)

shredded cabbage or cole slaw mix

1

medium

carrot,

peeled and shredded

1/4

medium

red onion,

sliced thinly and chopped

3

tablespoons

extra virgin olive oil

3

tablespoons

red wine vinegar

1

tablespoon

freshly squeezed lemon juice

1

teaspoon

dried oregano

1/8

teaspoon

dried mustard

4

ounces

crumbled feta cheese

salt and pepper,

to taste
PORK:
1

27.2-ounce

package Smithfield Slow Smoked Mesquite-Flavor Pork Loin
SLIDER ASSEMBLY:
18

small

slider buns

1

cup

prepared hummus

1/2

cup

sliced peperoncini
Instructions
PREPARE THE GREEK COLE SLAW:
Place the cabbage into a medium bowl. Add carrot and red onion. In a small bowl, whisk together the olive oil, vinegar, lemon juice, oregano and mustard. Toss the cabbage mixture with the dressing, and then stir in the feta cheese. Toss well, and season with salt and pepper.
GRILL:
Preheat your grill to medium heat. Butterfly the pork loin by taking a sharp knife and cutting it "almost" in half- just cut across to the other side so you can open it up and lay the opened up pork loin on the grill. Grill 5 to 7 minutes on each side. If you're using a meat thermometer, it should read 145 degrees F. when inserted into the middle of the loin. Add the buns to the grill toward the end of grilling, just to toast them a little. Remove the pork from the grill and let it sit on the cutting board for a few minutes, then slice it thinly.
ASSEMBLE:
Spread hummus on the bottom halves of each bun. Add pork slices on top of the hummus. Spoon some of the Greek cole slaw on top of the pork, and then top that with a few peperoncini slices. Add the top buns, and they're ready to serve!