Here's a fantastic recipe to help you celebrate summer:  Grilled Bacon Rosemary Pork Tenderloin Kebabs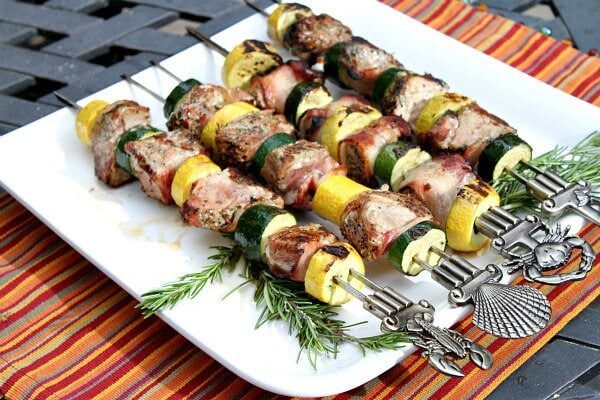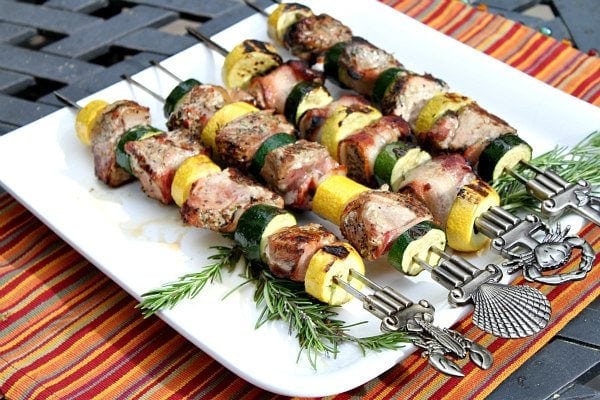 Hey, it's my first grilling recipe of the season!  And it was a big hit too!  This is another recipe I've created using Smithfield's line of already marinated pork.  It's so easy to work with their products because you get to work with pork that already has a base of great flavor because it's pre-marinated.
Smithfield is currently hosting the Real Flavor, Real Fast contest– challenging you to see what you can do with Marinated Fresh Pork to create a 30-minute meal.  To submit your original tip for a chance to win great prizes, go to www.SmithfieldRealFlavorRealFast.com.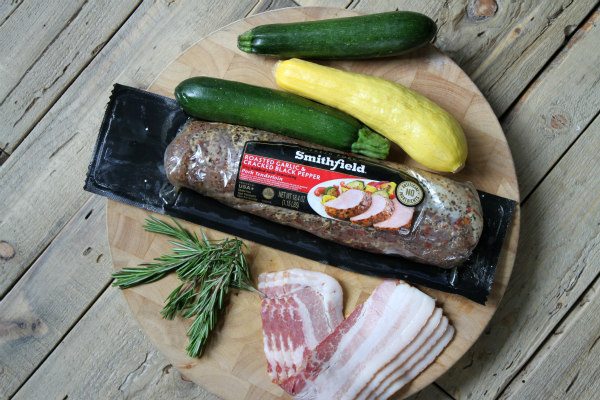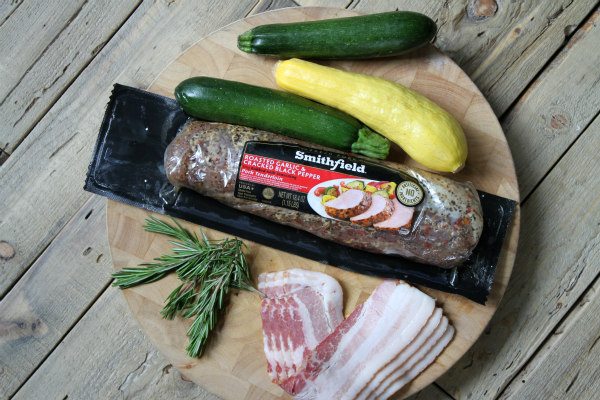 This pork tenderloin marinade is "Roasted Garlic and Cracked Black Pepper."  Since summer has FINALLY arrived in my part of the world, it made sense to me to utilize my grill for this recipe.  Soon we'll be grilling all summer, so here's a recipe that will get you started!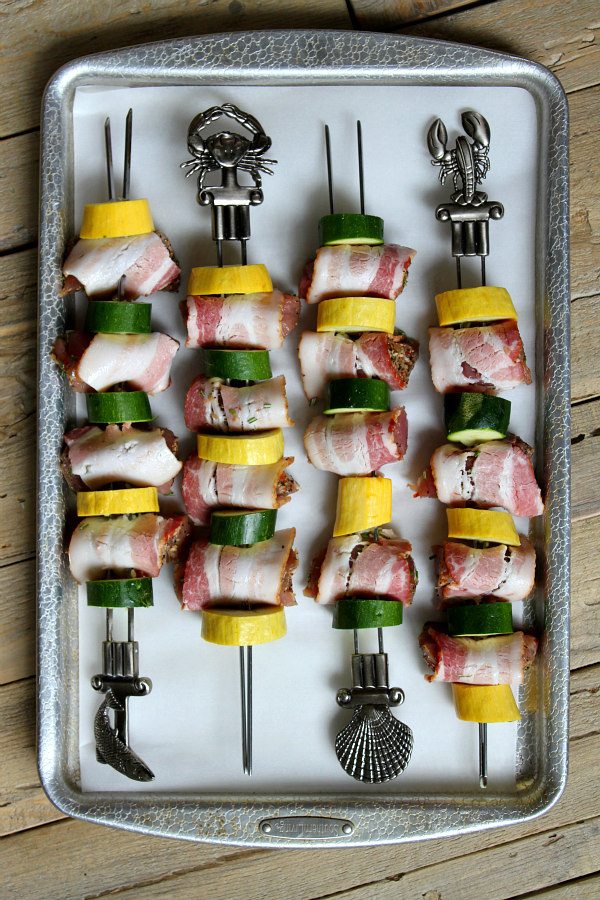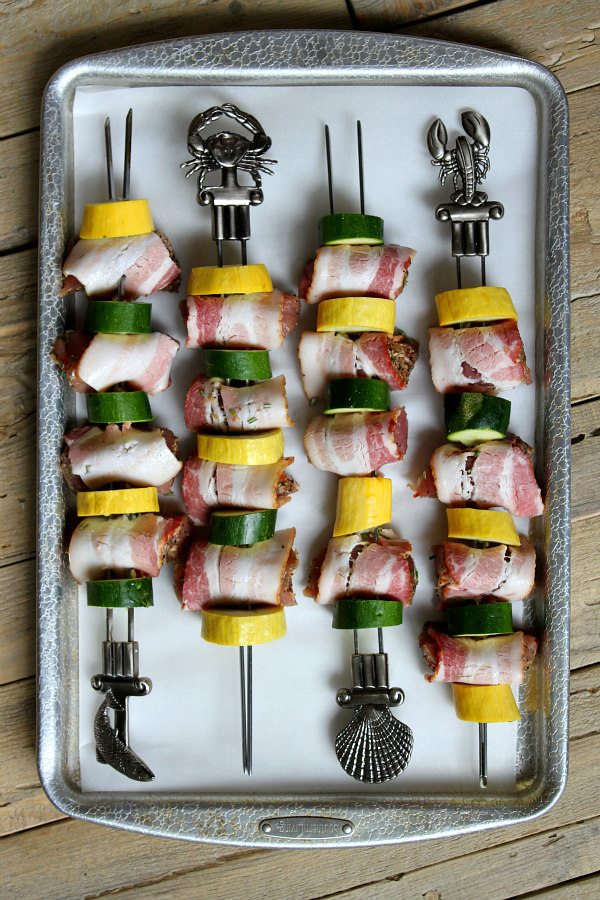 For this recipe, I wrapped chunks of the already marinated pork with bacon and skewered them with some zucchini and yellow squash.  There's a sprinkle of fresh rosemary in there, but besides that… the pork already gives the kebabs a ton of flavor so no additional flavorings are needed.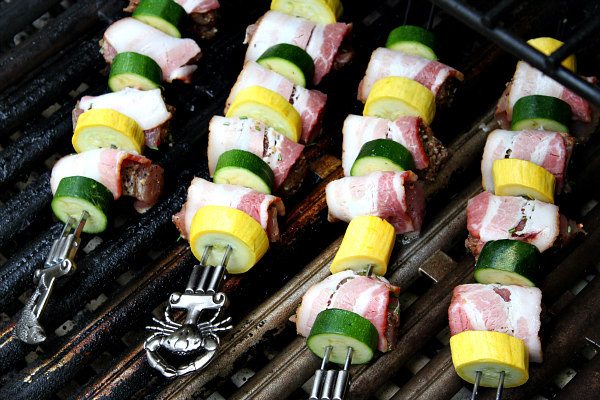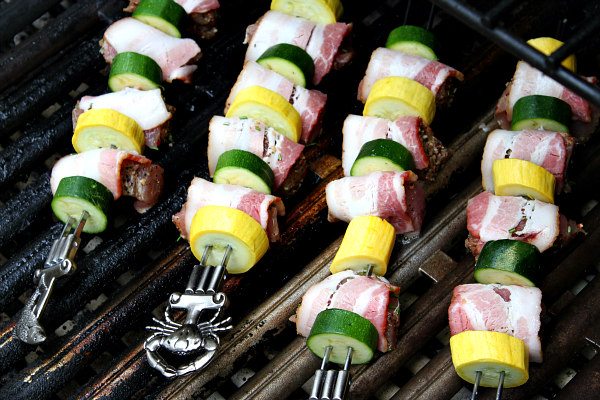 The grill loves these kebabs because that bacon draws the heat in to create a crispy bacon exterior to the pork.  The squash has the benefit of taking on some of the flavor from the pork and the bacon.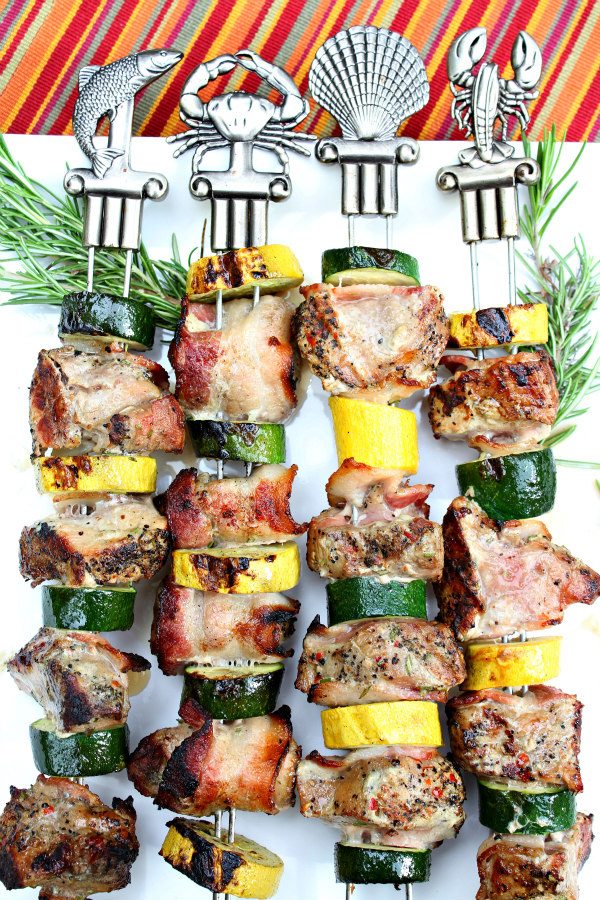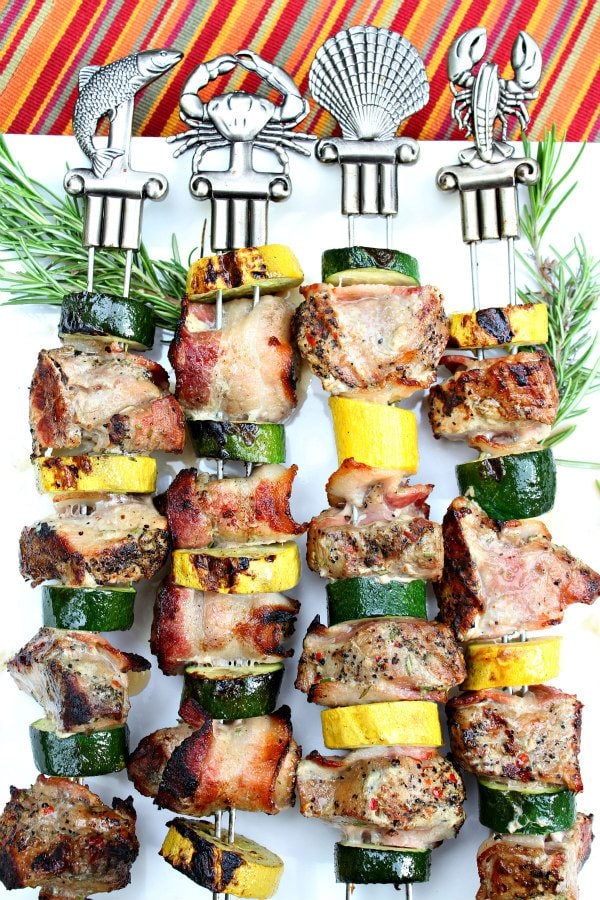 It's such a simple recipe for summer grilling- just 4 ingredients!
Check out this recipe for > Smithfield Grilled Pork and Potato Planks.  For more meal inspiration and recipe ideas, visit www.SmithfieldRealFlavorRealFast.com or Facebook.com/CookingwithSmithfield.
Grilled Bacon Rosemary Pork Tenderloin Kebabs
Yield:
4 servings
Prep Time: 25 minutes
Cook Time: 12 minutes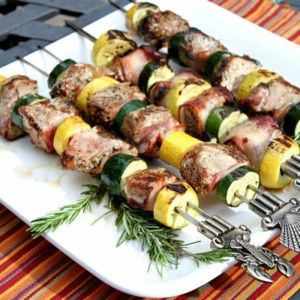 Ingredients:

One Smithfield Roasted Garlic & Cracked Black Pepper Marinated Fresh Pork Tenderloin

1 tablespoon chopped fresh rosemary
4 slices bacon, cut into 2-inch pieces
zucchini and/or yellow squash, cut into slices

Instructions:

Cut the pork tenderloin into 1-inch chunks.  Sprinkle the pork with rosemary.
String the pork and squash, alternating, onto four skewers, wrapping each piece of pork with a piece of bacon as you pierce it onto the skewer.
Preheat your grill to medium-high.  Grill the kebabs until the pork and bacon are cooked through, turning often.  Serve immediately.
SOURCE:  RecipeGirl.com
Here are a few more grilled pork tenderloin recipes you might enjoy:
Disclosure:  This post has been written in partnership with Smithfield to share their line of marinated pork.  This is a product that I know and use in my kitchen.  All opinions shared are my own.