EASY to put together. I have served this Chutney Baked Brie in the upper tier of a two tier dessert tray, as well as baked in a pie plate as shown below. Both methods worked very well.  It's a great appetizer recipe for a dinner party or an intimate gathering with friends.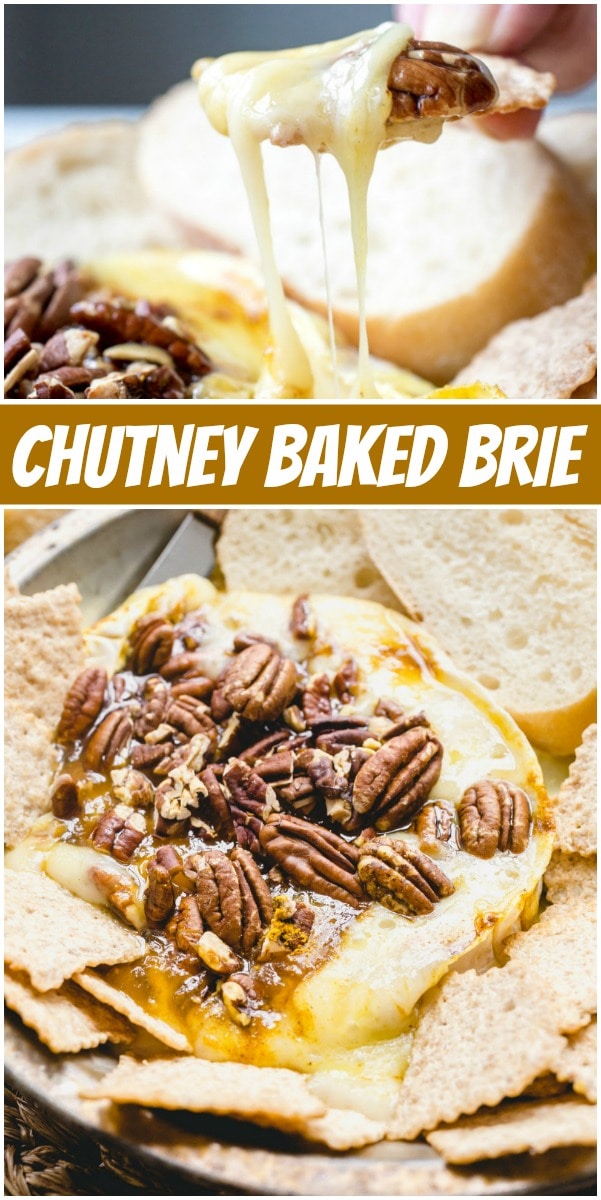 Chutney Baked Brie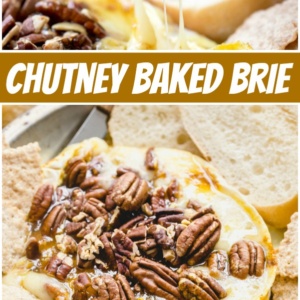 Yield:
6 to 8 servings
Prep Time:10 minutes
Cook Time:20 minutes
Ingredients:
1 5-inch wheel Brie cheese
1 teaspoon ground curry powder
1/2 cup mango chutney
1/4 cup chopped pecans, toasted
Directions:
Preheat oven to 350 degrees F.
With a sharp knife, cut through the wax on the top of the brie in a large circle (basically the top of the brie), but don't remove it
Place brie on a pie plate and bake in the oven for about 10 minutes, or until cheese has softened and cut part of brie has lifted. Take out of the oven and gently remove the wax off the top of the brie.
Sprinkle brie with curry powder. Spread mango chutney on top. Sprinkle toasted pecans on the chutney.
Return to the oven for 5-10 minutes, or until cheese has clearly become melted and bubbly.
Serve with sliced baguette or crackers.
Nutrition:
The wheels of Brie that Costco sells are just the right size (about 5 inches diameter). If you are using a small wheel or a larger wheel, adjust the ingredients as needed.
To toast pecans, preheat oven to 400 degrees F. Spread pecans on a small baking sheet and bake until scented and lightly browned. Watch closely because they'll burn if unattended.
To keep the brie warm on your serving table, place pie plate in the upper rack of a two-tiered dessert tray. Put a plate on the bottom tier with tea-lites. Your brie will stay nice and hot.
SOURCE: RecipeGirl.com
More brie recipes you might enjoy: