Mushroom-lovers can celebrate… sauteed onions and mushrooms are stuffed in the middle of a wheel of brie and wrapped in puff pastry:  Mushroom and Sweet Onion Stuffed Brie.  The brie is melted and the puff pastry becomes golden and flaky.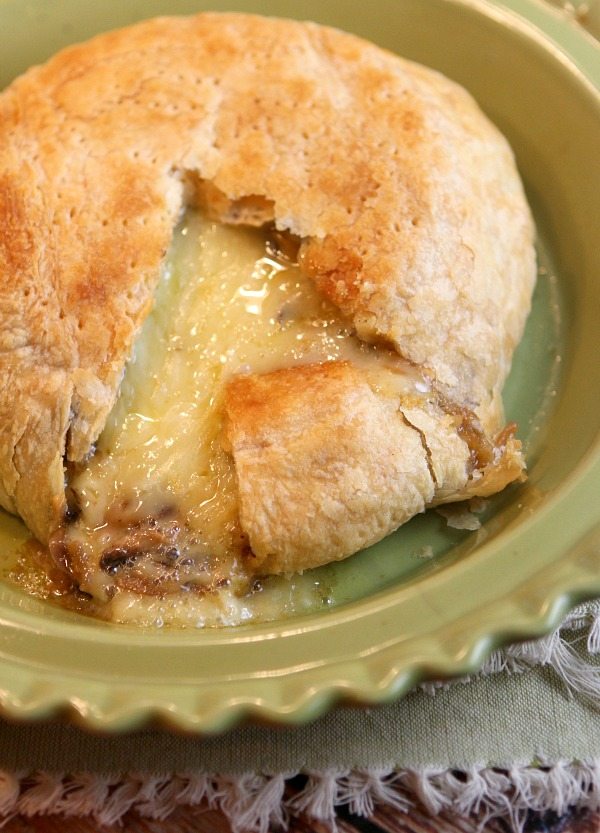 Mushroom and Sweet Onion Stuffed Brie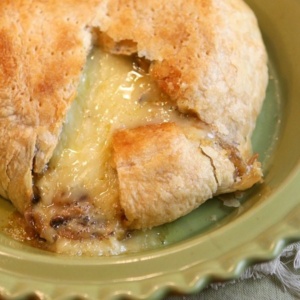 Yield:
12 servings
Prep Time:25 minutes
Cook Time:20 minutes
Ingredients:
2 tablespoons unsalted butter
1 tablespoon olive oil
1 teaspoon minced garlic
1/2 medium sweet onion, sliced thinly
8 ounces white mushrooms, sliced thin, stems ok
1/4 cup sherry
salt & pepper to taste
1 wheel of brie (5 to 6-inches in diameter)
1 sheet puff pastry, thawed
Directions:
Heat skillet to medium-low. Add butter, olive oil, garlic and onions. Saute until onions are softened. Add mushrooms and sherry. Season with salt and pepper. Cook until liquid is incorporated. Let cool. Spoon out any extra liquid (if there is any) and discard.
Slice brie right down the middle (horizontally) to make 2 rounds. Spread mushroom mixture on one of the rounds. Place the other round on top of the mushrooms.
Lightly roll out puff pastry. Place stuffed brie on the pastry. Fold pastry around brie and wrap around all sides. Turn the brie over so the smooth side is on top. Mark sides of wrapped brie with vertical fork lines. Place in a greased pie plate and bake in preheated 450 oven for 10 minutes. Turn down to 400, and continue to bake until golden brown. Watch closely... if overcooked, the brie will leak.
Remove from oven and serve immediately. Serve with baguette slices.
SOURCE: RecipeGirl.com
More baked brie recipes you may enjoy: