This Baked Brie with Fig Jam is an all-time favorite appetizer recipe.
Puff pastry spread with fig jam, topped with a wheel of brie and wrapped up with an egg wash on top. This one is easy, but it's amazing in taste. Served with firm crackers, and there won't be a speck left.
If you're looking for more brie recipes, you might enjoy my Baked Brie with Blueberry Sauce too.
Baked Brie with Fig Jam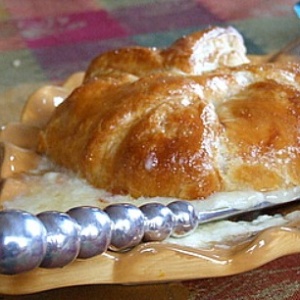 Fig jam provides just a little sweetness to pair with the brie to make it unbelievably delicious.
Yield:
6 to 8 servings
Prep Time: 10 minutes
Cook Time: 25 minutes
Ingredients:
1 sheet puff pastry, thawed
One 5-inch round of brie cheese
1 large egg, lightly beaten with 1 tablespoon water
1/4 cup fig jam
Directions:
Preheat oven to 400°F.
Lay puff pastry on a cutting board. Spread fig jam in center (about a 5-inch circle). Top with the round of brie.
Fold pastry up over top of brie and keep overlapping until all puff pastry has enclosed the brie. Slightly twist the top into a knot to seal.
Place wrapped brie in a baking dish that you'd like to serve from- a pie plate works well. Brush with egg wash.
Bake for 20 minutes or until the outside is golden. Reduce oven temperature to 325°F. and cook for an additional few minutes, until brie has softened.
Serve with hard crackers or crusty bread.
Tips:
Fig jam can sometimes be tough to find. Look in your market's peanut butter and jelly aisle, or if your market has a gourmet cheese section you can usually find it there too.
SOURCE: RecipeGirl.com