Fresh Peach Ice Cream is the best ice cream to make in the summer with the sweetest most delicious summer fruit!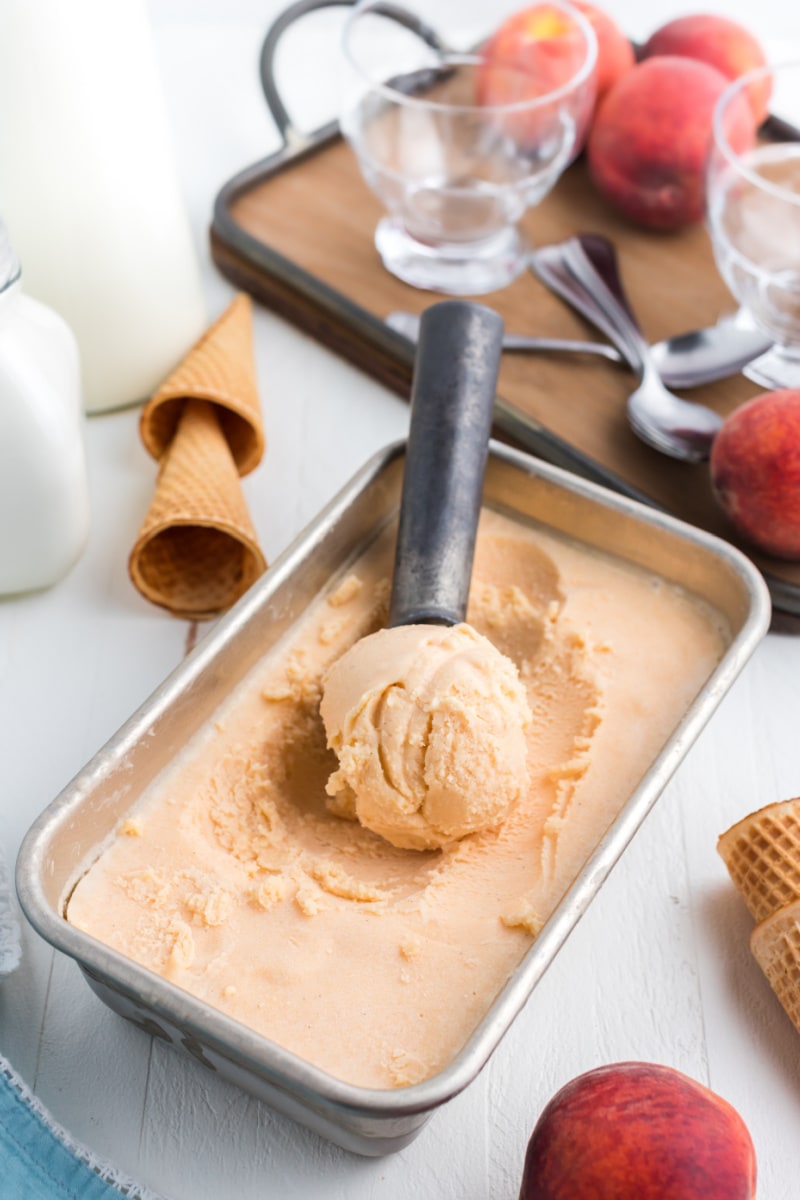 Peach has always been one of my favorite ice cream flavors since they are so sweet and wonderful. On that note, if you're making this recipe you should make sure you have nice, sweet peaches to use that are at a perfect ripeness.
How do you know when peaches are ripe?
Look for peaches that are a deep, golden yellow color and have a slightly wrinkled skin texture near the stem. Squeeze them gently, and ripe peaches will have a little give to them without being squishy or bruised.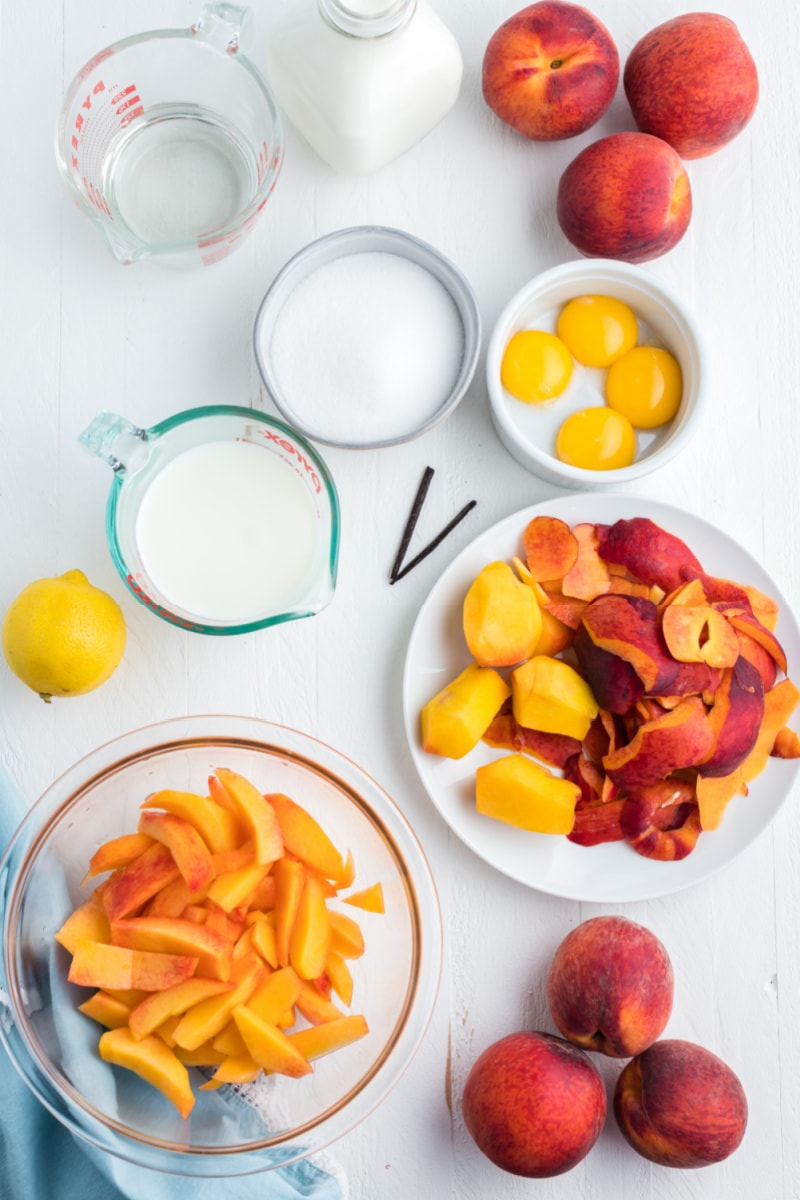 Ingredients needed:
fresh peaches
freshly squeezed lemon juice
heavy whipping cream
whole milk
vanilla bean
egg yolks
white sugar
corn syrup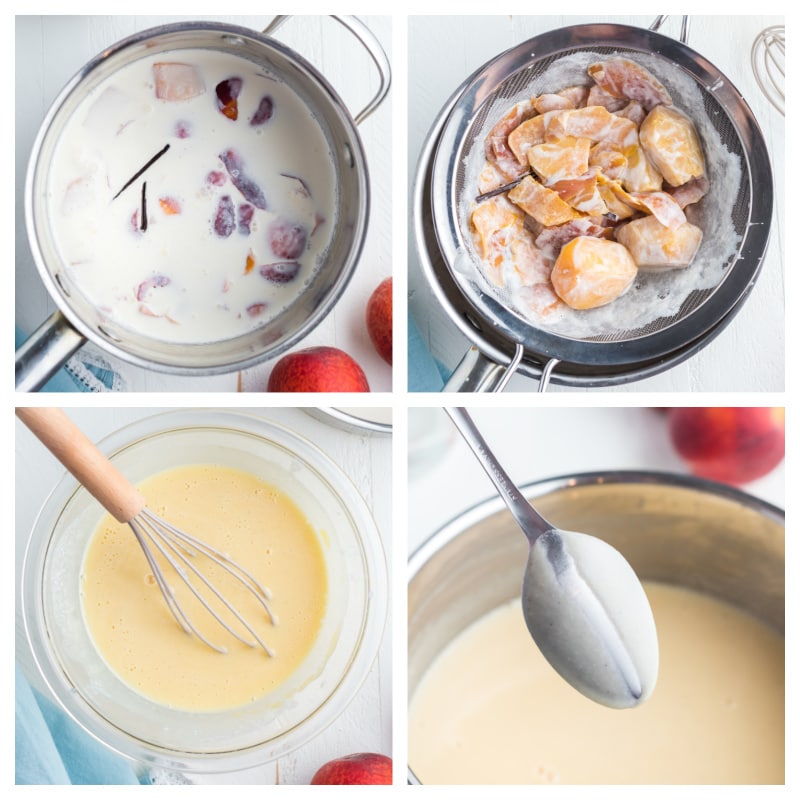 How to make Fresh Peach Ice Cream:
Toss the fresh peaches with lemon juice and put them in the refrigerator.
In a saucepan, simmer the heavy whipping cream and whole milk with the peach peels, peach pits and a vanilla bean. I know it sounds weird to add the peels and the pits in there, but they add so much flavor to this Fresh Peach Ice Cream custard! Then you'll strain the solids out and put the peach-infused cream/milk back into the saucepan.
In a separate bowl, whisk the egg yolks and sugar together. Whisk in the hot cream just a tablespoon at a time to temper the cream. Be sure to add the hot liquid super slowly because you don't want the eggs to turn into scrambled eggs! Then you can add the egg mixture to the saucepan, and simmer for about 10 minutes- until thickened. It's done when a spoon dipped in the custard leaves a good coating on the spoon. Strain the mixture again, stir in corn syrup and refrigerate until very cold (preferably overnight).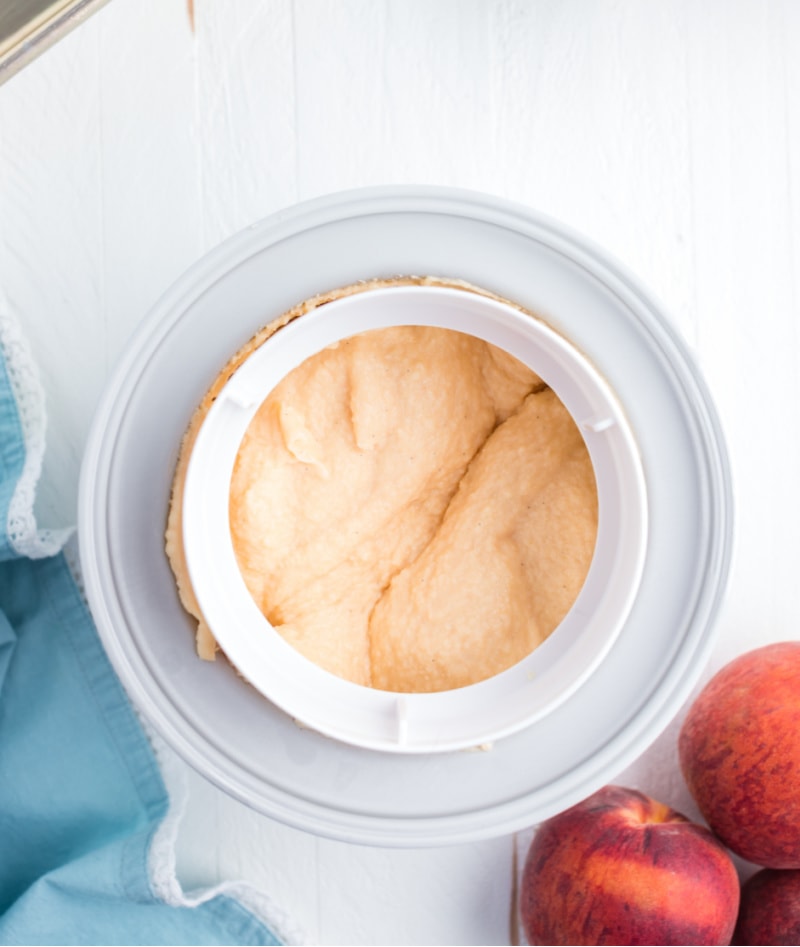 When ready to make your fresh peach ice cream, purée the peaches in a food processor, add in 1 cup of the custard. Then add the puréed peaches to the custard. Follow your ice cream machine's instructions for processing the ice cream. It should take about 25 minutes. My favorite ice cream maker is the Cuisinart. I have two of them!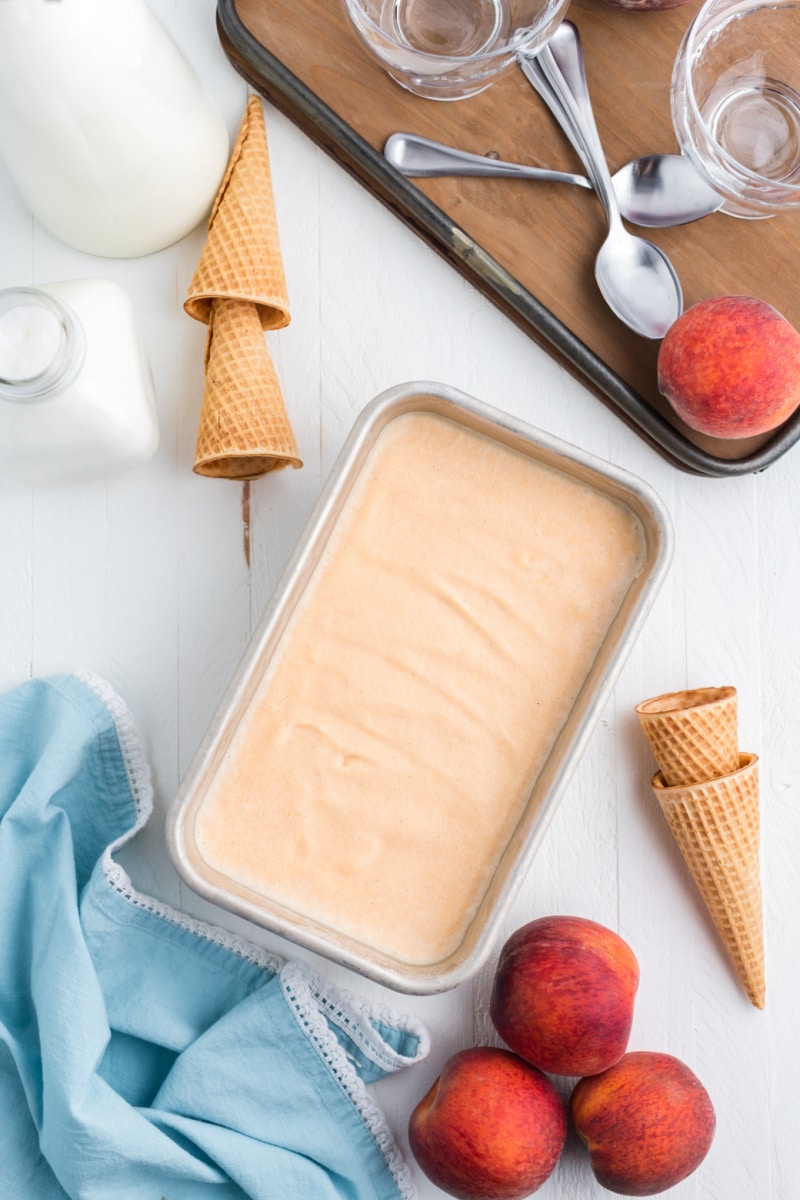 Scrape the processed ice cream into a pan or bowl. Freeze for several hours until it is firm enough to scoop. If you try to serve it right away, it will be like very soft soft-serve ice cream! Sample a few bites, and then freeze the rest.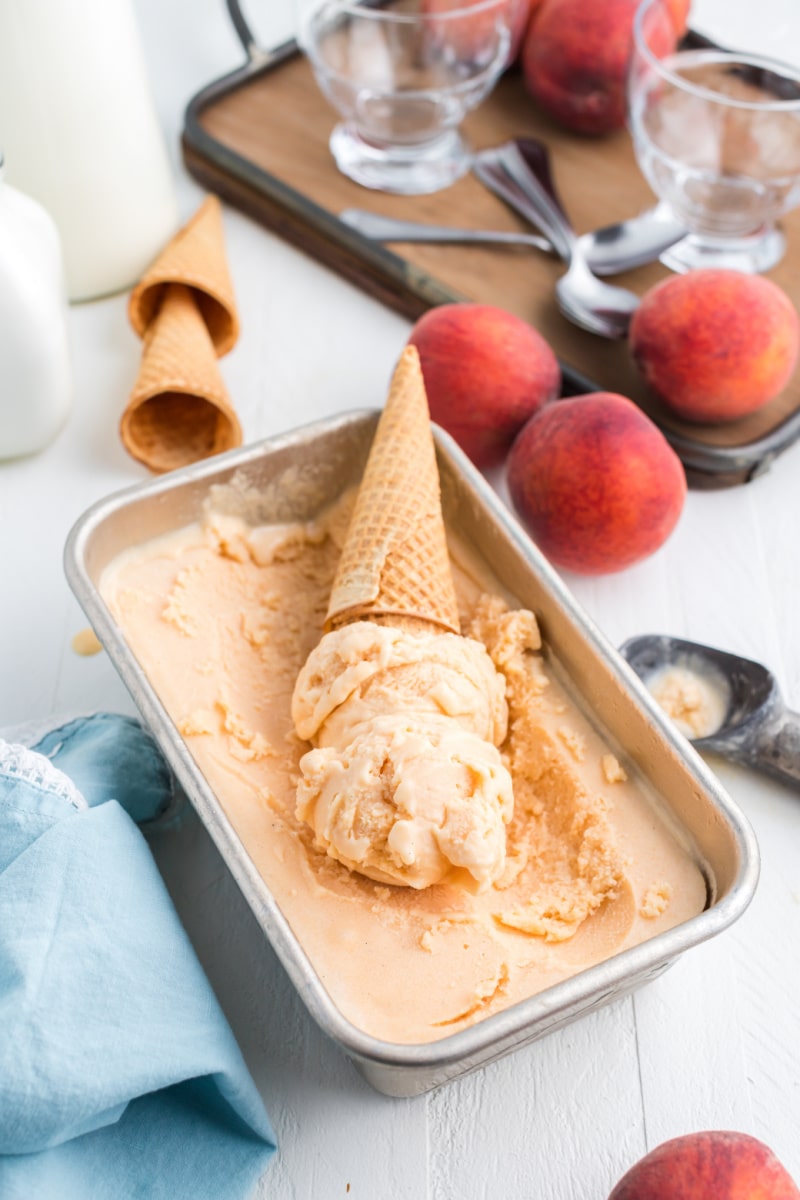 Scoop and serve. You can either serve your ice cream in dishes or on top of ice cream cones. You might also like to make Fresh Strawberry Ice Cream or Blueberry Cheesecake Ice Cream too. Enjoy!
Fresh Peach Ice Cream
This ice cream has the best fresh fruit flavor!
Recipe Details
Servings:
12
servings (1.5 quarts)
Ingredients
1½

pounds

peaches

(peeled, pitted and sliced- save the pits and the peels!))

2

tablespoons

freshly squeezed lemon juice

2

cups

heavy whipping cream

1

cup

whole milk

One

1-inch piece

vanilla bean,

split lengthwise

4

large

egg yolks

¾

cup

granulated white sugar

½

cup

light corn syrup
Instructions
Place the peach slices in a large bowl; add the lemon juice and toss gently; cover and refrigerate. Combine peach peels, pits, cream, milk and the vanilla bean in a heavy large saucepan and bring to a simmer. Reduce the heat to very low and barely simmer for 20 minutes.

Strain the cream mixture through a fine sieve into a heavy medium saucepan. Whisk the yolks and sugar in a medium bowl to blend. Very gradually whisk in hot cream just a spoonful at a time to temper the mixture (you don't want the egg to cook, so be sure to do at the hot cream just a little at a time). Return the mixture to the same saucepan; stir over medium-low heat until the custard thickens and leaves a path on the back of a spoon when your finger is drawn across, about 10 minutes (do not boil). Strain the mixture again through a fine sieve into a bowl. Stir in the corn syrup. Chill the custard until cold (preferably overnight).

When the custard is completely chilled, you can proceed with making the ice cream. Puree the chilled peach slices in a food processor. Add 1 cup custard to the processor; blend until smooth. Whisk the pureed mixture into the remaining custard. Transfer to an ice cream maker; process according to manufacturer's instructions. Transfer to covered container and freeze.
Nutrition
Serving:
1
serving (1/2 cup)
,
Calories:
279
kcal
,
Carbohydrates:
31
g
,
Protein:
3
g
,
Fat:
17
g
,
Saturated Fat:
10
g
,
Polyunsaturated Fat:
1
g
,
Monounsaturated Fat:
5
g
,
Cholesterol:
118
mg
,
Sodium:
35
mg
,
Potassium:
173
mg
,
Fiber:
1
g
,
Sugar:
29
g
,
Vitamin A:
883
IU
,
Vitamin C:
5
mg
,
Calcium:
62
mg
,
Iron:
1
mg