LOVE this recipe for simple grilled chicken with a wonderful topping:  Grilled Chicken with Basil Chimichurri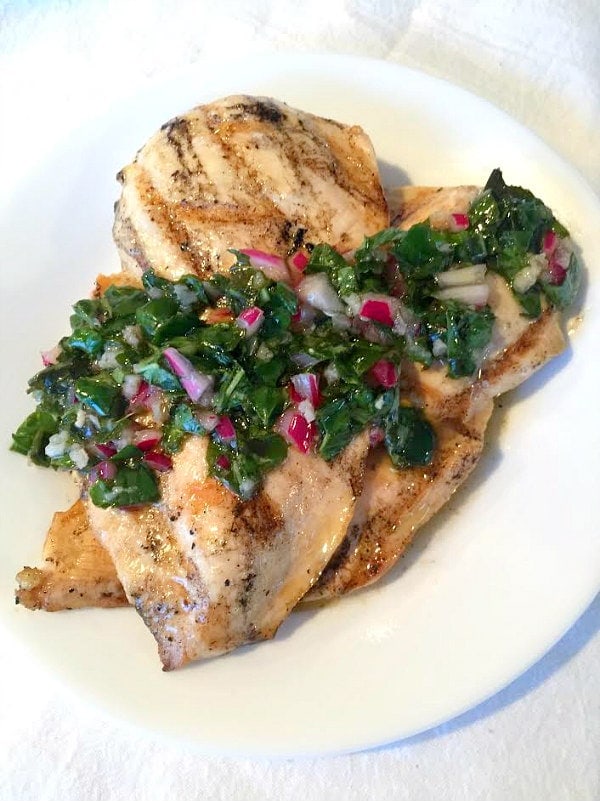 Grilled Chicken with Basil Chimichurri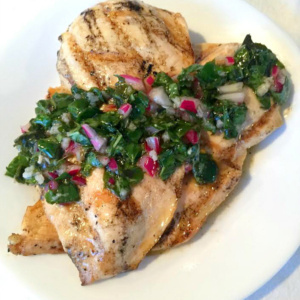 The chimichurri in this dish is what really makes it delicious.  Cut the chicken and put a little chimichurri on each bite- YUM!
Yield:
4 servings
Prep Time: 20 minutes
Cook Time: 8 minutes
Ingredients:
4 skinless, boneless chicken breast halves (about 6 ounces each)
2 to 3 tablespoons extra-virgin olive oil (2 tablespoons for 2 WW SmartPoints)
salt and pepper
1/2 cup chopped fresh basil
2 tablespoons finely chopped red onion
2 cloves garlic, minced
1 tablespoon red wine vinegar
2 teaspoons freshly squeezed lemon juice
Directions:
Place each chicken breast half between two pieces of plastic wrap.  Using the flat side of a mallet, pound the chicken lightly to about 1/2-inch thick.  You want all of the chicken pieces to have the same thickness for easy grilling.  Brush 1 tablespoon oil over both sides of the chicken; sprinkle lightly with salt and pepper.
Heat a grill to medium.  Grill 4 minutes per side or until done (165 degrees F.)
Meanwhile, for the chimichurri, in a small bowl combine the remaining oil, basil, onion, garlic, vinegar, and lemon juice.  Season to taste with salt and pepper.
Serve grilled chicken topped with chimichurri.
Nutrition:
Nutritional information per serving:  calories 301, fat 15g, cholesterol 124mg, sodium 514mg, carbohydrates 1g, protein 39g
Weight Watchers:  Freestyle SmartPoints (reduce oil to 2 T.): 2, SmartPoints: 6, PointsPlus: 7, Old Points Program:   7