Here's an easy and delicious recipe for using up a bounty of apples:  Caramel Apple Upside Down Cake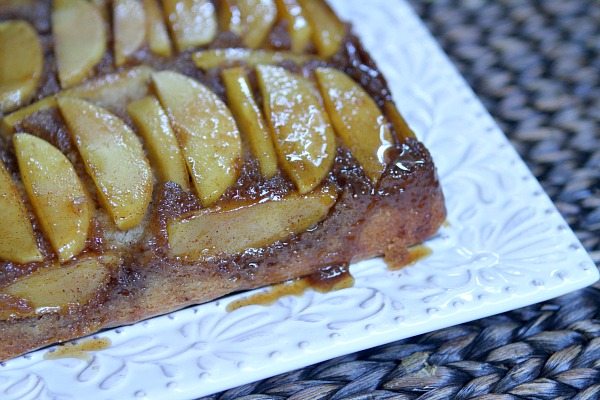 I know we're knee-deep into apple season.  And I've seen SO many photos on Facebook of my friends taking their kids to apple orchards for picking.  So I'm assuming you have an abundance of apples in your house too, right?  If not, grab some immediately.  It's the best time of year for munching on the most delicious apples ever.  Honeycrisp's are my absolutely favorite, and Gala's run a close second.  Granny Smith's are good for pie and dipping in peanut butter too!  For this cake recipe, I used the Fuji variety.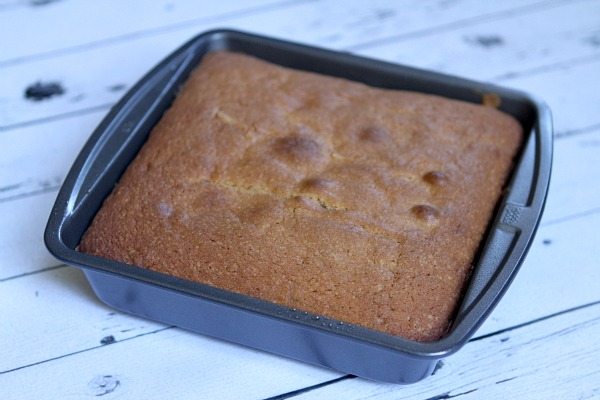 You know what I love about upside-down cakes?  They look so conservative and blah and uninteresting…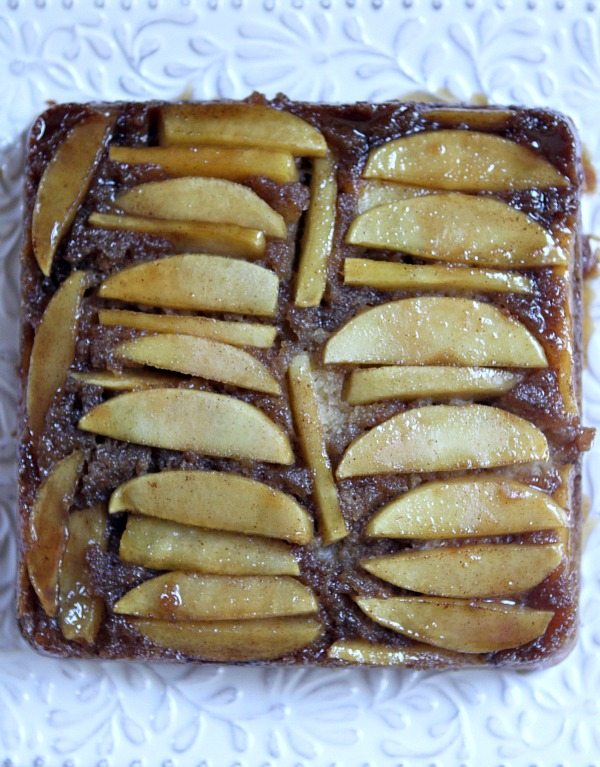 … until you turn them over onto a platter.  Then the real fun begins!  When you're assembling the cake, you can choose to make a fun design with your apple slices or you can position them haphazardly like I did.  You'll get a super cool outcome any which way you do it.  And the caramel + juices slide out of the pan along with the cake and the apples… providing the perfect syrupy glaze.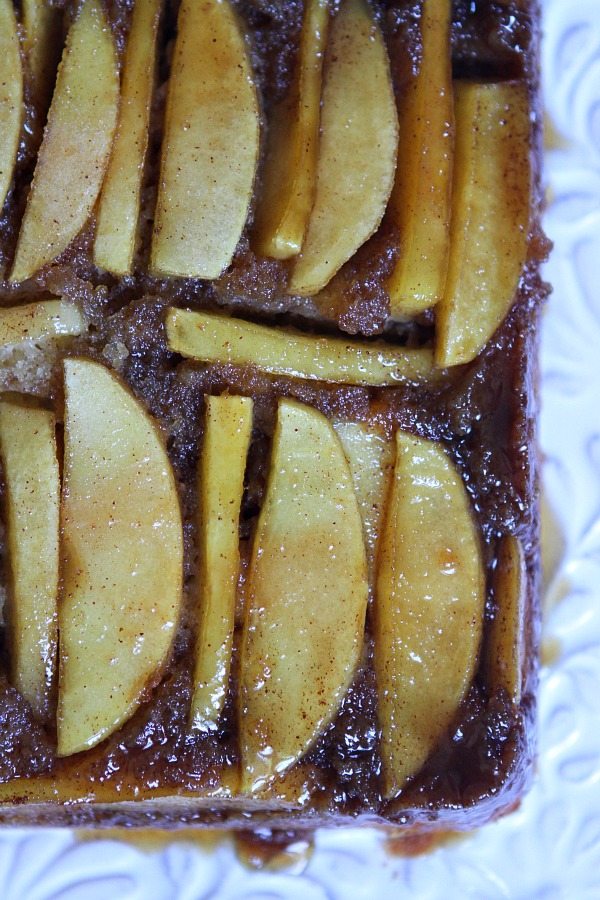 I love the way this cake turned out.  There are crispy edges (my favorite part), tender apples soaked in a caramel-like sauce, and a cinnamon cake layer too.  This Caramel Apple Upside Down Cake was a big hit at a recent dinner I hosted.  Topped with a generous dollop of lightly sweetened whipped cream, it was all we needed to cap-off a nice meal.
Caramel Apple Upside Down Cake
Yield:
8 servings
Prep Time: 25 min
Cook Time: 50 min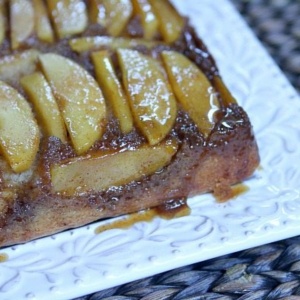 Ingredients:

CARAMEL TOPPING:
1/4 cup (1/2 stick) butter
2/3 cup packed brown sugar
1/2 teaspoon ground cinnamon
2 medium apples, peeled and cut into 1/2-inch wedges (I used Fuji)

CAKE BATTER:
1 1/3 cups all-purpose flour
1 teaspoon baking powder
1/2 teaspoon ground cinnamon
1/4 teaspoon salt
1 cup granulated white sugar
1/2 cup (1 stick) butter, at room temperature
2 large eggs
1/2 teaspoon vanilla extract
1/4 cup milk

TOPPING:
heavy whipping cream
powdered sugar

Instructions:

1. Preheat oven to 325 degrees F. Spray bottom and sides of an 8 or 9-inch square pan with cooking spray.

2. Prepare the caramel topping: In a small saucepan, melt the butter over medium heat, stirring occasionally. Stir in the brown sugar. Heat to boiling; remove from heat. Stir in 1/2 teaspoon cinnamon. Pour into the pan; spread evenly over the bottom of the pan. Arrange apple wedges over the brown sugar mixture, overlapping and layered as needed.

3. Prepare the cake batter: In a medium bowl, whisk together the flour, baking powder, cinnamon and salt. Set aside. In a large bowl, use an electric mixer to beat the sugar and butter, beating until fluffy (scrape down sides as needed). Beat in the eggs until smooth. Add the vanilla. Gradually beat in the flour mixture alternately with the milk, beating after each addition until smooth. Spread the batter evenly over the apples.

4. Bake 50 to 55 minutes, or until a toothpick inserted into the center comes out clean. Cool for 15 minutes, then run a knife along the edges of the pan to loosen the cake. Place a serving plate upside down over the pan; turn plate and pan over, and remove the pan.

5. Serve warm pieces with sweetened whipped cream (beat 1 cup of cream with a heaping tablespoon of powdered sugar until it reaches whipped cream consistency).

Tips:

High Altitude changes (3500 to 6500 feet): Change oven temperature to 350 degrees. Increase flour to 1 1/2 cups. Decrease sugar in cake to 3/4 cup.
More apple cake recipes you may enjoy:
Apple Cake in an Iron Skillet by The Pioneer Woman
Apple Cake with Browned Butter Frosting by Cookies and Cups
Cinnamon Apple Pie Cake by RecipeGirl
French Apple Cake by David Lebovitz
Drunken Apple Cake by Leite's Culinaria