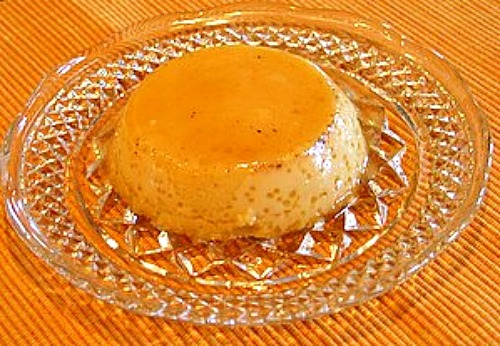 Caramel Custard
Yield:
8 servings
Prep Time: 30 min
Cook Time: 1 hr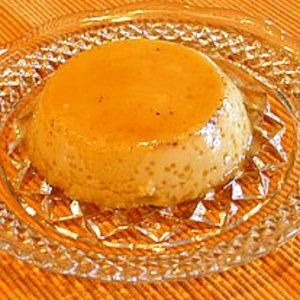 Ingredients:

1 cup granulated white sugar
3 large eggs
1 2/3 cups evaporated milk
1/4 cup hot water
1 teaspoon vanilla extract
1/2 teaspoon ground nutmeg

Instructions:

1. Preheat oven to 350 degrees F.

2. Place 8 ovenproof 5-ounce custard cups on a cookie sheet. Put one teaspoon of sugar from the 1 cup of sugar in the recipe, into each of the custard cups. Place into the oven to melt the sugar until slightly browned. This should take 10 to 15 minutes. Take out and cool to lukewarm. (Leave the oven on).

3. In a large bowl, beat the eggs; stir in the milk and other ingredients (including the remaining sugar) with a wooden spoon. Let sit a while for bubbles to disappear. Pour slowly into the custard cups.

4. Place the cups in an oblong, large baking pan. Pour warm water in the pan to come about 3/4-inch up the side of the cups. Bake 45 minutes.

5. Cool cups on a wire rack. Refrigerate until ready to serve.

6. When ready to serve, turn each cup over onto a small dessert plate. Let the sauce drip over the top and sides.

Tips:

*If you are preparing this recipe as GLUTEN-FREE, just be sure to use a brand of vanilla extract that is known to be GF.