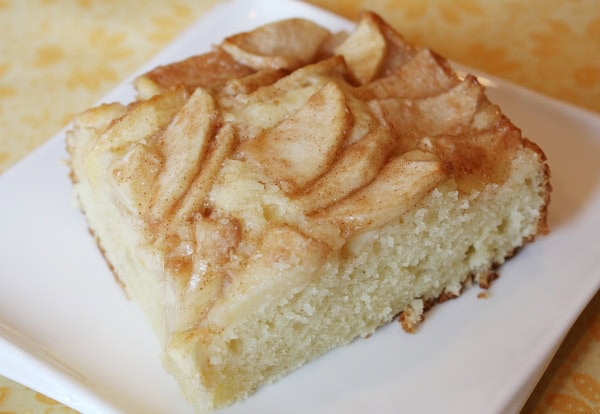 Apple- Topped Cream Cheese Coffee Cake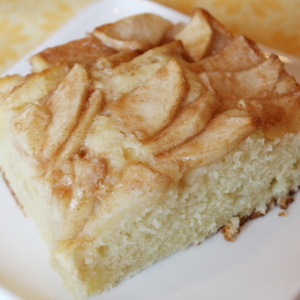 In this light and tender coffee cake, the cream cheese imparts a slightly rich flavor, and the cinnamon apples on top make it worthy of serving up for a special Sunday Morning Breakfast...
Yield:
12 servings
Prep Time: 25 min
Cook Time: 55 min
Ingredients:
4 cups apples, peeled & sliced
2 Tablespoons freshly squeezed lemon juice
1/2 cup butter, at room temperature
1 (8 ounce) package cream cheese (low fat is fine), at room temperature
1 cup granulated white sugar
2 large eggs
1 teaspoon almond or vanilla extract
1 3/4 cups all-purpose flour
1 teaspoon baking powder
1/2 teaspoon baking soda
1/4 teaspoon salt
1/4 cup milk (nonfat is fine)
TOPPING:
1/2 cup granulated white sugar
1 teaspoon ground cinnamon
2 Tablespoons flour
Directions:
1. Preheat oven to 350°F. Grease 13x9-inch pan.
2. Place apple slices in bowl and drizzle lemon juice on top. Toss to coat. Set aside.
3. In a medium bowl, combine butter and cream cheese; add in sugar, and beat on medium speed until light and fluffy. Add in eggs, one at a time, beating well after each addition. Beat in extract.
4. Sift dry ingredients into a separate bowl (flour, baking powder, soda & salt)
5. Add flour mixture to creamed mixture a little at a time, alternately with the milk, beginning and ending with the flour mixture; mix well after each addition.
6. Pour batter into prepared baking pan.
7. Combine topping ingredients in a small bowl. Sprinkle the topping over the apple slices and toss lightly to coat well. Arrange the apple slices evenly on top of the batter in the pan.
8. Bake 50 to 60 minutes.
Source: RecipeGirl.com (Adapted slightly from Food.com)