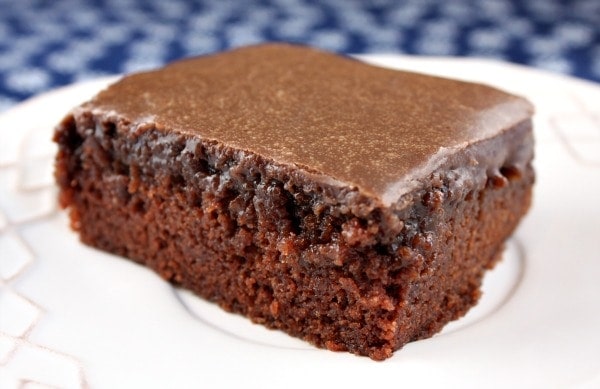 Chocolate Glazed Cake
I have no idea why people are afraid to make cakes from scratch when you can easily whip up a yummy homemade cake like this one. This is perfectly moist and delicious.
Yield:
12 servings
Prep Time: 25 min
Cook Time: 25 min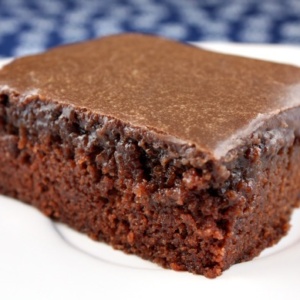 Ingredients:

CAKE:
2 cups all-purpose flour
2 cups granulated white sugar
1 teaspoon baking soda
1/2 cup buttermilk
1 large egg, slightly beaten
1 teaspoon vanilla extract
1 cup (2 sticks) salted butter
4 tablespoons unsweetened cocoa powder
1 cup water

GLAZE:
8 tablespoons (1 stick) salted butter, melted
4 tablespoons unsweetened cocoa powder
6 tablespoons buttermilk
1 teaspoon vanilla extract
1 pound powdered sugar, well sifted

Instructions:

1. Preheat oven to 350 degrees F. Spray a 9x13-inch baking dish with nonstick spray

2. Prepare the cake: In a large bowl, whisk together the flour, sugar and baking soda. Set aside.

3. In separate bowl, combine buttermilk, egg and vanilla and blend together. Set aside.

4. In a medium saucepan, melt the butter over medium heat. Stir in the cocoa and water and bring the mixture to a boil. Pour the boiling mixture into the bowl with flour mixture and whisk together well. Stir in the buttermilk mixture. When all is well blended, pour the batter into the prepared baking dish.

5. Bake 25-30 minutes, or until toothpick inserted in the center comes out clean.

6. Prepare the glaze: Melt the butter in a heavy saucepan over medium-low heat. Add the remaining ingredients, powdered sugar 1/2 cup at a time. Pour the warm glaze over the cake as soon as you remove it from the heat.

Tips:

*It's very important to sift the powdered sugar to avoid lumps.
*This is so rich and delicious that you may want to plan serving it with a nice scoop of good vanilla ice cream.