This recipe is so easy to make, it's ridiculous! > Chocolate Pudding Cake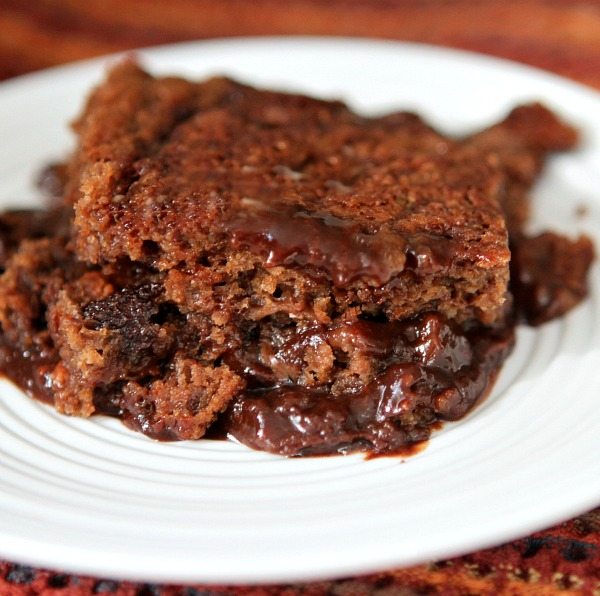 Chocolate Pudding Cake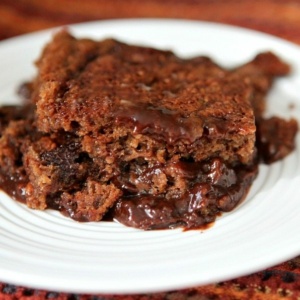 This is a yummy little warm dessert that is simple to make.
Yield:
9 servings
Prep Time: 15 min
Cook Time: 40 min
Ingredients:
1 cup all-purpose flour
3/4 cup granulated white sugar
1/2 cup semisweet chocolate chips, divided
6 tablespoons unsweetened cocoa, divided
2 teaspoons baking powder
1/4 teaspoon salt
2 tablespoons canola or vegetable oil
1 1/2 cups lowfat buttermilk, divided
3/4 cup brown sugar, firmly packed
Directions:
1. Preheat oven to 350 degrees F. Grease and flour an 8x8-inch square pan.
2. In a medium bowl, mix flour, granulated sugar, 1/4 cup chocolate chips, 2 tablespoons cocoa, baking powder and salt. Add oil and 1/2 cup buttermilk; stir until the thick batter is evenly moistened. Scrape batter into prepared pan and spread level.
3. In the same bowl (no need to wash), mix brown sugar with 1/4 cup cocoa and 1/4 cup chocolate chips. Scatter over batter in pan. Evenly pour remaining 1 cup buttermilk over brown sugar mixture; do not stir.
4. Bake until edges of cake feel firm and spring back when lightly pressed, about 40 minutes.
5. Let cool in pan on a rack at least 15 minutes. Serve hot, warm, or at room temperature in bowls, scooping under cake to pan bottom to include pudding with each portion.
Source: RecipeGirl.com (via Sunset)
More pudding cake recipes you might enjoy:
Blueberry Pudding Cake by Shutterbean
Raspberry- Lemonade Bundt Cake by RecipeGirl
Gluten-Free Hot Fudge Chocolate Pudding Cake by Jeanette's Healthy Living
Banana- Zucchini Pudding Cake by Averie Cooks