This Chocolate Pudding Recipe is one I've been wanting to make for years, and now I'm happy to share its perfection with you!  Click below to watch a quick video showing you how to make this recipe.  Scroll to the bottom to print out the complete recipe.
To be perfectly up front here, chocolate would not be my flavor of choice for homemade pudding.  It would be butterscotch for me!  Butterscotch pudding has always been a huge draw for me on restaurant dessert menus.  I must order it every single time I spot it!
But this chocolate pudding recipe I'm sharing with you today was made especially for the boys in my house.  My husband and my son are big on chocolate, and a homemade chocolate dessert like this is met with great enthusiasm!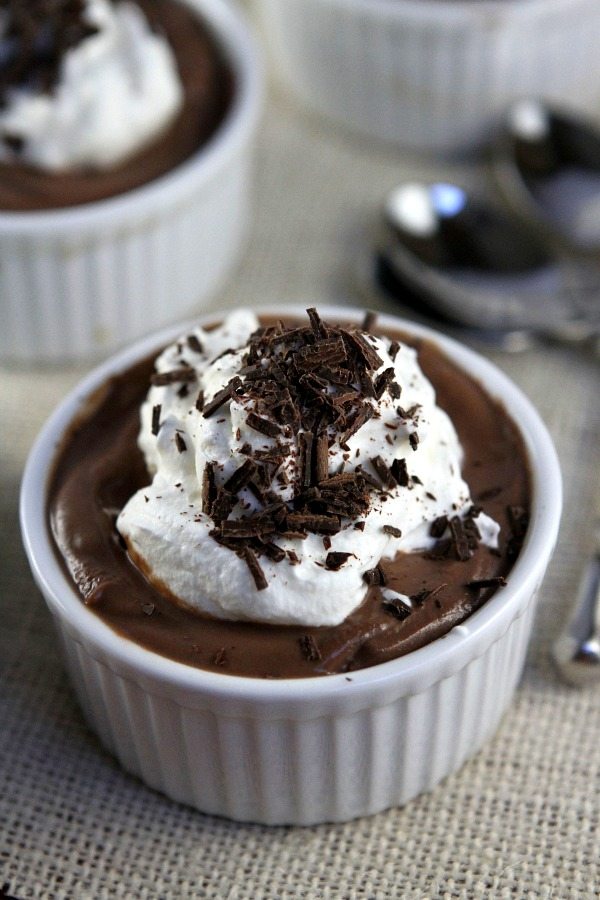 When you take a peek at the list of instructions below, you'll notice that it's very short.  This chocolate pudding could not be simpler to make.
If you're one who tends to buy the prepared chocolate pudding cups at the store (guilty here!), you don't need to do that any more.  Making it homemade is so very easy to do.  And believe me when I tell you that it's 110% better than anything you'd buy at the store too!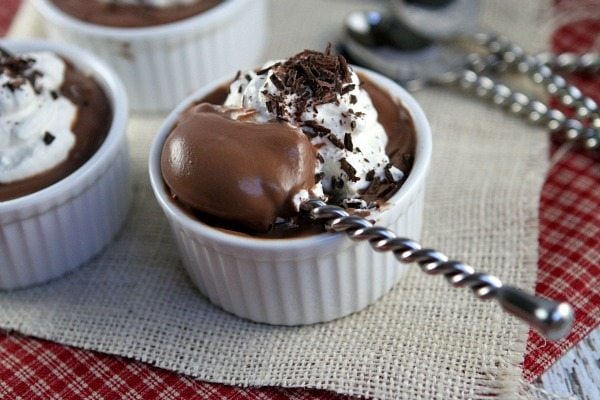 Did I mention how creamy this pudding turns out?  Yes.  C.R.E.A.M.Y!  The type of chocolate you choose to use will have an affect on the flavor.  Use bittersweet for a deeper, richer chocolatey flavor, and use semisweet for a more traditional chocolate flavor.  I used bittersweet chocolate, and there were zero complaints.
Top it all off with a little bit of freshly whipped cream and some chocolate shavings to give it some "fancy."  Every dessert needs some sort of fancy garnish, right?
Chocolate Pudding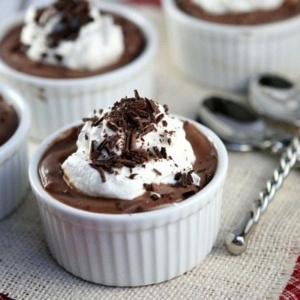 Yield:
6 servings
Prep Time:25 minutes
Cook Time:15 minutes
Ingredients:
2 large egg yolks
1/2 cup granulated white sugar
3 tablespoons cornstarch
3 cups whole milk
5 ounces bittersweet or semisweet chocolate, chopped
pinch of salt
1 tablespoon vanilla extract
whipped cream and chocolate shavings, for topping (optional)
Directions:
In a large bowl, whisk the egg yolks, sugar and cornstarch.
In a medium saucepan, combine the milk, chocolate and salt and warm over medium-heat; stir until the chocolate melts. Gradually whisk the hot chocolate mixture into the egg mixture (1/4 cup at a time), whisking quickly, until you have warmed up the egg mixture. Pour the egg mixture back into the saucepan and keep whisking until thickened- 12 to 15 minutes. Remove from heat; stir in the vanilla, then divide among 6 serving cups. Cover each with plastic wrap and refrigerate until well set (at least 2 hours).
Tips:
To make whipped cream: use an electric mixer to whip 1/2 cup of heavy whipping cream in a medium bowl. When it begins to thicken, add 1 tablespoon of powdered sugar and continue to mix until it reaches "whipped cream consistency."
If you are preparing this recipe as GLUTEN-FREE, just be sure to use brands of chocolate and vanilla that are known to be GF.
SOURCE: RecipeGirl.com
Here are a few more chocolate pudding recipes you might enjoy: