If you love the heavenly taste of toffee, then this Sticky Toffee Pudding is going to be your new favorite dessert! It's more cake than a custard & drizzled with a delectable toffee sauce. It's absolutely incredible!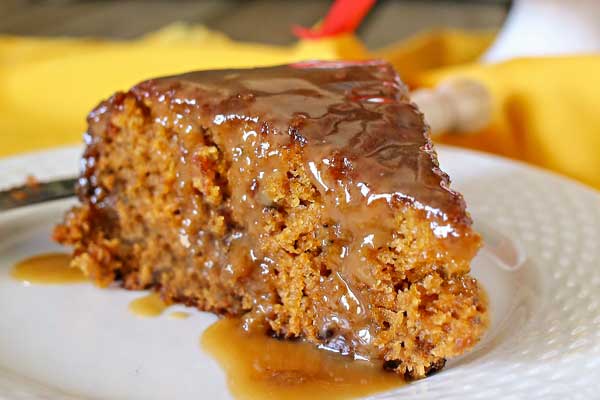 Oh my word, do I love a rich and sinful dessert this time of year. When I was a kid my whole focus during December was on the treats. I wanted them more than the gifts. Honestly, once someone tried to give me a gift at church when I was about 6 or 7 and I actually turned it down for a treat instead. Yes, I do love goodies that much. With all the recipes my family would make during the month, they never really ventured into the cake like puddings. I didn't have the pleasure of trying some until much later in life and finally realized what I had been missing all those years.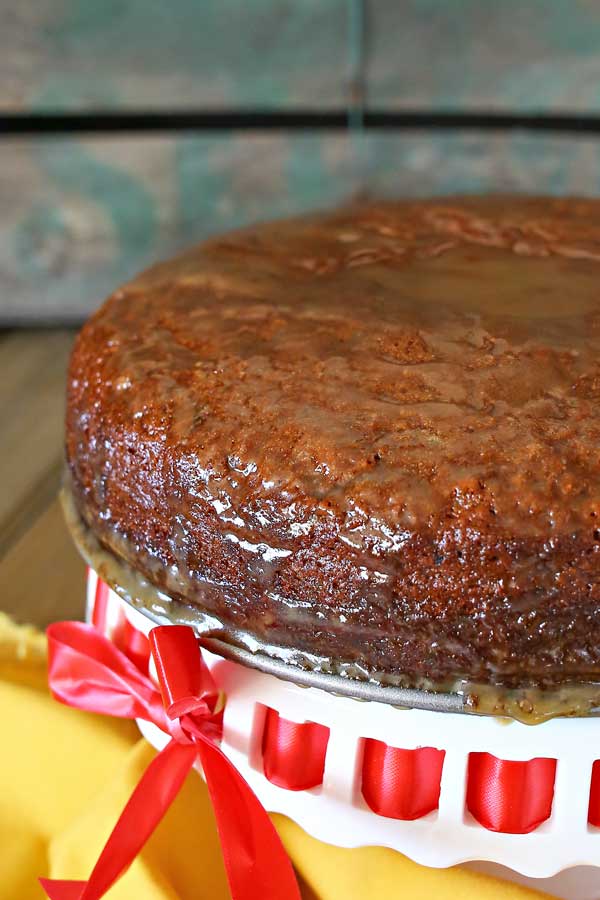 I know there are many varieties of English pudding out there and they are all delicious. But my very favorite is toffee. It's absolutely over the top for me. It's sort of like caramel but with deeper notes that just make me smile with every bite. I just love that this recipe is made using dates, so I sort of feel that helps in offsetting the sinfulness of the sauce.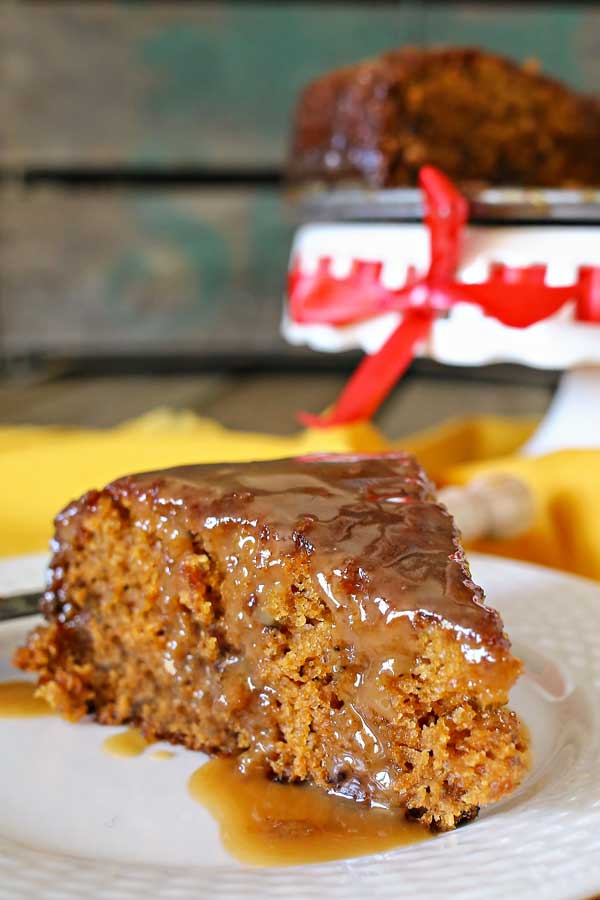 I was sure happy that there was just a bit of sauce left over. It made a great addition to the top of the ice cream we paired on the side of this when it was time for dessert. The whole family was raving and they are already asking when I will make it again. I'd say that's a hit.
If you are a toffee lover, this Sticky Toffee Pudding is definitely going to wow your world!
Sticky Toffee Pudding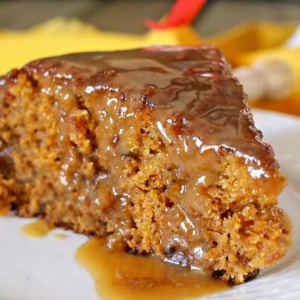 Yield:
14 slices
Prep Time:20 minutes
Cook Time:45 to 50 minutes
Total Time:1 hour 15 minutes
Ingredients:
Pudding/Cake:
1 1/4 cups roughly chopped pitted dates
1 teaspoon baking soda
1 cup boiling water
2 tablespoons butter- softened
1 cup packed brown sugar
2 large eggs
1 1/2 cups all-purpose flour
2 teaspoons baking powder
3/4 teaspoon salt
Toffee Sauce
1/2 cup half and half
1 cup packed brown sugar
3 tablespoons butter
3/4 teaspoon vanilla extract
Directions:
Preheat oven to 350 degrees.
To prepare the pudding cake:  Line an 8-inch springform pan with parchment paper and spray lightly with cooking spray.
Place the pitted dates in a food processor and pulse until they resemble large crumbs and no large chunks remain.
Place the processed dates in a small bowl, sprinkle with baking soda and set aside.
Heat 1 cup of water to boiling and then add to dates and stir.
In a large bowl, combine the butter, brown sugar and eggs; beat until just combined.
Fold in the flour, baking powder, salt and date mixture.
Pour the batter into the prepared pan and bake 40 to 50 minutes or until the center springs back when pressed slightly.
Remove and cool on wire rack at least 10 minutes before removing from pan and serving.
To prepare the toffee sauce:  Combine all ingredients in small saucepan and cook over medium heat stirring often until slightly thickened.  Allow to cool approximately 10 minutes before drizzling over the toffee pudding and serving.
Tips:
When preparing your dates, roughly chop then measure out before pulsing in your food processor.
SOURCE:  RecipeGirl.com (Recipe from Everyday Food)
Don't miss these amazing dessert recipes too!