Here is a lovely, lighter, summer cake for you: Blackberry Lemon Pudding Cake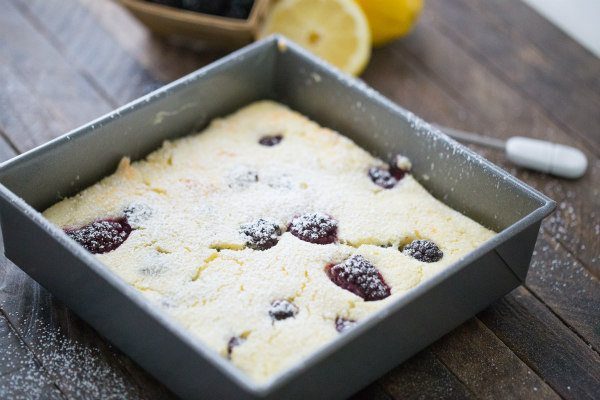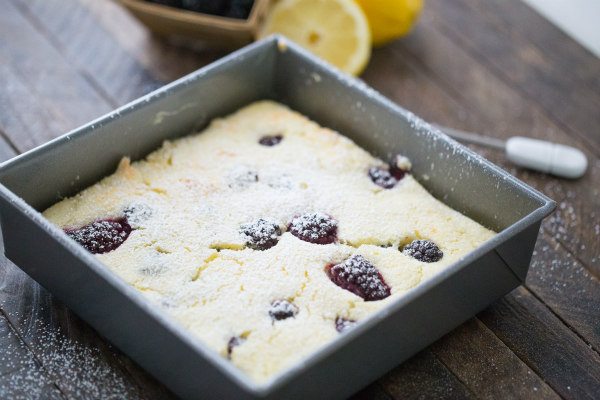 If you're looking for a dessert to serve this summer… one that utilizes fresh berries and is soft and beautiful and works perfectly with just a bit of sweetened whipped cream… then this is your dessert!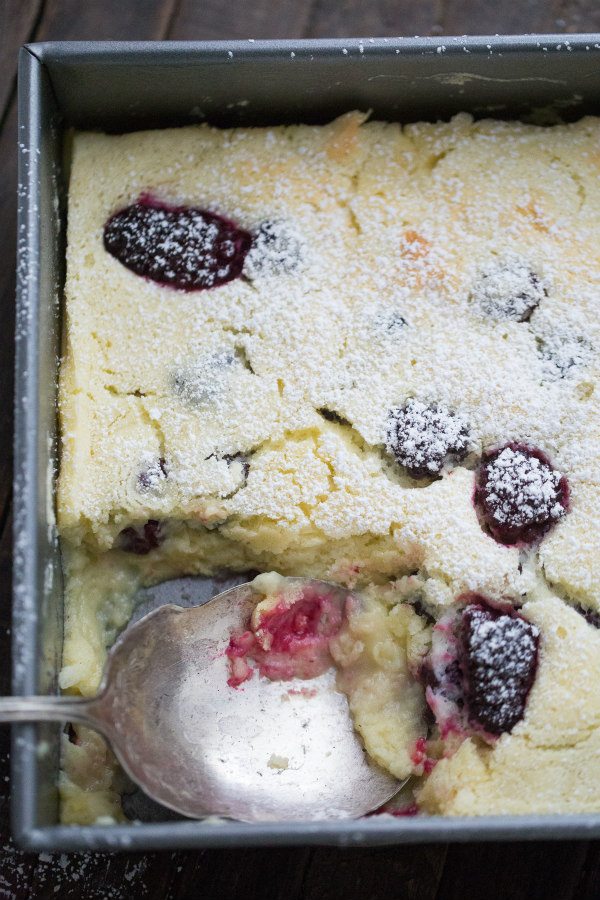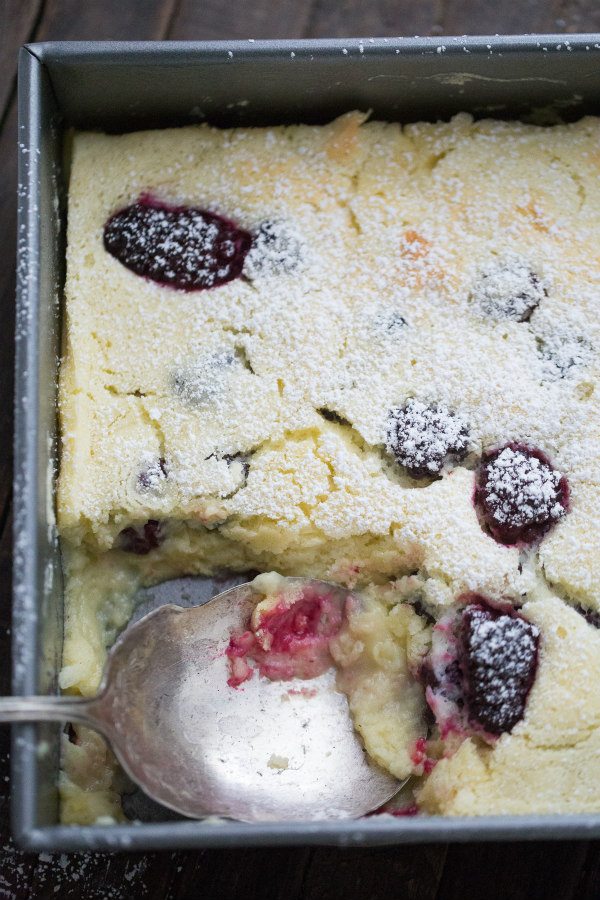 This is indeed a cake… but you can see from the photo above that a pudding-like layer stays hidden underneath.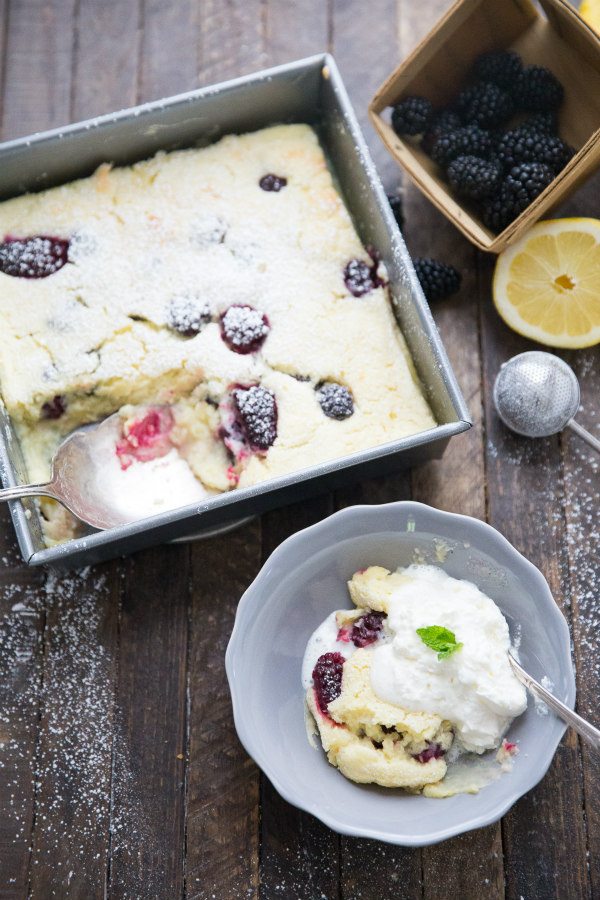 Serve it warm or cold- scooped onto a dish with a dollop of whipped cream.  It's just the kind of dessert that is perfect for devouring after an evening of summer grilling.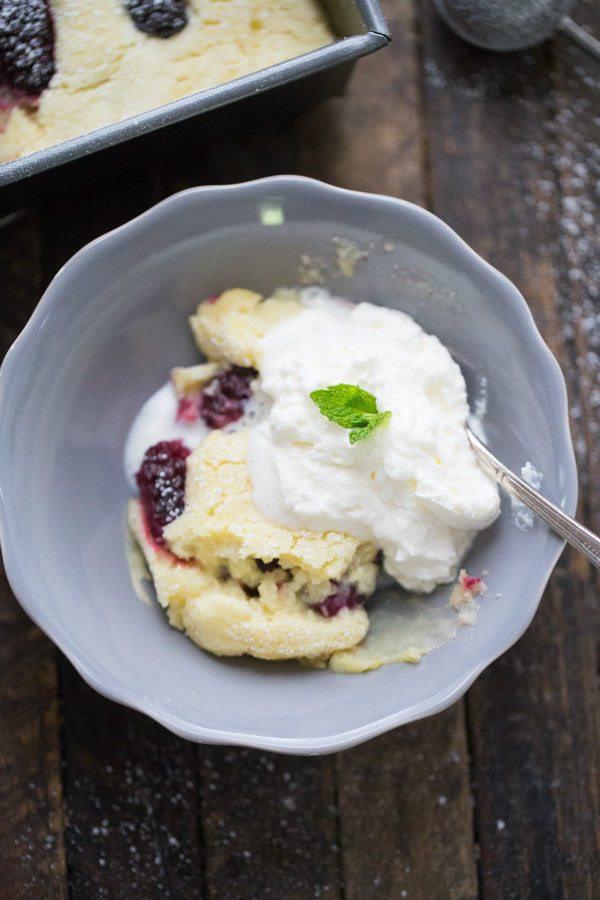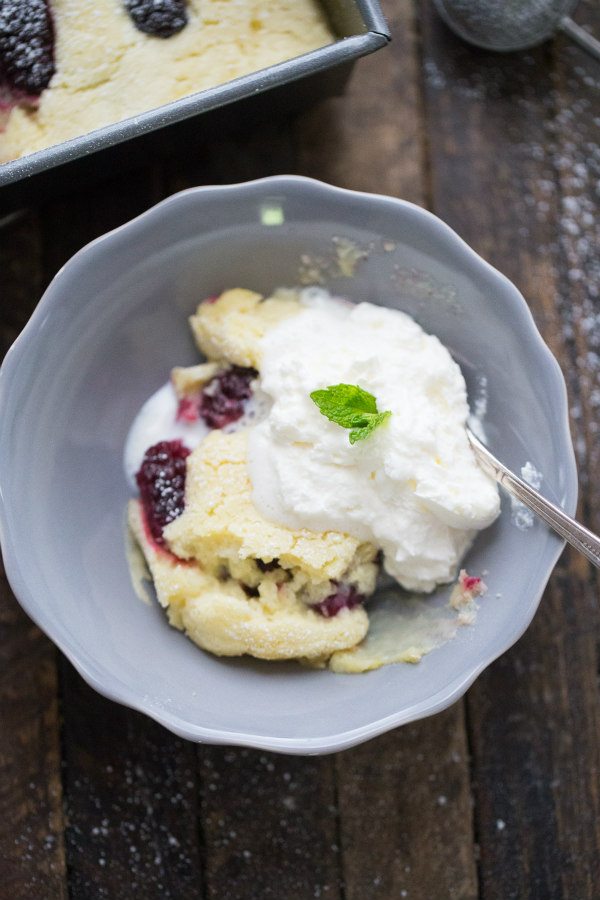 Thank you to Tanya from the LemonsForLulu.com blog for shooting these beautiful photos of this Blackberry Lemon Pudding Cake for me.  I think she certainly was able to capture how delicious it is.
Blackberry Lemon Pudding Cake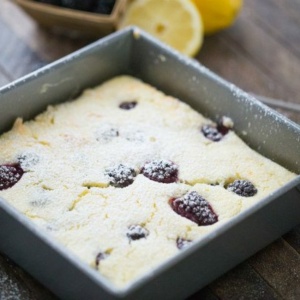 Yield:
5 Servings
Prep Time:20 minutes
Cook Time:35 minutes
Ingredients:
1/4 cup all-purpose flour
2/3 cup granulated white sugar
1/8 teaspoon salt
1/8 teaspoon ground nutmeg
1 cup low-fat buttermilk
1 teaspoon grated lemon zest
1/4 cup freshly squeezed lemon juice
2 tablespoons butter, melted
2 large Eggland's Best egg yolks
3 large Eggland's Best egg whites
1/4 cup granulated white sugar
1 1/2 cups fresh blackberries
3/4 teaspoon powdered sugar
Directions:
Preheat oven to 350°F.
Lightly spoon the flour into a dry measuring cup, and level with a knife. Combine the flour, 2/3 cup granulated sugar, salt and nutmeg in a large bowl; add the buttermilk, lemon zest, lemon juice, butter, and egg yolks, stirring with a whisk until the mixture is smooth.
Beat the egg whites with a mixer at high speed until foamy. Add 1/4 cup granulated sugar, 1 tablespoon at a time, beating until soft peaks form. Gently stir one-fourth of egg white mixture into the buttermilk mixture; gently fold in remaining egg white mixture. Fold in blackberries.
Pour the batter into an 8-inch square baking pan coated with cooking spray. Place in a larger baking pan; add hot water to the larger pan to depth of 1-inch. Bake at 350°F. for 35 minutes or until the cake springs back when touched lightly in center. Sprinkle cake with powdered sugar. Serve warm.
Nutrition:
Nutritional Information per serving: (Serving size:

1 cup)

Calories:

281, 

Fat:

7.13g, 

Saturated Fat:

3.85g, 

Sugar:

42.24g, 

Fiber:

2.56g, 

Protein:

6.21g, 

Cholesterol:

96.11mg, 

Carbohydrates:

50g

Weight Watchers POINTS per serving:  Freestyle SmartPoints: 6, SmartPoints: 13, PointsPlus: 8, Old Points Program: 6.5
SOURCE: RecipeGirl.com (via Cooking Light)
Here are a few more pudding cake recipes you might enjoy: