Chocolate Pudding Fudge Cake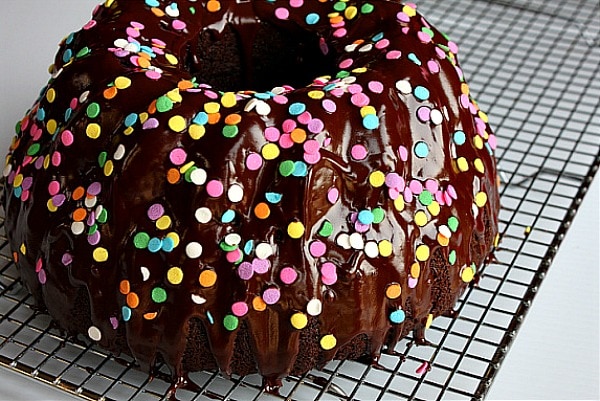 Prep Time: 10 min
Cook Time: 50 min
Chocolate Pudding Fudge Cake
I made this quick-and-easy doctored cake mix recipe for a school fundraising event. With a few added sprinkles, it was one of the first cakes snatched up in the sale!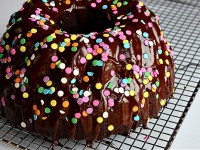 Ingredients:
CAKE:
One 18.25 ounce package Devil's Food cake mix (I used Duncan Hines Moist)
One 3.9-ounce box instant chocolate pudding
1 cup sour cream
1 cup milk
1/2 cup canola or vegetable oil
1/2 cup water
4 large eggs
2 cups semisweet chocolate chips
GLAZE:
6 tablespoons salted butter
1 cup semisweet chocolate chips
Directions:
1. Preheat oven to 350 degrees F. Grease & flour 10-inch bundt cake pan.
2. In a large bowl, combine cake mix, pudding mix, sour cream, milk, oil, water and eggs. Beat with an electric mixer for about 4 minutes, and then stir in chocolate chips.
3. Pour batter into prepared pan. Bake 50 to 60 minutes, or until a toothpick inserted into the center of the cake comes out clean. Cool about 15 minutes in the pan, then turn out onto a wire rack to cool completely.
4. When the cake has cooled, make the glaze. In a medium bowl, microwave butter and chocolate chips for about 2 minutes. Whisk together until nice and smooth (heating more, if necessary) & then drizzle over cake. If adding sprinkles, sprinkle them on now before the glaze begins to harden.
Tips:
*I use full-fat sour cream and whole milk for this recipe.
*I LOVE the special "baking" spray that they sell now... it includes vegetable oil & flour in the spray, so no need to do the messy flouring of the pan.
*If you don't have a microwave, heat the glaze in a small saucepan instead.
Comments