I've been searching for a good Yellow Cake recipe for some time now.  I've finally found a keeper!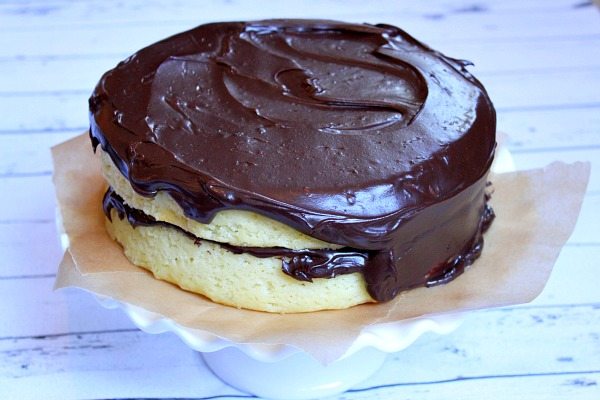 I'm one of those crazy people who is in love with every flavor of cake EXCEPT chocolate.  Give me vanilla or white any day, I'll seriously jump up and down for spice cake, lemon is luscious and red velvet is a major favorite.  I feel the same way about yellow cake.  It's just simply flavored and buttery.  Chocolate = not so exciting to me.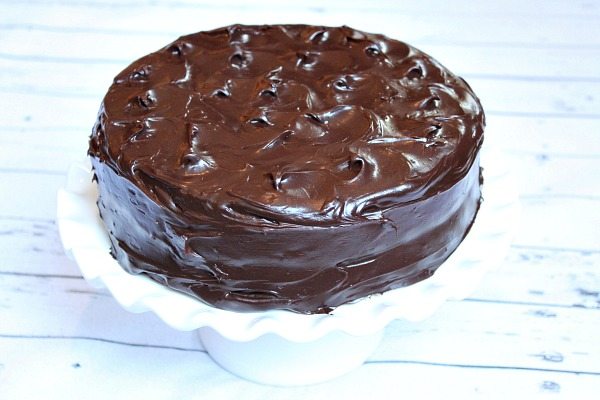 I'm sort of okay with chocolate frosting though.  It's kind of like topping vanilla ice cream with hot fudge… it just works brilliantly well.  This smooth, velvety, rich and fabulous chocolate frosting recipe I shared yesterday works nicely with yellow cake.  So get on that and print it out if you haven't already.  You'll want to have it on hand for future baking of cakes and cupcakes because it's that awesome.  The yellow cake here is pretty major too.  The texture is fluffy and perfect.  And the flavor is spot-on.  The two layers rise up nicely to the top of the pan, and they'll rise up even and flat too if you use CAKE STRIPS, which I recommend to every single person I know.  They WORK, and you will want to use them on every cake you bake.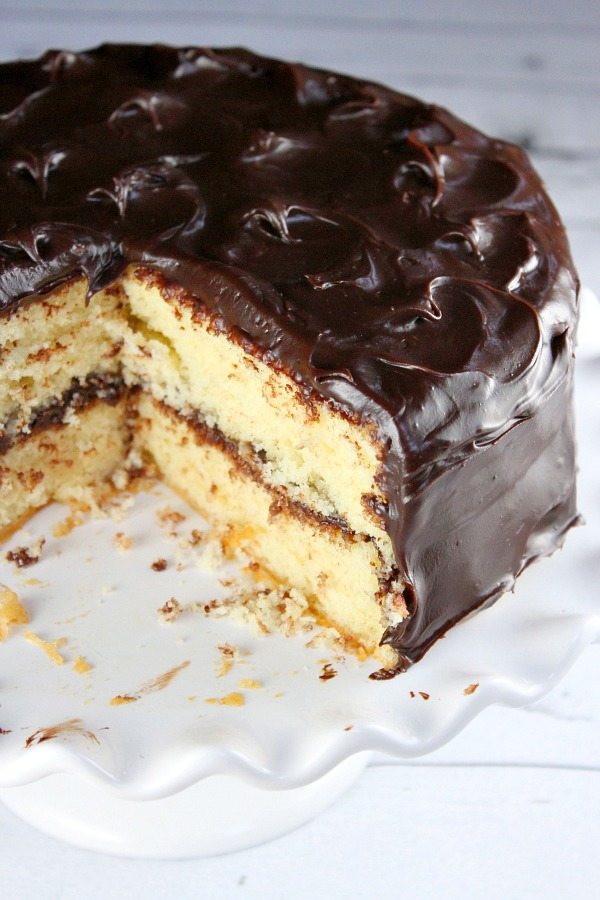 And there is my keeper-recipe Yellow Cake.  I must say that it turned out exactly as I was hoping.  It was quite delicious, and I would love to be able to share a slice with you!  Since that's not really possible, go forth and make this cake for the people in your life!  You'll make those people really happy… because everyone needs a little cake now and then.
Yellow Cake
Yield:
One 9-inch 2-layer cake
Prep Time: 25 min
Cook Time: 30 min
Ingredients:

3 cups sifted all-purpose flour
1 tablespoon baking powder
3/4 teaspoon salt
3/4 cup (1 1/2 sticks) unsalted butter, at room temperature
2 cups granulated white sugar
4 large eggs
1 cup whole milk
2 teaspoons vanilla extract

Instructions:

1. Preheat the oven to 350 degrees F. Spray two 9-inch round cake pans with nonstick baking spray (or grease and flour them). I like to line them with rounds of parchment- it helps with getting the cake out of the pan intact.

2. In a medium bowl, whisk together the flour, baking powder and salt. In a larger bowl, use an electric mixer to cream the butter. Beat in the sugar and mix until fluffy, about 4 minutes. Beat in the eggs, one at a time. Add the dry ingredients in two parts- mix in half of the dry ingredients, then half of the milk, then the rest of the dry ingredients, and then the rest of the milk + vanilla. Be sure to scrape the sides of the bowl as you are mixing to incorporate all of the ingredients.

3. Divide the batter between the two prepared cake pans. Bake for about 30 minutes, or until a toothpick inserted into the center comes out clean. Let cool for 20 to 25 minutes, then run a knife along the edge of each pan and invert onto a rack to cool completely. Be sure to peel off the parchment paper and toss it!

4. Your cakes are ready to frost, or you can wrap them and keep them overnight until you are ready to frost your cake. I recommend using the Chocolate Frosting Recipe on this site for the Yellow Cake. It makes plenty of frosting for a two-layer cake.

SOURCE: RecipeGirl.com (Adapted a little from Food and Wine magazine)