This recipe has been featured in a post on The Recipe Girl blog: Cuban Dinner Party Menu.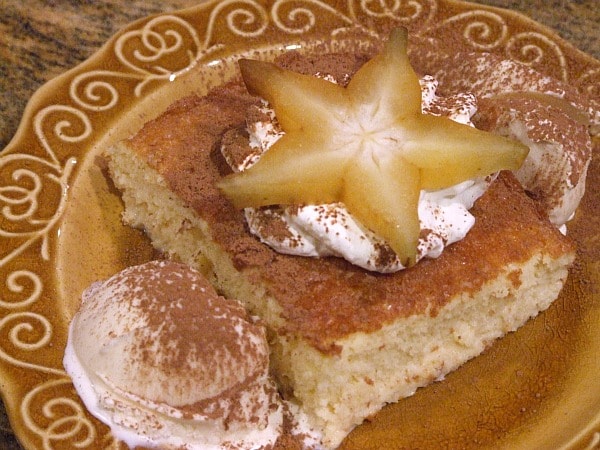 Tres Leches Cake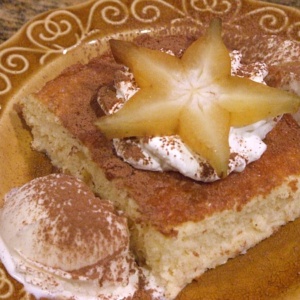 This is a completely rich and decadent, sweet milk-syrup soaked Latin cake. I love everything about it.
Yield:
10 servings
Prep Time: 20 min
Cook Time: 45 min
Ingredients:
CAKE:
1 cup granulated white sugar, divided
5 large eggs, separated
1/3 cup milk
1/2 teaspoon vanilla extract
1 cup all-purpose flour
1 1/2 teaspoons baking powder
1/2 teaspoon cream of tartar
MILK SYRUP:
1 (12 ounce) can evaporated milk
1 cup sweetened condensed milk
1 cup heavy whipping cream
1 teaspoon vanilla extract
1 Tablespoon dark Cuban rum
GARNISHES:
fresh whipped cream, ice cream, cocoa powder, mango, star fruit, etc.
Directions:
1. Preheat oven to 350°F. Generously butter 13x9-inch baking dish.
2. Prepare cake: Beat 3/4 cup sugar and egg yolks until light and fluffy, about 5 minutes. Fold in the milk, vanilla, flour and baking powder. In a separate bowl, beat the egg whites to soft peaks, adding the cream of tartar after 20 seconds. Gradually add the remaining 1/4 cup sugar and continue beating until the whites are glossy and firm, but not dry. Gently fold the whites into the yolk mixture. Pour this batter into the buttered baking dish. Bake the cake until it feels firm and an inserted toothpick comes out clean, about 30-45 minutes. Let the cake cool completely in a baking dish. Pierce the cake all over with a fork, taking care to not tear it up.
3. Prepare milk syrup: Combine all milk syrup ingredients in a mixing bowl. Whisk until well blended. Pour the syrup over the cake, spooning the overflow back on top, until it is all absorbed.
4. When ready to serve, cut a slice and plate it. Top with a dollop of whipped cream or a side of ice cream. Dust cake with cocoa powder and garnish with fruit.
Source: RecipeGirl.com (Reprinted with permission from Mary Luz Mejia)