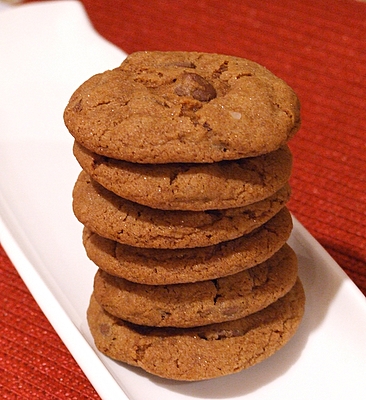 MILK CHOCOLATE GINGERSNAPS
www.RecipeGirl.com
2¼ cups unbleached all-purpose flour
2 tsp baking soda
¼ tsp salt
1 tsp ground cinnamon
1½ tsp ground ginger
¾ cup (1½ sticks) unsalted butter, at room temperature
1 cup packed light brown sugar
1 large egg
¼ cup molasses
1½ cups (about 9 ounces) milk chocolate chips
¼ cup granulated sugar
1. Position a rack in the middle of the oven; preheat oven to 350°F. Line 2 baking sheets with parchment paper.
2. Sift flour, baking soda, salt, cinnamon and ginger into a medium bowl and set aside. In a large bowl and using an electric mixer on medium speed, beat butter and brown sugar until smoothly blended, about 1 minute. Add egg and molasses and mix until blended. Reduce mixer speed to low and add flour mixture, mixing just to incorporate. Mix in the chocolate chips.
3. Spread granulated sugar on a large piece of wax or parchment paper. Roll a rounded Tablespoon of dough between the palms of your hands into a 1¼-inch ball. Roll ball in sugar. Place cookies on prepared baking sheets, spaced 2 inches apart. Bake cookies one sheet at a time until they feel firm on top but soft in the center and have several cracks, about 14 minutes.
4. Cool cookies on baking sheets for 5 minutes. Use a wide metal spatula to transfer cookies to a wire rack to cool completely.
Yield: About 30 cookies
Recipe Source: Real Food
Cooking Tips
*Cookies can be stored in a tightly covered container at room temperature for up to 4 days.
**Finished cookies may also be frozen until ready to place on cookie platters.
"I made these as our first 'Christmas cookie' of the season. I have a newly discovered keeper! The ginger flavor is subtle- not nearly as strong as regular gingerbread cookies, and we loved the additional of milk chocolate."
-San Diego, CA

"I made this with two different kinds of chips. I prefer the flavor of dark chocolate to milk chocolate so with half of the recipe I added dark. My sister-in-law gets migraines from regular chocolate so with the other half of the recipe I used white chocolate. Both batches turned out wonderfully rich. I did have to lower my cooking time as the first batch cooled to a bit harder than I like but we'll still eat them! A hard cookie is just perfect for dipping."
-Shelly in Kansas

"Just received a goodie box with a number of different cookies. I really enjoy the Milk Chocolate Chip Gingersnaps. I think I'll try making some of these myself."
-Dublin, CA

"I loved these cookies!!!!!!!!!!! And, I had put several in the freezer since I had soooo many—and, just ate one last night—Absolutely the best—YUMMY!!!"

"All I had was semi sweet chips. Next time I'll try the milk chocolate. I think the semi sweet chips might have overpowered the ginger some. They went fast anyway."
-Las Vegas, NV