Royal Chocolate- Marshmallow Bars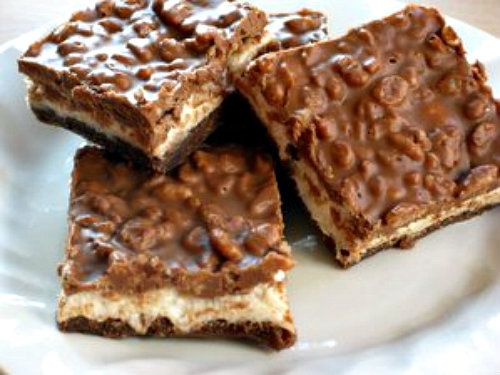 Yield: 3 dozen bars
Prep Time: 30 min
Cook Time: 22 min
Royal Chocolate- Marshmallow Bars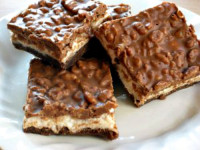 Ingredients:
1ST LAYER:
3/4 cup (1 1/2 sticks) butter, softened
1 1/2 cups granulated white sugar
3 large eggs
1 teaspoon vanilla extract
1 1/3 cups all-purpose flour
1/2 teaspoon baking powder
1/2 teaspoon salt
3 tablespoons unsweetened cocoa
2ND LAYER:
4 cups miniature marshmallows
TOPPING:
8 ounces milk chocolate chips
3 tablespoons butter
1 cup peanut butter
2 cups Rice Krispies
Directions:
1. Preheat the oven to 350 degrees F. Spray a 15-in. x 10-in. x 1-in. baking pan with nonstick spray.
2. In a large mixing bowl, use an electric mixer to combine the butter and sugar. Add the eggs and vanilla, and continue to mix until light and fluffy.
3. Combine the flour, baking powder, salt and cocoa, and add to the butter mixture.
4. Spread the batter in the prepared pan, and bake 15 to 18 minutes.
5. Sprinkle marshmallows evenly over the first layer and return to the oven for 2-3 minutes. Using a knife dipped in water, spread the melted marshmallows evenly over the first layer. Let cool.
6. For the topping, combine the chips, butter and peanut butter in a small saucepan. Cook over low heat, stirring occasionally, until melted and well-blended. Remove from heat and stir in the Rice Krispies. Spread evenly over bars.
7. Chill until firm, and cut into bars.
10 Responses to "Royal Chocolate- Marshmallow Bars"
Leave a Comment